I hope you enjoy reading the blog post.
If you want my team to just do your Tinder for you, click here to chat with me.
Tinder Vibes Explained 2023: What It Means & How To Use It!
As the name implies, the Tinder Vibes feature aims to give singles a new way to connect via a shared feeling, attitude or opinion on a specific topic.
You landed here, so you're probably wondering if it's worth trying out. Stay tuned, because VIDA Selects team of dating experts have answered all your Vibes questions. You'll also discover 3 reasons why you're missing out if you don't join in!
We've been using Tinder since it launched, managing profiles, swiping, matching, and messaging on behalf of clients. All told, we've logged hundreds of thousands of hours on the app - and we're still using it daily!
You've come to the right place for expert advice based on first-hand experience. Let's dive in!
Tinder Vibes Meaning
Back when the feature first launched, Tinder explained a vibe is "that feeling about someone that hits instantly" when they reveal the two of you have something specific in common.
According to Tinder's VP of Product Udi Milo, the feature gives users a more dynamic way to express an aspect of their personality in a profile.
And because of how it works, it also makes figuring out what to say in your first Tinder message a lot easier. More on that coming up!
How The Vibes Feature Works
The feature is free for everyone - no subscription to Tinder Plus, Gold or Platinum is required to participate. Vibes is a periodic event, much like Tinder's Swipe Surge and Hot Takes.
You'll get a push notification or pop-up card inviting you to join when an event is active in your area.
Each Vibe event has a theme, and all the users who opt in answering the same question. The questions cover a wide range of topics like pop culture, cooking, dating, and more.
For instance, the "Date Night" Vibe lets you share your answers to questions about your perfect date with potential matches.
To participate, tap the "Start" button.
Next you'll be presented with a handful of Vibe questions that each have four answers. Select the answer you'd like to share with potential matches by tapping on it.
When you're swiping through profiles during the Vibes event, you'll see a colorful border around them to indicate the Vibe is live.
Tinder Vibes events last for 48 hours, and you can join in at any point during that window. Answers are displayed on participating users' profiles for 72 hours. You'll see a countdown clock in the upper right hand corner that shows you how much time is left to vibe with people.
If you both swipe right, you can check out all their answers to the Tinder Vibes questions by scrolling through them on the "It's A Match!" screen.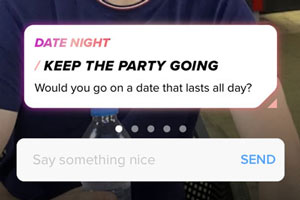 You can also see their Vibes answers by tapping on their profile icon in your match feed.
How To Turn Tinder Vibes On & Off
To participate in Tinder Vibes, you need to enable the Vibes option:
Then tap "Settings" and scroll down to "Manage Vibes"
Tap on "Settings" to bring up the Vibes menu and toggle the feature on
You can turn Tinder Vibes off at any time simply by sliding the toggle to the left in the Vibes setting.
3 Reasons To Start Vibing On Tinder
Before you hit that "not feeling it" button, here are 3 reasons why participating in Tinder Vibes could pay off in more matches & messages!
#1: Your Profile Gets More Exposure
When a Vibe event is happening, Tinder's algorithm prioritizes showing your profile to other participating users. It's a fast and easy way to get your profile in front of people who are actively using the app.
#2: Common Interests & Attitudes Boost Attraction
Studies have shown that having an attitude, belief, interest, etc. in common with someone instantly boosts interpersonal attraction. That's one of the reasons many dating apps add interest badges to profiles.
Tinder Vibes capitalizes on that by showing your profile to users with similar answers. Why miss a chance to spark a connection?
#3: It's An Instant Conversation Starter
Vibe answers are meant to spark conversations, so take advantage of the insight you're getting into what topics might entice your match to respond to your message!
For instance, in the example below Nica shared that she notices what hobbies and interests guys have listed in their profiles:
The odds are excellent she'd enjoy talking about what she likes to do, so ask a fun question like this in your icebreaker: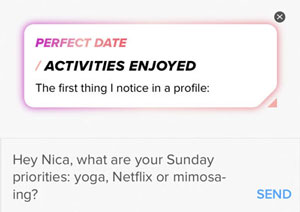 Want more inspiration for your icebreakers? Check out these great questions to ask a girl on Tinder!
Or maybe you'd rather skip right past the whole 'figuring out what to say' part? Let the experts at VIDA Select do everything on Tinder for you.
You just show up for amazing Tinder dates! Find out how by clicking here.
Want us to do your online dating for you?

Hey, I'm Ally, VIDA Select's Director of Matchmaking.
We take all the frustration, hard work and hassle out of modern dating!
Imagine your very own Dream Team of highly skilled dating experts searching for the very best local matches, sparking their interest, and arranging all the dates for you.
Wouldn't it be nice to finally stop swiping and start dating higher quality matches so you can meet someone special?
We've helped thousands of singles just like you since 2009, and we're ready to make you our next success story!
What are you waiting for? Take the next step now…
See If You Qualify