I hope you enjoy reading the blog post.
If you want to chat now about your matchmaking search, click here.
Agape Match Review - Is This NYC Matchmaker Legit?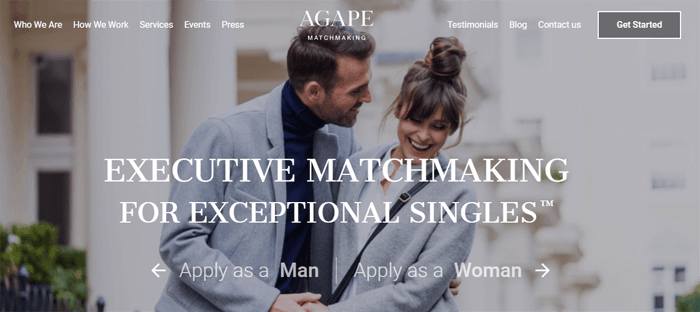 It may seem like NYC matchmaking services are a dime a dozen, but finding the right matchmaking service for you can be just as hard as finding your ideal partner.
Agape Match is on your radar, but do they speak your language when it comes to love? This Agape Match review will help you decide.
Our matchmaking experts have reviewed over 200 dating services, diving deep into their operations, success rates, and customer experiences. Our reviews are built on extensive research, 14+ years of industry experience, and a keen understanding of the matchmaking industry.
From price tag to real customer reviews, find out if this boutique matchmaking service should make your short list.
The Face Behind Agape Match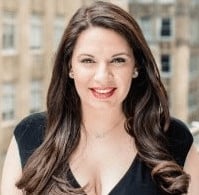 Founded in 2008, Agape Match is the brainchild of Maria Avgitidis. She's a 4th generation Greek matchmaker who originally aspired to become a diplomat after getting a Master's in Global Affairs.
She is also affiliated with the Matchmaker's Alliance, which is a network of dating professionals across the world. Maria uses her connections within the Matchmaker's Alliance to find matches for clients.
Agape Match Locations
This high-end dating service is based in New York, but they work with singles across the northeast, including New Jersey, Philadelphia, Connecticut, Long Island, and Boston.
Maria is also a dedicated Greek matchmaker, and helps Greek singles across all of North America and abroad find love.
How Much Does Agape Match Cost?
You can sign up with Agape Match either as a client or as a member.
Members can join the database of eligible singles for free, but no active search will be done on your behalf. Members are matched with paying clients.
For clients, the matchmaking packages start at $25,000. That includes 6 months worth of active search time, and a minimum of 6 introductions.
If you enter into a relationship that lasts longer than 6 months with an Agape match, you may be asked to pay an additional $5,000 "success fee."
You can freeze your contract for up to 6 months if you meet someone and want to see where it goes.
Agape Match also offers both long and short-term date coaching programs, including a 12-week one-on-one course. You don't have to be a client to sign up for the coaching.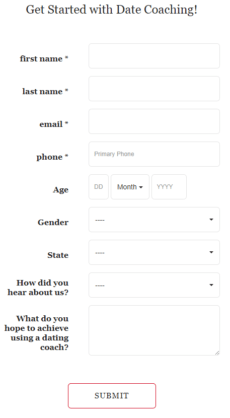 During the course, you'll get:
A "digital makeover," image consultation and a professional photo shoot
Customized sessions with your dating coach
A mock date with feedback, plus an assessment of your dating behavior and history
Plenty of reading materials that will be helpful in "preparing for future sessions"
This coaching package starts at $10,000, and going through the course will put you on the "VIP" list for matchmaking. That means you'll be evaluated as a potential match for a client before they take a look at the general database of free members.
A Look At The Agape Match Process
If you're interested in becoming a matchmaking client, the first step is giving them a call, or filling out a simple online form.
Next is an in-person consultation, where you'll discuss your past relationships and what you're seeking.
Maria claims she only takes on clients she's confident have a 90% chance of being successfully matched.
If you choose to move forward as a matchmaking client, you'll sign a contract and the search begins. Agape Match is a "full service" matchmaker, meaning they'll plan every aspect of your date once a match is identified.
You'll receive a brief profile of your match before the date. Afterwards you'll get feedback on how the date went - and how to improve yourself for future matches.
The process is similar to join as a free member; simply fill out the online form or call Agape Match. They will gather your information, and if you seem like a good fit for the program, you'll come in for an in-person consultation and deeper screening.
What Clients Are Saying About Agape Match
Overall, Agape Match reviews are generally positive. On Yelp, they have 4 1/2 out of 5 stars, with 16 positive Recommended Reviews.
Some clients, like these two, gave glowing Agape Match reviews:

The 2 negative Agape Match Yelp reviews included one from a client who wasn't happy with the initial consultation process, and the other was from someone who hadn't actually tried the service.
The majority of Agape Match's Google reviews are 5-star, giving it an overall 4.6 rating. Several clients were pleased with the coaching services:
Overwhelmingly positive reviews are a good sign, and Agape Match has been in the NYC matchmaking scene since 2009 so Maria's clearly doing something right.
But one thing you'll want to ponder is the fact that you're limited to matches from either Maria's own database, or from her professional network.
And while your ideal partner could absolutely be in her virtual rolodex, you may also want to consider a matchmaking company like VIDA Select that offers an unlimited number of matches carefully selected from New York City's largest pool of local singles.
On average, VIDA clients meet someone special within the first 3 months!
And since we offer the convenience of paying by the month instead of a lump sum up front, you don't end up paying for active search time you don't need if you meet your "special someone" right away.
If you're ready to meet your ideal partner, see if you qualify for VIDA Select's service now!
All product and company names are trademarks™ or registered® trademarks of their respective holders. Use of them does not imply any affiliation with or endorsement by them.
Why Choose VIDA Select?

Since 2009, thousands of clients have discovered true love thanks to VIDA Select's fresh, modern approach to matchmaking – which has finally thrown blind dates and long-term contracts out the window. This isn't your grandmother's matchmaking!
Instead of working with a single matchmaker using a small rolodex of potential partners, VIDA Select's matchmaking team taps into the world's largest database of available singles. We'll quickly identify the matches who check all of your boxes so you can finally experience true chemistry. Are you ready to become our next success story? Schedule your complimentary consultation now by clicking the button below!
Get Started Now