I hope you enjoy reading the blog post.
If you want to chat now about your matchmaking search, click here.
Atlanta Dating Services [How To Meet Compatible Singles!]
When you just can't seem to meet relationship-worthy singles, the Atlanta dating scene gets frustrating fast. If you're looking for the best ways to meet compatible people, you've landed in the perfect place.
This handy guide to Atlanta dating services breaks down all your options, including what they cost!
Starting with…
Atlanta Matchmaking Services
Working with an Atlanta matchmaker has several advantages.
In theory, you'll only meet singles who meet your "ideal partner" wish list, because your personal matchmaker does all the pre-screening for you. You'll also get valuable feedback after each date, and just knowing you have someone with you on your dating journey can be a big confidence boost.
Of course, all that only works out in practice when you choose the right matchmaking service. While they all have the same goal of introducing you to compatible singles, where they find those potential matches can vary.
That's a curtain you'll want to peek behind before you invest in a service. Not only can it have a big impact on the quality of matches you end up meeting, it can also affect the price tag.
Ideally, you want to look for a matchmaking service that can leverage the largest possible pool of eligible Atlanta singles without charging a premium price for the extensive search.
Enamour
Enamour, for instance, has an exclusive, invite-only database of matches clients can be paired with. But Enamour matchmakers also use a combination of AI and recruiting technology to identify highly compatible Atlanta singles in a proactive search for each client.
Matchmaking services start around $15,000, and as a client you'll be working with a dedicated personal matchmaker. Clients also have access to personal styling, coaching and other services.
VIDA Select
VIDA Select also uses technology to access Atlanta's largest pool of singles, extending their reach far beyond an internal database. And since you pre-approve all your potential matches, you can look forward to better first dates with singles who check all your "must have" boxes.
But unlike most other Atlanta matchmakers, VIDA doesn't require a long-term contract. Instead, you'll pay only for each month you want service. The cost of service largely aligns with the number of hours that your search will require each month, and you can simply pay as you go.
Basic matchmaking packages start at $995, Premium options start at $1595 and Elite options start at $2395.
Other Atlanta dating services take a more traditional approach by pairing clients with other singles in their client roster. That means the potential match pool is limited to who has signed up for the service.
One On One Matchmaking
For instance, One On One Matchmaking costs anywhere from $3,500 to $10,000 for introducing you to at least 10 matches. The price tag varies depending on your search criteria and if you'd like dating coaching as well.
One On One Matchmaking was founded by Sarah Kathryn Walmsley in 2008.
Eight At Eight Dinner Club
She's also the owner of Atlanta's Eight At Eight Dinner Club, which arranges social events for Atlanta singles. Dinners are limited to 4 men and 4 women.
Memberships run for a year and typically cost between $500 and $1,000, and you can decide which monthly dinner events you want to attend. The membership does not include the cost of the meal, although your first drink is on the house.
Single Atlanta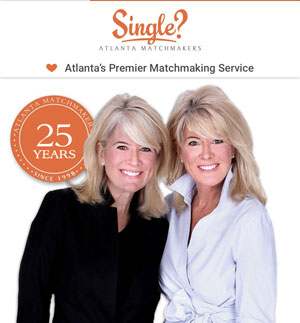 Single Atlanta is another matchmaking service that pairs members with other members. Helmed by "The Twins" Leisha Murphy and Lisa Lyngos, Atlanta Singles has been around since 1998. They aren't just limited to ATL singles, though - their matchmaking service extends to anyone in Georgia.
Matchmaking packages run from around $1,000 - $5,000, depending on what level of service you'd like. For instance, your package will cost more if you want to see photos of potential matches instead of going on blind dates.
But keep this in mind: A limited database means you may end up meeting people who aren't as compatible as you'd like them to be, simply because there are no other options to pair you with.
Compatibility has to go both ways, so your match also has to be looking for someone just like you for the pairing to be successful. Creating highly compatible matches consistently from a limited number of Atlanta clients is nearly impossible for any matchmaking service to do, unless they search beyond their own database.
Doing a proactive search opens up the options immensely, but it involves a lot more work. Those types of services generally require a larger financial investment.
Serious Matchmaking
Serious Matchmaking, for instance, is a NYC-based matchmaking service with a presence in Atlanta. Package cost depends on whether you want to work with founder Janis Spindel or her daughter Carly Spindel, so the price range varies from $25,000 all the way up to $1,000,000.
As a client, you'll be paired with matches who have applied to be in their exclusive database, and they'll also do a proactive search locally, nationally or even world-wide.
Kelleher International
Kelleher International is a West Coast matchmaking service with an Atlanta presence. Mother/daughter team Jill Kelleher & Amber Kelleher-Andrews offer memberships that are priced based on the scope of your search.
You can choose local, national or international with prices ranging from $30,000 to over $300,000.
Want more information about Atlanta matchmakers and what they cost? Check out our handy price comparison!
Atlanta Singles Events & Groups
With some sources estimating around 34% of Atlanta's population is single, you may be wondering… so where are they? Just because they're abundant doesn't mean they're easy to meet.
Here are 3 great ways to meet new people when you're single in Atlanta!
#1: Try Your Hand At Speed Dating
Speed dating is all about first impressions. But instead of swiping through profiles, you're face to face with each potential match for a predetermined amount of time, usually 3 to 8 minutes.
If there's a spark with anyone you meet, fill out a card to let the organizers know. Mutual interest leads to an exchange of contact information.
In Atlanta, speed dating usually costs between $20 - $100+ per event. Entry fees vary based on the hosting company, venue, clientele, and included beverages.
Several Atlanta dating services offer speed dating, including MyCheekyDate (also known as Speed Atlanta Dating) and Revitalize Events.
For more information and expert speed dating tips, check out our guide to speed dating in Atlanta!
#2: Check Out Meetup Groups & Events
Meetup.com is one of the easiest ways to find singles events in Atlanta, and it's also a great place to connect with people who enjoy the same interests and hobbies you do. The groups aren't necessarily just for singles, but it's an easy way to expand your social network.
Whatever it is you have a passion for, like books, tea, athletics, gaming, technology, whatever — you'll likely find a group for it. And if you can't, create your own for people to join!
#3: Join A Social Club
Social clubs are an opportunity to mix and mingle with like-minded people. They aren't limited to singles, but you'll find plenty of them hoping to meet someone special. Try one of these popular social groups and clubs in Atlanta:
This is by no means an exhaustive list, as many groups cater to a niche interest. Try searching for an Atlanta social group + your hobby and see what pops up.
Atlanta Dating Sites & Apps
Atlanta's is a sprawling metropolis, which means you'll find plenty of online daters. Strategically speaking, sticking with the most popular dating apps is your best bet - that will give you access to the deepest pool of Atlanta singles.
Dating sites like eHarmony, EliteSingles and Zoosk aren't as ideal because they simply don't attract the same number of users that Bumble, Hinge, Tinder and Match do.
Tinder
Tinder is one of the dating apps Atlantians are the most active on, according to Atlanta Magazine.
They even shared a list of Atlanta's most right-swiped neighborhoods per Tinder's internal data:
Virginia-Highland
Old Fourth Ward
Midtown
Buckhead
West side
Brookhaven
Inman Park
East Atlanta
That being said, Tinder's user base does skew a little younger, with over of its members under 26. But given it's still the most popular app in the US, downloading it to see if there's anyone you're interested in is a good idea.
Tinder is free to use, with several premium options available if you want a few bells & whistles like private browsing in Incognito Mode, changing your location with Passport, or jumping to the front of the line with Priority Likes.
You can compare all the premium memberships here.
Bumble
Bumble is a good option because it's more popular with women than Tinder tends to be.
That's mainly because only women can send the first message, with the exception of using the Compliments feature. That lets guys send a message before matching, but you can only do it once per day for free.
Bumble's core user group is singles under 35, but you'll find older ones as well. In terms of overall popularity, it's second only to Tinder - and the number of Atlanta users on Bumble has been on the rise.
And here's more good news - Atlanta singles send 15% more messages on Bumble compared to singles in the rest of the US.
Like Tinder, Bumble can be used for free but you have the option to upgrade. There are two premium memberships available, which unlock features like the Travel and Incognito Modes.
For more information, check out this full comparison of Bumble Boost vs Bumble Premium.
Hinge
If you're hoping to find a serious relationship, Hinge is one of your best bets. Their whole marketing campaign is built around "Designed to be deleted." You may find it a little easier to move things off the app and into real life on Hinge compared to Tinder.
Hinge also offers features like Most Compatible and Standouts that highlight your most compatible matches for you.
You can use it for free, or upgrade to one of two premium memberships. Hinge+ gets you unlimited likes, access to the advanced filters, a few ways to sort your potential matches and a feed where you can see everyone who's already liked you.
This membership level used to be called Hinge Preferred, but it was rebranded when HingeX launched in early 2023.
HingeX is Hinge's most feature-heavy premium subscription, and it includes all the Hinge+ benefits. You'll also get the continuous profile boost Skip The Line does for you, priority likes and enhanced profile recommendations.
For more details on this popular dating app, check out our Hinge Review!
Match
One of the best options for singles over 30 in Atlanta, Match.com is one of the most well-known dating sites around. And one of the oldest, founded back in 1995.
Because you can't send many messages without a paid subscription, Match users are invested in the dating process. You'll find far fewer fake profiles and people who aren't serious about actually meeting on Match.
While you'll find users of all ages, it's most popular with singles in their 30s and 40s - and 50s+ is their fastest-growing demographic.
You can use Match online, or download the Match mobile app. Memberships start around $45 for one month. As a paid member, you can read and exchange messages with all users, get a monthly profile boost, send Super Likes and more.
As a free member, you can send a message to your Top Picks, but that's about it in terms of connecting with matches. For all the details you want about this popular dating site, check out our Match.com Review!
OkCupid
OkCupid isn't as popular as the other dating apps we just mentioned - but plenty of Atlanta singles use it. In fact, Atlanta ranked #10 in the US for cities with users who answered the most OkCupid questions.
If answering compatibility questions is your jam, OkCupid is the dating site for you. They've got hundreds to choose from, and your answers help determine the compatibility score displayed for each match.
OkCupid has a more casual vibe than Bumble, Hinge or Match, and it's also one of the most progressive dating sites in terms of the relationship & gender options it offers.
Check out this OkCupid review to see if it's the right dating site for you!
The Easiest (And Fastest!) Way To Meet Atlanta Singles
If you just can't seem to meet relationship-quality singles in Atlanta, VIDA Select's modern matchmaking service can help. With VIDA, you'll have a dedicated team of dating experts managing your dating apps for you!
From a dedicated personal matchmaker handling all your swiping to a skilled writer optimizing your profile and crafting your messages, VIDA will represent you in a genuine and authentic way on all your favorite dating apps. You just enjoy all the first dates with highly compatible matches!
Find out if VIDA is right for you!
All product and company names are trademarks™ or registered® trademarks of their respective holders. Use of them does not imply any affiliation with or endorsement by them.
Why Choose VIDA Select?

Since 2009, thousands of clients have discovered true love thanks to VIDA Select's fresh, modern approach to matchmaking – which has finally thrown blind dates and long-term contracts out the window. This isn't your grandmother's matchmaking!
Instead of working with a single matchmaker using a small rolodex of potential partners, VIDA Select's matchmaking team taps into the world's largest database of available singles. We'll quickly identify the matches who check all of your boxes so you can finally experience true chemistry. Are you ready to become our next success story? Schedule your complimentary consultation now by clicking the button below!
Get Started Now