I hope you enjoy reading the blog post.
If you want my team to just do your online dating for you, click here.
Atlanta Dating: 7 Dating App Alternatives For ATL Singles!
Dating apps are the most efficient way to connect with compatible Atlanta singles, and you don't even need to leave the house. But dating app fatigue is real, and devoting hours and hours to apps like Bumble, Hinge and Tinder every week gets frustrating fast when you're not meeting anyone with relationship potential.
This Atlanta dating guide has 7 great alternatives for meeting new people when you're tired of swiping!
#1 Work With An Atlanta Matchmaker
The easiest, most efficient alternative to online dating is hiring an Atlanta matchmaker. A matchmaker connects you with singles who meet all your compatible requirements who are also looking for someone like you.
The key to success is hiring the right matchmaking service. While they all have the same goal of getting you into a relationship, the process they use to find singles for you to meet can vary.
For instance, traditional matchmaking services generally pull potential matches from an internal database - a Rolodex of sorts. Those are Atlanta singles who have submitted a profile to be considered for matching with paying clients.
Your perfect match may be among them, but you'll be crossing your fingers that they decided to sign up for the same service you chose.
Some services offer to "scout" beyond a database, but you'll often be paying extra because it involves a labor-intensive proactive search. This is one of the reasons you'll find so much variance in how much Atlanta matchmakers cost, as you can spend anywhere from a few thousand to over $300,000 on a service.
Price is an important factor, but also keep this in mind: Compatibility has to flow both ways, so the more singles a matchmaker has access to, the higher the odds of making a quality match.
Opting for the cheapest service and only meeting people from a small, internal database may not produce the result you're hoping for. You're often just matched with who's available, not with who's compatible.
But not all matchmaking services charge in the hundreds of thousands for a wide-ranging search. VIDA Select, for instance, taps into the largest pool of Atlanta singles there is.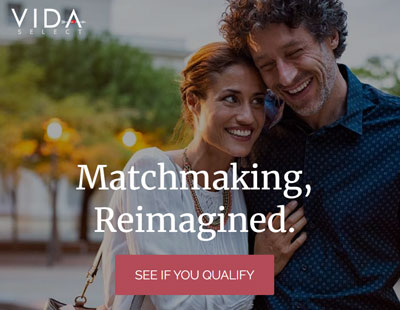 Thanks to VIDA's modern approach, you'll only be meeting singles who check every one of your compatibility boxes. You can look forward to all your first dates, because you pre-approve every match.
Unlike most Atlanta matchmakers, VIDA's service is flexible - you pay by the month rather than committing to a long-term contract. Monthly packages start at just $995.
See if you qualify for VIDA's modern matchmaking service by clicking here!
#2 Check Out Atlanta Social Groups
Social groups are a great dating app alternative. Joining one is a fun way to meet people while trying a new activity, and there are plenty of Atlanta single events to choose from. You just need to find them! Here's where to start:
Meetup
Meetup is one of the most popular ways to connect with other Atlanta singles. Meetup.com brings together groups of people via a common interest, like sports, technology, music, hobbies or mixer events.
Whether you are seeking a partner who shares your love for reading, coffee, yoga, hiking, food, networking, the great outdoors or games – there's a group for that. Find a meetup group and chat with others who share your interests.
Atlanta Sport And Social Club
Atlanta Sport and Social Club is one of the largest providers of adult recreational sports leagues, tournaments, and social events in the area. They have over 25,000 annual participants and offer 70+ leagues every season. From soccer and volleyball to cornhole and kickball, there is a wide variety of sports to choose from.
They also offer fun seasonal events like Oktoberfest Atlanta or Atlanta Grilled Cheese Festival, which can be terrific places to meet Atlanta singles!
Atlanta Outdoor Club
If you're interested in all things outdoors and want to meet a fellow nature lover, check out the Atlanta Outdoor Club. The free membership gives singles who are 21 or older access to hundreds of events year-round.
Experience hiking, backpacking, running, canoeing, biking, and more while connecting with other outdoor enthusiasts. Check out their upcoming events!
#3 Head To Your Local Library
Granted, the library doesn't generally spring to mind when you're thinking about the best Atlanta dating app alternatives. But the Fulton County Library System offers tons of fun activities such as book clubs, yoga, language classes, networking events, all-ages coloring nights, line dancing, open mic nights and much more. 
The Atlanta dating scene includes plenty of hobbyists, and lots of them have library cards.
Connecting over a shared hobby is a great way to break the ice, and doing something you truly enjoy takes a lot of the stress out of meeting someone new. Visit their website to find out what upcoming events and classes interest you most and get ready to mingle.
#4 Give Speed Dating A Whirl
Atlanta speed dating opportunities are many - it's a retro dating trend that's making a major comeback. Speed dating in Atlanta, GA is one of the most efficient ways to vet potential romantic partners, because it's structured for meeting multiple singles over a relatively short amount of time.
Speed dating comes in two flavors: virtual and in-person. You can find online speed dating opportunities using websites like Meetup, and dating apps like Bumble, Tinder and The League also host weekly in-app events.
In person speed dating events in Atlanta can also be found on sites like Meetup and eventbrite.com. They are often hosted by companies like MyCheekyDate who host speed dating events in cities around the nation.
Speed dating usually costs between $20 to $100+ per event.
Get the full scoop on speed dating in Atlanta here! Make sure to put that link on your reading list, because you'll also get 5 speed dating tips straight from the experts.
#5 Hit The Bar Scene
Bars have always been a fixture on the single's scene, but not every bar is a good "singles" bar. You need the right atmosphere and crowd!
Here are a few Atlanta bars that are popular for meeting people:
Your vibe, drink of choice, and atmosphere preference will sway your decision when it comes to choosing a bar in Atlanta. If the first place doesn't suit your fancy, try another.
#6 Go Shopping
There's a reason meeting someone special while searching for a ripe cantaloupe is a "meet cute" cliche. It can actually happen! And upscale grocery stores such as Trader Joe's, Whole Foods, The Fresh Market and Savi Provisions are ideal choices.
As NYC matchmaker Maria Avgitidis observed in an interview with Harper's Bazaar,
If I were single, I would just go to Whole Foods every day, and pick up a man. There's so many good looking men there, and you know they have a good pay check or else you can't shop there.
Even grabbing a cup of coffee at a cafe like Hodgepodge or Dancing Goats can turn into a serendipitous meeting. But for this approach to work, you likely need to change how you shop.
For starters, you need to do things that encourage someone to interact with you, like this:
Lose the headphones/earbuds and put away your phone.
Start noticing who's around you.
Make eye contact and smile at people you find intriguing.
Be friendly and work up the confidence to start a conversation.
This approach also involves noticing little details, like other people's body language. If they seem withdrawn and closed off, they may not be open to conversation.
Check for a wedding ring, and glancing at their basket in a grocery store can often help you take an educated guess at someone's relationship status based on what they're buying.
Striking up a conversation with a complete stranger may seem nerve-wracking at first, but the more you practice the more confident you'll be.
#7 Find Volunteer Opportunities
Volunteering is a perfect opportunity to build new connections and expand your social network with people who share your values and interests while also having a positive impact in your community.
Atlanta offers many volunteer options. Start with organizations such as VolunteerMatch, Hands on ATL and Open Hand Atlanta that assist non-profits and other agencies with filling volunteer spots.
When you're hoping to meet someone special, seek out roles that allow you to interact with other volunteers. Answering phones or delivering meals are undoubtedly helpful, but those roles won't give you many dating opportunities.
There you have it: 7 ways to meet Atlanta singles that don't hinge on swiping right or left. With any luck, you'll be going on your next first date before you know it!
Want us to do your online dating for you?

Hey, I'm Ally, VIDA Select's Director of Matchmaking.
We take all the frustration, hard work and hassle out of modern dating!
Imagine your very own Dream Team of highly skilled dating experts searching for the very best local matches, sparking their interest, and arranging all the dates for you.
Wouldn't it be nice to finally stop swiping and start dating higher quality matches so you can meet someone special?
We've helped thousands of singles just like you since 2009, and we're ready to make you our next success story!
What are you waiting for? Take the next step now…
See If You Qualify