I hope you enjoy reading the blog post.
If you want to chat now about your matchmaking search, click here.
Barbie Adler Profile: Is She The Best Matchmaker For You?
If you're thinking about investing your time and money with elite matchmaking service Selective Search, it makes sense you'd want to know a little more about its founder, Barbie Adler.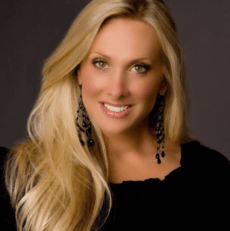 From the small independents to the big industry players, our team has reviewed over 200 matchmaking services. Our insight comes from 14+ years in the industry, comprehensive research, real customer reviews, and a keen understanding of the matchmaking landscape.
Barbie Adler Review Table Of Contents
This short article is packed with details, from her matchmaking philosophy and process to what attracted her to the industry. Everything you need to decide if she's the right Chicago matchmaker for you!
Selective Search: The Origin Story
Before founding Selective Search in 2000, Barbie Adler was a headhunter with an executive search firm in the Chicago area. But when she wasn't introducing potential employees to big name companies, she was casually matchmaking - a hobby she'd had since high school.
In fact two of the couples she paired up in high school ended up marrying each other after college.
As she told Forbes, it was the events of 9/11 that made her leave headhunting behind, and focus on helping people find the love of their lives:
"Life is so precious and what really matters is not at all what's in the bank but what matters is how happy you are."
She started out charging $5,000 to $10,000 for her services. The price eventually swelled to $25,000 - $50,000 as her personal matchmaking service grew to be one of the largest in the country.
These days, hiring Selective Search cost starts at $50,000 and can run well over $250,000 depending on your requirements.
Adler says her clients are successful professionals who prioritize quality in the people they date, and are ready to find love. As she shared with Entrepreneur, advancing your career and sacrificing your dating life often go hand in hand.
In that interview, she offered a few tips for busy single execs: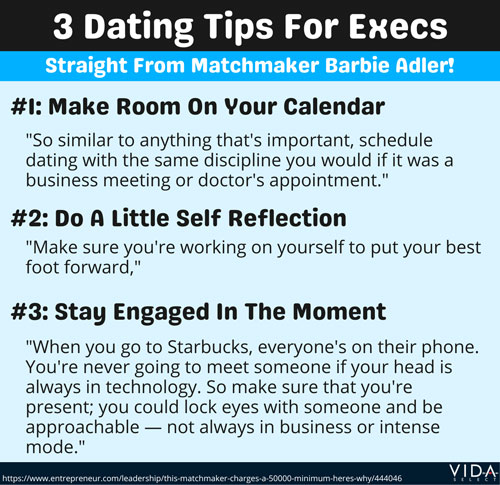 Selective Search is affiliated with matchmakers all over North America, so she works with single professionals from all over the US. Barbie Adler has offices in major cities like Boston, Los Angeles, New York, and Washington DC.
She also ended up meeting her husband, financial adviser Michael Marcovici, through her matchmaking company. The two married in 2008.
Adler says his payment was donated to charity, so as not to break her strict rule about not dating clients.
Barbie Adler's Matchmaking Philosophy & Process
Adler uses the same strategies that were so effective when she was an executive headhunter for Fortune 500 companies, and combines them with good old-fashioned intuition.
As she shared in an interview with Entrepreneur,
I realized that the whole vetting and screening that happens to hire the best talent for your team — the alignment of the three Cs: client, candidate and culture alignment — is so needed in people's personal lives.
She even has a trademark name for it - "The Meet Your Future®" process:
Intake
Exactly what it sounds like, Intake is a series of consultations and interviews with one of Selective Search's matchmakers. You'll share your relationship history, goals, partner preferences - everything that will help your matchmaker get a solid idea of who you are and what you're looking for.
Benchmarks
These are your list of ideal partner preferences. According to Adler, the benchmark phase "explores over 110 key personal, professional, and social indicators desired in a partner."
Screening
This takes place when your matchmaker starts interviewing "affiliates." They are the eligible singles listed in the Selective Search database. There's no charge to join Selective Search as an affiliate, but they are all screened via the same in-person interview process paying clients go through.
Presentations
These are the detailed notes on each potential match that are shown to paying clients. Photos, biographical information, and notes from the screener are all included.
After each presentation, you can either decide to meet the match, request additional information, or decline the match.
Selection
The good part - the date! That's when you'll meet your match face to face.
Evaluation
This happens after each date - both the client and the affiliate will separately provide feedback to the matchmaker on how they think the date went.
Barbie Adler told the Chicago Tribune there's a very specific reason she doesn't charge affiliates to be available for matching with her paying clients:
"Irresponsible matchmaking results when you charge both. People get lazy and they're just trying to fill a quota. I have more of a network to pick from if one [gender] doesn't have to pay."
Adler and her team of matchmakers recruit new affiliates from a variety of different sources, including advertising in publications like in-flight magazines, publications for Ivy League alumni, and Forbes. They also recruit at various social events.
Is Barbie Adler & Selective Search The Right Professional Matchmaker For You?
Adler's been in the industry for nearly two decades, so she's definitely got a formula that's working for her. If you want to read more about her matchmaking service, check out this Selective Search review.
At the end of the day, only you can decide whether her approach will work for you, too.
After all - there are plenty of other elite matchmakers in the same $25-50K price range, or even higher. With matchmakers like Patti Stanger or SEI Club, you can easily drop a cool million on the chance to meet your perfect partner.
It all depends on your budget, and what you're comfortable spending.
There are also professional matchmaking services like VIDA Select that get incredible results for a more affordable price and less upfront risk.
And VIDA's matchmakers expertly leverage the single largest pool of singles you'll find anywhere in the world.
Intrigued? Click here to learn more!
All product and company names are trademarks™ or registered® trademarks of their respective holders. Use of them does not imply any affiliation with or endorsement by them.
Why Choose VIDA Select?

Since 2009, thousands of clients have discovered true love thanks to VIDA Select's fresh, modern approach to matchmaking – which has finally thrown blind dates and long-term contracts out the window. This isn't your grandmother's matchmaking!
Instead of working with a single matchmaker using a small rolodex of potential partners, VIDA Select's matchmaking team taps into the world's largest database of available singles. We'll quickly identify the matches who check all of your boxes so you can finally experience true chemistry. Are you ready to become our next success story? Schedule your complimentary consultation now by clicking the button below!
Get Started Now