I hope you enjoy reading the blog post.
If you want to chat now about your matchmaking search, click here.
Who's The Best Bellevue Matchmaker? [5 Quick Reviews & Cost!]
You've likely discovered meeting new people isn't easy, especially if you're a transplant. Hiring a Bellevue matchmaker makes perfect sense, because with so many demands on your time the last thing you want to do is spend hours on one disappointing date after another.
With 200+ matchmaking service reviews under our belt, we've become well-versed in the world of matchmaking. Our extensive research and detailed analysis of each service allow us to provide unbiased reviews.
But with so many to choose from, which dating service is right for you? Start narrowing down your options with these 5 Bellevue matchmakers worth considering!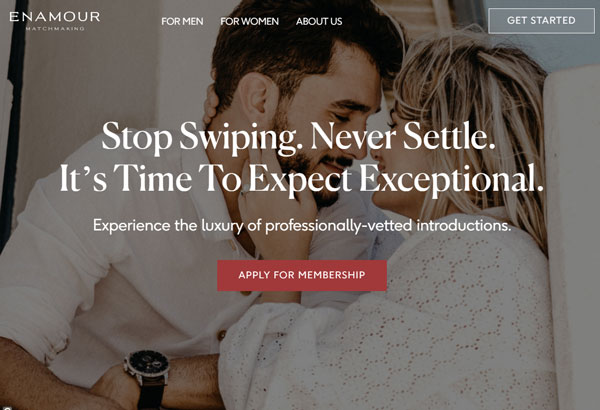 With a laser focus on pinpointing highly compatible matches, Enamour's team curates an exclusive, invitation only database.
If you're ready to meet truly relationship-worthy singles, Enamour should make your short list! The seasoned matchmaking team has been in the industry since 2009.
Cost & Contract
Enamour's matchmaking packages start around $20,000 for a 6-month search. Clients can select from an array of options, tailored to meet their specific search requirements.
What To Expect
Like most elite matchmakers, Enamour's process starts with an initial consultation to make sure you're the right fit for the service (and vice versa). Next, you'll be paired with a dedicated personal matchmaker.
During an information-gathering session, she'll learn all about you and your lifestyle, goals, relationship history, etc. You'll also discuss your match criteria and dealbreakers.
The search begins within the curated database, but the team also searches far and wide for exceptional candidates using a variety of recruiting tools and an extensive scouting network.
Those who pass the in-depth vetting process will be presented for your approval. Dates are arranged, and after each one you'll have the opportunity to provide feedback to your matchmaker. She will also check in with your match, passing along any helpful observations and insights you can use to improve your dating process.
Enamour also offers clients an array of complementary services, ranging from personal styling and image consulting to dating coaching and professional photography.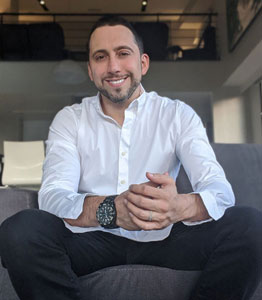 If you're struggling to meet your perfect match and getting more frustrated with Bellevue's single scene every day, VIDA Select is the solution you've been looking for.
VIDA's matchmakers leverage the biggest source of eligible singles there is, which means you're not limited to meeting people plucked from a limited database. That's why the average VIDA client feels sparks after just 11 dates!
Clientele
VIDA Select provides matchmaking services for both men and women, typically successful professionals in their late 20s to mid 60s who want to meet highly compatible, relationship minded Bellevue singles.
Cost
Clients can choose from a range of package levels and options. All prices are based in part on the number of hours that need to be devoted to your search every month, considering your match criteria, search radius, and other factors.
Basic matchmaking packages start at $1195 per month, and Premium matchmaking packages begin at only $1795 per month. Elite matchmaking service packages start at $2595 per month. With VIDA, you enjoy the flexibility of paying as you go, on a month-to-month basis. 
That means you can pause or stop your service when you meet someone amazing, or if the service isn't the right investment for you. You're not locked into a long-term contract!
What To Expect
The decision to hire a matchmaker is a big one, and VIDA isn't right for everyone. The process begins with a quick screening process. Next is a 20-minute complimentary consultation where you'll learn more about VIDA's modern approach to matchmaking.
Clients then meet with their dedicated matchmaker, who will get to know you, your dating history, your matching criteria, and more.
You can review a profile and photos of each potential match who's hand-selected for high compatibility, so you'll only meet people you're actually interested in pursuing a relationship with. No more wasted time!
VIDA also offers an array of services like dating coaching and personal styling. All the expert guidance you need is right at your fingertips.
Love Architects (by Kailen Rosenberg & Andrew Hanson)
Founded in 2008, Kailen Rosenberg's matchmaking service is actually headquartered in Minneapolis, MN. But she maintains an office in Bellevue, as well as 20+ other locations around the US.
A professional matchmaker with over 20 years experience, Rosenberg once appeared on a matchmaking reality TV show. She also wrote a book on how to find your soulmate.
Cost & Contract
How much Love Architects costs depends on a number of factors, like whether you work directly with her. Rosenberg's son Andrew Hanson is the CEO of the matchmaking service, and also takes on clients.
Pricing also depends on how many locations you'd like included, as Love Architects offers local, national and international searches.
Packages range from $5,000 to over $100,000 to hire Rosenberg, or $5,000 to $50,000 to work with Hanson. A contract is required.
What To Expect
The first step is filling out the "pre-application" on the website. That costs $25, but the fee is donated to charity.
If you're interested in working directly with Rosenberg, the next step is a $1,000 assessment. She'll use the information from that consultation to create your 'blueprint' - an action plan of sorts to help you meet your ideal partner.
The assessment fee is $500 if you do your consultation with Hanson.
Matchmaking packages are customized to fit the scope of your search and other factors, and some memberships include invitations to members-only events.
Your matches are pulled from the Love Architects database and via scouting if your package allows for it. You can generally expect to meet 5 to 7 matches over the course of your contract.
Further Reading
Ali Migliore's professional background is in event planning, but says wanted to be a matchmaker since she was 15. She started her own matchmaking service in 2013 at her husband's suggestion after several interviews with other dating services were unsuccessful.
Simply Matchmaking has two locations - one at 1400 112TH ave SE, and the other in Seattle. She also works with a network of matchmakers along the West Coast.
Clientele
Migliore generally works with successful men as paying clients, while women pay an interview fee to be matched with them.
Cost & Contract
For women, there is a one-time $250 interview fee to be included in the Simply Matchmaking database. However, inclusion is not a guarantee you'll ever be matched with a male client.
Simply Matchmaking cost for men varies depending on which package you choose. For instance, one package includes meeting 3 matches over the course of 2 months for $5,000.
What To Expect
For both men and women, the process starts with a 90-minute interview. Women are only contacted when the Bellevue matchmakers identify them as a compatible match for a paying client.
Men meet compatible women sourced from the Simply Matchmaking database, or via Migliore's network connections. Introductions can be in-person or video date, and the arrangements are handled for you.
After the date, feedback is gathered from both you and the woman you met. If you're interested in dating coaching, you'll receive detailed feedback on how the date went from your match's perspective.
Further Reading
A former stockbroker, Monique Le designed her matchmaking service to help successful men meet highly compatible women. She also offers relationship counselling for both couples and individuals.
As the name implies, the Seattle Love Broker is headquartered in Northgate, but she works with Bellevue singles as well. She founded the service in 2014.
Clientele
Le typically works with men as paying clients, and matches them with women who have applied to be included in her database.
Cost
For both men and women, the process starts with filling out a registration form online. The $25 application fee is returned if you're not accepted.
Women then need to schedule a consultation with Le to be considered as a potential match for her male clients.
The consultation costs $100 if you do it as part of a small group, or $250 if it's a one-on-one interview. Although she generally only takes on men for active matchmaking, women in some circumstances can pay $5,000 for what she calls "individual ongoing attention."
For men, the package prices and options are disclosed during your initial interview. But you can expect to spend in the neighborhood of $15,000 for a 12-month contract.
What To Expect
The first step for both women and men is filling out the online questionnaire, then scheduling the initial consultation if your application is accepted.
Women who pass the screening process are added to Le's database of potential matches. Men fill out a comprehensive questionnaire that helps Le identify compatible women.
You'll then have a conversation with her either via phone, Skype or face-to-face, and discuss your ideal partner criteria, relationship goals and history, etc.
Introductions are arranged with matches from the Seattle Love Broker database.
Further Reading
All product and company names are trademarks™ or registered® trademarks of their respective holders. Use of them does not imply any affiliation with or endorsement by them.
Why Choose VIDA Select?

Since 2009, thousands of clients have discovered true love thanks to VIDA Select's fresh, modern approach to matchmaking – which has finally thrown blind dates and long-term contracts out the window. This isn't your grandmother's matchmaking!
Instead of working with a single matchmaker using a small rolodex of potential partners, VIDA Select's matchmaking team taps into the world's largest database of available singles. We'll quickly identify the matches who check all of your boxes so you can finally experience true chemistry. Are you ready to become our next success story? Schedule your complimentary consultation now by clicking the button below!
Get Started Now