I hope you enjoy reading the blog post.
If you want my team to just do your Tinder for you, click here to chat with me.
The 7 Best Tinder Profiles For Guys (Updated 2023)
Guys with bios get more matches on Tinder. But that doesn't mean you can put the first thing that pops into your head in your Tinder profile and call it a day.
The best Tinder profiles make women want to know more about the guys who wrote them.
And to accomplish that, you need to describe yourself in a way that instantly attracts her. Because on swipe-based dating apps you've only got one chance.
That's not easy for most guys - but it's exactly what you have to do if you want to match with and meet the best women in your area.
Don't worry. These 7 good Tinder bios for guys will not only boost your match rate, they'll also catch the eye of the attractive women you *really* want to meet.
And at the end of this article, you'll even get 3 proven-to-work Tinder icebreakers you can use right now!
Funny Tinder Profiles
Women have a hard time resisting a funny guy, so your Tinder bio is the perfect place to weave in some humor.
Tinder Profile Example #1: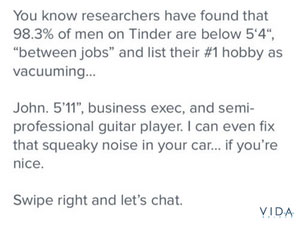 The best Tinder descriptions grab her attention from the get-go, which is why this example works so well.
Here is another way to stand out from the crowd...
Tinder Profile Example #2: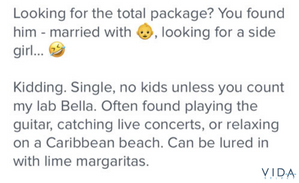 Your potential match has probably had some "interesting" experiences on Tinder, so she can likely relate to the jokes you're making at your competition's expense.
But the humor in these examples makes a big impact on Tinder because she can relate to it.
If it's super random, off-putting, or she doesn't get it, there's no emotional connection. You're just another Tinder user she put in her "nope" pile.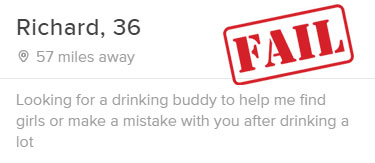 Without some kind of spark, the odds of getting a right swipe or a response to your message plummet. And why would she meet you in person if she's not vibing with you on the app?
You can find inspiration for a funny Tinder bio in all kinds of places, from movie reviews...
Tinder Profile Example #3: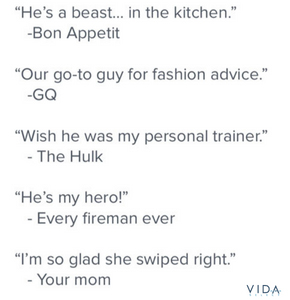 To a simple but witty pros and cons list.
Tinder Profile Example #4: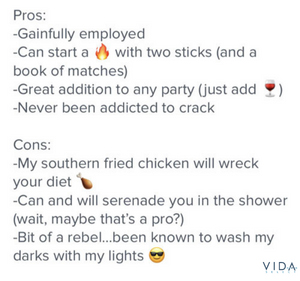 Women are particularly drawn to personality traits such as bravery and courage, so start there when you're customizing these examples to fit your personality.
Dating app profiles are short. Every word has the potential to alter her first impression of you.
Negativity in general is a no-no, as a positive impression is what drives her interest.
Even the "Cons" in the example above are still presented in a positive, humorous way.
Here's what it looks like when you get it wrong: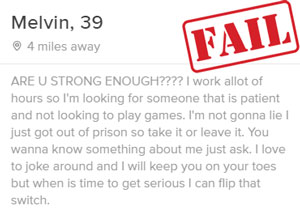 Prison, works a lot of hours, lots of strength and patience required… no thanks.
Portray yourself as an intriguing, fun guy to hang out with, and potential matches will swipe right to learn more about you. And, more importantly, move the conversation off the app.
Get some funny Tinder opening lines to match your new bio!
"Serious" Doesn't Mean Boring
If you're in the market for a committed relationship on this popular dating app, you may want to take a more serious approach to your profile.
You're looking for the Total Package, so show her why you deserve that title too.
Tinder Profile Example #5: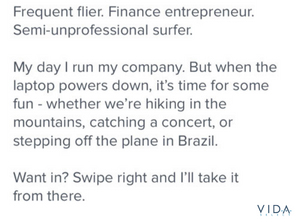 Even though this example is on the longer side for a Tinder bio, it's still easy to read. That's essential!
People are generally more drawn to text that is skimmable and quick to comprehend.
Compare the example above with this real-life Tinder profile: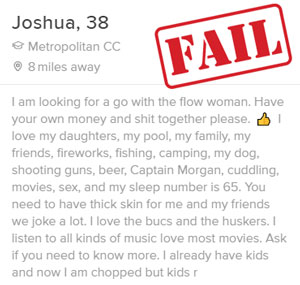 Oh, what a difference line breaks make.
Using simple language makes you seem both more intelligent and likable - exactly what a good Tinder bio should do.
Emoji are a shortcut to simplicity that also happens to pack a ton of visual interest.
Tinder Profile Example #6: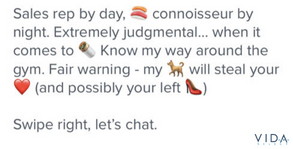 Emoji can do the heavy lifting for your entire profile.
Tinder Profile Example #7: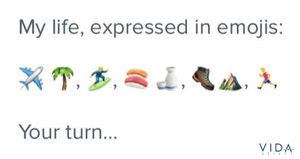 It's only a handful of characters, but she still learns enough about you to pique her interest.
Igniting a spark of curiosity is essential.
The average woman spends around an hour and a half on Tinder each day, and if she's a millennial that translates to 7.6 minutes for each swiping session.
In other words, your potential matches are looking at a lot of Tinder profiles. Bios like this aren't going to jolt anyone out of auto-swipe mode:

Before you check out the bonus Tinder icebreakers, let's quickly recap some profile do's and don'ts.
If you want to have one of the best Tinder profiles she's ever seen, then...
Make sure your humor is appealing. If you're not sure, run it by a friend (preferably one who's a girl).
Preview your Tinder bio. You can do this from the "Edit Info" screen. It defaults to "Edit" mode, so simply tap "Preview" and you'll see your dating profile the same way she does. Look for things that make your profile hard to skim, like strange line breaks or lack of punctuation.
Include details about your hobbies and interests. Not only will it make you seem more genuine, but according to a recent survey the majority of daters would prefer to see more information in a profile than more photos.
And make sure you don't...
Underestimate the power of typos. For many women, poor grammar, words spelled or used incorrectly and other seemingly small details like that could be the difference between a right and a left swipe.
Default to clichés. You may truly love to laugh, take long walks on the beach and try new things, but the best Tinder profiles put an original spin on it so you stand out. Write about something specific that made you laugh, or something fun you tried for the first time. In other words, show - not tell.
Use the word "don't." Negativity tends to be mood killer when it comes to dating sites and apps. What you don't like, what you don't want, who you don't want to date... don't go there. A positive profile is much more universally attractive.
Now that you've got your profile dialed in, here are…
3 Proven Tinder Messages You Can Send Right Now
With just a few quick customizations, you can use one of these profile examples today.
Not only will you have one of the hottest Tinder profiles in your area, you'll get more high-quality matches too.
But better matches mean you need better messages.
Chances are your messaging game could use a little help too, which is why we've included 3 Tinder conversation starters that actually work.
A Better Way To Say "Hey"
While there's no magical Tinder conversation starter that works like a charm every time, this one is close.
Message #1: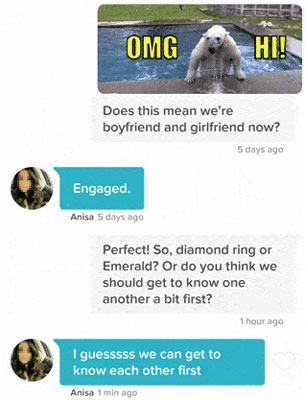 It's a playful icebreaker you can send to any woman, and the adorable animal GIF is the icing on the cake.
GIFs can boost your response rate by a whopping 30%, and the animation is a great way to get her attention.
You're not lacking for choice when it comes to animals saying hi, so pair the proven Tinder message in the example above with a fun animal GIF and wait for the responses to role in.
Put Her In A Good Mood
To be successful, a Tinder message needs to make her feel like responding.
Ask her something that she'll enjoy thinking about, and a response is practically assured.
Message #2: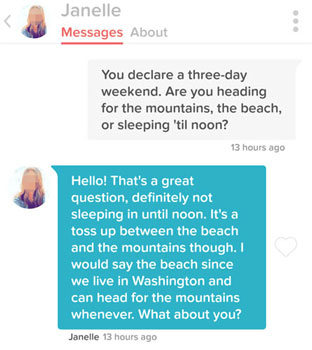 Travel is a great topic of conversation because almost everyone enjoys it - or at least enjoys the thought of a fun trip.
You can also improve her spirits by getting her talking about everyone's favorite topic - themselves.
According to researchers, talking about yourself stimulates the areas of your brain that get all fired up about motivation and reward.
In other words, talking about yourself just plain feels good. So make her feel good with a message like...
Message #3: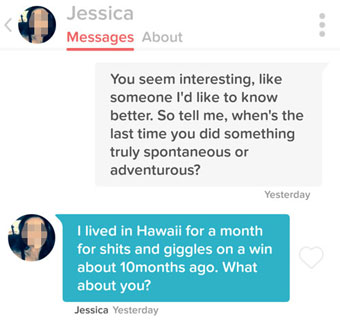 Meet Incredible Women - The Easy Way!
Now that you've got 7 great Tinder bio options, plus 3 go-to conversation starters, you should be off to the races.
But do you have the skill, not to mention the time, to turn all of those conversations into dates and phone numbers?
What if you could get amazing results on Tinder, but without any of the hassle?
VIDA Select's team of dating experts can conquer Tinder for you - from nailing your profile to sending messages that women can't resist responding to.
If you're serious about meeting the woman of your dreams, you need VIDA in your corner.
See what VIDA Select can do for you!
Want us to do your online dating for you?

Hey, I'm Ally, VIDA Select's Director of Matchmaking.
We take all the frustration, hard work and hassle out of modern dating!
Imagine your very own Dream Team of highly skilled dating experts searching for the very best local matches, sparking their interest, and arranging all the dates for you.
Wouldn't it be nice to finally stop swiping and start dating higher quality matches so you can meet someone special?
We've helped thousands of singles just like you since 2009, and we're ready to make you our next success story!
What are you waiting for? Take the next step now…
See If You Qualify