I hope you enjoy reading the blog post.
If you want my team to just do your Tinder for you, click here to chat with me.
7 Of The Best Tinder Taglines For Guys (Plus 5 Bio Tips)
When it comes to swiping right on Tinder, women tend to be a lot more selective than guys.
That means she's looking for a reason to like you - and your Tinder bio needs to give her one.
But making yourself look like an attractive prospect on paper isn't easy - that's why you landed here, right? You're savvy enough to know it's not just about your Tinder pics.
Your bio often needs to seal the deal if she's not sure which way to swipe.
Help has arrived. Use one of these 7 best Tinder taglines for guys in your bio, and you'll catch the eye of the most attractive women in your area.
Give Her What She Wants
It's a concept straight out of Marketing 101:
If you can't connect with your audience, they're not buying what you're selling.
You've got limited space to describe yourself, so focus on a few of your most attractive features. Like this: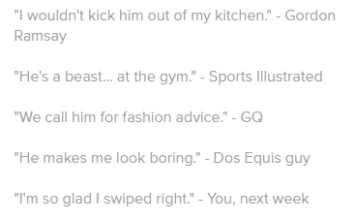 Physically fit, likes to cook, keen fashion sense - yes, please.
This Tinder bio example is packed with reasons why you're boyfriend material, and the humorous format keeps it from sounding arrogant.
Here is another funny Tinder bio that hits all the right notes:
Creative Tinder profiles are like a breath of fresh air when she's swiping.
A lot of guys don't have a Tinder bio at all, and far too many of the ones who do resort to boring lists of adjectives, or something equally uncreative.
Or worse, they commit this Tinder bio sin:
"Just ask."
This is by far one of the worst Tinder taglines for guys. She doesn't know you, so she doesn't care about you. Your bio needs to give her a reason to care.
See the difference?
This profile example makes her want to ask you questions. If your Tinder bio doesn't leave her with a bad case of FOMO, chances are she's not swiping right.
Simple Is Sexy
Simple Tinder bios are effective - as long as they're compelling. You don't want to sound like every other guy who took the KISS route:
Doesn't everyone enjoy traveling when they can, trying new restaurants, and doing "anything fun"?
Specific details make you sound more genuine and interesting, and using them makes it easy to go the show/don't tell route. Research has found that showing what type of person you are is more attractive than just saying it:
So instead of writing "I enjoy traveling," describe a trip or two as in the example above. Mentioning your kitesurfing lessons and weekends spent hiking in the mountains is far more interesting - and believable- than just saying "I'm adventurous."
Some traits, like bravery, courage, and a willingness to take risks automatically boost your attraction level because women are naturally drawn to those traits in a potential partner. And many women find things like an epic sense of humor or a stable career irresistible.
Emojis and simple Tinder profiles go hand in hand.
Not only do they add a pop of color to your bio, they're also perfect for conveying a complex idea using only one character.
You want your Tinder bio to be as skimmable as possible, because using simple, easy-to-understand language makes you seem smarter and more likeable.
On that note, here's another Tinder profile sin you should never commit - neglecting to use punctuation:
Periods and commas are your friends. They make even the longest of these Tinder profile examples easy to read and instantly comprehend.
Ace Your Tinder Bio
You've already seen two common Tinder bio mistakes - forgetting punctuation is a thing that exists and writing "just ask" instead of describing yourself.
Here are 3 more expert Tinder bio tips that will ensure she swipes the right way:
Bio Tip #1: Include A Call To Action
Called a CTA for short, this is a simple directive at the end of a marketing piece. And what is a Tinder tagline if not a commercial of sorts?
Tell her what to do next, whether that's message you, swipe right, or answer a fun question.
Bio Tip #2: Keep Things Positive
Negativity is often associated with inferiority, and besides - why hand her a reason to pass on you?
Even if you're shy, don't write something like "looking for someone to pull me out of my shell." Toher, that just sounds like work.
You'll notice even the "Cons" in the Pros & Cons Tinder bio example weren't really negatives. Every word in your Tinder profile should build you up, not tear you down.
Bio Tip #3: Don't Hint At Drama Lurking In Your Past
Tinder is all about first impressions.
You need attractive photos and an intriguing bio that complement each other. Unfortunately, that's an easy train to derail, especially if you look like you're bringing some baggage along for the ride.
Whether it's a crazy ex, a nasty divorce, or a even a tragic death - keep it out of your Tinder bio. Details like that are best addressed face to face once you've already built up some rapport and attraction.
Having One Of The Best Tinder Taglines She's Ever Seen Is Only The Beginning...
These Tinder bio examples will get you the matches… now you've got to turn them into numbers and dates. And for that, you need Tinder messages that really work.
Oh - and time.
There's a reason the average guy devotes a total of 90 minutes every day to Tinder. Rome wasn't built in a day, and you generally can't get a date with just one message - unless it's with a bot.
That means each message you send needs to keep her on the hook until she's interested enough to move things off the app. It's an art, and it takes effort.
Or, you can skip the frustrating, time consuming parts and just start meeting high quality women. With VIDA Select, that's possible.
Our team of Tinder professionals will write your profile, select your best photos, and handle all the messaging with incredible women you can't wait to meet.
Outsourcing Tinder is so easy, you'll wonder why you haven't done it yet.
Want us to do your online dating for you?

Hey, I'm Ally, VIDA Select's Director of Matchmaking.
We take all the frustration, hard work and hassle out of modern dating!
Imagine your very own Dream Team of highly skilled dating experts searching for the very best local matches, sparking their interest, and arranging all the dates for you.
Wouldn't it be nice to finally stop swiping and start dating higher quality matches so you can meet someone special?
We've helped thousands of singles just like you since 2009, and we're ready to make you our next success story!
What are you waiting for? Take the next step now…
See If You Qualify