I hope you enjoy reading the blog post.
If you want to chat now about your matchmaking search, click here.
Bloom Matchmaking Reviews [2023 Cost, What To Expect & More!]
If you're looking for love in Virginia you might be wondering if Bloom Matchmaking is the right service for you. In this Bloom Matchmaking review we'll dig deep into how founder Paula Pardel got her start, her matchmaking philosophy, what it costs, client reviews, and more!
Our team has reviewed over 200 matchmakers, from the boutique operators to the big industry players.
Our reviews are built on insights that come from 14+ years of first-hand experience in the industry, combined with comprehensive research and a keen understanding of what clients value most in a matchmaking service.
Bloom Matchmaking Review Table of Contents:
First things first…
How Matchmaker Paula Pardel Got Her Start
Paula Pardel's career took an unexpected turn in 2018, forever changing her life. As a stay-at-home mom, she stumbled upon a newspaper ad seeking a matchmaker, and that ignited a spark within her.
With a leap of faith, she joined the company. Her time there was cut short when it closed its doors. But Pardel's passion for bringing people together led her to take a bold step: opening her own matchmaking company.
In 2020, Bloom Matchmaking opened for business in Midlothian, Virginia. It now has an additional office in Virginia Beach.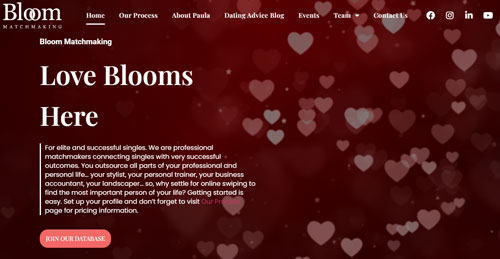 When asked about her most significant business decision, Pardel emphasizes the incredible value that Bloom has added to her life. She shares,
"Starting my own company, and then learning the profession from seasoned matchmakers — the best in the business, some of whom have been matchmakers for generations."
Reflecting on her journey, Pardel acknowledges that she wishes she had recognized her true passions earlier in life. Having spent too much time in her previous career as a real estate agent, she now recognizes the importance of aligning one's passions with their work.
In an interview, she admits,
"I spent far too much time in unfulfilling careers. I would have realized earlier what my true passions are because my passion for what I do is an asset to my business and my clients."
Paula Pardel's Matchmaking Philosophy
Your first step in becoming a Bloom Matchmaking client is to give their office a call. Their team will take the time to get to know you better and understand the qualities you're seeking in a partner.
Pardel takes a holistic approach to matching. It's not just about someone's must haves and deal breakers, it's also about the quality of the relationship. As she explained in an interview with Richmond.com,
"More than ever, more people are looking for ways to find healthy relationships in a safe and effective way. As a matchmaker, I can help people achieve their relationship goals, and for me that is personally satisfying as well."
Bloom primarily works with singles who are focused on meaningful relationships rather than casual hookups. Pardel explains it this way,
"We also determine intention, so we can match them with people who are ready for a serious relationship, not just a causal connection."
If they believe you'd be a good fit for their services, you can simply choose one of the membership packages to get started.
The search begins within their database of singles. Each potential match undergoes interviews and vetting to ensure they align with your preferences.
According to Pardel, matchmaking involves both science and instinct. As she puts it,
"I also have a free database, which helps me find prospective matches. They're all interviewed, vetted, and background-checked. All matches are based on scientific compatibility … and, of course, my intuition."
Bloom also coordinates singles events around town, which offers an additional way to meet new people.
Dating advice is incorporated into many of her packages. Want a sampling of her relationship wisdom?
Pardel shared some of her dating tips with Style Weekly: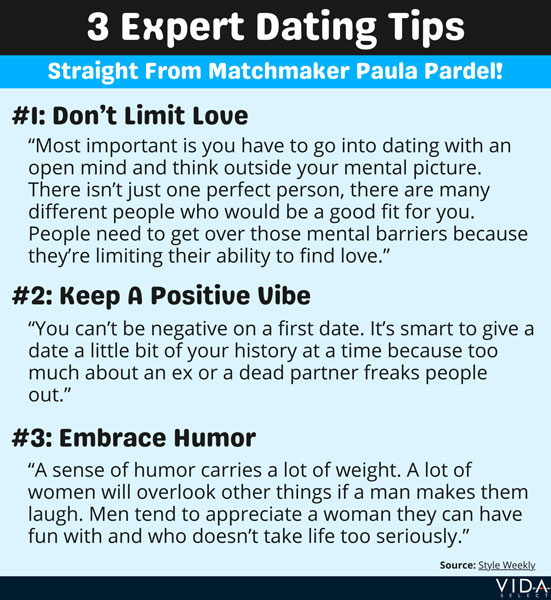 Bloom Matchmaking Cost
At Bloom Matchmaking, you have three different dating packages to choose from ranging from $500 to $10,000+. All come with a 6-month contract.
The Dating Coach package includes a one-hour Zoom session for relationship guidance, assistance with your online profile, and photo guidance. This package is priced at $500.
The Premier and Concierge packages include 3 months of relationship coaching through phone or Zoom, as well as professional photo shoots.
In addition, Concierge members have the added benefit of working with a personal stylist, receive post-date feedback, and have the option to have dates arranged for them.
The Premier package is priced at $2,500, while the Concierge package starts at $10,000.

You can also join Bloom's database of singles at no cost. However, you'll only be contacted if they believe you'd be a good match for a paying member. To be matched proactively, you'll need to become a client.
Bloom Matchmaking Reviews
You won't find too many online reviews for Paula Pardel and Bloom Matchmaking. The service has yet to be mentioned on platforms like Yelp, Trustpilot or the BBB.
It does, however, have a 4.7-star rating on Google based on 12 reviews.

Almost all of the Bloom Matchmaking Google reviews were positive. This reviewers were happy with the service they received from Pardel and her team: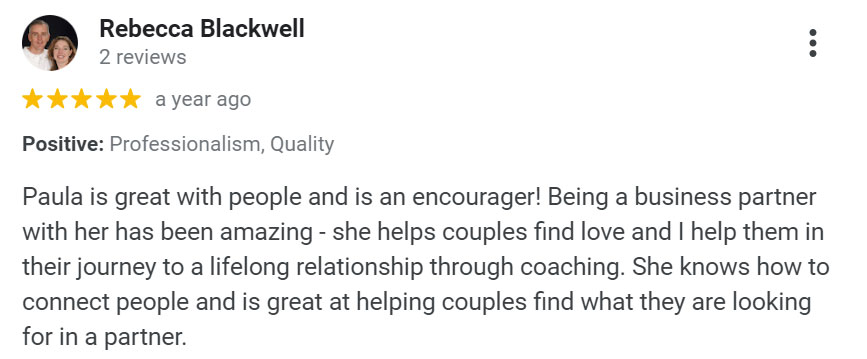 And this client mentioned how Pardel took the time to really get to know him during the matchmaking process:

The 1-star reviewer didn't share anything about Pardel or the Bloom Matchmaking service, they simply gave it a 1-star with no explanation.
Hiring a matchmaker is a decision that shouldn't be taken lightly. After all, you're entrusting them with your love life! Paula Pardel isn't your only option for Virginia matchmakers, so the question remains…
Is Paula Pardel The Matchmaker For You?
If you're considering working with Pardel, checking out reviews can give you some insights into others' experiences. However, in this case there aren't many reviews available, so it's important to consider other aspects of her service before making a decision.
For instance, you'll want to think about where your matches will come from. Many matchmaking services simply pair clients with others from their own database. And it's certainly possible that your perfect person also signed up for Pardel's service.
But the art of matchmaking is all about finding two people whose "must haves" and "dealbreakers" perfectly mesh. And it's nearly impossible for any matchmaker to do that consistently from a limited roster in any single location.
That's why one of the biggest industry complaints is first dates with people who don't meet many (or any) of your expectations.
Some matchmaking services, like Enamour, take a dual approach that vastly extends the pool of eligible candidates.
Enamour has a curated, invite-only database, but the team also uses recruiting technology and a scouting network to search high and low for highly compatible Virginia singles who check every box.
And VIDA Select also takes a modern approach to matchmaking, leveraging the largest pool of Virginia singles there is! VIDA also offers the convenience of matchmaking packages that are paid by the month, requiring no long-term contracts.
On average, clients meet someone after only 3 months of service. Intrigued? Discover more about VIDA Select by going here!
All product and company names are trademarks™ or registered® trademarks of their respective holders. Use of them does not imply any affiliation with or endorsement by them.
Why Choose VIDA Select?

Since 2009, thousands of clients have discovered true love thanks to VIDA Select's fresh, modern approach to matchmaking – which has finally thrown blind dates and long-term contracts out the window. This isn't your grandmother's matchmaking!
Instead of working with a single matchmaker using a small rolodex of potential partners, VIDA Select's matchmaking team taps into the world's largest database of available singles. We'll quickly identify the matches who check all of your boxes so you can finally experience true chemistry. Are you ready to become our next success story? Schedule your complimentary consultation now by clicking the button below!
Get Started Now