I hope you enjoy reading the blog post.
If you want to chat now about your matchmaking search, click here.
Boston Dating Guide [7 Dating App Alternatives To Try!]
Dating apps are undeniably convenient, and Boston singles have declared Hinge their app of choice.
According to a Boston Magazine survey, 55% of respondents prefer Hinge over its competitors. But all that scrolling, liking and messaging can get old fast - especially when you're not meeting anyone you'd consider dating.
Our team of experts has helped thousands and thousands of singles meet someone special since 2009. We know a thing or two about the dating game! So if you're ready to put down your phone, check out this Boston Dating Guide for 7 great dating app alternatives. 
#1: Speed Dating
Speed dating is officially making a comeback, at least according to the New York Times. After being limited to right and left swipes throughout the pandemic, singles are flocking to Boston's speed dating events for a fresh change of pace.
How Speed Dating Works
While the exact format may change depending on which company is hosting it, the general premise is the same. When you arrive at the event, you'll go on a series of "mini-dates". Each mini-date lasts a predetermined amount of time, usually somewhere between 2 and 7 minutes.
After each round, one half of the pairing gets up and moves to the next table. This process repeats until everyone has a chance to meet each other. Generally, speed daters meet between 7 and 15+ singles over an hour or two.
At the end, everyone compiles a list of who they would like to see again. If two singles demonstrate a mutual interest, the organizer exchanges their contact information so they can get in touch.
Speed dating often takes place at a bar, coffee shop or similar establishment. Preregistering is usually required to ensure an equal number of singles.
The cost of a Boston speed dating event varies depending on the organizer, venue, etc. but it is safe to budget somewhere between approximately $30 - $80.
Boston Speed Dating Tip: Stay Focused On Each Conversation
Speed dating can be nerve-wracking, especially when it's your first time. A common mistake singles make is thinking about what they're going to ask next instead of paying attention to what the other person is saying.
It's good to have a few icebreaker type questions in mind, and even a few talking points prepared beforehand. But active listening is crucial if you want to spark an actual connection.
Focusing on what the other person is saying will help you keep the conversation flowing, avoid awkward silences, and make a good first impression.
#2: Boston Social Groups
Joining a social group in Boston can be a great Tinder alternative if the idea of meeting a match for a first date fills you with dread. Socializing in a group environment is a more relaxing atmosphere for many people, and it's the perfect way to ease into dating in Boston.
Some Boston groups, like Events and Adventures, are for singles only. Others like MeetUp are for anyone, and offer a low-key way to meet like-minded people.
Events and Adventures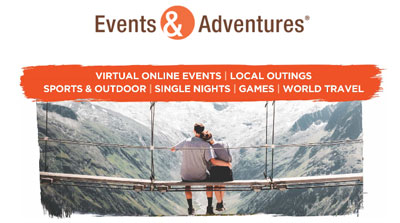 Events and Adventures plans fun group outings specifically designed with singles in mind. It's a national company with 15 "Clubs" around the US, including one in Boston. Members can participate in local events, or join large-scale ones, like singles cruises or international tour groups.
How Does It Work?
Each month, Events and Adventures offers 30-50 activities. Options include cooking classes, wine tastings, trivia nights and more. The total number of events offered depends on your city and can be limited to 20-40 people.
To participate in the outings, you have to join Events and Adventures. You can apply via their website, and pay the membership fee. That varies from club to club, but generally runs somewhere between $100-$200 per month.
Also keep in mind there's typically a per-event charge, although some events are completely free. To learn more about this Boston singles club, check out this Events & Adventures review!
Meetup
Meetup.com provides an opportunity to meet Boston singles online or in person through shared interests. It is free to create an account and find your community. Join groups and events that you enjoy, and if you don't see one that appeals to you, start your own!
Boston events include sports lessons, Lego building, dance parties, volunteer opportunities, and more.
How Does It Work?
It's easy. Go to Meetup.com, sign up, browse through their categories, and register for any events and groups that interest you. Joining is free, but keep in mind that some groups may require dues or event fees.
Even though the company is based in NYC, you will find meetups available in large cities all over the world, including Boston. Meetup isn't strictly for Boston singles, but you can filter the events you see by using the search bar.
Boston Dating Tip: Keep Your Body Language Positive
When you're meeting new people in a group setting, you want to give off a friendly, confident vibe. Open body language like standing up straight, making eye contact and smiling does that instantly.
And even better, at least two scientific studies have confirmed expansive postures increase your "romantic desirability." Per the research, expansive postures are exactly what they sound like - body positions that take up space in the room.
Closed body language tends to have the opposite effect on perceived desirability. More restrictive postures, like crossing your arms or slouching, are common reactions when you're in a stressful or new situation. But you run the risk of appearing unapproachable, aloof or insecure so it's something to be mindful of and adjust whenever you can.
#3: Attend A Class
Taking a class is a terrific way to enrich your life while meeting people who wish to do the same, and the options are limitless.
Whether you're thinking about taking up yoga, cooking, or storytelling, there are local and online classes to attend. The Boston Public Library offers author talks, lectures, book and documentary clubs, and more - all of which are free.
Both the Boston Center For Adult Education and the Cambridge Center for Adult Education offer a variety of classes, or you can indulge your creative side at one of the many art centers and galleries.
Boston's airbnb experiences range from letterpress printing workshops to painting classes, sculptural candle making, origami, henna, and dumpling parties. Find a class that interests you and go for it!
Boston Dating Tip: Take Advantage Of The Dating Photo Opportunity
"Hobby" photos are perfect for your dating app profile, so make sure to snap a few during your class if you can.
Even better, see if you can hand your photo to the instructor for a minute or two and have them help you out. Most dating profiles are already too heavy on the selfies, and research has shown selfies tend to make you seem self-absorbed.
#4: Join A Recreational Sports League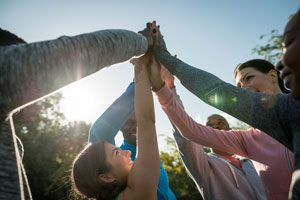 Sports leagues can be a great alternative to online dating, with the added benefits of exercise thrown in.
Where Can I Join?
Boston is home to many sports league companies, like S3 Simply Social Sports Boston and Boston Ski & Sports Club.
You'll find opportunities to play everything from kickball and lacrosse to soccer, field hockey and Ultimate Frisbee. Many companies, like BSSC, also offer social activities.
Boston Dating Tip: Choose The Right League For Abilities
If you're a newbie to whatever sport you're interested in trying, choose a league that accommodates players of different skill levels. Having fun and building confidence will be a lot easier if you're on a team with other beginners.
#5: Scout Local Events
The first step to meeting someone new without using dating apps is simple - get out of the house! Check your favorite coffee shop for in-house events like live music, poetry slams and local author appearances. Bars and pubs often host trivia nights or karaoke events, and it's a low-pressure way to meet new people.
Think outside the box, and explore venues you might not otherwise. Check out a fun event at the Franklin Park Zoo, or an exhibit at the MFA. You never know who you may meet.
Boston Dating Tip: Get Your Brain Out Of Swipe Mode
You're actively looking for Tinder alternatives, so odds are high you're burned out on swiping. Dating app users often feel overwhelmed by choice, with most swiping decisions made in less than a second.
Meeting people offline has the advantage of actually getting a sense of their personality - something that's not always easy to do on dating apps. So when you're out and about, make sure your brain isn't still in swipe mode.
Don't automatically rule people out just because you'd swipe left if you saw them on Bumble or Hinge. According to Match's 2022 Singles In America survey, "49% of daters have fallen in love with someone they weren't initially attracted to." And in a survey that's closer to home, Boston Magazine revealed 64% of Bostonians reject the notion of love at first sight.
So go beyond your usual type, and strike up conversations with a wide range of people. Dating in Boston will be a lot easier with an open mind.
#6: Look For Volunteer Opportunities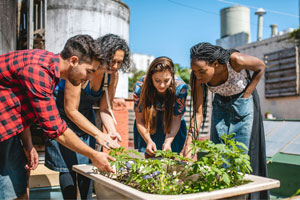 Volunteering is one of the best ways to make new connections. You'll be interacting with people who share similar interests and core values, and that's a great way to expand your social network while hoping sparks start to fly with someone.
Where Can I Join?
Boston has plenty of volunteer opportunities, you simply need to seek them out. Organizations like Boston Cares, Boston Volunteer and VolunteerMatch help non-profits and other agencies fill volunteer spots, so their websites are a perfect place to start.
Boston Dating Tip: Choose Team-Oriented Opportunities
When deciding how to help out in your neighborhood, opt for a role that allows you to connect and interact with other volunteers. Delivering meals or answering phones might have a big impact, but it doesn't really help you meet other people.
#7: Work With A Boston Matchmaker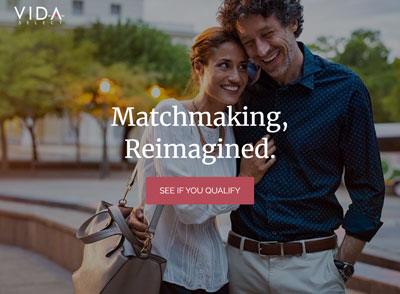 Balancing your career and social obligations with trying to meet new people who interest you isn't always easy. A Boston matchmaker can save you a ton of time, because they arrange dates for you with singles pre-screened for compatibility.
You'll find the cost of hiring a Boston matchmaking service varies widely, and so does how they go about finding your matches. Many traditional matchmakers will simply pair you with other people who signed up, so you may find yourself face to face with singles who aren't a great match simply because that's who was available.
Dating apps have a nearly limitless pool of users, especially in a city the size of Boston. And that's a huge advantage, because for a match to work the compatibility has to flow both ways. The more singles you have to choose from, the higher the odds of making quality connections.
And that's why VIDA Select's modern approach to finding your ideal partner works so well! VIDA's team of dating experts does your online dating for you, which gives you the best odds of finding your perfect match.
But you don't have to deal with any of the stress that makes dating apps so overwhelming, because your team handles it all. The swiping. The messaging. Even crafting an authentic and compelling profile for you.
VIDA Select is the dating app alternative you've been hoping to find. Go here to find out more!
All product and company names are trademarks™ or registered® trademarks of their respective holders. Use of them does not imply any affiliation with or endorsement by them.
Why Choose VIDA Select?

Since 2009, thousands of clients have discovered true love thanks to VIDA Select's fresh, modern approach to matchmaking – which has finally thrown blind dates and long-term contracts out the window. This isn't your grandmother's matchmaking!
Instead of working with a single matchmaker using a small rolodex of potential partners, VIDA Select's matchmaking team taps into the world's largest database of available singles. We'll quickly identify the matches who check all of your boxes so you can finally experience true chemistry. Are you ready to become our next success story? Schedule your complimentary consultation now by clicking the button below!
Get Started Now