I hope you enjoy reading the blog post.
If you want my team to just do your Bumble for you, click here to chat with me.
Bumble Best Photo [What It Is & 1 Big Reason To Skip It!]
Bumble Best Photo is a feature that continually rotates your first three photos into the primary spot, then automatically changes it to the most right-swiped option.
If that sounds vaguely familiar, it's because Tinder did it first. Tinder's Smart Photo feature does the same thing, except it analyzes your entire photo lineup before determining which one is the most popular.
The crucial question: does it actually work? VIDA's dating experts weigh in!
We use Bumble daily, optimizing profiles, swiping, messaging and setting up dates on behalf of thousands of clients. We're in a unique position to not only use the feature, but also see first hand if it results in better matches.
Keep reading to learn everything you need to know about Bumble's Best Photo feature - and why it might be best not to use it.
Using Bumble's Best Photo feature is free for all users. To turn it on, tap the profile icon then "edit my profile." If you haven't completed yours yet, it will say "complete my profile."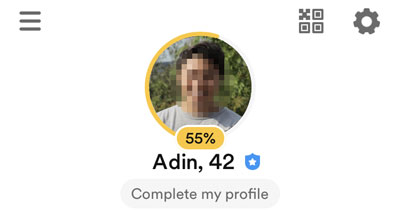 Scroll down to just below your photos, and toggle Best Photo to the "on" position. Confirm the action, and the algorithm will get to work.
Sounds great, right? Bumble automatically shifts your best photo to become the primary profile picture and you're off to the races.
But not so fast.
First, you'll want to consider…
One Big Reason To Turn Bumble Best Photo Off
The intention behind Best Photo is a good one. As Bumble explains on their website, it "uses technology to ascertain which of your first three Bumble profile photos gets the most right swipes."
But if you're not matching with the singles you really want to meet - or getting no Bumble matches at all - that's not actually helping you.
Because Best Photo doesn't identify pics that make potential matches swipe left.
This is why relying on the Best Photo feature to determine your lineup is risky. For starters, your primary Bumble photo may not be what determines which way a potential match swipes. 
In other words, your weakest photo is your biggest problem.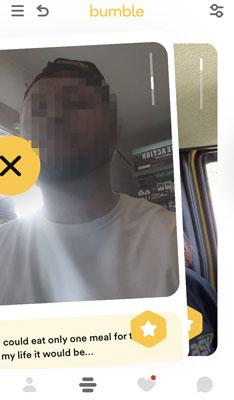 Let's say the 4th photo in your lineup is a boring selfie with terrible lighting. The type of pic potential matches take one look at and decide they're not interested in meeting someone who doesn't care how they present themselves on a dating app.
Best Photo isn't going to tell you to swap that left-swipe magnet out for a better profile photo.
And here's something else to consider:
If the first 3 photos in your lineup aren't that great… the AI is just identifying the best of the worst, then leading with it.
That's definitely not helping you boost your match rate on Bumble.
If you really want to get serious about making data-driven photo decisions, you need to analyze each pic in your lineup - not just the first 3. And if you're using less than 3 photos currently, that's a big mistake. According to the app's internal data, using 3 or more photos increases your chances of matching.
Carefully evaluating each photo is a tedious process, to be sure. Even with websites like Photofeeler that make crowdsourced feedback relatively easy to obtain.
But the time you invest in making your photo lineup as compelling as possible can pay off in more matches with more compatible singles. Wait until you've got an array of strong profile photos, then turn on Best Photo.
VIDA Select makes this process even easier - photo analyzation and lineup optimization is all part of the dating service! And if you're considering using the Bumble Best Photo feature because you know your profile needs help, you'll love this…
The Easiest Way To Get Off Bumble… And Into A Relationship
With VIDA, you'll not only get the best possible photo lineup, you'll also get a compelling Bumble profile that's written to attract exactly the type of matches you want to meet.
Because the truth is, any component of your Bumble profile can make someone swipe right - or left.
Profile pics are hugely important, but so is your bio and your prompt answers. Bumble is a go-to dating app for people looking for serious relationships. If every aspect isn't dialed in, you risk turning off potentially amazing matches.
Ready to start meeting highly compatible singles? Discover how easy that can be with VIDA Select!
Want us to do your online dating for you?

Hey, I'm Ally, VIDA Select's Director of Matchmaking.
We take all the frustration, hard work and hassle out of modern dating!
Imagine your very own Dream Team of highly skilled dating experts searching for the very best local matches, sparking their interest, and arranging all the dates for you.
Wouldn't it be nice to finally stop swiping and start dating higher quality matches so you can meet someone special?
We've helped thousands of singles just like you since 2009, and we're ready to make you our next success story!
What are you waiting for? Take the next step now…
See If You Qualify