I hope you enjoy reading the blog post.
If you want my team to just do your Bumble for you, click here to chat with me.
What Are Bumble BFF, Date & Bizz? [Guide To Bumble Modes!]
Bumble has a unique feature that sets it apart from all the other dating apps out there: 3 different modes where you can swipe through profiles. They're called Bumble BFF, Date and Bizz - and each one has a different purpose.

In this quick guide, we'll explore what each of these modes is, how to use them and provide some tips on how to make the most out of your experience on the app!
Jump straight to the mode you're wondering about, or start at the top!
How To Change Modes In Bumble
Changing modes in Bumble is simple. Just tap on the 3 line icon at the top left of the screen, then choose which Mode you want to swipe in from the dropdown menu.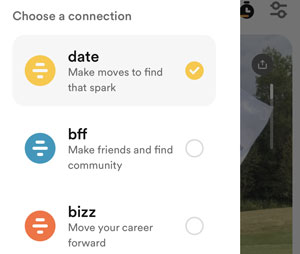 Alternatively, you can open the settings menu by tapping the gear icon, then selecting the mode you want to use from the "Choose Mode" menu.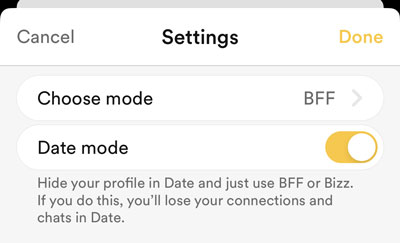 Bumble users have the option to turn off Date Mode completely, but be warned that doing so will lose all your existing connections and messages. That's an action that can't be undone.
To turn off Date Mode, go to the settings menu and toggle off Date Mode.
You have a different profile for each Bumble Mode, and no one can see it outside of that area. There's no overlap, so the potential professional contacts you're swiping on in Bizz Mode won't see your Date Mode profile.
Bumble Date is for romantic connections, BFF is for platonic friendships and meeting new people, and Bumble Bizz is for professional networking.
You'll see a badge that lets you know what mode you're swiping in. Otherwise, the functionality of the app is basically the same.
A right swipe means you're interested in connecting with that user, and left swipe means you're not. If you're really excited about the match in Date or BFF Mode, you can tap the yellow star to Superswipe them.
Let's take a closer look at each one!
Bumble BFF
Bumble BFF is specifically designed for people who are looking to make new friends, rather than romantic connections. When you switch to Bumble BFF mode, you will still be presented with profiles of other users in your area, but the focus of the app shifts from dating to friendship.
When you get a match in BFF, Bumble's 24-hour timeline still applies. One of you has to send the first message within that time frame, and then the other has 24 hours to respond to it.
However in BFF, either person can initiate the conversation, whereas in Date and Bizz Mode only a woman can.
In your match queue, BFF matches have a blue badge.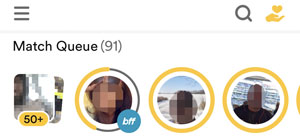 Bumble BFF Tip
Bonding over a mutual interest or hobby is one of the easiest ways to make new friends, so get specific in your bio!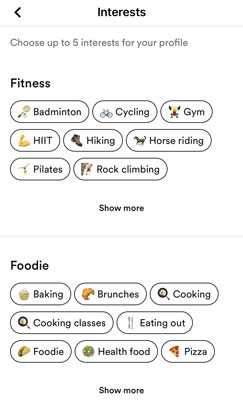 Bumble makes it easy to add interest and lifestyle badges, and you can also choose a few prompts that showcase your personality.
Bumble Date
Bumble Date is the primary mode of the app, and the reason it was originally created. Bumble BFF and Bizz came later, when founder Whitney Wolfe-Herd realized users were finding friendships and business contacts in addition to dates.
Unlike other dating apps, Bumble only allows women to initiate a message exchange. The exception to that rule is the Bumble Compliments feature, which allows guys to send one message before matching every day.
But in general, if you're a guy you'll have to wait for those icebreakers to come your way. Bumble has a few other rules in place that make it stand out: Once two users match, the woman has to message the man within 24 hours. Then he has to reply within 24 hours.
Once that's happened, there are no more time limits. But if one person waits too long, the match expires. Upgrading to a premium membership allows you to add an additional day to the clock.
Date Mode's signature color is yellow, so the matches you're interested in dating will have a yellow circle around them.
Bumble Date Tip
This mode is all about first impressions, and that starts with your primary photo. For maximum impact, choose a crisp, well-lit image where you're making eye contact with the camera.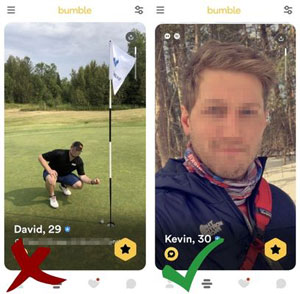 Crop in so that the focus is on your head, shoulders and upper body. You'll want to include a photo that shows the full length of your body, but that can come later in your lineup.
Bumble Bizz
This is the section of the app where you can get down to business - networking, that is. It's all about forging professional relationships, so your Bumble Bizz profile highlights work experience, education, career goals and interests.
Your profile starts with your headline, and that's mandatory if you want to use the Bizz Mode.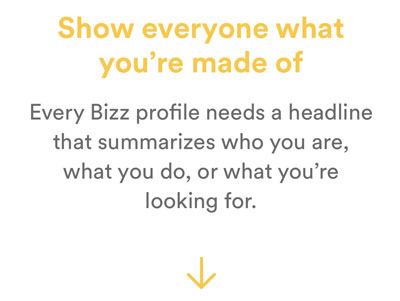 Bumble Bizz headlines have a minimum of 100 characters. Think along the lines of a generalized "elevator pitch" describing yourself. Including a line or two about what you want to accomplish on Bumble Bizz can help attract the right kind of connections.
And speaking of connections, Bizz Mode has the same rule as Date Mode when it comes to sending the first message. Only women can initiate a conversation, likely in a move to cut back on any potential sexual harassment.
Bumble Bizz Tip
Your Bizz Mode photo lineup is a great opportunity to illustrate your livelihood. For instance, if you're a chef you could show a few beautifully plated creations. Turn it into a portfolio of sorts that gives potential business contacts an instant idea of what you do.
Want Some More Bumble Help?
Our information-packed Bumble Guide has all the resources you need to get the results you want on this popular dating app. Profile tips and examples, messaging strategies, photo advice and more!
Want us to do your online dating for you?

Hey, I'm Ally, VIDA Select's Director of Matchmaking.
We take all the frustration, hard work and hassle out of modern dating!
Imagine your very own Dream Team of highly skilled dating experts searching for the very best local matches, sparking their interest, and arranging all the dates for you.
Wouldn't it be nice to finally stop swiping and start dating higher quality matches so you can meet someone special?
We've helped thousands of singles just like you since 2009, and we're ready to make you our next success story!
What are you waiting for? Take the next step now…
See If You Qualify