I hope you enjoy reading the blog post.
If you want my team to just do your Bumble for you, click here to chat with me.
Bumble Boost vs Premium: Differences, Cost & More! [2023]
So many questions when it comes to Bumble Boost vs Premium.
What's the difference and which one is better? How much do they cost? Is upgrading worth the investment, or should I keep using Bumble for free?
This handy guide has all the answers.
Bumble Boost Vs Premium Table Of Contents:
Jump around using the links, or just keep reading!
Bumble Boost vs Premium: Features & 2023 Cost Comparison
Let's Talk About Bumble Boost
If you're on the fence about Bumble Boost, you can try it for a week to see if you like it. The trial membership costs around $11.99. One month of Boost costs around $24.99, or you can pay around $44.99 to use it for 3 months. For 6 months, you'll pay a total of around $69.99.
Think of Bumble Boost like the "basic" upgrade - you get all the original premium features like undoing your last swipe and *instantly* rematching with people whose connection expired.
If you didn't mean to let that countdown lapse, that perk saves you from having to wait for their profile to pop back up in your suggested match feed again.
If you've been Bumbling for a while now, you may be surprised to see Bumble added a daily swipe limit.
For most users, Bumble lets you swipe right around 100 times before you have to wait a full 24 hours to begin again.
Extend
The Extend feature benefits both women and men. If it's on you to start the conversation, you can take another day to send an icebreaker to a guy you like on Bumble. And guys, you can give her another 24 hours to reach out.
Spotlight
The Boost upgrade includes one Spotlight session each week.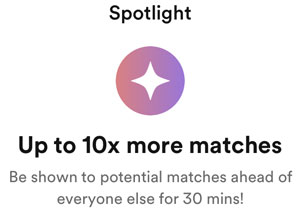 Using a Spotlight pushes your profile card to the top of the card stack for users in your area.
Since you only get one Spotlight for free, consider using it on Sunday between 8 & 10 pm. Per Bumble, that's the peak usage time for the week. Don't deploy your Spotlight on a Friday - that's when users spend the least amount of time on the app.
You can still Spotlight your profile even if you don't upgrade, you'll just have to pay per use. Profile spotlights on Bumble cost around $8.99 a pop, but if you buy them in Costco quantity it's only around $2.00 each.
Here is how much Bumble Spotlights cost in bulk:
2023 Bumble Spotlight Price*
30 Spotlights: $2.00/each
15 Spotlights: $2.33/each
5 Spotlights: $3.60/each
1 Spotlights: $8.99/each
*pricing may vary by location
SuperSwipe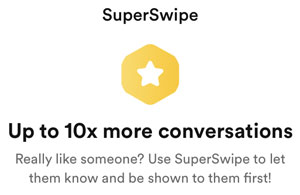 SuperSwipes on Bumble are comparable to Super Likes on Tinder - it's a way to set yourself apart by sending an augmented "like". Bumble Boost users get 5 to use every week.
Non-upgraded users don't get any for free, but anyone can buy them. This is how much SuperSwipes cost on Bumble:
2023 Bumble SuperSwipe Price*
30 SuperSwipes: $1.67/each
15 SuperSwipes: $2.33/each
5 SuperSwipes: $3.00/each
2 SuperSwipes: $4.50/each
*pricing may vary by location
Curious if SuperSwiping on Bumble works? Watch this to find out:
What You Get When You Use Bumble Premium
Bumble Premium costs more than Boost. For a trial membership lasting 7 days, you'll pay around $21.99. 1 month of Premium costs around $44.99, or you can pay slightly less per month by opting for a 3 month membership at around $89.99.
If you're planning to use the BFF and Bizz modes as well, Bumble offers a "lifetime" membership for around $249.99. (That still includes the Dating mode of course, but if you think you may need a lifetime to find your perfect match you should definitely think about outsourcing your online dating to a team of experts.)
So, nearly twice the price depending on subscription length - but also double the features. Premium includes all the Boost features, plus some other great perks.
The Incognito feature is basically privacy mode.
Your profile remains hidden to the masses, and only reveals itself to singles you swipe right on. Travel Mode lets you expand your match pool considerably - you can change your swiping location to anywhere you'd like to meet people.
The BeeLine is a time saver. You'll see a grid view of singles who already liked your profile, so any right swipe results in an instant match. 
The Best Bees feature provides a curated selection of profiles each day, all carefully chosen by the algorithm based on your previous matches and preferences. Free users can only "like" one Best Bees profile each week, but as a Premium user you get unlimited likes.
The Advanced Filters can also save you lots of time. Free and Boost users can only choose two filters. So for instance if you want to limit your match feed to people who are over 5'9", have an "active" lifestyle, never smoke and want kids someday, there's no way to do that unless you upgrade to Premium.
So now you know the differences between Boost and Premium. But when is it worth the money to upgrade, and which tier should you choose?
Let's find out.
Upgrading To Bumble Premium Is Worth It When...
Your potential match pool is huge.
Much like Tinder, Bumble usage tends to be highest in big urban areas. The Premium perks can help you quickly identify your most compatible matches by using all the available filters, and instantly matching via the BeeLine may save you a ton of time.
Your "dating radius" extends further than 99 miles.
That's when Bumble's maximum distance filter taps out. But if you're in a more rural area, you may be willing to invest the 90 minute+ drive to meet someone you're really interested in. The Travel feature lets you swipe in areas within your driving distance. And if you're willing to relocate for love, the world is now your oyster.
The idea of just anyone seeing your profile gives you pause.
There are plenty of legit reasons for wanting to control who sees your profile. Plenty of sites and apps like Match and Tinder let you use them discreetly, and now Bumble is among them.
Bumble Boost Is The Better Bet If…
You don't feel like you'd benefit from the Premium perks, and you're really bad about hopping on the app daily.
If that's you, know this - like most dating apps, Bumble rewards frequent users with more profile visibility and a higher internal ranking score.
If you're not keeping up with message exchanges, letting matches expire left and right, and ghosting the app for days at a time, you're not setting yourself up for success.
Either get a team of dating experts doing all the work for you, or start investing some time in your love life.
But while you're getting in the habit of daily check ins, Bumble Boost has your back. You can extend and rematch as needed.
Keep Using Bumble For Free If…
You frequently get the "end of the line" message.
If there aren't many users in your area you'll get plenty of chances to reconnect with anyone who expired, or who didn't match with you the first time around.
If long distance dating and/or relocation isn't in the cards for you, it probably isn't worth it to pay for Bumble.
Bonus Bumble Profile Tips
Whether you keep using Bumble without paying or opt to upgrade, you want the best profile possible to make all that time you spend on the app worth it.
Here are 3 profile tips that will boost your match rate, courtesy of the data crunchers over at Bumble!
Debating Bumble Boost Vs Premium Because You're Not Happy With Your Matches?
All those premium perks give you handy tools you can use to hopefully meet more people.
But meeting *the right* people isn't just a question of Boost or Premium - it's all about your profile and how you present yourself online.
Success on Bumble (or any other dating app) hinges on effective marketing. You need to highlight the right things to attract singles you consider your 'ideal' type. The photos you choose, the messages you send - everything needs to relate back to your profile in a way that's authentic, cohesive, and most of all - attractive.
That's not easy to pull off.
Unless you let a team of dating experts handle all that marketing for you. VIDA Select has been making singles shine online for over a decade. Your profile, photo selection, messaging - literally everything you need to effectively master is done for you.
It's time to talk strategy.
Connect with an expert at VIDA Select today and see how easy it is to meet someone incredible!
Want us to do your online dating for you?

Hey, I'm Ally, VIDA Select's Director of Matchmaking.
We take all the frustration, hard work and hassle out of modern dating!
Imagine your very own Dream Team of highly skilled dating experts searching for the very best local matches, sparking their interest, and arranging all the dates for you.
Wouldn't it be nice to finally stop swiping and start dating higher quality matches so you can meet someone special?
We've helped thousands of singles just like you since 2009, and we're ready to make you our next success story!
What are you waiting for? Take the next step now…
See If You Qualify