I hope you enjoy reading the blog post.
If you want my team to just do your Bumble for you, click here to chat with me.
Bumble Compliments [Send A Message Before Matching!]
Bumble Compliments lets anyone send the first message on this popular dating app, and you can do it before you match.
But there are a few catches! Coming up, VIDA's team of dating experts will break down exactly how the feature works, how often you can do it, and what it costs!
We've spent hundreds of thousands of hours on Bumble, swiping, sending messages, and arranging dates for the clients we represent. In other words, we know a thing or two about how Bumble and all its features work!
Make sure to read to the very end for 3 valuable tips straight from the experts on how to make your Compliment right swipe worthy!
Bumble Compliments Feature Table of Contents
Let's dive in!
What Is Bumble Compliments?
A Bumble Compliment is a short message you can send someone before you've matched with them. This is great for guys in particular, because otherwise they're stuck waiting for the woman to start the conversation on Bumble.
In a recent statement, Bumble's Sex & Relationships Expert Shan Boodram explained the message before matching feature was designed to help users easily spark connections using the "what" and "why" of dating:
What is it about a person that you find fascinating? Why do you want to get to know someone better?
The theory being, letting someone know why you swiped right sets a positive tone for the conversation. As VP of Product, Vivienne Sung, shared in a press release, they believe "kindness counts."
...When compliments are the foundation of a conversation, it can set the tone and ensure that connection gets started in the best possible way.
How The Bumble Compliments Feature Works
Sending a Bumble Compliment is the equivalent of a right swipe. For women, it also counts as starting the conversation.
But for men, the Compliments feature works a little differently on Bumble. You'll have to wait for her to respond to your Compliment before you can send her any more messages.
Much like on Hinge, you can comment on any part of a user's profile, including their Bumble bio, photos or Profile Prompts.
How To Send A Compliment On Bumble
Once you've found a piece of profile content you want to use for inspiration, tap the Compliments icon that displays in the lower left corner of each component. It's the yellow comment bubble with a heart in it.
That brings up the text box, where you can compose and send your message.
Bumble Compliment messages have a 150-character limit. Don't worry, expert advice on how to send a short-but-effective message is coming right up!
What Happens When You Send Someone A Bumble Compliment?
When you send a potential match a Compliment on Bumble, they will see it displayed when your profile pops up in their cardstack of potential matches. Swiping right creates the match, and then the usual 24-hour countdown kicks in.
If push notifications are enabled, you'll get one whenever someone sends you a Compliment, and you'll also see the message displayed on the "You Matched!" screen.
You'll also see a notification attached to the gray heart in the menu bar. Tapping it brings up your Beeline, where you can see all the Bumble users who have "liked" your profile.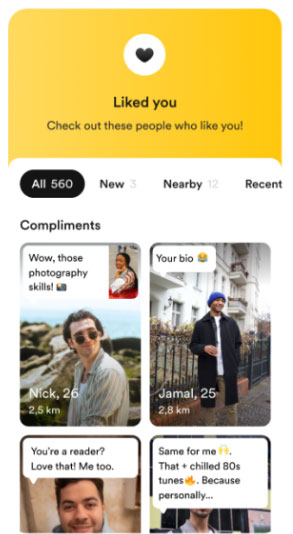 Up to 5 Compliments a day will be revealed here, along with a condensed snapshot of that sender's profile. To see more than 5 messages in this feed, you'll need the Bumble Premium upgrade.
And speaking of paid features…
How Much Do Bumble Compliments Cost?
Everyone gets one free Compliment to send each day. Once you've used up that daily allotment, you have the option to buy more as an in-app purchase.
Bumble Compliments cost $20 for 5, or $12 for 2. (Pricing may vary depending on your location.)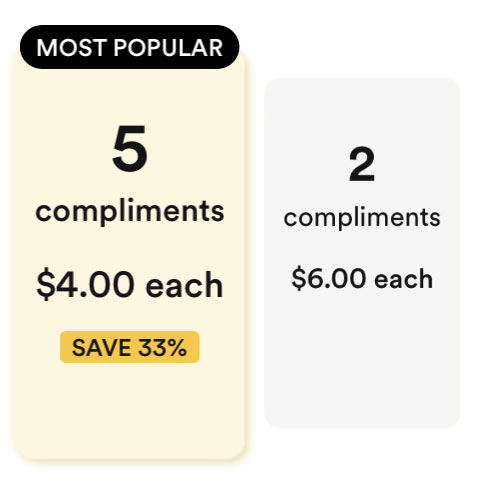 You can see how many Compliments you have remaining by tapping the icon, then looking in the upper right corner.
How To Reply To A Bumble Compliment
First, you have to swipe right on the sender's profile to form the match. The compliment will then appear in your messaging feed along with all your other conversations. Just tap on it and send your response!
Now that you know how the feature works, all you have to do is figure out what to say…
3 Expert Tips For Guys Who Want To Message First On Bumble
Bumble attracts plenty of interesting women, but waiting around for your match to get the conversation started can be frustrating. This message-before-matching feature gives you the ability to get things rolling…
But that will only happen if you compliment her the right way! Here are 3 tips for guys who want to start a conversation on Bumble!
#1: Steer Clear Of The Superficial
Bumble was created to give women a respite from being bombarded with icebreakers, and that's one of the reasons it's so popular. So the last thing you want to do is send the type of "Hey gorgeous" comments she's so sick of getting on other dating apps.
Instead of paying her a looks-based compliment, highlight an aspect of her personality, an intriguing hobby or interest, or something the two of you have in common. A message based on something more substantive than her appearance is more likely to resonate in a positive way.
#2: Send Compliments That Do Double Duty
According to Bumble, the whole reason the Compliments feature exists is to let users "be even more intentional about starting the conversation in a positive way."
And the key to success is smack dab in the middle of the quote: starting the conversation. With that in mind, you want to send a compliment that lends itself to a meaningful reply. You know, one that actually gets the Bumble convo going.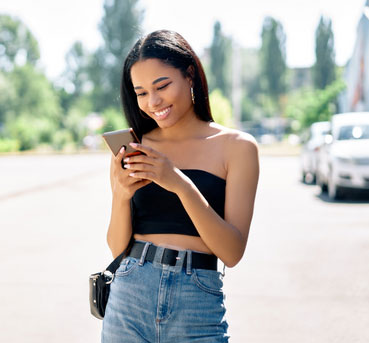 When introducing the feature, Bumble advised that an observation like "You have the warmest smile!" is better than "You're gorgeous." And they're not wrong. Specific compliments generally land better than generalities because they seem more genuine.
But "You have the warmest smile" isn't a conversation starter. For one thing, she probably gets a variation of comments about her smile from multiple men on the apps. You're not setting yourself apart at all with a line like that, and she hasn't even matched with you yet.
And if she does decide to respond, it's probably going to be something bland like "Thanks."
Sure, you got the response you need to shut down the timer. But you haven't set yourself up for success as well as you could have.
You're still at square 1 in terms of moving the message exchange forward, and you haven't given her any reason to believe she's in for some lively, engaging banter. That's going to drop the odds of you moving things off the app.
This is also the reason commenting with just an emoji or two isn't a great idea. You're not portraying yourself as a guy with commanding conversational skills. With all the competition you're up against, that's essential.
So what should you do in a Bumble compliment?
Include a question.
That is hands down the easiest way to boost your response rate on Bumble or any other dating app. Asking her a question in your comment gives the conversation a direction, conveys curiosity about her and makes it a lot easier for her to respond.
It's a win-win-win scenario.
#3: Dig Deeper
When an intriguing potential match pops up in your cardstack, don't just instantly fire off a compliment based on her primary photo. Take an extra minute or two and see what material her profile offers.
A message based around a topic she's passionate about is more likely to get her in a chatty mindset. For instance, this Bumble bio is essentially a neon sign flashing "Ask me about my puppy!"
If you didn't scroll past her first pic, you'd miss that golden opportunity for engagement.
Want More Bumble Matches?
Check out our Ultimate Guide to Bumble! It's packed with expert advice that will help you navigate every aspect of using the app, from choosing your best photos and writing a compelling bio to messaging effectively and asking her out successfully.
Or, you can let the dating experts at VIDA Select handle all that for you, so you go straight to enjoying better Bumble dates! Find out how.
Want us to do your online dating for you?

Hey, I'm Ally, VIDA Select's Director of Matchmaking.
We take all the frustration, hard work and hassle out of modern dating!
Imagine your very own Dream Team of highly skilled dating experts searching for the very best local matches, sparking their interest, and arranging all the dates for you.
Wouldn't it be nice to finally stop swiping and start dating higher quality matches so you can meet someone special?
We've helped thousands of singles just like you since 2009, and we're ready to make you our next success story!
What are you waiting for? Take the next step now…
See If You Qualify