I hope you enjoy reading the blog post.
If you want my team to just do your Bumble for you, click here to chat with me.
Bumble Filters 2023 Quick Guide [How To Get Better Matches!]
Finding singles on Bumble who meet your "must have" criteria just got a lot easier, thanks to Bumble filters. And if you use Bumble Bizz or Bumble BFF, you can curate your matches there too.
This quick guide has everything you need to know about Bumble filters, including how they work, how many you can use for free and what criteria you can filter for in each Bumble mode!
How Bumble Filters Work
Every user can apply one advanced filter in each Bumble Mode for free.
But if you want to screen your matches by more than one "advanced" criteria, you need to upgrade to Bumble Premium. Premium members can apply as many filters as they want.
If you don't already have a subscription, here is a quick recap of all the other features you'll get when you upgrade to Bumble Premium:
BeeLine - a special match queue composed only of people who have already "liked" your profile. That means swiping right = instant match.
Incognito - hide your profile, then choose who to reveal it to by swiping right.
Travel - start swiping in any location you want.
You'll also be able to access all the Bumble Boost features as well:
Rematch - women send the initial message on Bumble, and if she doesn't do it within 24 hours, the match expires. Rematch lets you match with her again, instead of having to wait for her profile to come around again in your queue. If you live in huge city like NY or LA, that could take awhile!
Unlimited Extends - free users can add an additional 24 hours onto the countdown clock for one match a day. But with Bumble Boost, you can extend as many matches as you want.
No limit on right swipes.
1 Spotlight & 5 SuperSwipes each week.
Bumble Premium costs anywhere from around $21.99/week to around $29/month when you purchase 3 months at once.
Setting up a Bumble filter is simple:
Go to the "Date Filters" screen by tapping on the icon in the upper right corner.
Select the "Set advanced filters" option.
Tap "Add this filter," which will bring up the criteria.
Select which criteria you want to use.
Repeat for each filter you want to apply.
There is a catch, though. In order to apply a filter, you must have already answered the question in your own profile. For instance, you can only screen for politics if you've specified your affiliation.
Your answers will automatically be incorporated into your Bumble profile, so if you're looking for a woman who's at least 5'6", but you don't want her to know you're only 5'7", don't apply the height filter.
Each Bumble Mode has its own set of filters.
Bumble Date Filters
What dates are they comfortable going on?
What is their height?
Do they exercise?
What is their star sign?
What's their education?
Do they drink?
Smoke?
Have pets?
What do you want from your Bumble date?
Do they have or want children?
What is their religion?
What are their politics like?
Bumble BFF Filters
What BFF's are you looking for?
What's their relationship status?
Do they have kids?
Do they smoke?
Drink?
Do they exercise?
Are they new to the area?
Do they have pets?
What is their star sign?
What is their religion?
Bumble Bizz Filters
Have they verified themselves?
What are you looking for on Bizz?
What's their main industry?
How many years of experience do they have?
What is their education?
As with any dating site or app, avoid the temptation to over-filter your matches, as you may miss out on someone you'd actually click with despite a few differences.
If you're looking for a serious relationship, use the Bumble filters for true dealbreakers. For instance, if you don't drink or smoke and require the same of a partner, then those particular filters will save you a lot of time.
On the other hand, Bumble probably can't deliver a 5'9" Sagittarius who has a dog but no cats and a graduate degree straight to your doorstep - and you'll be missing out on a ton of other intriguing matches.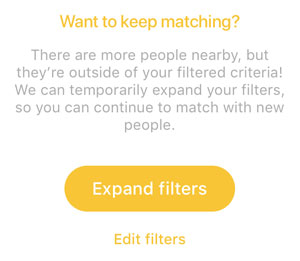 Bumble allows you to temporarily expand the search outside of your filters if no matches can be found who meet your criteria.
If you get that message and you live in a huge city like Los Angeles or New York with a ton of users, you can take that as a sign that you're being too selective.
The filter settings also allow you to toggle the "see other people if I run out" setting on and off for each one. The date filters have a similar feature. You can elect to see people 2 years older or younger than your age criteria, or "slightly further away" than your distance range.
The Easiest Way To Find Your Best Matches - On Any Dating App Or Site!
Let VIDA do it for you!
Our modern matchmaking service handles everything, from start to finish. Our team of dating experts will write a profile that highlights all your most attractive traits, choose your best dating photos, and even handle the messaging!
You let us know what you're looking for in an ideal partner, and we'll find high-quality singles who fit those criteria on any dating site or app you want to use. Then all you have to do is show up for all the dates…
Intrigued? Learn more about how the service works!
Want us to do your online dating for you?

Hey, I'm Ally, VIDA Select's Director of Matchmaking.
We take all the frustration, hard work and hassle out of modern dating!
Imagine your very own Dream Team of highly skilled dating experts searching for the very best local matches, sparking their interest, and arranging all the dates for you.
Wouldn't it be nice to finally stop swiping and start dating higher quality matches so you can meet someone special?
We've helped thousands of singles just like you since 2009, and we're ready to make you our next success story!
What are you waiting for? Take the next step now…
See If You Qualify