I hope you enjoy reading the blog post.
If you want my team to just do your Bumble for you, click here to chat with me.
10 Bumble Hacks For Guys [These Proven Tricks Get Dates]
Want to significantly boost your match rate on Bumble and have conversations that lead to dates with the women you're most interested in? These 10 Bumble hacks are what you need!
On Bumble, women hold the power to initiate the conversation, making your profile and photos critical to sparking her interest. If your profile doesn't stand out, you might not get that all-important first message.
No need to worry, though! VIDA Select's team of dating experts is here to share our knowledge. Since Bumble's launch in 2014, we've been managing Bumble profiles for clients, and we've been in the online dating industry even longer - since 2009!
That's over a decade of real-world, hands-on experience, all distilled into one action-packed blog post.
Ready to give your Bumble game a serious upgrade? Let's dive right in!
#1. Verify Your Profile
When it comes to meeting women online, building trust is extremely important. After all, she's not just concerned about you being who you say you are - she's also concerned about her safety.
Ease her mind by verifying your profile.
To do this, go to the profile editing screen, tap the blue "Verify Your Account" button, and tap "Verify Now."
You'll be asked to take a selfie copying a simple gesture, and the Bumble team will use it to confirm your profile is real:
The selfie isn't posted to your profile, so you don't even need to check your hair first. Once your profile has been verified, a blue check mark will be displayed on your profile.
You'll verify your profile across all 3 modes, including Bumble BFF and Bizz. For Bizz, it's required to use it. And for Bumble dating, your matches can send you a verification request if you haven't done it yet.
#2. Swipe At The Right Time
According to Bumble founder Whitney Wolfe, activity on the app peaks at around 6pm. If you can swipe, match, and message in "real time," it's easier to lock in the date or phone number before she gets distracted by someone or something else.
And if you should happen to find yourself weathering a huge rainstorm or blizzard, grab your phone and start swiping. Bumble activity increases 20-40% during big storms, which can lead to a lot of extra matches for you.
#3. Use Your Bumble Bio To Start The Conversation
If you've used Tinder, Match or another dating app, you know how hard it can be to figure out what to write in your first message. It's not any less exhausting for her! If you hand her an icebreaker idea on a silver platter by asking her a question in your bio, she'll be more likely to reach out: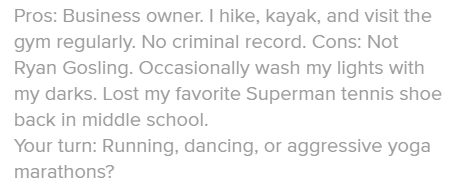 If she's getting a lot of matches, she's not writing everyone. She's not going to rack her brain over what to write you.
See how easy the above bio example makes it for her? For more profile help, check out these Bumble profile examples and advice!
#4. Make it Personal
Whitney Wolfe counsels ladies to include the match's name in the first message, because it boosts the response rate by up to 60%.
Mirroring her messaging style builds familiarity and trust, so definitely use her first name in your response if she uses yours. And even if she doesn't, it's probably not a bad idea.
You'll also want to mirror her message length. If she sends a couple sentences, do the same. If she keeps her message short & sweet, that's usually what you should do too.
For more messaging strategy, check out these Bumble conversation tips!
#5. Wear Red In Your Primary Bumble Profile Picture
If you want to stand out, researchers recommend trading neutral colors for a brighter shade: red. Because this color is associated with traits like strength, power, and competitive dominance, women rated men wearing red as more attractive.
Most people tend to stick with drab colors like black and tan for dating profile photos, so a pop of color will command attention.
#6. Show Off Those Baby Blues
Don't hide your eyes behind sunglasses or a hat in your primary Bumble photo. Wearing glasses decreases your odds of getting a right swipe by 12% on dating apps.
Giving people an unobstructed view of your eyes and face is an very strong indicator of trustworthiness, so most people subconsciously think blocked view = something to hide.
#7. Don't Choose Your Own Photos
Turns out you're actually the worst judge of your own photos, at least when it comes to selecting the ones where you nail the 3 most important online dating photo traits:
Attractiveness
Trustworthiness
Competence
The problem is you don't see your own face in a photo the way a perfect stranger does. You're so familiar with your features and appearance that you fail to register small details like micro expressions.
You're looking for first impressions, and for that you need the opinion of someone who's never seen you before. Use a feedback gathering website like Photofeeler to get a stranger's perspective on your most attractive pictures, and choose accordingly. (Or hire VIDA to do it for you.)
#8. Extend Your Matches At The Last Minute
Matches expire in 24 hours, but you have the option to add an additional 24 hours onto the clock at any point during that time by using the "Extend" feature. But if you haven't upgraded to Bumble Boost, you only get to extend one match per day.
Use your extend wisely! Even though expired matches will eventually appear in your queue again, it could take awhile - especially if you live a huge city like New York or LA.
She's seeing the same countdown you are, so waiting until the zero hour could save you from wasting your extend if she's the "wait til the last minute" type.
#9. Start From Scratch
If you're not having any luck on Bumble, you may benefit from a clean slate. Completely delete your account, uninstall the app, and then start over again from scratch with a more attractive profile and irresistible pictures.
Check out this quick guide on how to reset Bumble for step-by-step instructions!
This is like hitting the reset button on your search history. Everyone you previously swiped on will come back into the mix, and the "new you" should start racking up the likes.
One caveat - if you paid for a Bumble Boost subscription, it won't transfer to your new profile.
#10. Develop A Bumble Strategy
Bumble attracts women who are serious about finding a relationship, which makes it one of the best places to meet high quality local women. But if you want to boost your match rate and successfully move things off the app, you've got to put in some effort.
If that sounds like a lot of work, well - it is. You need to know how to write an engaging profile, how to choose photos that appeal to women, and be fluent in the art of messaging.
When you're searching for your ideal partner, the effort is worth it. Or you could save a ton of time and invest in a team of dating experts who can quickly get dates with higher quality women set up for you!
Want us to do your online dating for you?

Hey, I'm Ally, VIDA Select's Director of Matchmaking.
We take all the frustration, hard work and hassle out of modern dating!
Imagine your very own Dream Team of highly skilled dating experts searching for the very best local matches, sparking their interest, and arranging all the dates for you.
Wouldn't it be nice to finally stop swiping and start dating higher quality matches so you can meet someone special?
We've helped thousands of singles just like you since 2009, and we're ready to make you our next success story!
What are you waiting for? Take the next step now…
See If You Qualify