I hope you enjoy reading the blog post.
If you want my team to just do your Bumble for you, click here to chat with me.
Bumble Incognito Mode: How It Works, Price & More!
Bumble Incognito Mode gives you control over who sees your profile.
VIDA's dating experts been using Bumble daily since it burst onto the dating scene back in 2014. That's hundreds of thousands of hours spent managing profiles, swiping, messaging and arranging dates on behalf of our clients.
We're intimately familiar with all of Bumble's features, and in this quick guide, we'll run down everything from how this premium feature works to what it costs and if it's worth the price tag!
How Bumble Incognito Works
When the Incognito feature is toggled on, only the Bumble users you swipe right on are shown your profile.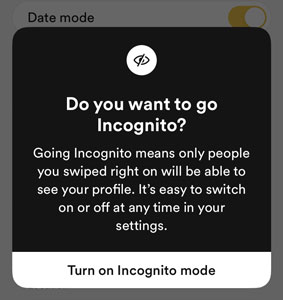 To go incognito on Bumble, tap the profile icon and then gear icon. Once you're in the Settings menu, scroll down to "Incognito Mode" and switch it on.

Now your profile will be revealed only to users you "like". If you pass on them, your profile remains hidden. Your profile won't be shown to the masses until you turn off the incognito feature.
Incognito mode hides your profile, but it does not hide your location. When you swipe right on someone and they check out your profile, your city is still displayed. Also keep in mind that you will not be presented to any potential matches as a "Best Bee" with Incognito engaged.
Incognito works across all three Bumble Modes - Date, BFF and Bizz. But it doesn't work on Bumble Web, which is the platform's desktop version. You'll need to use the mobile app if you want to stay hidden on Bumble.
And there's one more catch…
Bumble Incognito Mode Price
It's not free!
The Incognito feature comes bundled with Bumble Premium, which is the more expensive of the two upgrade options. If Premium isn't available in your area, you won't have access to this perk.
Price varies by location, but using the incognito mode on Bumble costs somewhere around $44.99 for a 1-month subscription. The price per month goes down the longer your subscription lasts.
How Much Does Bumble Premium Cost* In 2022?
$21.99 - 1 Week
$44.99 - 1 Month
$89.99 - 3 Months
$249.99 - Lifetime
*Cost may vary depending on location & promotions
Many dating apps and sites have options for using them privately. If you want to compare prices, check out this article.
Bumble Incognito Vs Snooze
If you were thinking you can hide your profile on Bumble for free, you're correct. This dating app also has a "Snooze Mode" that hides your profile in the swipe deck for all users.
You don't need to purchase a premium subscription to access Snooze, but unlike Incognito it's an all or nothing situation. No one will see your profile while this mode is turned on.
Snooze Mode is designed so you can take a break from Bumble without having to delete your profile. Your profile can be hidden for 24 hours, 3 days, a week or indefinitely without losing any of your chats or connections.
Selecting a "status" lets your existing matches know why you're taking a break, although that part is optional.

You can also keep messaging with them even while your profile is snoozed.
Just like Incognito Mode, you can activate and deactivate Snooze Mode via the Settings menu. Your matches will not be automatically notified when you "un-Snooze" your profile on Bumble.
Is Private Swiping Worth The Upgrade?
There are a few factors to consider, like how well the app is working for you. If you're having trouble getting matches, it may not be worth the extra money to hide your profile.
It's also much cheaper to control who sees your profile on Tinder. The feature is bundled into Tinder Plus, which is the app's cheapest premium subscription. One month of Tinder Plus costs around $7.99, compared to Bumble Premium's $44.99 price tag.
That being said, if you like Bumble and want to keep using it - just a little more discreetly - choosing who can view your profile is likely worth it.
Bumble Premium unlocks all kinds of handy features, like the ability to change your location and screen your matches using all the filters.
Plus you'll get all the Bumble Boost goodies too. Those include unlimited likes and extending the message deadline, plus extra SuperSwipes and Spotlights.
Of course, before you upgrade you'll want to make sure your Bumble bio and photos are the best they can be. After all, you're paying for the privilege of only showing it to the matches you're really interested in, so why risk having them swipe left?
The Easiest Way To Meet Your Perfect Match On Bumble
You could read up on all the ways to make your profile shine, then brush up on your messaging skills. It's not easy to go from match to message to date, especially if you live in a big city where you're fighting to keep each match's attention.
Or, instead of all that work, you can just bring in a team of experts!
VIDA Select has been helping singles find their ideal matches since 2009. From profile creation to photo selection and messaging, VIDA's team can handle all of it for you.
Your dedicated matchmaker can even curate your matches for you, so you're only meeting people with true relationship potential!
Find out exactly how the service works.
Want us to do your online dating for you?

Hey, I'm Ally, VIDA Select's Director of Matchmaking.
We take all the frustration, hard work and hassle out of modern dating!
Imagine your very own Dream Team of highly skilled dating experts searching for the very best local matches, sparking their interest, and arranging all the dates for you.
Wouldn't it be nice to finally stop swiping and start dating higher quality matches so you can meet someone special?
We've helped thousands of singles just like you since 2009, and we're ready to make you our next success story!
What are you waiting for? Take the next step now…
See If You Qualify