7 Bumble Mistakes That Women Make (Are You Guilty?)
Maybe you're not matching with the "meet the parents" type guys you want to date, or when you do match they don't respond to your Bumble opener. Frustrating, right?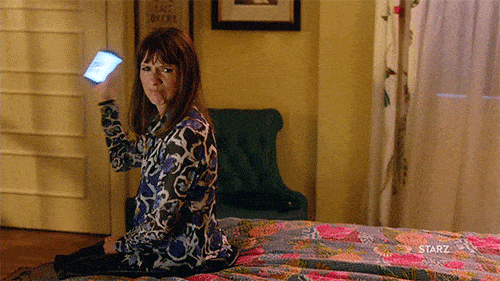 It's not time to head back to Tinder. You're probably just making one of these 9 common Bumble mistakes - and you're going to learn how to fix them right now.
Let's get to it!
#1. You're playing it safe with your wardrobe.
Red should be your new black - men find women wearing this fiery hue more attractive.
And there's an added bonus to rocking something red in your primary Bumble photo. When choosing photos for dating apps, most people tend to stick with boring neutrals. That means a pop of bright color will instantly catch his eye.
#2. You're not swiping smart.
According to Bumble's internal data, peak activity occurs around 6:00 pm. Using the app at the most popular time increases the odds of swiping, matching, and messaging in real time.
Fun fact: Bumble use skyrockets 20-40% during weather events like blizzards and big rain storms. So if the weather outside is dreadful, start swiping. It could double your number of matches!
#3. You haven't verified your profile.
Guys hate wasting time with fake profiles just as much as you do. Verifying your profile on Bumble is easy to do, and he'll instantly know you're the real deal.
From the profile editing screen, tap the "Verify Your Account" button, and then "Verify Now."
You'll then be prompted to take a selfie while mimicking a simple hand gesture. The photo will be used to confirm your profile is legit. Don't worry about looking good for the selfie, it won't be visible on your profile.
When the verification is complete, a little camera icon will show on your photos.
#4. You don't take your photos seriously.
Snapchat filters might look cute on Facebook, but on dating apps? Not so much. The whole point is to show guys what you look like, so covering your face with floppy ears and a dog nose isn't the best idea.
Plus, dating app Hinge found that a photo overlaid with filters got a whopping 90% less likes than a similar pic without the filter. There's no reason to think it would be any different on Bumble.
When you're looking for the "The One," make sure your pictures aren't sending the wrong message. Save the club shots for Facebook - you want to look like someone he'd consider bringing to Sunday dinner at his parent's house.
#5. You make him play guessing games.
When you're scrolling through a guy's Bumble photos, do you get annoyed when you can't instantly figure out which one you matched with? Or maybe you've felt let down after you realized he's not actually the cute one on the left.
Guys feel the same way. Your primary Bumble photo should always be you - and only you. Not a group of your friends, not you posing with your kid. He's (hopefully) not going to date your friends, so why are you featuring them front and center?
Mixing a few group shots into your photo lineup is good - after all, you want to portray a fun, socially active lifestyle.
And standing next to a friend who is similar in appearance but slightly less attractive that you makes you look even better by comparison. It's called the "Ugly Friend Effect," and science says it really works.
Group shots give you one other advantage as well - and it's been dubbed the "Cheerleader Effect."
Researchers found that people are perceived as more attractive in a group photo than in an individual one. It has to do with the brain automatically glossing over individual features, and instead compiling a mental composite the researchers called "the average group face."
In a nutshell, that means any tiny flaws visible in a lone picture will most likely be glossed over in a group one.
But that being said - your lineup should never be all group shots. Use the next tip to figure out which is your very best primary photo, and lead with that.
#6. You chose your own photos.
Looking your best on Bumble means you need to achieve the perfect dating photo trait trifecta in each picture: attractive, trustworthy, and competent.
But when it turns to identifying photos where you hit these three notes, researchers found that complete strangers are a better judge of your pictures than you are.
You're super familiar with your own appearance, so it's virtually impossible for you to perceive your face the same way a total stranger does. All those fine details - like micro expressions and quirks - that you don't even notice anymore are things someone who's never seen you before might instantly notice.
The guys on Bumble are strangers, so it makes sense to go with the photos strangers respond to best. "How do I get a bunch of strangers to evaluate my photos," you ask? Easy - use Photofeeler or hire VIDA.
PRO TIP: It's okay to start over!

If you're literally getting nowhere on Bumble, it's time to start from scratch. From the profile settings, you can delete your account entirely then recreate it with better pictures and an irresistible bio.

You'll also be resetting the search history, so all those guys you already swiped on will be back in your Bumble queue. One thing to consider, though - if you upgraded to Bumble Boost, your subscription won't carry over to your new profile.
7) You're not getting personal.
Including his first name in your Bumble conversation starter boosts your response rate by a whopping 60%, and that's advice straight from the mouth of the app's founder.
To be effective, an icebreaker messages needs to create an emotional response. Using his name is one of the easiest ways to do that. It can warm up even the lamest opening lines: "Hey" versus "Hey, John". See the difference?
For Bumble opening lines that get the best guys responding, check out this article!
The Easiest Way To Meet Your Dream Guy On Bumble
It may not be hard to get messages from guys on dating apps, but catching the eye of the high quality men you actually want to meet? That's where online dating can get time consuming and frustrating.
Wouldn't it be nice if an expert matchmaker could filter your messages, screen your matches and set up dates with best ones for you?
That's exactly what the dating experts at VIDA do. From choosing your most attractive photos to exchanging messages on your behalf with the best local men - everything is done for you.
Your ideal partner is out there, and VIDA will help find him for you!
A 20-minute call with one of our matchmakers is all it takes to meet the love of your life.
If you're finally ready to meet your perfect match, book your confidential consultation with us now.
Click Here

About VIDA

VIDA is your very own team of matchmakers who are ready to introduce you to your ideal partner. Say goodbye to the hassle and frustration of modern dating - we'll tap into the world's largest database of eligible singles and match you with someone who has all the qualities you desire in a partner. Our team has already made lasting connections for thousands of clients like you, and we're ready to make you our next success story. All you need to do is schedule your free confidential consultation with us now by clicking on the button below.
Get Started Now