I hope you enjoy reading the blog post.
If you want my team to just do your Bumble for you, click here to chat with me.
5 Bumble Profile Tips That Get Guys Dates (+ Bio Examples!)
Squeezing an entire life into 6 pictures and 300 characters isn't easy… No wonder you're looking for Bumble profile tips!
And Bumble ups the ante even further by requiring women to send the first message - so you can't even rely on your great opening lines to start a conversation.
Interesting photos and an attention-grabbing bio will entice her to send you a message, and that's your only shot at getting a date on this dating app - so putting time into your profile is CRUCIAL.
Don't worry - the dating experts at VIDA have your back. We've logged hundreds of thousands of hours on Bumble, logging in daily to manage the profiles of all the clients we represent online.
All the tips you're about to get have been proven on the battlefield. We know they work, because we arrange all the Bumble dates for our clients!
5 Expert Bumble Profile Tips
Keep reading for easy, actionable steps you can take to apply these 5 expert Bumble tips for guys to your profile.
Ready to boost your match rate and start going on more dates?
1. Lead With Your Strongest Photo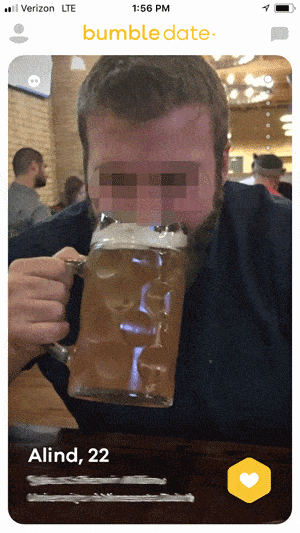 On dating apps, you're only as attractive as your worst photo. And Bumble is about as photo-driven as an app can possibly be.
She has to scroll past your first photo to see your profile, and then the rest of your photos to see your location.
Meanwhile, she can swipe left at any time. One bad Bumble pic and you're toast... before you've even been able to say anything!
Your primary photo is your first (if not only) opportunity to catch her eye.
A good profile photo shows you, and only you, looking your very best. Not a shot with 4 friends in it. Not a photo of you wasted on a Friday night. Not a headshot of your dog.
And definitely not one of those mirror selfies where your toilet is featured prominently in the background.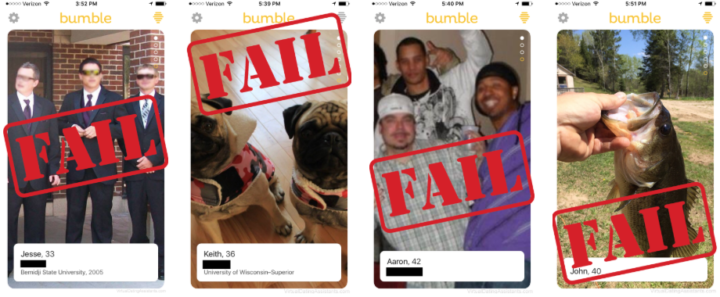 This is your chance to show her you're confident, approachable, and as attractive as possible.
Here are 3 tips on choosing your strongest Bumble pics, courtesy of advice from Dr. Jessica Carbino, former expert sociologist for both Tinder & Bumble:
Wear a bright, vibrant color. This makes you stand out from all those men who opted for neutrals, like blacks and grays.
Ditch the glasses and hat. Wearing glasses decreases the odds of a right swipe by 12%. Having a clear view of your eyes and your face is a strong indication of trustworthiness, so when you block the view, people subconsciously assume you've got something to hide.
Don't post group shots. This can lead to a major let down if she thinks you're not the hottest guy in the picture.
Dr. Carbino based her advice on the results of a recent study where Tinder analyzed 12,000 profile photos of users between the ages of 18-40 in 3 major cities, but the data will no doubt serve you well on Bumble, too.
A group of neuroscientists also weighed in on what makes for an attractive Tinder image - and their "magic" formula will work for any dating platform:
If you aren't sure which photo you should lead with, use PhotoFeeler to narrow down your selection to the 3-6 photos that get the best feedback. Then, use Tinder's Smart Photos to figure out which one is the absolute best.
Ideally you can choose a strong lineup of 6 Bumble photos, as according to the app's data profiles with all 6 photo spots filled get the most right swipes.
2. Treat Your Photos Like An Ad Campaign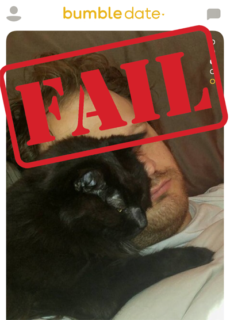 When she's scrolling through your lineup, she's making snap judgments based on every aspect of your photos, like your facial expression, posture, and outfit choices.
It's a process referred to as "thin slicing", and it's basic human nature.
Much like a marketing campaign, you want to highlight all your best features. In science-speak, it's called "signaling". Simply put, you're trying to convey certain things about yourself without coming right out and saying them.
For instance, a picture of you scuba diving communicates that you're in great physical shape, you can afford an expensive hobby, and you travel. Not only are pictures far more impactful than words, she's also more apt to believe it's the truth.
Key takeaway: show, don't tell.
You should have at least 3 additional photos in your lineup. Now's the time to show her that you love to hike, do yoga, and whitewater kayak. Choose photos that intrigue her, and make her want to know more about you.
Present the image of a guy who's exciting and fun to spend time with, not someone who spends Saturday night on the couch with his cat.
Check out these tips on choosing online dating photos that get more dates, then put together a range of photos you think are strong contenders.
Bumble makes uploading photos a breeze, but make sure you check out the final result. Especially when it comes to cropping.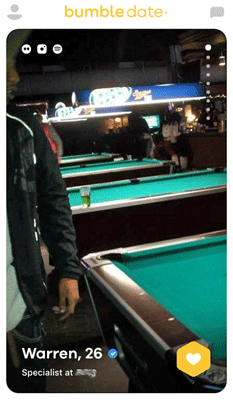 The app automatically pulls the middle segment of each one, so be sure you're not getting cropped out of your own pics - especially the primary one.
3. Win Her Heart (in <300 characters)
A common Bumble mistake guys make is having a bio like this:
Instead of using those 300 characters to actually share something about yourself, you're making her do all the hard work.
Why would she take the time to message you for details when you haven't given her a reason to want to know more about you?
The best Bumble bios for males sound confident and engaging, and if you can make her laugh, you're in with a solid chance. On mobile dating apps, women are swiping through multiple potential matches at a time, often while catching up on Netflix. You have to stand out.
Because Bumble is less traditional than sites like Match.com, you can get away with a much less serious approach. Think more along the lines of extreme confidence (without sounding too cocky), over-the-top ridiculousness and/or really f*ing funny, like in this example:

Funny Bumble profiles work because most women find a sense of humor attractive. Just make sure your humor isn't wandering into eye roll territory.
To see "funny" done right, check out these witty Bumble profile examples!
Here are a few other profile mistakes guys often make:
Just writing a list. While easy to read, lists are typically boring. If you do go with a list format, at least make it interesting by injecting some humor or emoji.
Focusing on the negative. Don't write about what you don't like, don't want in a relationship, or anything that hints at past relationship drama. Positive profiles are far more attractive, and besides - she doesn't know you yet, so why would she care about what you're not into?
Not taking it seriously. If you don't care enough to put some effort into your Bumble profile, she's not going to put any effort into messaging you.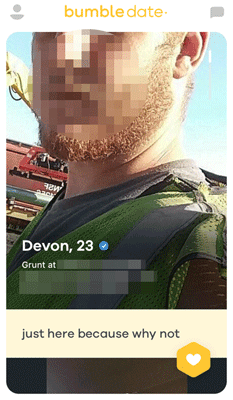 If you need some Bumble 'about me' ideas, start by including the essentials and highlight what's most attractive about you: your job, your interests, all the stamps in your passport.
Try something like this, using your own details instead:
Or this:

Notice how both of the examples of Bumble profiles above focused on a few attractive qualities. In relatively few words, these profiles make her want to know this guy better - and that's exactly what you want yours to do.
Not sure what to say about yourself on Bumble?
Ask (honest) friends what your three most attractive traits are, and play off of those if they're interesting... The more unique, the better!
Linking your Instagram to Bumble is an easy way to bulk up your profile, and opens up a door for her to learn more about you without having to ask for a Facebook link.
Depending on what you have posted, though, a little spring cleaning might be in order first.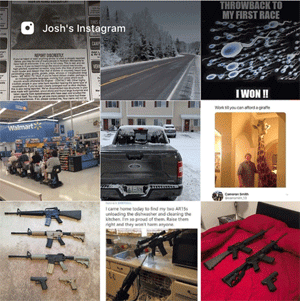 All of your Instagram pics need to make a good impression.
4. Make Starting A Bumble Conversation Easy For Her
The key to a successful Bumble profile is simple: give her something to talk to you about.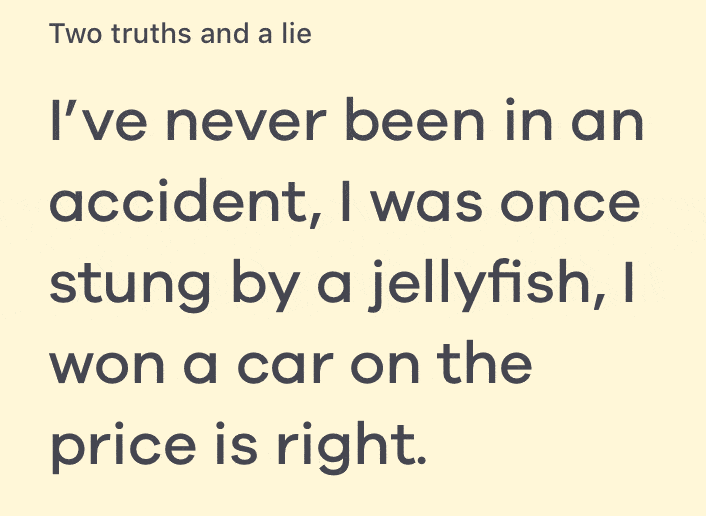 Filling out a few Bumble Prompts (Move Makers) is an effective way to accomplish this, as those little snippets of info can be great message bait if done correctly.
Mention a unique hobby, your puppy, your love for volunteering - anything that could make her want to reach out and start a conversation with you.
You can also get the conversational ball rolling by asking her a question in your Bumble profile.
With the right dose of inspiration, she doesn't have to do much work to come up with a clever message. This makes it easier for her to engage you and more likely that she will.
Ask something that's creative, fun to think about, and easy to answer. Keeping your question simple is key - research has found using words that are easy to process increases your likeability.
Try a question along these lines in your profile:

Here's another example of how to incorporate a challenge question into your Bumble profile:

PRO TIP: The Best Time To Swipe On Bumble
Bumble users are most active between 8 and 10 pm, so it's the perfect time to swipe and match with local singles. It's also a great time to use Bumble's Spotlight feature!
Remember, once a connection is made that countdown starts ticking… so those two hours are your best odds of getting into a real-time exchange. Bumble activity is highest on Sundays, lowest on Fridays - so plan to do a little swiping on Sunday evenings!
5. Create "Go-To" Messages As You Write Your Profile
Message exchanges on dating apps tend to be faster paced than on dating sites. You want to lock in the number or the date before she deletes her account, or loses interest - and that typically means returning her messages within 24 hours, max.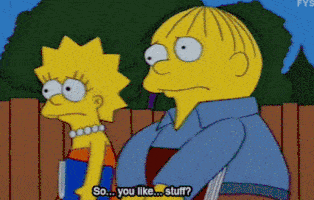 But if you're hopping on the app in between meetings, you may not have time to bring your A-game with every message. If you don't have a virtual dating assistant to manage all your dating apps for you, having a stockpile of "go-to" messages to fire off at a moment's notice is the next best thing.
It's easy to create a few questions while you're writing your profile. Just build them around topics you bring up in your profile.
For instance, if you mention travel, wine tasting, and yoga in your profile, your list of questions might look like this:

Of course, you need to transition them into the existing conversation, just as you would if you were talking to her face to face. Save the best material from your message exchanges, and use the questions again and again.
Bonus Bumble Profile Tip: Meet Amazing Women The Easy Way
Sure, we've given you 5 great Bumble profile tips and plenty of do's and don'ts that will elevate your Bumble game - but as with anything worth doing, you've got to put in the effort. You'll find plenty more tips & tricks in this comprehensive Bumble guide!
However, if you're short on time or if you're not certain how to properly implement these strategies to meet women on Bumble, VIDA can help.
Not only can we create a Bumble profile that is sure to get higher quality dates for you… But we can also do the same for all your best dating apps and sites.
Our solution may not be the right fit for everyone, but thousands of guys like you have already used VIDA to meet their ideal woman. Perhaps you'll be our next success story.
To see if you qualify for one of our signature service packages, schedule a quick call to find out if VIDA is the right solution for you. Schedule your complimentary consultation with us today!
Want us to do your online dating for you?

Hey, I'm Ally, VIDA Select's Director of Matchmaking.
We take all the frustration, hard work and hassle out of modern dating!
Imagine your very own Dream Team of highly skilled dating experts searching for the very best local matches, sparking their interest, and arranging all the dates for you.
Wouldn't it be nice to finally stop swiping and start dating higher quality matches so you can meet someone special?
We've helped thousands of singles just like you since 2009, and we're ready to make you our next success story!
What are you waiting for? Take the next step now…
See If You Qualify