I hope you enjoy reading the blog post.
If you want my team to just do your Bumble for you, click here to chat with me.
Bumble Speed Dating Explained [Plus 3 Expert Tips!]
The Bumble speed dating feature originally launched in late 2022, but back then it was called Bantr Live. A limited time promotion, Bantr Live was a real-life tie-in to the Ted Lasso TV series.
Bumble relaunched the feature in many areas as Speed Dating in early 2023.
So, what is it and how does it work? You're about to find out!
Bumble Speed Dating Table of Contents
What Is Speed Dating On Bumble?
Bumble Speed Dating is a scheduled in-app event that you can join on Thursdays at 7 pm. As the name suggests, users are paired up for 3-minute "dates". During each round, you can exchange messages with the person you're paired with.
But just like Tinder's Hot Takes game, you don't get to see a photo until after the time is up. Mutual interest results in a match, and you can check out your new match's profile.
How Bumble Speed Dating Works
To sign up for a Speed Dating game, keep an eye out for the card to pop up in your stack as you're swiping.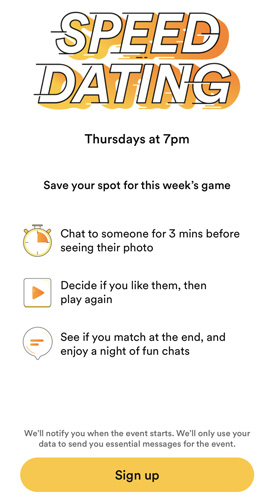 Reserve a spot for that week's event by tapping the yellow Sign Up button, and you'll receive a pop-up notification when it starts.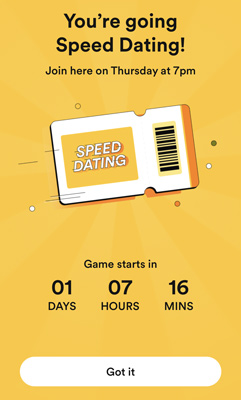 The point of the game is to spark a connection based solely on your Bumble conversation. Throughout the event, you'll be paired with other users based on compatible match criteria.
During each 3-minute round, you can exchange as many messages as you want. The "Question Game" feature can help if you're not sure what to say.
When time expires, you like or pass on the potential match. If a connection forms as a result of the Speed Dating game, the exchange will move into your Conversations queue where you can resume it at any time.
Is Speed Dating On Bumble Worth Playing?
Yes, it's worth it to give speed dating on Bumble a try. It lets you message before matching on Bumble! The other way for a guy to message first is by sending a Bumble Compliment. But you can only do that once a day for free.
Here is one more thing to consider, especially if your Bumble profile photos have room for improvement:
Playing the Speed Dating game gives you a chance to spark a connection before she knows what you look like. If she's already warming up to you based on your messages, she's more likely to swipe right when she sees your pics.
Plus, it's free. You're only out some time if you don't enjoy it.
3 Ways To Get More Speed Dating Matches
Timed events are by their very nature a little stressful, and sending fun, flirty texts on a dating app doesn't come naturally to most people.
But don't worry. VIDA's dating experts have sent hundreds of thousands of messages on Bumble, and our strategic approach to messaging has been proven effective. We not only handle all the messaging for the clients we represent, we set up all the dates too.
These 3 expert messaging tips will revolutionize your messaging game on Bumble, and help you get more matches on Bumble speed dates!
Tip #1: Tap Into Her Passions
Falling into interview mode with "So, what do you do for work?" or "Where are you from?" is easy to do, especially when your mind blanks and you're not sure what else to say.
But boring or basic questions aren't going to ignite any sparks. Questions that trigger positive emotions when she's answering them are much more likely to fan the flames of attraction.
For example, let's say a potential match mentions she takes salsa dancing lessons.
Asking "What got you into salsa dancing?" as a follow up taps into her passion for a hobby, so she's likely to open up about it.
This is an effective strategy in speed dating, because talking about yourself triggers the release of dopamine in the brain, leading to a pleasant feeling. As a result, if she enjoys conversing with you, the likelihood of her wanting to match with you increases significantly.
On the other hand, asking logistical questions like "How long have you been taking lessons?" isn't nearly as effective. You're not giving her the same opportunity to talk about herself because she's more likely to come back with a dry, short answer like "2 years."
Tip #2: Make A Cheat Sheet
Like any message exchange on a dating app, how you start the conversation can have a big impact on the outcome.
The last thing you want during a speed dating game is both of you waiting for the other to get the ball rolling. Have a few prepared icebreaker questions in your back pocket so you can take the lead confidently.
Questions like these work well:
The more speed dating you do, the easier it will be to gauge what type of lines work best for you. It's also a low-key, low-stakes way to hone your flirtatious texting skills.
Tip #3: Avoid Throwaway Comments
Generic comments like "Oh, that's cool" or "Wow!" can kill a conversation unless you immediately follow it up with another question or topic change.
Why? Because throwaway comments only acknowledge what she just said. They don't invite another response because they don't progress the conversation.
Awkward silence is cringey, even during a 3-minute message exchange. The more you can do to showcase your conversational skills, the more she'll want to keep getting to know you.
On that note, make sure to keep an even information exchange. You want to give your potential matches the opportunity to talk about themselves, but they also want to learn more about you.
Make Your Bumble Profile Worth The Wait
Speed dating on Bumble is a fun way to match with more singles. But your profile only stays hidden for so long! Your speed dating matches will almost certainly make a beeline for your bio after matching with you.
Why risk turning them off after working so hard to make the connection? Use all the expert advice and tips in VIDA Select's Ultimate Guide To Bumble to make sure your photos and bio are the best they can be!
Want us to do your online dating for you?

Hey, I'm Ally, VIDA Select's Director of Matchmaking.
We take all the frustration, hard work and hassle out of modern dating!
Imagine your very own Dream Team of highly skilled dating experts searching for the very best local matches, sparking their interest, and arranging all the dates for you.
Wouldn't it be nice to finally stop swiping and start dating higher quality matches so you can meet someone special?
We've helped thousands of singles just like you since 2009, and we're ready to make you our next success story!
What are you waiting for? Take the next step now…
See If You Qualify