I hope you enjoy reading the blog post.
If you want to chat now about your matchmaking search, click here.
Chicagoland Singles Review (Should You Hire Them?)
Wondering if Chicagoland Singles is the best dating agency for you?
This detail-packed Chicagoland Singles review has everything you need to know about this Chicago matchmaking service.
Our team has reviewed over 200 matchmaking services, diving deep into their operations, success rates, cost, and customer experiences. Our reviews are built on 14+ years of industry experience, extensive research, and a keen understanding of the matchmaking industry.
Keep reading for a full rundown on the must-know facts, from cost to actual user reviews and some of the most common complaints.
Let's get started!
Chicagoland Singles In A Nutshell
Chicagoland is part of the Great Expectations family, which is a nationally franchised dating agency. The company has been around since 1976, and began as a video dating service.
Today, all the franchise locations have a similar setup. Your member profile is listed in their database, and you're eligible to attend special Chicagoland Singles events like speed dating, cruises, trips to Vegas, and wine tastings.
Chicagoland Singles Cost
Prices vary depending on your personal circumstances and finances. You won't find specific pricing listed their website. Their matchmakers prefer to discuss your options during an in person sales pitch/consultation.
You can safely anticipate spending anywhere from $1,000 to $8,000+, depending on what "last-minute promotions" they may have going on. You'll also be paying additional fees for the photoshoot and any mixers you choose to attend.
During the initial consultation, the contract details will be ironed out. This Chicago dating service doesn't offer refunds unless you cancel within the 3-day time period mandated by state law.
What To Expect From This Chicago Matchmaker
The process begins by either calling ChicagoSingles directly, or filling out a form online.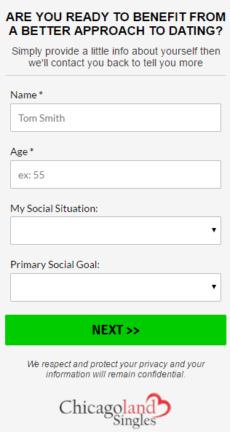 There's a brief screening via telephone. But you won't get to the good stuff until you're meeting with your matchmaker face to face. That's when you'll get down to the nitty gritty, and find out how much this Chicago matchmaker will cost you.
If you sign your contract on the dotted line, you'll have a profile created for inclusion in their "members only" database. You can access the database via their website, and browse profiles just like you would on a dating site like Match.com.
Chicagoland Singles profiles include pictures taken by an in-house photographer, which almost certainly means they'll be taken in a studio.
That gives a consistent look across all their member profiles, but it also means you probably won't be re-using the pics on your Facebook or OkCupid account.
Your matchmaker will send you profiles to check out based on your "ideal partner" criteria. You can also use the Chicagoland Singles member login page to browse on your own.
If you find someone intriguing, you can send a message to them via the website. If the potential match shares your interest, an online conversation begins.
So is this just online dating with a much higher price tag, or are they one of the best matchmakers in Chicago?
You'll find plenty of real users reviews coming up to help you decide. And at the very end of this article, you'll learn about a slightly different approach that could make finding your dream partner even more likely. So keep reading...
Reviews of Chicagoland Singles (a.k.a. Great Expectations)
Overall, the Great Expectations franchise has a 1-star rating with Consumer Affairs.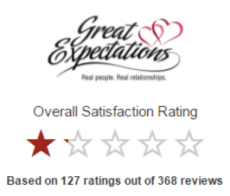 Complaints lodged against Chicagoland Singles specifically included high staff turnover, lack of suitable matches in the database, and terrible first date experiences:
One of the few positive reviews started out as a 1-star review. It was then upgraded to 5 stars once the dissatisfied customer had worked it out with Chicagoland Singles legal team:
Chicagoland Singles Yelp Reviews
The trend of overwhelmingly negative reviews continues on Yelp.
The 15 Recommended Reviews for Chicagoland Singles on Yelp are a mixed bag. The Chicago matchmaking service received a 2-star rating for their 1375 E Woodfield Rd Schaumburg IL 60173 location.
The 3 positive reviews included this one from a woman who hadn't met anyone yet, but was happy with the photographer:
This client was happy with the service:

Negative Chicagoland Singles Yelp reviews include complaints about perceived high-pressure sales tactics from reviewers who decided not to sign up.
Other reviewers like this one who did join reported being unhappy with the lack of matches, or said the people they did meet weren't compatible at all: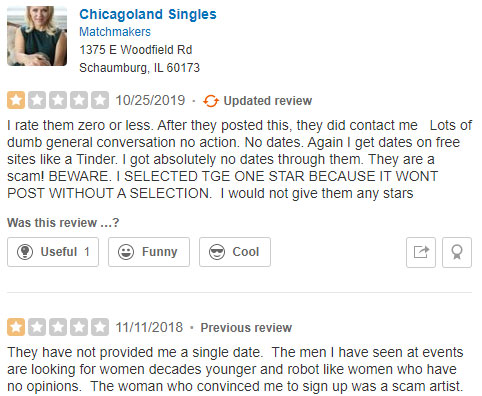 The Better Business Bureau currently has an "A+" rating listed for Chicagoland Singles, but they only have 1 out of 5 stars based on customer reviews.
The positive review was from a client who was happy with the Chicagoland Singles events:

The negative reviewers both mentioned lack of quality matches in their area.
It's important to do some online research before hiring a matchmaking service, but negative reviews should always be taken with a grain of salt. Happy clients aren't always as likely to take the time to review a dating service on the internet.
But when you see recurring themes across multiple review sites, that could be a red flag.
Further, it's worth noting that Great Expectations franchises are no stranger to the courtroom. Lawsuits for things like using high pressure sales tactics and deceptive practices were filed by Washington State, Wisconsin, and Arizona, to name a few.
There's no doubt that doing a little research prior to hiring a matchmaking service can save you a lot of time and frustration in the long run.
Besides, don't you want to hire the very best matchmaker in Chicago?
Consider All Your Options...And Choose What's Best For You
If you're having difficulty meeting interesting, high-quality singles in Chicago you're not alone. But why spend a lot of hard-earned money just so you can then spend time sending messages to potential matches on a website that feels a lot like online dating?
If you'd had any luck meeting the right people by messaging them on dating sites on your own, you probably wouldn't be reading this right now.
What you need is a matchmaking service that handles everything for you, from generating interest to telling you when and where to show up for all your dates.
The matchmakers at VIDA Select make all those introductions on your behalf. And you'll only be meeting pre-screened, highly compatible people that you're truly interested in getting to know better.
At VIDA, you pre-approve all your potential matches. And you'll have plenty of choice, because VIDA's expert matchmakers have access to Chicago's single largest database of eligible matches.
If you're truly ready to find the partner of your dreams, schedule a laidback, zero-pressure, complimentary phone consultation with one of our professional matchmakers today.
Why spend another minute alone?
Simply click here to get started!
All product and company names are trademarks™ or registered® trademarks of their respective holders. Use of them does not imply any affiliation with or endorsement by them.
Why Choose VIDA Select?

Since 2009, thousands of clients have discovered true love thanks to VIDA Select's fresh, modern approach to matchmaking – which has finally thrown blind dates and long-term contracts out the window. This isn't your grandmother's matchmaking!
Instead of working with a single matchmaker using a small rolodex of potential partners, VIDA Select's matchmaking team taps into the world's largest database of available singles. We'll quickly identify the matches who check all of your boxes so you can finally experience true chemistry. Are you ready to become our next success story? Schedule your complimentary consultation now by clicking the button below!
Get Started Now