I hope you enjoy reading the blog post.
If you want to chat now about your matchmaking search, click here.
Cinqe Matchmaking Reviews [Best High-End Matchmaker?]
Wondering if the team at Cinqe Matchmaking has what it takes to find your ideal partner? This Cinqe Matchmaking review is a great place to start.
After all, trusting someone with your love life is an investment - both financially and emotionally. Finding the matchmaking service that best aligns with your expectations is essential!
Our team has reviewed well over 200 matchmaking services, delving deep into their process, client experiences, success rates, and more. With over 14 years of first-hand experience in the industry, our reviews are built on extensive research and a deep understanding of the matchmaking landscape.
In this Cinqe Matchmaking review, you'll get insights into the company founders, their matchmaking network, process, cost, and more!
Cinqe Matchmaking Review Table of Contents
Let's start at the beginning…
From Friendship To Matchmaking
The driving force behind the creation of Cinqe Matchmaking is the friendship between Erica Arrechea and Melissa Lapchuk. These childhood friends grew up in a suburb near San Francisco.
Neither of them initially set out to embark on a career in matchmaking. Prior to founding Cinqe, Arrechea gained experience in marketing and sales, while Lapchuk pursued a path as an interior designer.
Combining their friendship with a shared entrepreneurial spirit, Arrechea and Lapchuk partnered to establish Love Love International in 2012.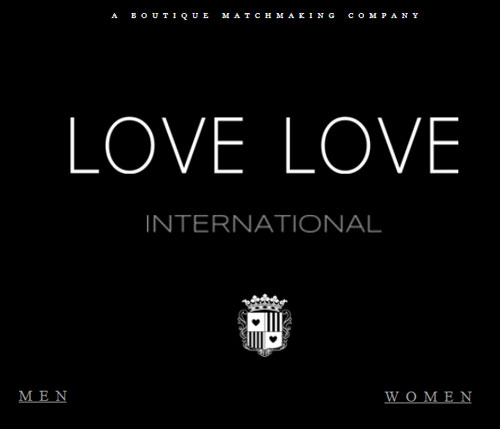 Love Love International rebranded to Cinqe Matchmaking in 2016.
In an interview, Arrechea explained the dual advantage of opening Cinqe. Not only does it serve as a successful business venture, but it also allows these two friends the ability to fulfill their passion for helping people discover love.
We are essentially doing something that makes us feel good, too. It gives us a purpose. This job is so interesting because it satisfies that need to make the world a better place, to connect people who have never otherwise met.
Cinqe's clientele tends to be single professionals between the ages of 22 and 85.
According to Cinqe Matchmaker Annie Garmendia,
The majority of people who come to us are used to outsourcing. They tend to be quite successful.
Cinqe's Matchmaking Network
Cinqe's matchmakers are part of a widespread network residing in various countries. They focus their recruiting efforts in these locations:
San Francisco, Silicon Valley, Orange County, Los Angeles, San Diego, Seattle, New York, Austin, Houston, Miami, Denver, Boulder, Aspen, Scottsdale, Vancouver BC, and Dubai
In order to expand their reach, Cinqe has formed partnerships with MillionaireMatch.com and the Millionaire's Club, led by Patti Stanger.
As Arrechea puts it,
This is the most elite that you can get, and we are bringing these firms together to offer a personalized concierge service for those elites.
Co-founder, Erica Arrechea, hails from San Francisco but currently resides in Denver. She primarily works with clients throughout Colorado and the San Francisco Bay area.
In addition to Arrechea, there are six other partnering matchmakers who bring their own unique backgrounds and experiences to the table.
Annie Garmendia is a professional matchmaker in Canada. Her interest in bringing people together began at a young age when she played matchmaker for her own father, resulting in his second marriage. In 2015, she founded The Matchmaker Club and later joined forces with Cinqe Matchmaking in 2020.
Christiana Maxion, a Dubai matchmaker, is the president and CEO of Christiana Maxion Solutions and also hosts her own podcast called "Dating in Dubai: An Expat Expose."
Rachel London brings a unique twist to the team. Prior to joining Cinqe, she made a name for herself as a chart-topping singer-songwriter. However, her passion for bringing people together resulted in the creation of her own dating consultancy company, Total Package Club. London established both her own company and became part of the Cinqe network in 2020. She primarily focuses on singles in Silicon Valley.
Laura Jacobs, based in Florida, is the star of Roku's reality show "Match Me Miami." However, her journey to stardom didn't begin with the show. Jacobs had already established herself as a model, film, and TV actress. Prior to joining Cinqe in 2021, she worked with Lisa Clampitt Matchmaking.
Katy Clark serves as a lead matchmaker and dating coach. She shares her knowledge and advice on building confidence and how to make dating fun again through a weekly podcast, "Dating with Katy." Clark resides in Newport Beach and her client focus primarily lies within Orange County, Los Angeles, San Diego, Houston, and Scottsdale.
Danielle Hahn-Bovet has a background in investment networking, but always knew she wanted to help people find love. She serves as Head of Partnerships & Matchmaker for Cinqe Matchmaking, and has been with them since 2017.
What To Expect From Cinqe Matchmaking
The matchmaking process starts with potential clients filling out an online inquiry. Then, the Cinqe team schedules an introductory call to gather information about your ideal match type and dating goals, which will help them determine if you're a good fit for their services.
It is possible for potential clients to have conversations with up to three matchmakers before a final decision is reached.
As Arrechea explained in an interview,
We all have to agree that this is someone who we can match into a relationship.
Additionally, the team considers the diversity of membership to avoid an abundance of clients in the same age groups with similar preferences.
If Cinqe believes they can assist in finding you suitable matches, then a video meeting is scheduled with the matchmaker. During this meeting, you'll be presented with a few potential matches and introduced to some of the team members.
If both parties agree to proceed, you'll receive a formal offer to sign a contract that outlines membership services and pricing.
Next, you'll receive match suggestions and will review new matches as they become available.
As a paying client, you'll have weekly chats with your matchmaker to discuss progress and address any concerns. In the first month of service, you can expect 2 to 3 suggested profiles per week, although the number of weekly suggestions might decrease in the future.
As the team shared with DatingAdvice.com,
Finding love takes time. Scheduling matches specialized for you can take weeks and months.
When both parties agree to meet, the Cinqe team assists in scheduling the first date. Additionally, they offer date coaching and provide post-date feedback.
Cinqe Matchmaking has worked to optimize its process to provide clients with a more confident dating experience. Garmendia explained their process this way:
It's growth and self-development in addition to finding the love of your life. We're not taught to be in relationships, but when you hire a matchmaker with experience, we know the dating game better than most people so we're able to tell you what to do.
How Much Does Cinqe Matchmaking Cost?
Cinqe matchmaking packages range from $35,000 to $200,000+.
You've got the option to join their complimentary network for free, however, you won't have an assigned matchmaker and no one is actively searching on your behalf. That means you'll only be contacted if you're a potential match for a paying client.
As a paying client, you can expect unlimited match suggestions throughout your entire membership. Matchmaking contacts typically last a minimum of 6 months, and the price varies depending on your specific expectations, requirements, and non-negotiables.
Cinqe Matchmaking Reviews
Browsing client reviews on local platforms like Trustpilot and Yelp can be an excellent strategy when it comes to deciding which matchmaking service to hire. The star ratings can be helpful, but the true gold lies in seeing how a company approaches customer service by checking out their review responses.
That being said, Cinqe matchmaking hasn't been reviewed on platforms like Trustpilot, Yelp or Google.

The absence of online reviews isn't all that unusual, especially when it comes to luxury matchmaking services where clients prize confidentiality.
As a result, determining whether Cinqe Matchmaking is the right choice for you will largely depend on factors such as your personal experience during the initial consultation, how you feel about the length of your contract, and, naturally, the cost.
Is Cinqe Matchmaking The Right Service For You?
When it comes to cost, Cinque's pricing structure aligns with other elite matchmaking services.
Take, for instance, Enamour—a highly personalized matchmaking service that sources matches via its ultra-exclusive invitation only database and via a proprietary recruitment process that vastly extends its reach. Enamour's packages start at around $20,000 for a 6-month contract. 
Barbie Adler, the luxury matchmaker who founded Selective Search, offers matchmaking packages that start at around $25,000.
VIDA Select, by contrast, offers packages that work a little differently - clients pay by the month, rather than purchasing a multi-month contract.
VIDA's matchmakers also leverage the largest source of eligible singles there is, ensuring you're only meeting highly compatible matches who check all your boxes.
Intrigued? Go here to see if you qualify for VIDA Select's modern matchmaking service!
All product and company names are trademarks™ or registered® trademarks of their respective holders. Use of them does not imply any affiliation with or endorsement by them.
Why Choose VIDA Select?

Since 2009, thousands of clients have discovered true love thanks to VIDA Select's fresh, modern approach to matchmaking – which has finally thrown blind dates and long-term contracts out the window. This isn't your grandmother's matchmaking!
Instead of working with a single matchmaker using a small rolodex of potential partners, VIDA Select's matchmaking team taps into the world's largest database of available singles. We'll quickly identify the matches who check all of your boxes so you can finally experience true chemistry. Are you ready to become our next success story? Schedule your complimentary consultation now by clicking the button below!
Get Started Now