I hope you enjoy reading the blog post.
If you want my team to just do your online dating for you, click here.
Coffee Meets Bagel Boost Explained [Includes Best Time To Boost!]
Wondering what a Coffee Meets Bagel Boost does? This feature is a way to quickly get your profile in front of more potential matches. According to the dating app you can get up to 5x more profile views and 3x more matches during a boost.
Keep reading for all the details, like how much it costs, how long it lasts and the most effective time to boost your profile on CMB!
Just looking for a quick answer? Tap on the question to find it faster!
Coffee Meets Bagel Boost Table of Contents
But having more eyes on your profile won't help if your potential matches don't like what they see. That's why we've also included 3 powerful tips on how to make your Coffee Meets Bagel profile "boostworthy," courtesy of the dating experts here at VIDA Select!
We've been using Coffee Meets Bagel daily since it launched way back in 2012. That's hundreds of thousands of hours of first-hand experience, so we know a thing or two about how to use CMB successfully.
Let's dive in!
How does Coffee Meets Bagel Boost work?
When you use the Boost feature, CMB's algorithm does two things:
It promotes your profile by showing it to more users than it would otherwise.
It gives priority to any "likes" that you send, which means potential matches will see your profile sooner.
In a nutshell, your profile gets more views and you spend less time waiting to be seen.
You can find the Boost feature by tapping on the profile icon, then tapping "Boost Me."
The duration of a CMB Boost is 48 hours. A lightning bolt icon will be by your avatar in the upper left corner to indicate that it's active. Other users will not know you are using a boost when this is on.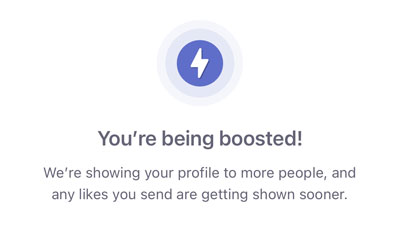 You'll also see a Boost notification on the profile editing screen.
How much does a Coffee Meets Bagel Boost cost?
Anyone can purchase a CMB Boost for 750 Beans. When you tap Boost Me, a pop up notification will prompt you to use the Beans.
If you don't have enough Beans in your Coffee Meets Bagel account, you can purchase them in lots of 3000, 2000 or 100:
CMB Boost Cost 2023*
3000 Beans - $24.99
2000 Beans - $23.99
100 Beans - $1.99
*Price may vary slightly by location
You can also earn free Beans on Coffee Meets Bagel by doing things like inviting other people to sign up or following CMB on social media.
Premium and Mini subscribers get 3 free monthly Boosts included with their memberships. Your Boosts reset around the same time as your sign up date. For instance, if you subscribed on the 15th of the month, your Boosts will refresh around that date the next month.
You can store Boosts, so if you don't use them during a particular month, they will still be available to you.
Is a Boost worth the Beans?
If you're a Premium user, it's definitely worth using your free Boosts each month. It gets your profile seen by more users, and your Likes seen faster.
If you're purchasing a Boost ala carte, Boosts might be worth spending the Beans when you live in a big city where there are tons of other users. The priority Likes aspect of the Boost can scoot your profile near the top of the recipient's feeds, and that can be a huge advantage.
But again, if you're Boosting your profile you want it to be as strong as possible because a Boost isn't a magic wand. Those expert profile tips are coming right up!
When is the best time to use a CMB Boost?
Unlike boosting your profile on Tinder, Bumble or Hinge, CMB Boosts last for 2 days, not just 30 or 60 minutes. That covers a lot of territory!
Sundays are a good day of the week to boost your profile, as many apps report activity spikes. Using a Boost to cover Sunday and Monday is strategic, as many singles get their swipe on Monday evenings too.
Thursdays are another busy day, as dating app users start thinking about weekend plans.
Dating apps often see a spike in user activity during inclement weather, just after work, or before heading to bed, so there are additional ways to take advantage of CMB's boost feature.
To get the maximum benefit, you'll want to optimize your profile before hitting that Boost button.
3 Expert Tips To Make Your CMB Profile "Boost Worthy"
The point of a CMB Boost is to create new matches and increase positive engagement with your profile. And that starts with having the best profile possible.
For starters,
#1. Have A Complete Profile
According to Coffee Meets Bagel's internal data, profiles with all the details filled out receive 50% more likes than profiles with missing details.
That's a pretty compelling reason to fill in all the gaps.
An optimized profile includes intriguing, high-quality photos that show your face and body, and a captivating bio that is bound to give her a sense of what dating you will be like.
But those are just the tip of the icebreaker. Bring up the profile editing screen by tapping the profile icon then "view my profile."
That screen displays your main profile components, but you want to go deeper than that. CMB attracts singles who are looking for serious relationships, and people are getting downright intentional about who they choose to match with these days.
Your potential matches want details, so pack your profile full of them. Tap the "edit" button in the upper right hand corner, then select "Details" from the menu bar.

From here you can add all kinds of badges to your profile, including interests, personality, values, priorities, ideals and much more.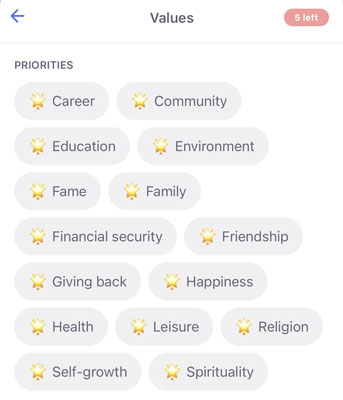 These badges are a perfect way to instantly share glimpses of your lifestyle and relationship goals, and it's well worth the time to select a few for your profile.
Speaking of details…
#2. Get Descriptive In Your CMB Prompts
CMB broke down what makes a successful profile on their dating app and the answer is detailed prompts.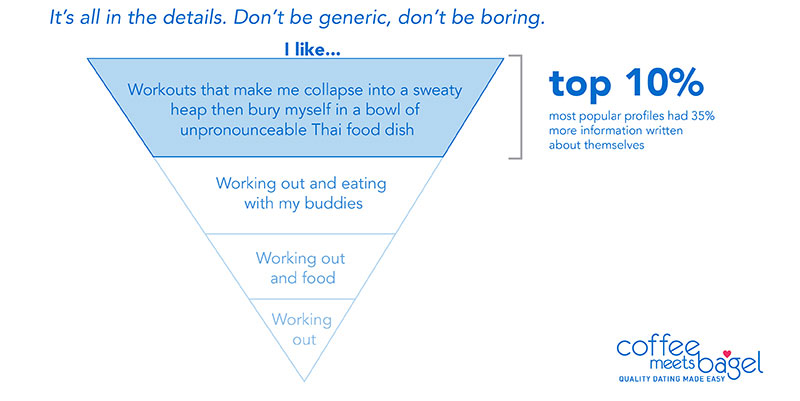 According to their internal data, the top 10% of profiles were 35% longer than the least popular profiles.
Here is an effective way to stand out: avoid cliches and overused lines like "working out", "cooking", "hanging with friends", "traveling", etc.
Instead, illustrate how you enjoy these common activities by including examples. Describe your daily workout. Share your latest trip and what you loved most about that destination. Tell your potential matches about your signature dish - that's far more interesting than "I love to cook."
Take this CMB profile prompt, for instance: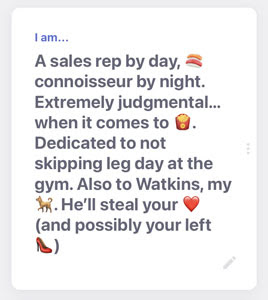 Isn't that a lot more compelling than just writing, "I'm passionate about my job and love sushi, takeout, the gym, and my dog"?
3. De-Selfie Your Photo Lineup
Coffee Meets Bagel released two photo "secrets" based on analyzing hundreds of user profiles. Selfies did not fare well - they topped the "don'ts" list.
Here's the complete list of what to avoid in your Coffee Meets Bagel photo lineup, according to their study:
Selfies
Blurry photos
Extremely silly expressions, like "duckface"
Shirtless photos
Photos with other girls or a perceived ex
Large group photos
Emo shots (i.e. crying in the shower)
On the other end of the spectrum, smiling and including pets in your images resulted in more likes. CMB also recommended including a clear headshot, a full body shot and an activity photo in your lineup.
Want To Meet More Compatible Matches On CMB?
Boosting your profile is a step in the right direction, as long as you optimize your profile first. And remember, each Boost not only shows your profile more often, it also sends any "likes" you give straight toward the top of her queue. So the more active you are during each Boost, the better.
Don't have time to put all that effort into online dating? Let the dating experts at VIDA Select do it all for you! VIDA can manage your CMB profile for you, representing you online in a way that's authentic and genuine - and that gets real results.
That's because VIDA's team of professionals will optimize your profile and your photos, plus you'll have a dedicated matchmaker to do all the swiping for you. And the best part - a professional writer will handle all your back and forth messaging!
There's no easier way to start meeting highly compatible matches and going on better dates.
Want us to do your online dating for you?

Hey, I'm Ally, VIDA Select's Director of Matchmaking.
We take all the frustration, hard work and hassle out of modern dating!
Imagine your very own Dream Team of highly skilled dating experts searching for the very best local matches, sparking their interest, and arranging all the dates for you.
Wouldn't it be nice to finally stop swiping and start dating higher quality matches so you can meet someone special?
We've helped thousands of singles just like you since 2009, and we're ready to make you our next success story!
What are you waiting for? Take the next step now…
See If You Qualify