I hope you enjoy reading the blog post.
If you want my team to just do your online dating for you, click here.
Coffee Meets Bagel Premium Worth It? [2023 Cost & Features!]
Trying to decide if Coffee Meets Bagel Premium is worth it? VIDA Select's dating experts have all the details you need!
We've been using this popular dating app since CMB launched in 2012. That's thousands upon thousands of hours spent checking out profiles, messaging, and setting up dates for the singles we represent.
All that real world experience means we know all the premium features inside and out - and if they're worth the investment to use.
Stick around for the CMB tips at the end - those will help you get higher quality matches on this popular dating app, whether you upgrade or not!
CMB Premium Review Table of Contents
Let's dive in!
Coffee Meets Bagel Premium Benefits
Coffee Meets Bagel is free to use - you can browse your daily matches, match with people and exchange messages without paying for a premium membership.
But like most dating apps, if you want to unlock a few handy features there is an option to upgrade.
Here are 9 Coffee Meets Bagel Premium benefits:
View all the matches in your "Likes You" feed at once
Get 8 "Discover Likes"
Activity Reports
Premium preferences & filters
Unlimited Skip The Line
Unlimited Rewinds
Message read receipts
Discounts on Beans
Let's take a closer look at the most important ones.
Likes
Free users have limited access to the "Likes You" feed. You have to go through each profile one at a time and make a like/pass decision before you can see the next one.
A Premium membership unblurs all the profiles in the feed, and you can instantly match.
Upgraded users can also send 8 'likes' a month in the Discover section without spending any Beans.
Profile Boosts
Premium members get 3 profile boosts every month.
A profile boost on Coffee Meets Bagel lasts for 48 hours, and the dating app claims it can get you up to 5x more views. When your profile is being boosted, you'll see a lightning bolt icon by your avatar in the upper left corner.

Other CMB users will not know that you're using a profile boost.
Free users can access the Profile Boost feature as well, but it costs around 750 beans per use. Premium users can also purchase additional boosts at any time.
Activity Report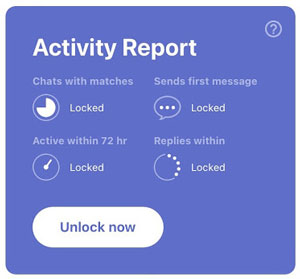 An Activity Report on Coffee Meets Bagel is essentially a snapshot of a particular user's activity (or lack of activity) on the app. Reports are automatically generated from the user's 15 most recent connections.
You'll be able to see these data points:
How often a users messages their matches
How often they send the first message after matching
If they were active on the app within 3 days
The time it generally takes them to respond to a message
Founder Dawoon Kang said she hopes to help "put an end to ghosting" by offering users 'behind the scenes' data. But one thing to keep in mind when you're checking out someone's stats…
Since reports are only updated every 72 hours, the information may not be that accurate for brand new users or for those who don't use the Coffee Meets Bagel app that much.
Premium Preferences & Filters
Similar to Bumble's advanced filters, Coffee Meets Bagel unlocks additional screening options for potential matches in your Suggested feed when you upgrade.
The Premium filters include:
Relationship Goals - Screen for users seeking marriage, a serious relationship, something casual, or who aren't sure yet.
Family Plans - Includes wanting kids, open to kids, don't want kids or aren't sure.
Kids - Focus on users with kids or without kids
Smoking - Screen for matches smoke often, occasionally or never.
Exercise - Criteria include daily, often, occasionally or never
Unlimited Skip The Line
The Skip The Line feature on Coffee Meets Bagel is a way for Premium members to get priority placement in the feeds of popular users.
Here's how Skip The Line works.
When you "like" a bagel that the app's algorithm identifies as having a long like/pass queue, you'll get a pop up window asking if you'd like to "send flowers" to bump your profile up. In other words, your potential match will see your profile faster than they would have otherwise.
Unlimited Rewinds
Unlimited Rewinds gives you a second chance with Suggested bagels that you've passed on.
You can access this premium feature by tapping on the clock icon in the upper right hand corner.
But keep in mind this feature is time-sensitive - it resets every day at noon. It's also currently only available on iOS devices.
Coffee Meets Bagel Premium Cost
The cost of Premium Coffee Meets Bagel depends on the length of your membership, but generally ranges from $20 to $35 per month depending on where you live.
2023 Premium Coffee Meets Bagel Cost*
1 month - $34.99
3 months - $25.00/month
6 months - $20/month
*Cost may vary by location
As with most dating apps, if you decide to cancel your premium subscription you need to do it properly. Simply deleting your profile or uninstalling the app doesn't do the trick.
To cancel your Coffee Meets Bagel Premium subscription, you need to do it via the App Store or Google Play. (Click the links to see subscription cancellation instructions for each platform.)
Your Premium subscription will auto renew unless you cancel it at least 24 hours prior to the renewal date.
Coffee Meets Bagel Mini Membership
CMB offers a "light" version of their Premium subscription, called CMB Mini. As the name implies, it's not as feature-heavy as the full upgrade.
CMB Mini includes all the Premium features, with the exception of full access to the "likes you" feed, the extra Likes in Discover and the Skip The Line.
2023 Mini Coffee Meets Bagel Cost*
1 month - $14.99
3 months - $10/month
6 months - $9/month
*Cost may vary by location
When Is Coffee Meets Bagel Premium Worth It?
If you're living in a big city like New York, LA, San Francisco, etc, having a Premium Coffee Meets Bagel subscription is probably worth it.
As a premium member, you can save a ton of time by unblurring all the potential matches in your "Likes You" feed, and the Activity Reports can help prevent you from wasting time on non-responsive matches.
And since the app claims over 90% of people using CMB are looking for a serious relationship, the extra filters will help screen for important considerations like kids, smoking habits, etc. (Looking for a hookup app? You're better off sticking with Tinder.)
3 Tips For Getting More Dates On Coffee Meets Bagel
Whether or not you decide to start paying for a Premium membership, these 3 tips will help boost your odds of connecting with high-quality matches.
#1: Go Long (In Your Bio)
CMB took a look at the most popular user profiles to determine what made them so successful. They found the top 10% of profiles were 35% longer than the less popular ones:
The key takeaway from their graphic is this:
Get detailed in your Coffee Meets Bagel profile.
Fire up Coffee Meets Bagel and see where your bio has room for improvement. Look for generic, boring phrases she sees all the time, like:
Working out
Love to cook
Enjoy traveling
Like learning new things
Hanging out with friends
Having fun
I'm adventurous
All of those phrases above can be instantly more compelling simply by swapping in an example of what you actually do. Get specific, so you're showing instead of telling.
Not only will you hit that magical 35% longer profile metric, you'll also end up with a far more compelling profile.
Let's take a look at this in action, using this real-world example: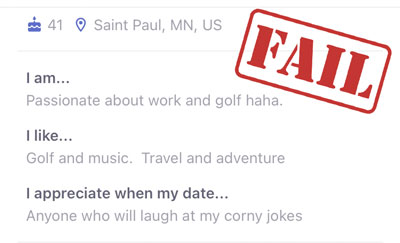 In the very first line, you can practically see her eyes start to glaze as she reads "Passionate about work." So are the last 11 guys she checked out in her Suggested matches.
In fact, "Passionate about my job" is so cliché it even pops up in CMB's suggested text when you edit your bio, which is reason enough to avoid using it.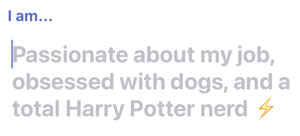 Then in the next section she reads "travel and adventure"... who doesn't like those two things?
There's nothing in this profile example to make her think exchanging messages with you is going to be remotely interesting. So why would she bother replying to your message, much less initiating a conversation?
She's already wading back into her Discover feed, looking for more intriguing guys.
If you want to get her attention, present yourself in an attention-getting way, like this: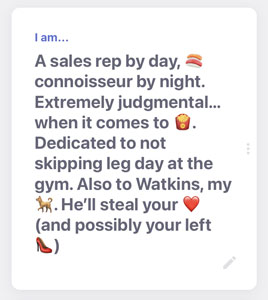 Then, once you've got your profile dialed in and you're attracting some "likes"...
#2: Don't Wait To Start Chatting
CMB's deep data dive revealed that messages sent within 3 hours of initially matching are 52% more likely to receive a response.
The app's design makes getting the chat started easy by letting users include an icebreaker in their profile, like this one: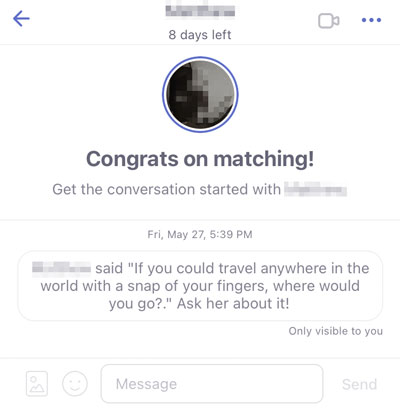 Now when you match, all you have to do is answer her icebreaker question. But this is a dating app, so you need to approach messaging strategically.
First, answer her question in a way that shares an attractive tidbit about yourself. For instance, you could highlight an adventurous trip you went on, like this:
I'd go back to Croatia in a heartbeat, the scuba diving was amazing. You seem pretty adventurous too, what's a stamp you can't wait to get in your passport?
This message accomplishes 3 important things:
She learns you have a physically demanding and adventurous hobby, and that you travel.
You establish a similarity between the two of you. This is effective because research has shown people tend to be drawn towards those they have something in common with.
You move the conversation forward by inviting her to share something about herself.
This approach to answering her Coffee Meets Bagel icebreaker is far more compelling than just sending a one-word response like "Maui."
#3: Skip The Learning Curve & Go Straight To The Dates!
If you've been on dating apps for more than a minute, you're probably all too aware of how hard it can be to match with the interesting women who seem to have real relationship potential.
And matching is just the first obstacle! Keeping a message exchange going is an area a lot of guys struggle with, and few things are more frustrating than having a promising match go radio silent.
To be successful on apps like CoffeeMeetsBagel, you have to nail every step of the process - and there are a lot of moving pieces. It starts with choosing compelling photos and writing an intriguing bio, and ends with knowing what to say in your messages and exactly when to say it.
That's… hard. It takes effort, attention and a specialized skill set to stand out and get noticed by the kind of women you want to meet.
But the good news is you can skip the learning curve by bringing in VIDA Select's team of dating specialists. All the hard work is done for you, by experts who have all those specialized skills. All you do is enjoy all dates with high-quality matches!
Want us to do your online dating for you?

Hey, I'm Ally, VIDA Select's Director of Matchmaking.
We take all the frustration, hard work and hassle out of modern dating!
Imagine your very own Dream Team of highly skilled dating experts searching for the very best local matches, sparking their interest, and arranging all the dates for you.
Wouldn't it be nice to finally stop swiping and start dating higher quality matches so you can meet someone special?
We've helped thousands of singles just like you since 2009, and we're ready to make you our next success story!
What are you waiting for? Take the next step now…
See If You Qualify