I hope you enjoy reading the blog post.
If you want my team to just do your OkCupid for you, click here.
Cupid's Picks Explained: How This Special OkCupid Stack Works!
Want a shortcut to your most compatible matches on OkCupid? You're going to love the Cupid's Picks Stack!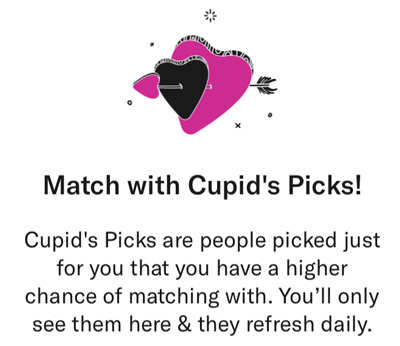 Keep reading to discover exactly how the OKCupid Cupid's Picks feature works, and where to find them...
What Are Cupid's Picks On OkCupid?
Cupid's Picks are a selection of profiles that OkCupid's algorithm has determined to be highly compatible, based on your preferences, their preferences, and the OkCupid questions you've answered in common.
But there's another layer - Cupid's Picks are also profiles you have a high probability of matching with too.
As Jane Reynolds, Director of Product Marketing at OKCupid, explained, the feature offers a "highly customized experience where you can connect with matches picked just for you that very day."
How OkCupid's Cupid Picks Works
Much Tinder's Top Picks, your specially curated matches are displayed in their own feed. On OkCupid, you'll find them in a dedicated "Cupid's Picks" stack.
Each day this stack is updated as new members join or current users respond to more OKCupid profile questions.
These like-minded matches come with a time limit. Your Cupid's Picks refresh every 24 hours, regardless of if you've viewed them or not.
You can see how much time is left before your picks refresh because a countdown displays at the bottom of your Cupid's Picks stack.
How Do You Like Cupid's Picks On OKCupid?
You can't just like someone in Cupid's Picks - you have to SuperLike them. Unlike the other stacks, pass and like buttons aren't visible to you. Your only option is to send a Super Like or move on to the next profile.
Sending a Super Like to a Cupid's Pick is simple: Open any profile from your Cupid's Picks stack and click on the heart with an arrow.
Every Sunday, your free Super Like is replenished. Free subscribers only get 1 to use each week, and Premium members get 3. However, if you don't use it, you'll lose it.
SuperLikes don't accumulate, so if you still have 3 come Sunday, you'll still have 3 when your SuperLikes replenish.
Making The Most Of The Cupid's Picks Feature
Here are 3 ways things you can do to maximize your OKCupid profile and get the most out of the Cupid's Picks feature.
#1. Answer More Questions
Answering questions helps OKCupid's algorithm pinpoint matches with similar interests and values. So theoretically, the more questions you answer, the more accurate the algorithm is at identifying users who align with your preferences.
OkCupid questions play a role in determining who you see as a Cupid Pick. So it stands to reason that the more questions you answer, the higher the odds your profile pops up in that stack for other people.
There's no set number of questions you're required to answer, but you're considered an Enthusiast if you answer 100 questions and an Expert if you answer more than 500.
Your match percentage is determined by comparing the answers to questions that both you and a potential match have answered. If you've both answered many questions the same way, your match percentage will be on the higher side.
This percentage is displayed on every profile that's suggested to you.
#2. Mind Your Line Up
OkCupid doesn't necessarily display your primary photo in someone's Cupid Pick's lineup. If you've got 3 strong photos, but the 4th one is a dud, there's a chance the dud might end up in the spotlight.
That means all your OkCupid photos need to pull their weight. Remember, in the Cupid's Stack your potential match can either SuperLike your photo or tap on it to check out the rest of your profile.
If your photo doesn't warrant either of those two actions, you'll get passed on by. And the window to make a good impression is tiny indeed: research has found people can form judgments about others based on appearance in 44 milliseconds.
For the best possible photo lineup, check out these 16 science-backed tips!
#3. Start The Conversation
When you send someone a SuperLike on OkCupid, it gives you the option to include a note at the same time. This is a built-in advantage, because it lets you send a message on OkCupid before you've matched.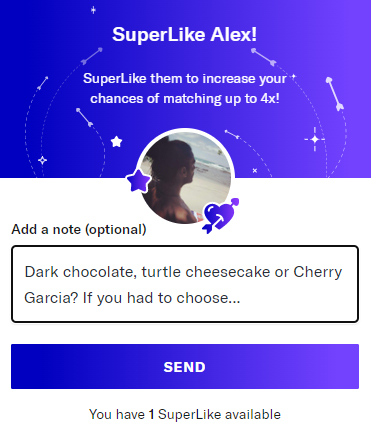 Sending a SuperLike sends your profile start to your potential match's SuperLike Stack, and your message will be right there waiting. Why waste that opportunity to start the conversation?
For plenty of messages you can send right now, check out these dating app openers that really work!
Want To Meet More Singles On OkCupid?
Let the dating experts at VIDA Select help! We can optimize your profile, carefully screen your matches, even handle your back and forth messaging. In a nutshell, we do your online dating for you, so there's no easier way to get more dates on OkCupid!
Find out how it works by going here.
Want us to do your online dating for you?

Hey, I'm Ally, VIDA Select's Director of Matchmaking.
We take all the frustration, hard work and hassle out of modern dating!
Imagine your very own Dream Team of highly skilled dating experts searching for the very best local matches, sparking their interest, and arranging all the dates for you.
Wouldn't it be nice to finally stop swiping and start dating higher quality matches so you can meet someone special?
We've helped thousands of singles just like you since 2009, and we're ready to make you our next success story!
What are you waiting for? Take the next step now…
See If You Qualify