I hope you enjoy reading the blog post.
If you want my team to just do your online dating for you, click here.
How To Delete POF [Easy Step-By-Step Instructions For 2023!]
Want to delete POF? This quick guide has the step-by-step instructions you're looking for.
And if you'd rather hide your POF profile temporarily to take a break from online dating, we'll go over that too.
Just click the links to go straight to the action you want to take!
How To Cancel A POF Subscription (Do This First!)
It's important to cancel your subscription to POF Premium before you delete your account. Uninstalling the app does not automatically cancel it, and you'll continue to be charged if you're on auto renewal.
You need to cancel your subscription from the same device you signed up with.
Note POF doesn't offer partial refunds or prorated subscriptions. When you cancel POF Premium, you'll still have access to the upgraded features until the subscription expires.
How To Cancel Your POF Subscription On iPhone:
Navigate to your phone's Settings menu
Tap your Apple ID
Tap Media & Purchases
Select "View Account" from the pop-up menu
Tap Subscriptions
Select POF
Tap Cancel Subscription
How To Cancel Your POF Subscription On Google Play:
Click on your profile icon
Scroll down to Manage Account
In the Membership section, click Premium
Select "Click here to let your upgrade expire"
Once you've canceled your premium subscription, then you can delete your POF.
How To Permanently Delete Your POF Account
Here is what happens when you delete your POF account:
This is a permanent action - you won't be able to reactivate your account if you decide you want to come back later.
Deleting your POF account also deletes your matches, connections, messages, etc.
Removing your account from Plenty Of Fish does not cancel a premium subscription. Follow the steps at the beginning of this guide to do that before you delete your POF account.
If you had a POF Premium membership, it will not carry over if you decide to create a new POF profile down the line.
To delete your POF account via POF.com:
Login to POF.com
Click the My Profile button at the top of the screen
Click My Profile
Select Settings
Scroll down to Delete Account and click the button
Answer a few quick questions
Click Delete Account
To delete your POF account via the mobile app:
Login to the POF app
Tap on the Profile icon
Scroll down to Manage Account
In the Application section, select Delete My Account
Tap the Delete My Account button
If you just want to take a break from Plenty of Fish but not lose any of your account information or connections on the dating site, hide your POF profile instead of deleting it.
How To Hide Your POF Profile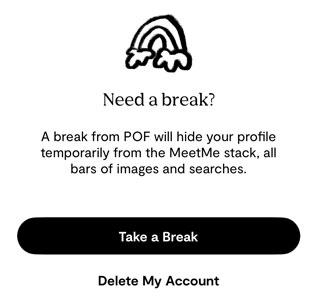 Here is what happens when you hide your POF profile:
You will not be shown to users or displayed in the app.
You can continue any existing conversations while hidden.
If you continue to actively use the app while your profile is hidden, POF does not guarantee other users won't see your profile or send you a message.
Not all iOS or Android users will see the option to hide your profile. If you can't do it from your phone, sign in via the POF website.
To hide your POF profile using the website:
Login to POF.com
Click on the My Profile button at the top of the screen
Select My Profile
Scroll down to Profile Visibility in the column to the right
Select Hide Profile
To hide your POF profile using the POF app:
Open the POF app
Tap the Profile icon
Tap Manage Account
Scroll to Profile Visibility
Tap Hide Profile
But before you tap those buttons, consider why you're leaving POF.
Want To Delete POF Because It's Not Working For You?
If you're deleting your Plenty Of Fish profile out of sheer frustration, it may be worth taking a look at your bio and photos before giving up entirely.
Sure, you could give a paid dating site like Match.com a try instead, or download Hinge or Bumble and try your luck there.
But here's the thing.
If you're not sure how to write a compelling profile, chances are you won't have much luck on other dating sites and apps either.
With online dating's popularity at an all-time high, you have to work extra hard to stand out.
Use these 3 POF profile tips to do just that.
They are all based on the dating site's internal data, so you know they work!
#1: Keep Your Photos Looking Natural
Many singles use free online photo editing platforms like Colorcinch or Pixlr to touch up their profile photos.
And that's a great idea - when you know what you're doing. If you don't, you risk turning off the 64% of POF users who prefer scrolling through natural, unedited images of potential matches.
The key is making sure any tweaks you make, such as removing dark circles under your eyes or correcting the lighting, looks natural. In other words, someone looking at your dating pics shouldn't know they were retouched.
That can be very tricky to do if you're not a pro.
Dating services like VIDA Select include natural image editing as part of the package, or you can hire a pro from a freelance website like Fiverr to touch up your dating pics.
#2: Scrub Negativity From Your Profile & Messages
Plenty of Fish is fond of surveying their users, usually releasing one big study each year. One of them found that negativity is the quickest way to kill a message exchange, calling it the "top conversation buzzkill."
This popular dating site compiled a helpful list of things to avoid mentioning in your POF profile, which includes:
Lines like "I'll come back to this" or "Will fill this out later". It instantly communicates that you're not very invested in the outcome to potential matches, and that's not an attractive look.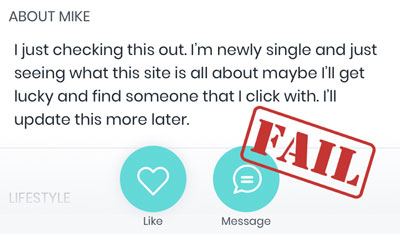 A rundown of things you don't like or what type of people you're not interested in meeting. You'll attract far more matches if you keep your profile positive and optimistic. Your profile is also not the place to express how frustrating you find the whole online dating thing, past relationship woes or how you currently feel about your ex. Remember: Negativity = buzzkill
For plenty of compelling About Me examples, check out these POF profile tips!
#3: Don't Treat Your Headline Like An Afterthought
A lot of singles think POF's headline is a throwaway. It doesn't really matter what you put there, right?
Wrong.
Dating profile headlines can dramatically change your match rate, especially if you roll with an awful one.
Headlines on a dating site work the same way they do in a news story. If yours doesn't entice the reader, you won't get any clicks.
Negativity has the same buzzkill effect here, so keep your profile headline upbeat and engaging. This is important, because it takes center stage in the Match feed.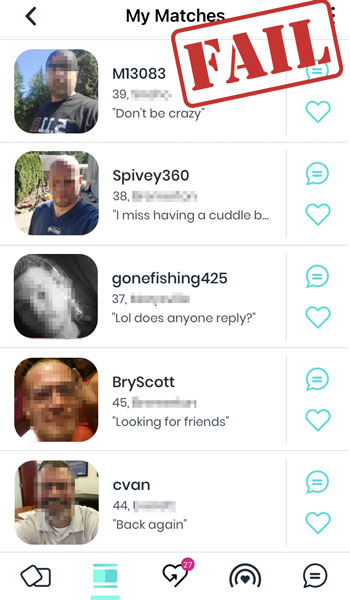 It only takes a few words to imply that you're lonely, frustrated with online dating, desperately struggling to meet quality people... You get the idea - don't do what those guys did.
Go here for 15 effective POF headline ideas you can use for inspiration!
These Plenty of Fish profile tips will help you attract more compatible matches. And if you really want to turn your luck around, why bring in a team of modern dating experts to handle your POF account for you?
VIDA Select can manage your online dating on just about any popular dating app or site you want to use. And by "manage," we mean manage everything.
From writing a profile your matches can't resist to selecting your best possible photos. Even handling all your message exchanges with matches pre-screened for compatibility!
Learn all about the service here.
Want us to do your online dating for you?

Hey, I'm Ally, VIDA Select's Director of Matchmaking.
We take all the frustration, hard work and hassle out of modern dating!
Imagine your very own Dream Team of highly skilled dating experts searching for the very best local matches, sparking their interest, and arranging all the dates for you.
Wouldn't it be nice to finally stop swiping and start dating higher quality matches so you can meet someone special?
We've helped thousands of singles just like you since 2009, and we're ready to make you our next success story!
What are you waiting for? Take the next step now…
See If You Qualify