I hope you enjoy reading the blog post.
If you want my team to just do your online dating for you, click here.
eHarmony Advice For Guys Who Want More Quality Dates
There are plenty of incredible women on eHarmony, and if you're not meeting any of them it can be a frustrating dating site.
This eHarmony advice will help you turn the tables and beat out all the other men vying for her attention!
Tip #1: Make Your eHarmony Profile Scream "Boyfriend Material"
One advantage eHarmony has over sites like Match.com and PlentyOfFish is the limited number of matches users receive.
That means she's not overwhelmed with prospects, her inbox isn't crammed full of messages - and she's more likely to check out your profile.
eHarmony's profile format is different from most other dating sites. There's no main "About Me" section like you'd have in a Match.com profile.
Instead, profiles are broken into a series of smaller sections, each containing tidbits of information like "What I'm most passionate about" and "How I spend my leisure time…"
You're going to want to fill out every single one, and each section should highlight a trait or two that makes her think you're a great catch. Just make sure you're not repeating the same things in multiple sections - that gets boring fast.
Avoid wasting valuable real estate with boring filler like "This is a difficult question to answer." Non-answers like that give the impression you're not a good communicator, or that you don't have anything going on in your life that's interesting enough to mention.
Either way - she's moving on. It's better just to leave it blank than to bore her with what you write.
Keep your answers short, and make sure they "pop." Tease her with interesting information written in an engaging way, and she'll be hungry to learn more. For example:
That's way more interesting than just writing "I enjoy travel, cooking, hiking, and music."
Always be aware of what your answers are communicating between the lines. The example above is a good response because she also learns that you're family oriented, fitness conscious, social, and have the financial resources to fund hobbies like scuba diving - all attractive traits. And you didn't have to spell it out for her in a braggy kind of way.
Make sure you're not accidentally communicating negative traits, like in this example:
For more advice on designing the perfect eHarmony profile, check out our eHarmony profile tips for men.
Tip #2: Pony Up For A Membership
On eHarmony, free users are limited to sending canned questions and responses, which makes it basically impossible to have a real conversation, much less ask her out.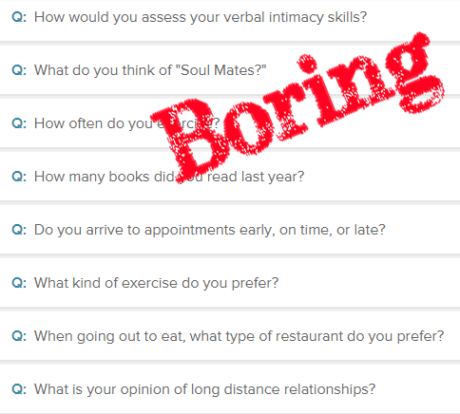 Without upgrading, you'd have to wait until a "Free Communication Event" to send what the site calls a "freestyle" message. Who's got time for that?
eHarmony costs vary according to a number of different factors, but fair warning: it is one of the spendier sites out there. Prices range anywhere from $35 to $65 per month.
The "Premium" plan costs a few dollars more per more per month, and come with a few more bells and whistles.
Check out this quick comparison:
If you're on the fence about committing to this dating site, this simple trick will score you a free 3-day eHarmony trial.
Tip #3: Take The Right Approach To Messaging
If you're serious about finding your ideal partner, eHarmony is one of the few online dating sites where personalizing each message to her profile often makes more sense than taking the copy & paste route.
On a site like Match.com, sending one awesome message to multiple women will save you tons of time and can even boost your response rate if you do it right.
On eHarmony, you only receive a handful of matches at a time, and you can't proactively look for more women.
Since you can't take the approach of quickly contacting a large quantity of quality women, it makes sense to take a more personalized approach with your smaller number of quality dating prospects. Skim her profile if her photo intrigues you, and make your icebreaker relate to something you've read.
Research has shown that talking about yourself puts you in a good mood, so ask her a question encouraging her to do just that. If replying to your message makes her feel happy, you're that much closer to getting her number.
Take this woman's profile for example:
She mentions animals a few times, so asking about her dog or her animal rescue work would more than likely get a response.
Here are some simple dos and don'ts to keep in mind when crafting your perfect message.
Do:
Ask her a question, it gives her a reason to respond.
Make her feel something. An effective icebreaker elicits some type of positive emotion, so ask her something that's fun to think about and answer.
Proofread. Don't tank your first impression with a typo. Grammar matters.
Don't:
Sound like all those other guys. "Hey", "Hi", "How are you doing today" are all incredibly boring - don't make her long for those multiple choice questions.
Be overly complimentary. If she's attractive, she knows it. She doesn't need to hear it from you too.
Ask her out in the first message. You need to build some trust and attraction first, then suggest a date when the time is right.
Tip #4: Complete The Relationship Questionnaire
Answering all 149 questions used to be a mandatory part of the signup process, but now you can skip it if you want. You'll still receive matches based on a general compatibility algorithm.
But if you happen to have 20 free minutes, going through it could pay off with more compatible matches. The more information the algorithm has to work with, the better - in theory, anyway.
You can also access a shorter version of the questionnaire via eHarmony's mobile app. Clocking in at only 100 questions in an easy to answer format, you can breeze right through it.
#5: The Easiest Way To Meet Your Ideal Partner On eHarmony
Even if you put the best eHarmony advice and tips into play, it's a ton of work day in and day out to get the results you want.
Women on eHarmony are serious about finding "The One," and the slightest hint you're not "Him" gets you instantly discarded. That's why you've got to put in time and effort every step of the way. Photos, profile, messages - they all need to be on point if you want to grab the attention of the highest quality local women.
You need to ask yourself an important question: Do you really want to spend your time tweaking your eHarmony profile and messages to perfection, hoping to get it right?
Or would you rather spend your valuable time doing things you actually enjoy - like going on dates with attractive women?
Well, what you need is an eHarmony strategy.
Our online dating experts will craft your perfect profile and even handle all those tedious back-and-forth messages that can make or break your chances with your ideal match.
The only thing you'll need to do is show up for your dates with women you're excited to meet!
Click here to discover how VIDA can find your perfect partner for you today!
Want us to do your online dating for you?

Hey, I'm Ally, VIDA Select's Director of Matchmaking.
We take all the frustration, hard work and hassle out of modern dating!
Imagine your very own Dream Team of highly skilled dating experts searching for the very best local matches, sparking their interest, and arranging all the dates for you.
Wouldn't it be nice to finally stop swiping and start dating higher quality matches so you can meet someone special?
We've helped thousands of singles just like you since 2009, and we're ready to make you our next success story!
What are you waiting for? Take the next step now…
See If You Qualify