I hope you enjoy reading the blog post.
If you want my team to just do your online dating for you, click here.
How To Get An eHarmony Free Trial (Updated 2023)
Some people love eHarmony. After all, the site attracts high-quality members who are serious about meeting someone. Maybe that's why you're looking for an eharmony free trial coupon.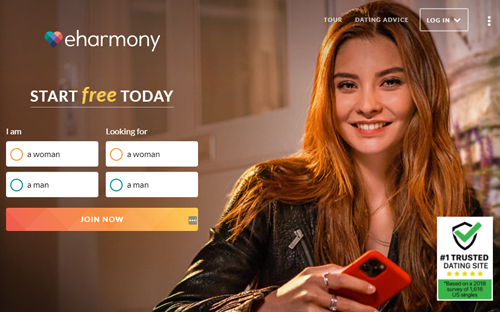 The monthly fee does an awesome job of cutting down on the number of fakers and flakers you'll find on free dating platforms like Tinder, PlentyOfFish & OkCupid.
Others hate eHarmony. Unlike Match.com and POF, you can't freely browse the site for members who interest you, so you're at the mercy of the site's unproven matching algorithm.
And with 100+ personality questions to answer, setting up your account can be tedious, to say the least.
The eHarmony Free Trial Hack
eHarmony doesn't offer a free trial, but there's a way to test-drive it for 3 days without spending a dime.
Here's the only way to try eHarmony for free:
Complete your eHarmony profile, including the personality test.
Sign up for a plan.
Give the site a test drive, and if you don't like it, close your account within 3 days for a full refund.
But there are two important caveats.
#1: You have to live in one of the states specified as eligible for a refund (section 12c) and
#2: You have to cancel within 3 days.
Asking for the refund within 3 days is a must. If you exceed that time frame you're no longer eligible for a full refund.
eHarmony does also occasionally offer free trials in the form of free communication events, which usually range in length from 3 to 6 days, but you have to wait until they're offered - and who's got time for that?
That's why we cracked the code for getting a risk-free 3-day trial on eHarmony. If you do follow the simple steps above, you'll even get to see what your matches look like and exchange messages for free!
Matching, messaging, and scheduling a date with a match in 3 days is an incredibly tight timeline. To pull it off, your profile absolutely has to shine. When users only get a handful of matches a day, they're going to take a fairly close look at it.
And assuming you keep your membership, you'll still want your profile to attract the most high-quality local singles, right? So either way, you'll want to put some time and effort into it.
Here are 2 eHarmony profile tips that will make her want to meet you:
Tip #1: Dot All Your I's...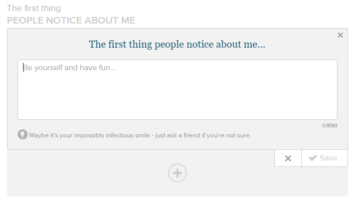 eHarmony profiles are a collection of graphic boxes, each showcasing a tidbit of information like "I'm most passionate about…" and "I typically spend my leisure time…"
There's a 650 character limit for each one, but no minimum - meaning all the sections are optional.
But eHarmony attracts marriage-minded women, and she wants to know what your daily life is like. Use all the profile sections to paint the picture of a guy she wants to spend time with.
Research shows women tend to search for partners who are similar to themselves. Adding specific details such as what sports you play, what hobbies you enjoy, and what type of movies you like creates opportunities for her to bond with you over shared interests.
A boring, blank profile tends to have the opposite effect - she's left wondering if the two of you have anything in common, and she's likely to move on.
For more tips on writing an attractive eHarmony profile, go here.
Tip #2: Be Strategic With Your Photos
You already know you need to look good in your photos. But make sure what your photos communicate between the lines is equally attractive.
If she's looking for someone to spend the rest of her life with (or at least a substantial amount of time), she's instinctively attracted to men who are good providers and have their life together. You're putting yourself at a disadvantage if you don't know how to portray that in your dating photos.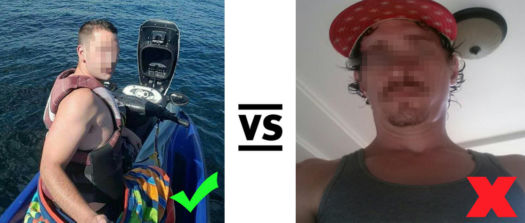 Basically, you want your photos to project attractive traits like financial stability, physical fitness, courage, sense of adventure, etc. If it would come in handy during a rousing game of "survival of the fittest", you want to showcase it in your photos.
To that end, choose a range of 3-7 photos that highlight "relationship material" traits. Whether you're conquering a wave on a wakeboard, sitting at an upscale cafe, or exploring the scenery of somewhere exotic, show her you're a guy who's got his sh*t together.
When you highlight all the good qualities you bring to the table, it doesn't matter that you're not going to be mistaken for Brad Pitt anytime soon. Your photos are still hot.
Bonus Tip: Consider Match.com's Free Trial Instead
At the end of the day, you can't exchange numbers or schedule a date if you can't freely message women, and that's the whole point, right? That means you'll either have to wait for a Free Communication event or just pay for a membership.
Here at VIDA, we've gotten much better results for our clients on Match.com. It's way easier to find attractive, interesting women - and if you have to pay to message them anyway, you might as well be investing in a site where you have free range of the user pool.
We've even got a Match discount coupon - so you can try it out for less!
Want us to do your online dating for you?

Hey, I'm Ally, VIDA Select's Director of Matchmaking.
We take all the frustration, hard work and hassle out of modern dating!
Imagine your very own Dream Team of highly skilled dating experts searching for the very best local matches, sparking their interest, and arranging all the dates for you.
Wouldn't it be nice to finally stop swiping and start dating higher quality matches so you can meet someone special?
We've helped thousands of singles just like you since 2009, and we're ready to make you our next success story!
What are you waiting for? Take the next step now…
See If You Qualify