I hope you enjoy reading the blog post.
If you want to chat now about your matchmaking search, click here.
Elegant Introductions Review: Best South Florida Matchmaker?
Wondering if Dr. Nancy Gold Zimmer and Barbara Black Goldfarb are the right South Florida matchmakers for you? From how they got started to their matchmaking process and how much the service costs, this Elegant Introductions review will help you decide!
Our team has reviewed over 200 matchmaking services, digging deep into their processes, success rates, and customer experiences. Our reviews are built on comprehensive research and a keen understanding of the matchmaking industry.
Elegant Introductions Review Table of Contents
How This South Florida Matchmaking Duo Got Their Start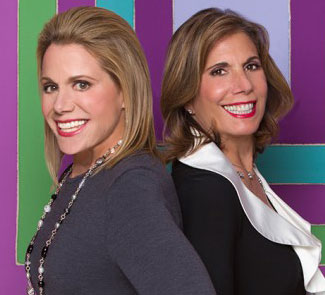 Elegant Introductions is the brainchild of longtime friends Nancy Gold Zimmer and Barbara Black Goldfarb.
A licensed psychologist, Dr. Nancy Gold Zimmer received her Ph.D. from the University of Miami and has over two decades of experience working with clients in a private practice.
An avid volunteer and Jewish community leader, Barbara Black Goldfarb has served on numerous nonprofit Boards of Directors and has been president of a number of different civic organizations. She has two Master's degrees in Public Administration, one from Johns Hopkins and one from the London School of Economics & Political Science.
With over 35 years of friendship and a shared passion for bringing people together, they established Elegant Introductions in 2013.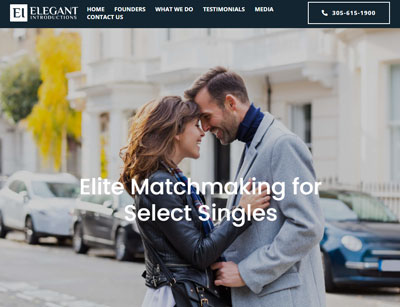 As Goldfarb explained in an interview with South Florida Business & Wealth Magazine, her far-reaching volunteer career and passion for community involvement made her an efficient connector of people and relationship builder.
"I had the walking Rolodex and Nancy had the professional training as a relationship counselor and coach."
Starting a matchmaking service was the perfect way to pool their talents. In that same interview, Zimmer shared,
"Matchmaking seemed logical, given my history as a relationship coach and doing counseling for 25 years in a private practice, working with people on relationship issues and communication and looking internally, figuring out what's going on with them. What their wants are. What their needs are."
One of South Florida's premier matchmaking services, Elegant Introductions works with singles in Miami, Boca Raton, Fort Lauderdale and Palm Beach. Their reach extends to Boston, since both matchmakers have ties to that area.
They also specialize in Jewish matchmaking.
Elegant Introductions clients range from their 20s to 80s, and are generally successful professionals looking for a committed relationship. As Gold shared with The Harvard Gazette, most of their clientele are highly educated, involved in their communities, and have an appreciation for the arts.
As you might expect given Nancy Gold Zimmer's professional background, coaching is a big aspect of the service Elegant Introductions provides their elite clientele.
In the interview with Business & Wealth, Zimmer described their psychology-based approach:
"When we meet them, we find out first about their relationship history. And then we really delve into what it is that they need. Somebody who has been divorced or widowed—a lot of them have the same issues and challenges… And they have to really get to know themselves and deal with their losses and disappointments and find out what their true needs and desires are. We get very involved in coaching them from the beginning, when we meet them, until their first date."
Goldfarb said this approach works in part because of their ability to work as a team, adding "We always say to everybody that your past is going to become your future."
The two matchmakers even co-authored a book that shares insights, practical tips and advice on how to navigate modern dating. Called "He Loves Me: The Matchmaker's Guide to Dating Again and Attracting the Man of Your Dreams", it was published in 2021.
Here is a peek at some of their best first date advice, courtesy of an interview with Golden Beach Resident:
The Elegant Introductions Matchmaking Process
Potential clients start by submitting an inquiry through their website.
Next, you'll be contacted by their team to set up a consultation. During this initial interview, they'll get to know you and see if you're a good fit for their services.
As Goldfarb shared in an interview with DatingAdvice.com, they don't take on just anyone as a client. "The men and women we work with are of the highest level in the community."
Zimmer and Goldfarb are boutique matchmakers, taking on a limited number of clients at a time and working with them directly. As she explained in that same interview, "Our biggest strength is that you get us, and we go the extra mile."
The matchmaking process starts with a detailed discussion about your relationship history. They work to help you discover what you need for a successful relationship, not just create a checklist of what you want.
As Goldfarb explained,
"We start by asking them questions about their past. If there's a pattern of behavior, that's where the needs and wants come into it. We're not telling them to give up every single thing they want, but we're telling them to listen to themselves. You really know this is what you need."
The search for matches is customized to each client, and they screen potential matches for compatibility and conduct background checks. Matches are made from within their database, or via scouting.
Elegant Introductions has a quality over quantity philosophy when it comes to the number of dates you'll receive. As they explained to Dating Advice, they focus on highly compatible matches rather than pairing people just to fill a quota of promised introductions.
The pair also recommends activities for your date which can be as simple as a walk in the park or an upscale dinner. Post-date evaluation is a vital part of the process, so after each one you'll both receive and provide feedback about how things went, in case the search process needs to be adjusted.
They also offer image consulting and dating tips to help you prepare for your date.
As Goldfarb shared in the interview with Dating Advice,
"We're like that comfortable pair of shoes you just slip on. We make people feel welcomed and not judged so they get the best experience they can with us."
So now the question remains… How much will you have to pay for the service?
Elegant Introductions Cost
Elegant Introductions matchmaking service starts at $15,000. Factors such as whether you want a local, national, or international search and how many introductions you want factor into the final cost.
Contracts range between 6 and 12 months but can be tailored to fit each client's needs.
What Are People Saying About Elegant Introductions?
Nancy Gold Zimmer and Barbara Black Goldfarb have garnered quite a bit of media attention over the years.
Both have mentioned client success stories in various interviews, such as one woman who had been widowed for 10 years being successfully matched with a client who had tried multiple matchmakers and was about to give up. Zimmer mentioned to Business & Wealth magazine that the couple had invited them to their wedding.
But the service has yet to be reviewed on platforms like Better Business Bureau, Yelp, or Trustpilot. That's not a bad thing, considering Elegant Introductions has been matchmaking for over a decade. They clearly have a model that's working for them.
Are Nancy Gold Zimmer & Barbara Black Goldfarb The Right Matchmakers For You?
Hiring a matchmaker is not just a financial investment, it's also an emotional one. You're trusting a service with something that's deeply personal, and making the right choice is crucial for the best possible outcome.
Use the complimentary consultation as an opportunity to ask any questions you might have about how the service works, how your matches are identified, etc. And keep in mind it's not just about the answers you receive, it's also important that you feel heard and understood during the call.
Another important factor boils down to how you feel about the $15,000+ price tag and the contract length. That's a reasonable investment and in line with what other matchmakers in the South Florida area charge.
For instance, Enamour offers elite matchmaking packages that also start at $15,000. Matches come from an exclusive 'invite-only' database, and the Enamour team also uses recruiting technology to source highly compatible singles who check all your boxes.
Barbie Adler offers matchmaking services that start at $25,000. Selective Search prices can run over $250,000 depending on the parameters of your membership. Julia Bekker, founder of Love Boss Matchmaking, also has a $25,000 starting point for her services.
Other elite matchmakers, like VIDA Select, offer a high-level of service for a more budget-friendly price. VIDA's packages, for instance, range between $1095 and $2595 per month.
And that "per month" pricing structure is one of the reasons VIDA stands out in the industry! Most matchmakers require a multi-month contract, anywhere from 3 months to 2 years. It's also common to have to pay the entire package price up front, before you've even had a taste of what the service will be like.
But with VIDA's pay-as-you-go model, you're only committing to one month at a time. If you meet someone special right away, or if the service ends up not being a good fit for you, you simply don't continue the next month. No long-term contract!
On average, clients begin a relationship within just 3.5 months of service. Want to start your journey to finding your perfect match? Learn more about VIDA Select here!
All product and company names are trademarks™ or registered® trademarks of their respective holders. Use of them does not imply any affiliation with or endorsement by them.
Why Choose VIDA Select?

Since 2009, thousands of clients have discovered true love thanks to VIDA Select's fresh, modern approach to matchmaking – which has finally thrown blind dates and long-term contracts out the window. This isn't your grandmother's matchmaking!
Instead of working with a single matchmaker using a small rolodex of potential partners, VIDA Select's matchmaking team taps into the world's largest database of available singles. We'll quickly identify the matches who check all of your boxes so you can finally experience true chemistry. Are you ready to become our next success story? Schedule your complimentary consultation now by clicking the button below!
Get Started Now