I hope you enjoy reading the blog post.
If you want to chat now about your matchmaking search, click here.
Is Elite Introductions International Worth It? [Trudy Gilbert Reviews]
If millionaire matchmaker Trudy Gilbert is on your radar, it makes sense that you're looking for Elite Introductions reviews.
Keep reading to find out how much her service costs, her matchmaking philosophy, and more. You'll also get an overview of real client experiences - everything you need to decide if she's the right matchmaker for you!
Elite Introductions Review Table of Contents
Jump straight to what you want to know most using the handy links, or just dive in!
How Australia's Millionaire Matchmaker Got Her Start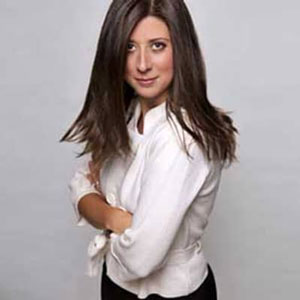 Trudy Gilbert always had a clear vision of starting her own company. Her entrepreneurial spirit and ambition were evident from an early age. As she shared in an interview with Dynamic Business, she knew she was destined for business ownership.
Before diving into the world of matchmaking, Gilbert explored various business ideas. Her first venture took her to Florence, Italy, where she established a marketing consultancy firm.
A self-described 'people person,' Gilbert decided that becoming a matchmaker would play to her personal strengths and interests. But not just any type of matchmaker - she was inspired by an elite New York matchmaker to target a specific niche in Sydney.
"I read an article in a glossy magazine about a woman in New York who does matchmaking for New York high society. It's very exclusive and upmarket and I could understand why it would work because it was 'like meeting like.'"
In that same interview, she went on to say she chose the name "Elite" for her matchmaking company after spotting a gap in the market for a high-end introduction agency.
In 2005, she seized the opportunity and opened Elite Introductions, with its headquarters in Sydney.
Elite Introductions has since expanded its reach and now operates in three locations across Australia: Sydney, Melbourne, and Brisbane. Their services cater to singles throughout the country, but you don't have to be based in Australia to join.
Gilbert welcomes clients from outside the country, provided they are willing to travel to convenient locations within Australia for their dates.
Their clientele spans a wide range of ages, from people in their 20s to those in their 60s. However, the majority of her clients are between 35 and 55. According to the Elite Introductions website, 90% of them hold tertiary education degrees, lead healthy lifestyles, and are non-smokers.
Since starting Elite Introductions Gilbert has attracted attention from various print publications and even made an appearance on an episode of Real Housewives of Melbourne. She's also become a published author - "49 Secrets of an Elite Matchmaker."
Elite Introductions Matchmaking Process
The process starts with a simple online inquiry, where you provide your name, email, phone number, income and a brief description. You'll then be invited to have a personal consultation over the phone. This initial conversation serves to determine if you're a good fit for their services.
Membership with Elite Introductions comes with 8 primary requirements. First and foremost, you must be "an executive, professional, or successful business owner."
You'll also need to pass their screening process, be a non-smoker, unattached and seeking a life partner. Gilbert wants to ensure her clients understand the commitment involved in developing a new relationship and are willing to make time and effort, without professional responsibilities hindering their process.
In addition to these requirements, there's another crucial factor: Gilbert's personal approval.
She has the final say on accepting each and every member, and accepts approximately 70% of applications. As she explained,
"If I don't like them they don't make it. I have too many people interested in joining, so I can pick and choose who my clients are."
In a different interview, she shared that she adheres to her founding philosophy when bringing on new members:
"We stick to our target audience, who are affluent executives and successful business owners. We will only take people on who fit that category. Other agencies will take anyone on and match CEOs down to truck drivers. That's fine, and that's great if it works, but that's not us—we match like and like."
If you pass the screening, the next step is a 'get to know you' Zoom meeting, followed by signing a membership contract.
Your potential matches will be determined based on various factors such as your preferences, personality type, worldly experiences, energy levels, social circles, and, of course, Gilbert's gut instinct.
All your matches are pulled from the Elite Introductions database. If there are no suitable options available immediately, you might have to wait for a month or two. However, they'll keep in touch as new members join or current members become single again.
While clients receive profile information and interview notes about potential matches, no photos are shared. So you'll be placing a certain level of trust in Gilbert and her team, as you'll be going on dates with someone sight unseen.
Gilbert believes it's best to introduce clients to one person at a time, as fostering patience and giving each match the opportunity to grow into something meaningful without allowing other options is important.
How Much Does Elite Introductions Cost?
Elite Introductions matchmaking packages start around $4,995 for 12 months of service. During that time, clients typically meet between 8 and 10 matches.
As Gilbert explained in an interview with ABC News, "Our members sometimes meet their partner on the first match whilst others take several matches over a longer period of time."
Clients also have the option of putting the search on hold for up to 6 months.
Elite Introductions Reviews
The company has over 50 reviews on Product Review, resulting in a 4.2 rating.
The majority of the reviews are 4 and 5 stars, with a handful of 1-star reviews.
They hold a rating of 4.0 on IEatWords, a local review site providing consumer opinions on services and businesses.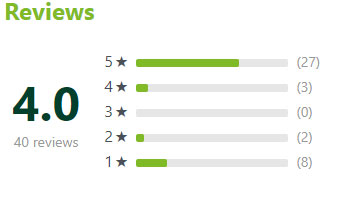 Over half of the 40 reviews were positive.
This client shared that the men she met were true gentlemen and professionals:
This client mentioned Trudy Gilbert was direct and to the point: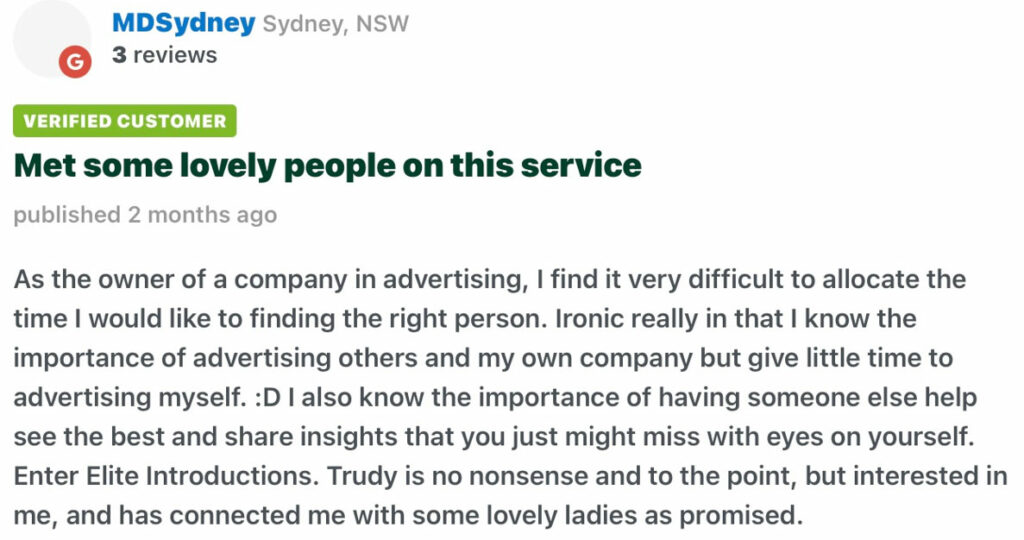 There were also a few unhappy clients. For instance this client was disappointed with the matches and ultimately asked for a refund:
And this dissatisfied customer was unhappy about the matches and felt they were not the caliber of men she was promised:
Trudy Gilbert's matchmaking service has also received some media attention after several lawsuits were filed against Elite Introductions, with some disgruntled members awarded refunds after making tribunal claims.
Is Elite Introductions & Trudy Gilbert Right For You?
Online reviews can play a valuable role in gaining insight into client experiences with a matchmaking service. Reviews, and a company's response to them, offer a glimpse into customer satisfaction and how the company handles customer service matters.
But you'll also want to consider how some aspects of a matchmaking service mesh with your expectations.
For instance, do you want to see photos of a potential match before agreeing to meet them? For many people, physical appearance plays a part in chemistry. If you'd rather not invest your time and money on first dates with people you aren't attracted to, you may want to also consider using a matchmaker who reveals photos before you approve a match.
Another important facet is understanding where those matches come from. Will your matchmaker primarily pair clients with other clients from an internal database, or do they scout beyond it?
Remember that compatibility needs to go both ways for a successful match - and making those high-quality connections consistently can be nearly impossible when working with a limited dating pool in one city.
While your soulmate may have chosen to sign up with the same service you do, it's also possible that you'll end up meeting people who don't align with your "must haves." That's because you were matched with who the service had available, not who fits your search criteria and vice versa.
Want to work with a matchmaking service that has direct access to a nearly unlimited source of singles? Add VIDA Select to your short list!
Thanks to VIDA's modern take on matchmaking, you won't have to worry about meeting people who don't match your search criteria. You can pre-approve every potential match, based on a profile and photos.
And VIDA's service is different from most other elite matchmakers in another important way: no long-term contracts. Instead, clients pay by the month, with service starting at just $995. On average, VIDA clients meet someone special in just 3 months.
Want to learn more? Discover how VIDA Select will work for you!
All product and company names are trademarks™ or registered® trademarks of their respective holders. Use of them does not imply any affiliation with or endorsement by them.
Why Choose VIDA Select?

Since 2009, thousands of clients have discovered true love thanks to VIDA Select's fresh, modern approach to matchmaking – which has finally thrown blind dates and long-term contracts out the window. This isn't your grandmother's matchmaking!
Instead of working with a single matchmaker using a small rolodex of potential partners, VIDA Select's matchmaking team taps into the world's largest database of available singles. We'll quickly identify the matches who check all of your boxes so you can finally experience true chemistry. Are you ready to become our next success story? Schedule your complimentary consultation now by clicking the button below!
Get Started Now