I hope you enjoy reading the blog post.
If you want to chat now about your matchmaking search, click here.
Elite Matchmaker Profile: Who is Emily Hellman (& Should You Hire Her?)
Curious about Emily Hellman, the founder & CEO of Caliber Match?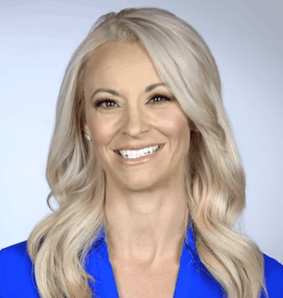 From the boutiques to the biggest industry players, our expert team has reviewed over 200 matchmaking services. Our insight comes from 14+ years of industry experience, in-depth research, real customer reviews, and a deep understanding of the matchmaking landscape.
Keep reading for all the details on Emily Hellman's matchmaking service - from how she got started to what it costs to work with her. 
Everything you need to decide if she's the right matchmaker for you!
The Body, Heart, and Mind Approach
Hellman's personal mantra informs her matchmaking process.
As she explains,
I distinctly remember my mom telling me years ago that 'happiness is an inside job'. I didn't understand at the time, but now I live by it and help others do the same.
She is a former online dater herself, and now a wife and mother of two. She's also a self-professed believer in soulmates.
Through her matchmaking service Caliber Match, she helps her clients find their 'person' too - while also coaching them to nurture love for themselves.
As she notes on her website, her holistic approach takes a client's personality type and traits into account. She focuses on building "self-esteem and awareness" so they can bring their "best self to any relationship or situation."
Hellman is a certified holistic life coach, a personal chef, and she also has a BA in psychology. Before launching Caliber Match in 2010, she was a fitness model and pageant competitor.
How Emily Hellman's Matchmaking Service Works
Caliber Match is headquartered in Scottsdale, Arizona. But Hellman also works with a network of affiliated matchmaking websites across the US.
That increases her reach, as signing up through one matchmaking site could mean your personal information is shared across the board.
As the privacy policy on her website states, your collected information may be shared with other Caliber Match business and used to offer you additional products and services.
The first step for potential clients is a 20-minute initial interview with Hellman or one of her matchmakers. Be prepared to share details about yourself and what makes someone compatible with you.
You'll also learn the details about things like matchmaking cost that aren't disclosed on the website. This presentation could take place in person, over the phone, or via chat.
The Prep Period
If you decide to move forward with Caliber Match and sign the contract, the first month or so of your service is dedicated to "prep."
Hellman uses a team of "scouts" to recruit, screen and approach compatible matches for clients in their geographic areas. If she doesn't have a scout in your area, she will find and train one.
For a match to be presented to you, there has to be mutual interest.
As she notes in a response to a Caliber Match BBB complaint,
Hellman doesn't offer refunds, and also doesn't guarantee clients will meet a certain number of matches throughout the contract period.
As she went on to explain in the same BBB complaint,
Once a compatible match is identified, your matchmaking profile is shared.
If that potential match is interested, the match is presented to you. If you also express interest in meeting, date arrangements can be made.
According to Hellman's response in the BBB complaint referenced above, much of this process occurs in the background. As she explains, they don't send updates, whether "unsolicited" or "scheduled," about how your search is progressing.
After the introduction has transpired, you'll get the opportunity to have a "debrief" where you can let them know what you thought of the experience.
How Much It Costs To Hire Caliber Match
Potential clients can opt to be listed in her database for free. However, that doesn't include any proactive matching. You'll hear from a matchmaker only if you happen to meet the criteria of a paying client.
To have a search conducted on your behalf, you'll need to purchase a membership.
The particulars aren't posted on Hellman's website. But based on BBB and Yelp reviews contracts seem to last between 3 months and a year, with the general length being around 6 months. Hiring Emily Hellman costs in the neighborhood of $3,000 to $10,000+.
Hellman also offers dating and relationship coaching, either stand alone or in addition to your matchmaking package.
Emily Hellman Review Round Up
Hellman's matchmaking service is accredited by the BBB and has an A+ rating. However, based on customer reviews it has a 1.67 out of 5 possible stars.
Of the 5 reviews posted, 4 reviewers gave it a single star. One reviewer gave his experience 5 stars, noting of the two matches he met he was still dating one of them:
On the other end of the star spectrum, this reviewer wasn't happy with the quality of her matches:
There are 2 Caliber Match complaints that have been closed within the last three years, including the one which was referenced earlier.
The reviewer wasn't happy with the wait time to receive a match or the perceived lack of communication:
On Yelp, Hellman's service garnered a 1-star rating with 6 1-star recommended reviews.
Due to their subjectivity, online reviews are generally best used to help identify potential issues you can ask about during your initial consultation.
Also keep in mind Emily Hellman is a national matchmaker. Your experience will likely vary depending upon which member of her team you work with.
Is Emily Hellman The Right Matchmaker For You?
Hellman has been in the industry for over a decade. While she does have a handful of negative online reviews, there aren't a lot of reviews in general.
What could be more important to consider is how certain aspects of her service fit what you're looking for in a matchmaking service.
For instance, do you want regular updates from your personal matchmaker about the progress being made in your search or are you comfortable with her "we don't send unsolicited or scheduled updates" approach?
Committing to a multiple-month contract and paying for it all upfront before you've actually experienced the matchmaking service is another point to ponder.
If you're not certain that's the best approach for you…
Consider VIDA Select!
VIDA Select offers the flexibility of paying month-by-month, which means no long-term contracts.
You can decide at any time to stop your service, whether it's to date a promising match exclusively or simply because you don't feel the service is right for you.
And while you have the convenience of a dedicated matchmaker as your point of contact, she has an entire team of dating experts working on the search for your ideal partner. And you can pre-approve every match!
If you want to finally start meeting people who check *all* your must-have compatibility boxes, it all starts with a quick, complimentary consultation.
On average, VIDA clients meet someone with true relationship potential in just 3 months, so why not see if you qualify?
Find out more here!
All product and company names are trademarks™ or registered® trademarks of their respective holders. Use of them does not imply any affiliation with or endorsement by them.
Why Choose VIDA Select?

Since 2009, thousands of clients have discovered true love thanks to VIDA Select's fresh, modern approach to matchmaking – which has finally thrown blind dates and long-term contracts out the window. This isn't your grandmother's matchmaking!
Instead of working with a single matchmaker using a small rolodex of potential partners, VIDA Select's matchmaking team taps into the world's largest database of available singles. We'll quickly identify the matches who check all of your boxes so you can finally experience true chemistry. Are you ready to become our next success story? Schedule your complimentary consultation now by clicking the button below!
Get Started Now