I hope you enjoy reading the blog post.
If you want my team to just do your online dating for you, click here.
Facebook Dating Privacy: Is It Safe For You To Use In 2023?
Intrigued by the idea of combining social media with a matchmaking service, but a little leery of the potential Facebook Dating privacy issues?
Find all the details you need about Facebook Dating privacy policy and privacy settings, how to control who sees your Dating profile, and what Facebook is doing to address your privacy concerns and keep your personal data safe!
Let's start with…
Who Can See Your Facebook Dating Profile
Facebook Dating is a feature within the social network, and users have to individually opt in. Only people who have also joined Facebook Dating can see your profile. And the only information transferred from your Facebook profile to your Dating profile is your first name and age.
You can choose what other information, such as your gender identity, occupation, etc, to display on your profile.
Any Facebook friends who are also using the dating service won't see your Facebook dating profile because it's automatically hidden.
But whether or not friends of your Facebook friends are suggested to you as a potential match is up to you. You can toggle that on and off within the "Privacy Settings" menu.
To access Facebook Dating's privacy settings:
Click on the "gear" icon to bring up the "Settings" menu
Tap "General"
Tap "Privacy Settings" under the "Account" heading
From there, you can control whether or not Facebook Dating suggests friends of friends. You can also block specific people from seeing your Dating profile.
The Dating service automatically transfers over your blocked list from Facebook. Anyone you've previously blocked on Facebook won't be shown your Facebook Dating profile either.
To block someone on Facebook Dating:
Navigate to the "Privacy Settings" menu
Tap "Block people in Dating"
Tap "Add to blocked list"
Enter the name of the person you want to block into the search bar
Tap the "Block" button next to the correct entry
Confirm your action by tapping "Block" in the pop-up window
You can unblock people simply by tapping the "Unblock" button next to their name. Then confirm the action by tapping "Unblock" in the pop-up window.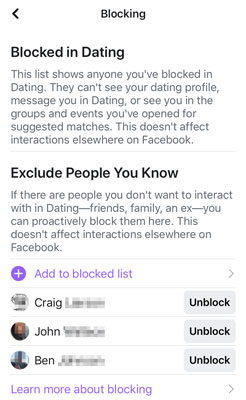 Facebook Dating Safety Features
As product manager Nathan Sharp put it,
Finding a romantic partner is deeply personal, which is why we built Dating to be safe, inclusive and opt-in. Safety, security and privacy are at the forefront of this product. We worked with experts in these areas to build protections into Facebook Dating from the start.
Facebook Dating built 3 protections into their platform to help make it safer to use:
Like most dating apps, you can report any person's profile and block anyone
Users are prohibited from sending photos, links, payments or videos in messages
Easy access to safety tips within the app
You can also use Facebook Messenger to share your live location for up to 60 minutes with a Facebook friend whenever you're meeting a Facebook Dating match as an added safety precaution.
Want more details on how Facebook Dating works? Check out this comprehensive guide to Facebook Dating!
Facebook Dating Privacy & Data Use Policy
Facebook Dating's privacy policy is an extension of the main Facebook Data Policy.
It includes a warning that Facebook users may learn you're using Facebook Dating via mutual friends:
Here are some of the highlights from Facebook's Data Policy as far as what information is collected when you create a profile and use Facebook Dating:
Content
Facebook collects the "content, communications and other information you provide" while using it. That includes what you're saying to your Facebook Dating matches. Or as they put it in the fine print, "Our systems automatically process content and communications you and others provide to analyze context and what's in them."
Connections
Facebook Dating analyzes what Facebook groups you join. It also analyzes who you match and interact with, and how. It also looks at how those people interact with you. "…such as when others share or comment on a photo of you, send a message to you, or upload, sync, or import your contact information."
Your Phone
Facebook Dating collects a lot of info from your phone. The list includes the OS, hardware & software versions, battery level, signal strength, location, and nearby Wi-Fi access points, app and file names and types, what plugins you're using and data from the cookies stored on your device.
Your Location
Facebook needs to access your location to suggest matches on Facebook Dating. It also collects and analyzes all sorts of interesting tidbits about where you take your phone, including where you live, where you go frequently, and what businesses and people are nearby.
Facebook also analyzes what location info you choose to share with Facebook friends, and what they share with you.
This list is by no means all inclusive of everything Facebook tracks. You'll want to read the Data Policy for everything Facebook discloses about what info they collect and how it's used.
So who has access to all that juicy Facebook Dating data?
Facebook shares your information with third parties such as:
Companies who use Facebook's analytics services
Advertisers
Measurement partners (the corporations who aggregate all that info, then compile it into reports for other companies to use)
Vendors, service providers, and companies who offer goods and services within Facebook
Researchers and academics
Law enforcement agencies and other legal requests
Facebook stores all your data "until it is no longer necessary to provide our services" or until your Facebook account is deleted. Keep in mind, though - deleting your profile and account won't delete any of the information Facebook and Facebook Dating has collected about you via other people.
You can also delete things singularly, such as a query from your search history. However, despite using the clear search tool, the log of that search is retained for another 6 months. The length of time various types of information is stored after you delete it varies.
You can control (to some extent) what information is shared with Facebook via the Settings menu in your phone.
You can restrict access to information like your location, search tools and cellular data, however doing so may restrict how (or if) Facebook Dating works.
Facebook assures users that "you're in control of who sees your location on Facebook."
But a Facebook Newsroom article on updates to your device's location settings also mentioned that "We may still understand your location using things like check-ins, events and information about your internet connection."
So Can You Trust Facebook Dating With Your Data?
Facebook, of course, says yes. Under an agreement with the Federal Trade Commission (and after paying a 5 billion dollar penalty), the new company line is this:
Going forward, our approach to privacy controls will parallel our approach to financial controls, with a rigorous design process and individual certifications intended to ensure that our controls are working — and that we find and fix them when they are not.
Under the FTC's watchful eye, new security protocols and procedures have been put into place. They include these measures:
Facebook Dating Privacy Concerns
But Facebook has a decidedly spotty track record to overcome as far as privacy goes.
For instance, they exposed over 400 million user phone numbers and IDs stored in an online server that lacked password protection, accidentally making the private posts of 18 million users public thanks to a glitch, and compromising the privacy of another 50 million users when hackers were able to take over profiles.
And don't forget in 2018 Facebook made headlines by harvesting the data of millions for a partnership with Cambridge Analytica, which was what launched the FTC investigation to begin with.
That checkered history has many industry experts thinking Facebook can't actually keep sensitive Facebook Dating profile details private, like your sexual orientation or your Secret Crush list.
The Experts Weigh In On Facebook Dating Privacy
As digital strategist Jason Kelley told The Guardian,
If you're trying to avoid dating services that have red flags, you can't really find one that has more red flags than Facebook. They have a terrible track record of keeping user data safe.
In that same article, Kelley expressed concern about their ability to keep personal data protected, in light of the accidental data exposure and hacker attacks:
Facebook says the dating service is secure, but how do we know it won't realize a few years from now it was not as protected as it thought? It gives us pause when things they have changed years ago are still being shown to cause problems in terms of data privacy.
And while thus far Facebook says information gleaned from Facebook's dating service won't be used for targeted advertising (so far Facebook Dating is ad free), industry experts have their doubts about that as well.
As privacy advocate Mark Weinstein told The Guardian,
After so many years of countless privacy infractions, apologies, fines and pledges to do better, does anyone really believe a promise Facebook makes in regard to data privacy? Facebook will use Facebook Dating as a new portal into users' lives; collecting, targeting and selling dating history, romantic preferences, emotions, sexual interests, fetishes, everything.
Should You Try It?
Only you can decide whether or not you want to roll the dice and try to change your relationship status via Facebook Dating.
Start by finding out exactly how Facebook Dating works, then if you decide to give it try, check out these great Facebook Dating openers that you can send to your matches!
Want us to do your online dating for you?

Hey, I'm Ally, VIDA Select's Director of Matchmaking.
We take all the frustration, hard work and hassle out of modern dating!
Imagine your very own Dream Team of highly skilled dating experts searching for the very best local matches, sparking their interest, and arranging all the dates for you.
Wouldn't it be nice to finally stop swiping and start dating higher quality matches so you can meet someone special?
We've helped thousands of singles just like you since 2009, and we're ready to make you our next success story!
What are you waiting for? Take the next step now…
See If You Qualify