I hope you enjoy reading the blog post.
If you want my team to just do your online dating for you, click here.
Fairytrail Reviews [Best Nomad Dating App For 2023?]
Wondering if this dating app for digital nomads is worth the download? From cost and features to what people are saying in their Fairytrail reviews, you'll find all the info you need to decide if you should give this remote dating app a try.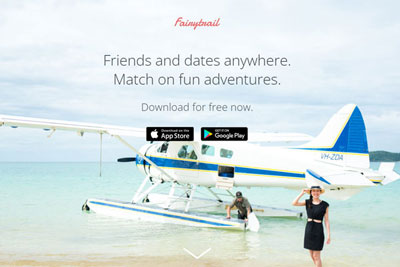 Click on what you want to know first, or start at the top!
The Story Behind Fairytrail
Fairytrail caters to digital nomads, remote workers, freelancers, expats, explorers and travelers. In other words, singles who are "location independent" and want to roam.
As app founder Taige Zhange explains in an interview,
Fairytrail was founded on the belief that the world's cultures, people, and places should be explored.
Zhange was inspired to create a remote dating app after having a job that required him to travel frequently. In an interview, he described being on the road 2-3 weeks per month.
So I started using dating apps and… these apps didn't really work for me, because every time I would match with someone, I would be in a different city. So it was almost impossible to go out on dates.
But he did find himself on video calls with his matches, and during those conversations realized many people are willing to travel for a first date. And with remote work rising in popularity and making it possible to work from anywhere in the world, Zhange saw a "golden opportunity."
He launched the app in 2019, with the goal of matching people based on their personality type and travel interests instead of proximity.
Fairytrail lets you date someone in a super social, low-stress environment. Even if it doesn't work out, you've had an awesome experience, learned about yourself, and traveled somewhere amazing.
Who's Using It & Where
Roughly 93% of Fairytrail app users describe themselves as either a remote worker or someone who wants to be.
A year after the Fairytrail app launch, internal data revealed the core user group is in their late 20s, with the next biggest demographic being singles 18 to 24. And unlike on most other dating apps, women outnumber men. 60% of Fairytrail users are female.
The app is available for English speakers worldwide, and the majority of its users are based in the US. Other countries where it's popular include Australia, the UK and Canada.
Much like Bumble, Fairytrail isn't just for dating. After surveying users and realizing 68% of people on the app were also interested in making new friends to travel with, Fairytrail launched the "Only Friends" feature.
In the "Settings" menu under "Edit Profile", you can set your "Intentions" to either "Dating & Friends" or "Only Friends". A badge displaying your intention appears on your profile.
Fairytrail Cost
Users can download the Fairytrail app, create your profile, and "like" up to 5 profiles for free. But after that, you'll need to pay to play.
When Fairytrail first launched, it was completely free. According to the founder, when they hit the 3,000+ user mark "scammers started flooding into our world." As a way to combat that, there is now a $2.99 "entrance fee" you'll be prompted to pay after you've used your 5 free "likes".
That being said, Zhange writes in the app's blog that inclusivity is a major goal. If the fee is a hardship and you are "sincere" in your wish to use the app in a meaningful way, you can respond to the welcome email and request he manually give you free access.
Once you've paid the entrance fee, you can keep browsing profiles. But doing anything else, like sending or reading messages, requires a premium subscription. In keeping with the fairy tail theme, the premium levels are called "amulets".
You have 3 amulet options, and they all unlock the same features. The difference in levels is how many results you see for each search:
Fairytrail Premium Options
| | |
| --- | --- |
| Amulet | Cost & Benefit |
| Amber | $13.99/month - 50 search results |
| Sapphire | $24.99/month - 75 search results |
| Diamond | $49.99/month - 100 search results + profile boost |
With the Diamond Amulet, your profile will be automatically pushed to the top of other users' search results.
You can also purchase additional chances to match with someone, called "Picks". (More on how those work coming up!)
1 Pick - $1.99
2 Picks - $3.99
3 Picks - $5.99
4 Picks - $7.99
5 Picks - $9.99
6 Picks - $11.99
7 Picks - $13.99
Other in-app purchases include "Truth Serum", which lets you know how other users are responding to your profile. It's a one-time charge of $8.99 to unlock the percentage of admires over skips.
Users can also pay an additional fee for background and identity checks on a specific match.
So, is Fairytrail worth the cost? Let's find out…
Fairytrail Pros, Cons & User Reviews
Let's start with Fairytrail pros:
| | |
| --- | --- |
| | Nomad dating can be tricky, and this app connects you with like-minded travelers. Apps like Tinder and Bumble have a feature allowing you to change your destination, but the locals you're swiping through aren't necessarily wanting to date someone who's just passing through. |
| | User safety is a priority. In addition to video verification of profiles, Fairytrail also offers background checks like identity verification, sex offender registry check, global watchlist check, national criminal records check and county criminal records check. Those are paid for ala carte, but could be worth it if you do decide to travel with a match. |
| | It's also a community for remote workers. You can find both friends and romantic prospects on the app, and also connect with other digital nomads via Fairytrail's "Campfire" Facebook group. |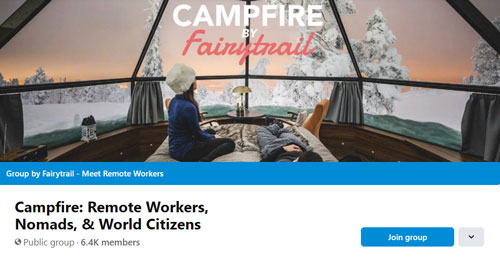 Fairytrail cons to consider include:
| | |
| --- | --- |
| | It's both a niche and a relatively new dating app. That means the user base is going to be a lot smaller than you'd find on more popular mainstream platforms like Bumble, Hinge and Tinder. |
| | The target market is very specific. If you're not an English-speaking digital nomad who's all about travel, this is not the app for you. It would be like joining Veggly when you're a huge fan of burgers. Sure, you can sign up. But what's the point? |
| | It will cost money to meet your matches in person. Not only does Fairytrail cost money to use, you'll also need to spend money to meet anyone. Travel is the whole point, because you're matching with people from all over the world. |
Fairytrail Reviews
User reviews from around the web are generally positive.
On Google Play, it has a solid 4 out 5 stars based on 200+ reviews. Users liked that you could search for fully remote, semi-remote or not remote workers, praised the overall concept, and saw not being overwhelmed with matches as a plus.

But a few complaints popped up across a number of the 1-2 star reviews, including:
Bugs and glitches in the app, particular within the messaging section
Lack of compatible matches/not enough info in profiles
Clunky user interface compared to other dating apps
Lack of gender inclusivity


Fairytrail App Store reviews are also generally positive, resulting in an overall 4.3 / 5 rating based on 150+ entries.

Fairytrail app complaints in the lower-star reviews included:
Push notifications for actions they'd already taken, such as checking matches
Profiles generally lacking information about the person
Confusing pay structure

Mobile App Daily gave it 4.8 stars, calling it "an exciting addition to travel dating apps."
DatingScout.com awarded a similar rating, granting it 4.5 stars and deeming it a "revolutionary dating app that connects adventure seekers."
Final Verdict: Is Fairytrail Legit?
Fairytrail is a viable option if you're looking for a true digital nomad dating app. But considering that membership levels are very low compared to other more traditional options, you'll need to pack your patience. It may be a while before you meet someone you deem travel worthy.
With the number of remote workers on the rise, it's likely Fairytrail (and apps like it) will become more popular over time. But until Fairytrail attracts more users, you should definitely consider using it in conjunction with more popular dating apps that allow you to swipe in alternate locations.
If you're not a frequent flier (or willing to become one), you're likely better off spending your time and money on a different dating app.
How Fairytrail Works
Fairytrail can be downloaded for iOS or Android. There is currently no desktop version.
Matching based on personality type is one of the app's main draws. To facilitate that, one of the first steps in profile creation is choosing a character who embodies your personality.
Fairytrail app characters are aligned with Myers-Briggs & Enneagram types.
Women can choose from 8 female Fairytrail characters:
Ariel (ENFP/Enneagram Type 7)
Belle (INFP/Enneagram Type 4)
Cinderella (ISFJ/Enneagram Type 9)
Jasmine (ESFP/Enneagram Type 2)
Mulan (ISTP/ISTJ/Enneagram Types 1 & 5)
Pocahontas (INFJ/Enneagram Type 4)
Rapunzel (ESFJ/Enneagram Type 2)
Aurora (ISFP/Enneagram Type 9)
Men can choose from 8 male Fairytrail characters:
Aladdin (ESTP/Enneagram Type 3)
John Smith (ENFP/Enneagram Type 7)
General Shang (ISTJ/Enneagram Type 1)
Prince Charming (ESFJ/Enneagram Type 2)
Peter Pan (ESF/Enneagram Type 7)
Robin Hood (ENTP/Enneagram Type 5)
King Arthur (ENFJ/Enneagram Type 8)
Beast (ISTP/Enneagram Type 4)
Once you've chosen the character who best represents your personality, you'll select at least 3 profile photos. For the best results, the app recommends choosing a primary photo that clearly shows your face and at least 1 full body photo.
During the setup process, you'll also provide your first name, age, height, current country, occupation, nationality, languages spoken, ethnicity, religion and "mobility" (meaning fully remote, etc.). It's best to fill all the fields out, as omitting information directly impacts how you show up in user searches.
You can also share your most adventurous experience, top wishes, and your values. These are all freeform text fields, so make sure your answers showcase your personality in an attractive way!
On a dating app that's *all* about travel, cliches like "I love to explore new places" are the kiss of death. Instead, use vivid descriptions to describe what made you fall in love with a destination. Details spark conversations, so get specific.
Matching On Fairytrail
Because this is a dating app for nomads, it should come as no surprise that Fairytrail matches users based on travel adventures.
Matching starts with a mutual "Like" in the Discover section.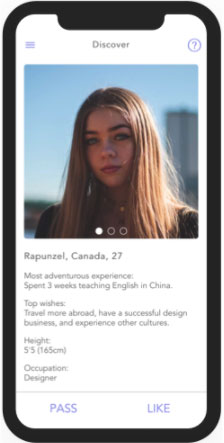 But that doesn't unlock the chat function. Instead, you and your match will be presented with the same list of 12 adventures.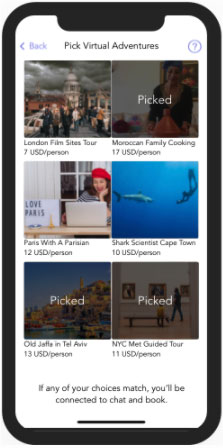 From that list, you can choose 5 for free. And if you want more "Picks", you can purchase them ala carte. Why would you want more than 5?
Here's the twist.
If your match doesn't choose at least one of the same adventures you did, you'll be automatically unmatched. So purchasing more "Picks" increases the odds of having at least one adventure in common.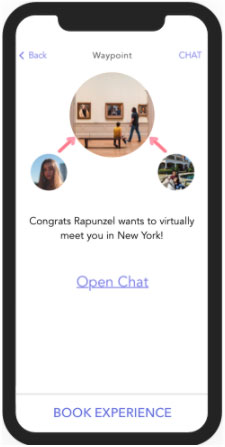 There is a way to skip the "travel matching" requirement, but it comes with a caveat.
In the "edit profile" settings, you can turn off travel matching. It will make your default adventure choice "Anywhere". If a potential match also has the setting turned off, you'll instantly match.
But if a user has travel matching turned on, you'll need to play the game in order to match with them.
Once you've either matched on a destination or by default, you'll then be able to exchange messages and video chat. (Want to look your best on a video call with your match? Bookmark these video dating tips for later reference!)
From Hypothetical To "Let's Book It!"
Fairytrail is unique in that it also allows you to book the actual adventure you matched on through the app. Adventures can be IRL or virtual, and are arranged via a partnership with Airbnb, Walk and Viator (which is part of parent company TripAdvisor).
Tickets are purchased through the app, but the charges won't go through until both halves of the match have paid. For safety reasons, non-virtual adventures are generally part of a group tour that includes anywhere from 8 to 15+ other people.
The Easiest Way For Digital Nomads To Date
Fairytrail aims to make dating for digital nomads easier. But it's still a dating app, which means you've got to put the work in to attract - and then impress - your matches. And because travel is involved, the bar is set even higher.
Your photos, your profile, your messages… everything needs to come together in a compelling and genuine way if you want interesting singles to agree to explore the world with you, or meet you at a far flung destination.
You could put in all the hard work required to make that happen. Or, just let the experienced team of dating experts at VIDA Select do it for you!
Whether you're using a nomad dating app like Fairytrail or a mainstream dating app like Tinder, VIDA's team will handle everything from your profile set up and match selection to your messaging. You just focus on meeting incredible people wherever you're headed next.
Click here to learn more!
Want us to do your online dating for you?

Hey, I'm Ally, VIDA Select's Director of Matchmaking.
We take all the frustration, hard work and hassle out of modern dating!
Imagine your very own Dream Team of highly skilled dating experts searching for the very best local matches, sparking their interest, and arranging all the dates for you.
Wouldn't it be nice to finally stop swiping and start dating higher quality matches so you can meet someone special?
We've helped thousands of singles just like you since 2009, and we're ready to make you our next success story!
What are you waiting for? Take the next step now…
See If You Qualify