I hope you enjoy reading the blog post.
If you want to chat now about your matchmaking search, click here.
Gina Hendrix & Exclusive Introductions [Matchmaker Review]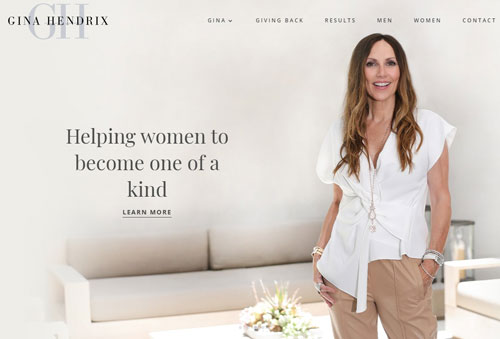 Author, radio host, social app creator, and philanthropist. Add "elite LA matchmaker" to the mix, and you've got a pretty good description of Gina Hendrix. But is her matchmaking service Exclusive Introductions the best way to meet your soulmate?
These Gina Hendrix reviews should help you decide. Keep reading for details like cost, her matchmaking process, and what actual customers thought of their Exclusive Introductions experience.
A True Renaissance Woman
In an appearance on "It's Complicated," Hendrix said she's had 3 careers, all of which have given her insight into her current role as a matchmaker.
She was a flight attendant and a celebrity stylist/costume designer before founding Exclusive Introductions in 2008.
Since launching her elite matchmaking service, she's also written a book (Stop Being A Bitch & Get A Boyfriend), hosted "Love Life Makeovers" on LA Talk Radio, and launched a philanthropic venture called Models n Mutts. Plus she's trying to get Jones, a social app for women to befriend other women, out of beta testing.
Starting to wonder when she'll have time to find your soulmate?
Don't worry - Hendrix only works with 8 to 10 paying clients at a time.
The Exclusive Introductions Matchmaking Process
Hendrix says she doesn't do any advertising. All of her clients come to her by referral, or are men she has met at various events.
She only works with men as paying clients; women submit a profile via the website and are added to her singles database for free, provided they pass the screening process.
Men also have to make the grade - she says since she works with only a handful of clients at any given time, she's very discerning about who she'll accept as a client.
She compares it to "getting married for a year," and will get to know potential clients by doing several visits, including a home check, before they sign up for the service.
Exclusive Introductions works primarily with people in LA, Beverly Hills, and San Francisco, or who travel there often.
The cost for this matchmaking service varies per client, depending on how many people you want to meet during the course of your 12-month contract. But according to Yelp reviews, you can generally expect to spend between $5,000 and $25,000.
Speaking of Yelp, what do actual customers have to say about their experience with this self-proclaimed billionaire LA matchmaker?
Gina Hendrix Reviews
On Yelp, Exclusive Introductions has a 3-star rating, based on 2 reviews. One is positive, from a male client who thought they met some great LA singles through the service:
The other reviewer wasn't as impressed with the quality of his matches, or the service in general:
There are two Gina Hendrix reviews on Pissed Consumer, one positive and one negative.
One client was impressed with Hendrix's level of personalized service, and wrote the review in response to the negative one:
The other reviewer felt Hendrix lost interest in him after he wasn't happy with his first 5-6 matches:
But as far as online reviews goes, that's basically all you'll find for Exclusive Introductions. And given that Gina Hendrix has been in the matchmaking business since 2008, that likely means she's doing something right.
So is Gina Hendrix the best elite LA matchmaker for you?
Only you can make that particular decision. But given that she only takes clients on a referral basis, and of those referrals she'll only choose a select few, you may want to have a few other options on the table.
For instance, what if you could work with a matchmaking service that can dive into California's largest pool of eligible local singles and find your ideal partner - at a more affordable price and without having to commit to a risky contract?
Meet VIDA Select - The Only Matchmaking Service You'll Ever Need
With VIDA Select, you get the same personalized service. But with the convenience of paying by the month and unlimited matches.
Plus, you pre-approve every intriguing, high-quality match we find for you, based on a full profile. That way, you're only meeting people you're already feeling a connection with.
Sound too good to be true? It isn't. Talk to one of our elite matchmakers today - it's a 100% confidential, free, and low-key phone call.
Click here right now, and get it scheduled!
Why stay single, when VIDA can help you find your soulmate in as little as 1 to 3 months?
All product and company names are trademarks™ or registered® trademarks of their respective holders. Use of them does not imply any affiliation with or endorsement by them.
Why Choose VIDA Select?

Since 2009, thousands of clients have discovered true love thanks to VIDA Select's fresh, modern approach to matchmaking – which has finally thrown blind dates and long-term contracts out the window. This isn't your grandmother's matchmaking!
Instead of working with a single matchmaker using a small rolodex of potential partners, VIDA Select's matchmaking team taps into the world's largest database of available singles. We'll quickly identify the matches who check all of your boxes so you can finally experience true chemistry. Are you ready to become our next success story? Schedule your complimentary consultation now by clicking the button below!
Get Started Now