I hope you enjoy reading the blog post.
If you want my team to just do your online dating for you, click here.
Grazer App Review [A Vegan Dating App Worth Downloading?]
Grazer is a dating app tailored specifically for vegans and vegetarians. But is it the best choice for finding matches who share your plant-based lifestyle? This Grazer dating app review will help you decide!
Grazer Dating App Review Table of Contents
Jump to the section that interests you most, or start at the top!
Grazer: Best Vegan Dating App?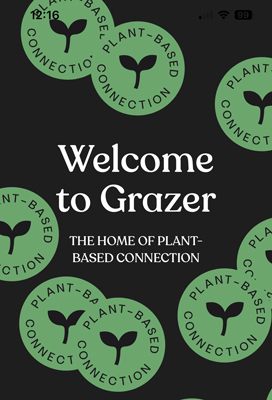 Grazer was founded by Lewis Foster in 2017 with the goal of connecting like-minded vegans and vegetarians looking for love. With a focus on promoting ethical and sustainable lifestyles, the app aims to create a space for daters who share common values and interests.
As Foster explained in an interview,
I knew I had to do something more in line with my values, and I had a burning desire to push veganism further into the mainstream…so I started brainstorming vegan problems. From being in the community, I heard people joke about how hard vegan dating was (especially from women), and it stuck with me. How do you find someone you like that only makes around 2% of the population? It's tough out there.
Grazer rebranded in 2022, promoting itself as "the meatless matchmaker."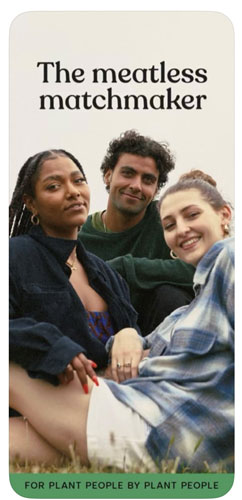 While it has garnered some media attention and attracted eco-conscious singles worldwide, Grazer has yet to reach the huge user pool that mainstream dating apps like Hinge, Bumble, Tinder and Match attract.
And while a small pool of potential matches isn't necessarily a deal breaker, it definitely makes it harder to find and connect with compatible singles. The numbers simply aren't there, especially if you don't live in a more densely populated city with a lot of other Grazer users.
Here are some more advantages and disadvantages of using Grazer that you'll want to consider before downloading it:
Grazer Pros
On the plus side, you'll find…
Like-Minded Matches: According to Vegconomist, 52% of vegans and 39% of vegetarians say they wouldn't date a carnivore. If you're in that camp, you'll spend much less time sifting through profiles, looking for singles who share your diet.
Two Browsing Modes: Grazer has both a Date Mode and a Friends Mode, so you can use it to make platonic connections as well.
It's Free: Almost all of Grazer's features are free, including messaging. The only paid feature is called "Second Bite", which lets you undo all of your previous left swipes.
Grazer Cons
But on the downside, you'll also find…
Smaller user base: Much like rival vegan dating app Veggly, the low number of users is Grazer's biggest disadvantage.
Limited Match Filters: You can only filter your match feed by gender, age range and maximum distance.
No video chat option: Grazer currently does not offer a built-in video chat feature, which could be a drawback for users who prefer virtual face-to-face communication before meeting in person.
Let's take a look at what other singles had to say about their experience with Grazer.
Grazer App Reviews
You'll find a variety of user reviews on the App Store and Google Play.
Grazer has a 4.0 out of 5 stars on Apple, based on just over 150 ratings. Some of the more positive reviews like this one mentioned the app doesn't have a lot of users but the concept was great:

Other reviewers weren't thrilled with what they perceived as more superficial profiles. This user liked the app's design, but added that Grazer doesn't encourage people to include much information, making gauging compatibility beyond a plant-based lifestyle more challenging:
On Google Play, user reviews resulted in a 1.6 out of 5 star rating. One of the most commonly mentioned Grazer complaints was lack of users on the app.
For instance, this reviewer found no potential matches despite a wide distance parameter:
And this review noted they quickly ran out of matches:

A frequent complaint among Android users was the Grazer app's overall glitchiness:



Grazer App Review Verdict
If you're outside of a major city, you'll likely have much better luck on a more popular dating app.
Many dating apps like Match, Tinder and Bumble have badges you can display on your profile to attract fellow vegans or vegetarians.
And even if you do live in a large metropolitan area, compared to other dating apps Grazer is fairly limited in functionality. But if you've got the time and want to take a peek at who's using it in your area, it's free and you can set up a profile in under 7 minutes.
If you do decide to try the Grazer app, use it in correlation with a more popular dating app for the best results.
How Much Does Grazer Cost? 
Grazer is a free vegan dating app. There are no premium memberships that would be comparable to Tinder Plus or Bumble Boost. 
Grazer does offer one paid feature, though - Second Bite.
Second Bite
Previously called Second Chance, this is Grazer's way of letting you get a 'do-over.' The feature lets "rewind" all of your previous left swipes, so you get a second chance to match with those profiles again.
It costs around $.99 per rewind.
How Grazer Works
Grazer uses the mutual opt-in/swiping system to create matches. When you swipe right on someone to indicate interest in them, and that person also swipes right on you, a match is formed and you can exchange messages.
You can find your mutual matches by clicking on the messaging bubble in the lower right-hand corner of your home screen.
Much like CoffeeMeetsBagel, Grazer takes the quality over quantity approach to viewing profiles. In an effort to create a more "mindful and conscious space," users are limited to viewing 30 profiles every 4 hours.
Similar to Bumble's Modes, Grazer has a Date mode and a Friends mode:
You can toggle between the two modes at any time.
Getting Started On Grazer
The Grazer dating app is available for iOS and Android devices. There is no online version.
Once downloaded, you can use your Facebook, Google or Apple account or a mobile number to get started. Next, Grazer will send you a verification code to your cell number to confirm your account.
During the initial set-up process, you'll be prompted to provide basic information like first name, date of birth, gender (man, woman or non-binary), and whether you're vegan, vegetarian or plant-based.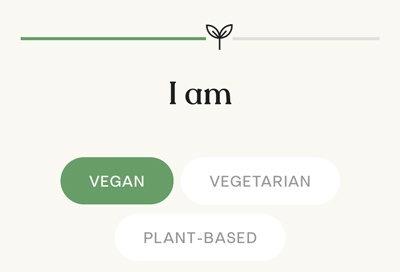 Then you'll have the opportunity to upload up to 4 photos.
As with any dating app, select a range of photos that showcases your lifestyle in an interesting and compelling way. With limited information to go on in the profiles, it's important to use your photo lineup as a way to share your personality and interests.
Grazer then lets you choose 2 starters, which serve as the written component of your dating profile. You have an entire range of prompts to choose from, broken into categories like "Get To Know," "Plant Power," and "Present".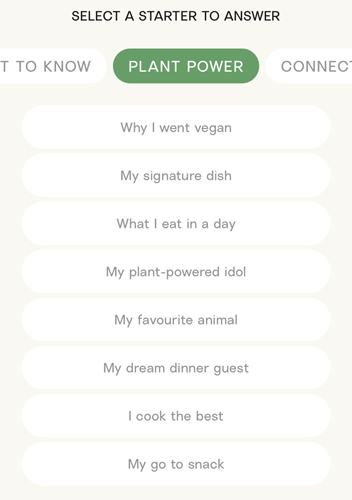 Each prompt answer has a 500-character limit.
Much like on Hinge, your 2 prompt answers will be displayed in between the photos in your lineup. Get strategic with the 2 prompts you answer, so that you're seizing every opportunity to share attractive, compelling tidbits about yourself with your potential matches.
For instance, if you chose "I'm really bad at" as your Starter, don't give a boring one-word answer like "Cooking" that won't boost your "dateability" factor in the eyes of your potential factors.
Instead, try saying something along the lines of "Giving up on my goals or the people I care about!" This communicates you're a passionate, compassionate, and dedicated person.

Or, you could showcase your sense of humor by selecting the "I Cook The Best" prompt and answering it with a line like, "Oh look at that, the number for take out."
After answering your Starter questions, you can add more details to your profile in the My Flavors, My Badges, or My Extras sections.
My Flavors
You can select up to 5 badges that describe you from various categories like Values, Lifestyle, Activities, Interests, Food, and Music.
My Badges
Grazer offers a selection of 20+ colorful stickers you can use to express your personality, ranging from "Spiritual" to "Junk Food Vegan" to "Kinky". You can add up to 3 to your profile.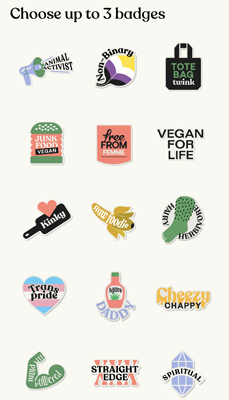 My Extras
Lastly, you can add more bits of information to your profile, like your pronouns, hometown, education, etc.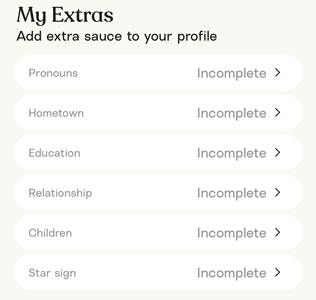 It's worth your time to complete your profile, especially if you're on Grazer looking for a serious relationship. You never know what detail may spark a connection, and crossing your t's and dotting your i's shows you're invested in the dating process.
Curious About Grazer Because You Can't Find Your Vegan Soulmate?
Dating apps can be frustrating and time consuming, even more when you're dealing with the limited dating pool most niche apps provide. Attracting quality, highly compatible matches starts with having an optimized profile - and selling yourself effectively on an app doesn't come naturally to many people.
Why not let the experts at VIDA Select help? From dating strategy to profile creation, photo selection to messaging, VIDA's team does it all for you.
Want us to do your online dating for you?

Hey, I'm Ally, VIDA Select's Director of Matchmaking.
We take all the frustration, hard work and hassle out of modern dating!
Imagine your very own Dream Team of highly skilled dating experts searching for the very best local matches, sparking their interest, and arranging all the dates for you.
Wouldn't it be nice to finally stop swiping and start dating higher quality matches so you can meet someone special?
We've helped thousands of singles just like you since 2009, and we're ready to make you our next success story!
What are you waiting for? Take the next step now…
See If You Qualify