I hope you enjoy reading the blog post.
If you want to chat now about your matchmaking search, click here.
Who is Greta Tufvesson? [Elite Matchmaker Profile]
If The Bevy matchmaking is on your shortlist, learning a little more about founder Greta Tufvesson is a smart idea.
From her background to what inspired her to become an elite matchmaker, this short bio has all the info you need to help determine if she's the best choice for you!
The Bevy's Backstory
A Manhattan native, Tufvesson's career hasn't always focused on matchmaking.
Her background is in brand consulting and fashion, doing marketing for fashion houses like Donna Karan and Louis Vuitton. She's also done marketing for luxury hotels in André Balazs's portfolio.
In 2010, she used her industry connections to help launch a dating agency in NYC, and hired Nikki Lewis.
As time progressed the two started thinking about taking a more bespoke approach to matchmaking. That idea grew into The Bevy, which they launched as business partners in 2014.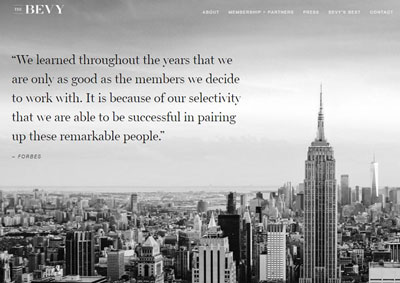 Nikki Lewis helms the NYC office, while Tufvesson runs the Los Angeles branch of this boutique matchmaking service. The Bevy also works with singles in San Francisco and San Diego.
Greta Tufvesson's Matchmaking Philosophy
In keeping with the "bespoke matchmaking" concept, Tufvesson and Lewis only work with a small number of clients at a time - generally between 25 and 30 across the country. And they're very selective.
As she explained to The Observer,
We do have a superficial business to some extent. The prerequisites are to be college-educated with certain exceptions depending on your situation. You have to have accomplished something in life.
According to Tufvesson, around 90% of their business comes from referrals.
Potential clients send in a short bio covering the basics like age, occupation, academic background, why you want matchmaking services, etc. Also required: recent photos.
That information helps Tufvesson and Lewis decide if you're a good fit for The Bevy. Men become paying clients, while women can join the database for free (although with no guarantee of ever being matched).
As Tufvesson told Goop in a Q&A session, they use the biographical info to make sure every person they decide to work with has "realistic expectations and the right intentions":
…this is not a place for just dating. It's for people who want to be in long-term monogamous relationships.
For potential clients who pass the initial screening process, the next step is a more detailed questionnaire that asks about all areas of your life. The elite matchmaking duo will then make a decision about taking you on as a client.
How Much It Costs To Hire Greta Tufvesson
How much The Bevy costs varies per client, but generally starts around $25,000 for one year of matchmaking services that includes unlimited introductions. As Lewis explained in an interview with Observer, "The more specific you get, the more expensive it gets."
As for the matchmaking process itself, The Bevy offers a "fully curated" dating experience. Once a match is identified, both halves receive a description of the other person. But you won't get a photo.
We don't share the last names on either side, and we don't share pictures. Your privacy is protected, which is unique—each person just gets our description of the other person.
First dates are generally drinks, with everything arranged for you. Per Tufvesson, you'll receive an email with the date, time and location, as well as your match's first name and phone number.
The Bevy Dating Tips
Part of the matchmaking process is getting feedback as well - so after each date you can check in and see if any of your dating skills need a little brushing up.
Want a sneak peek at the type of dating advice The Bevy's offers? These 3 first date tips for guys come straight from Greta Tufvesson:
Should You Hire Greta Tufvesson & The Bevy?
Before hiring a matchmaking service, put some thought into what would make the company a good fit for you.
For instance, some matchmaking services, like The Bevy, don't show you photos of your potential matches. If you think physical appearance is a big part of chemistry, knowing what someone looks like may be preferable to investing time and money on a blind date.
Also, consider how you feel about committing to a months-long contract before experiencing the quality of the matchmaking.
If you're not comfortable making a pricey commitment up front, you may want to consider a pay-as-you-go matchmaking service like VIDA Select.
VIDA Select has been finding incredible matches for professional, successful singles since 2009. And no blind dates! You'll only meet high-quality people you already know you're attracted to - and who want to meet you.
If you want elite matchmaking minus the long-term contract - you owe it to yourself to see how VIDA Select can change your life.
Get started here!
All product and company names are trademarks™ or registered® trademarks of their respective holders. Use of them does not imply any affiliation with or endorsement by them.
Why Choose VIDA Select?

Since 2009, thousands of clients have discovered true love thanks to VIDA Select's fresh, modern approach to matchmaking – which has finally thrown blind dates and long-term contracts out the window. This isn't your grandmother's matchmaking!
Instead of working with a single matchmaker using a small rolodex of potential partners, VIDA Select's matchmaking team taps into the world's largest database of available singles. We'll quickly identify the matches who check all of your boxes so you can finally experience true chemistry. Are you ready to become our next success story? Schedule your complimentary consultation now by clicking the button below!
Get Started Now