I hope you enjoy reading the blog post.
If you want my team to just do your online dating for you, click here.
How To Use Dating Sites Discreetly With Private Profiles
Want to use dating sites discreetly and have total control over who sees your online dating profile? Make your profile private!
These 11 popular dating sites and apps allow for selective visibility on your dating profile, so you can reveal it only to matches who intrigue you.
VIDA Select's team of experts has managed dating profiles for tens of thousands of clients since 2009, so we know the ins and outs of just about every dating app and site.
Our extensive first-hand experience and data-backed insights give us a thorough understanding of the unique benefits and drawbacks of each app, which helps us guide singles like you towards the platform that best suit your dating goals.
Here is how to make your profile private on:
Simply click a link above to jump to that dating site, or compare them all to see which one best suits your need for selective visibility.
How To Hide Your Profile On Tinder
Tinder allows you to control who can see your profile, but there's a catch.
It's a feature bundled with Tinder Plus, so you'll have to upgrade to use it.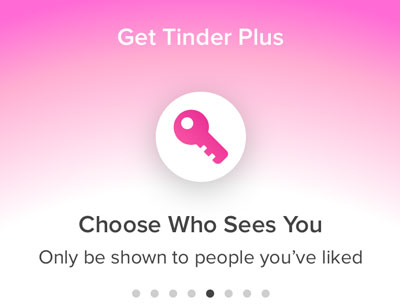 The cost of Tinder Plus depends on where you live, but it's in the neighborhood of $7.99 per month, depending on the subscription length.
Once you're a premium member, you can activate Tinder's Incognito Mode to hide your profile. Now your profile will only be recommended to people you swipe right on.
If you swipe left, they'll never get the chance to swipe yours. You'll have private Tinder photos until you grant someone access with a right swipe.
How To Hide Your Profile On Bumble
Like Tinder, Bumble has an Incognito mode you can toggle on to keep your profile hidden.
It will then be revealed only to the potential matches that you swipe right on. But like most platforms that let you use dating sites discreetly, it's not a free feature.
You'll have to upgrade your Bumble subscription to Premium in order to use it.
Incognito Mode can be turned off and on via the Settings screen:

Bumble also has a "Snooze Mode" that will make your profile visible only to your current connections.
You can find Snooze Mode on the Settings screen, and activate or deactivate it by tapping on it.
You can choose how long you want your profile hidden on Bumble, or hide it indefinitely: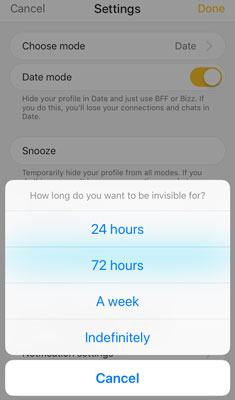 Selecting a finite time limit also gives you the option to set an "away" status that will be visible to your matches: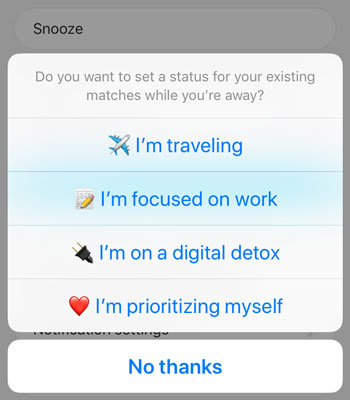 Using Snooze Mode does not require a premium subscription to Bumble Boost or Bumble Premium, so you can use the feature for free.
But there is one small catch - you can't swipe or match while your profile is hidden.
That means whenever you want to swipe right and match with new people, you'll need to turn Snooze Mode off. Bumble will also automatically notify your existing matches that you're active on the app again.
If your goal is to match with people in "stealth mode" and have total control of who sees your profile and when, you'll need to invest in Bumble Premium and go incognito.
How To Hide Your Profile On Inner Circle
Inner Circle has an Invisible Mode that keeps your profile hidden until you swipe right on someone.
But it's not a free feature - you'll need a Full Membership to use it. The cost of upgrading starts at $39.99 for 1 month, or less if you purchase a longer subscription.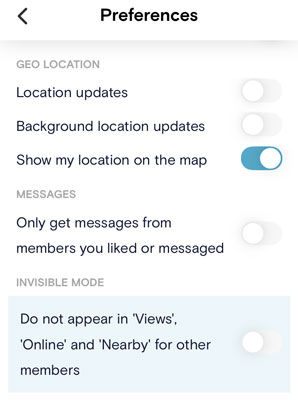 To hide your profile on Inner Circle, tap on the profile icon, then the gear icon to bring up the "Settings" menu.
Scroll down to "Invisible Mode" and toggle it on. You can also choose whether or not you want your location to appear on the Inner Circle map, as a way of connecting with nearby users.
For all the details on this exclusive dating app, check out this Inner Circle review.
How To Hide Your Profile On Luxy
If you want only singles you've "liked" to be able to view your profile, you'll need to purchase a paid subscription to Luxy.
The good news is that also means you can skip the vouching process.
One of the Luxy BLACK perks is immediate acceptance. You'll also be able to selectively reveal your profile.
A Luxy BLACK membership will set you back $99.99 if you buy one month: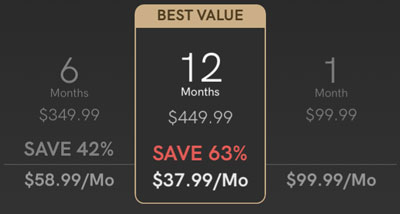 To find out more about how Luxy works, check out this dating app review.
How To Hide Your Profile On The League
The League also allows for selective visibility and keeping your profile private until you "like" a match.
However, that's not a perk available to just any League users.
You need to buy in to the "Investor" level, which isn't cheap. That level of discretion will cost you $999.99 for 1 month, or $399.99 for a week.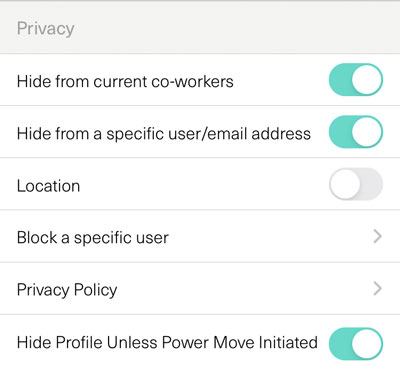 You can unhide your profile by initiating a "Power Move" with a particular match.
On The League, a "Power Move" gives your profile top billing in a potential match's daily profile allotment. League Owners get unlimited Power Moves.
Want to learn more about The League? Check out this review!
How To Hide Your Profile On Match.com
Private Mode on Match is a feature that allows you to control access to your profile.
You must have a paid subscription to purchase it, as it's not an ala carte option for free members.
To add Private Mode, simply click on the white "power up" button at the top right of the screen:

Then select the Private Mode option from the menu of available add-on features:
You can switch Private Mode on and off from the "Profile Settings" screen: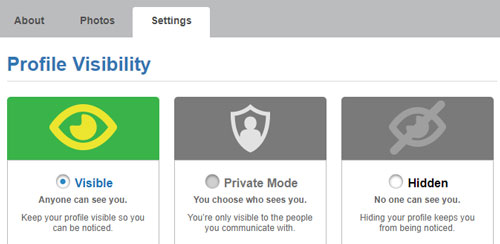 While it's turned on, any matches you have previously contacted at any point will still be able to see your profile, so activating this feature won't affect any message exchanges you have going.
But your profile will now be invisible to anyone else.
When you see someone you're interested in, communicating with them in any way will instantly make your profile visible to that person.
Here are all the actions that will make your profile visible to a match while you're in Private Mode:
You'll know you're visible to a match because you'll see a purple badge on her profile, and the words "She Can See You" will appear under her photo.

When you stop using Private Mode, your profile will appear in the "Who's Viewed Me" section of anyone whose profile you checked out while Private Mode was enabled.
Match's Undercover Feature
If you want absolutely no record you were ever there, even when Private Mode is off, you need to use it in tandem with the "Undercover" feature.
Undercover isn't something you can toggle on and off.
Instead, you purchase individual sessions. Each session lasts 24 hours, during which time you can view and "favorite" profiles without the person being notified.
The cost of an Undercover session varies depending on which promotions are available at the time, but it is generally around $1.99 per use: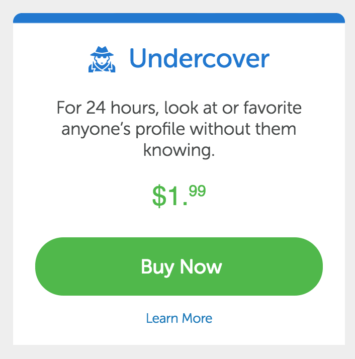 You purchase Undercover the same way you do Private Mode - click on the Power Up button and select it from the menu of features.
If you decide you want a match to know that you viewed or "favorited" her profile while in Undercover mode, you'll need to redo it once your session has expired.
A black bar at the top of every page will help you keep track of the time while you're in Undercover mode.
Want to learn more about Match? Check out these dating site reviews!
How To Hide Your Profile On MillionaireMatch
On MillioniareMatch, limiting visibility to your profile selectively is a feature available to Premium members.
You can hide your profile from all members for free, but not much point in that if you want to actually use the site!
A Gold premium membership costs $70 for 1 month, $135 for 3 months, or $240 for 6 months. To read all about the perks that come with it, check out this MillionaireMatch review.
To control who is able to view your profile, hover your mouse over the gear icon at the top right of the screen, then select "Settings" from the pull down menu:
These are the privacy options for your profile:

For your photos:
And for your activities on the site:

Simply check or uncheck the boxes whenever you want to change your privacy settings.
One thing to keep in mind, if you let your Premium subscription expire, all your privacy settings will revert to the default setting (i.e. unhidden).
The only exception is hiding your profile from all members, since you can do that for free.
How To Hide Your Profile On OkCupid
OkCupid's Incognito Mode makes your profile visible only to people you "like" or message.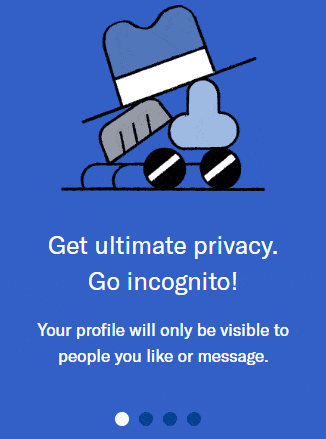 You can browse with wild abandon, and no one will be the wiser.
Your private profile also won't show up in the Match Search or DoubleTake sections of anyone you haven't liked or messaged.
And if anyone that you haven't expressed interest in tries to visit your profile page, they'll get a message stating your profile doesn't exist.
The cost of Incognito Mode varies depending on how much access you purchase at once.
It starts at $9.99 for one month:
To purchase Incognito Mode, simply type "/incognito" into the browser bar when you're logged into your OkCupid profile (www.okcupid.com/incognito).
You can toggle it on and off by clicking your photo at the top right of the screen, then "Settings":
From there, select 'Privacy' from the menu on the left side of the screen:
Then it's simply a matter of switching it on and off.
How To Hide Your Profile On Plenty Of Fish
Editor's Note:
As of late 2020, Plenty Of Fish no longer allows users to hide their profiles. However, according to their FAQ, if yours was already hidden, it will remain so. You will not be able to re-hide your profile if you make it visible again.
It's easy to make your POF account private - and you can do it for free.
If you want private pics on POF, use the drop-down menu next to the image to change its status from "Public Image" to "Private Image."
To hide your profile, click "Edit Profile" on the menu bar at the top of the page. From there, simply click this link:
When your profile is hidden, you can undo it by following the same steps. You'll see the link changes to "To unhide your profile from others click here":
While hidden, your profile won't appear in any search results, nor will your photo be featured in any image bars.
But even while hidden, your profile is still selectively visible. Here is the list of people who can still see it:

As you can see, anyone who favorited your profile can still see you even when yours is hidden.
If you don't want a particular person to have access to your profile, click "Favorites" on the menu bar at the top of the page:
Then click "Who Fav'd Me". You can restrict their access by removing them from this section:


While POF no longer has the username search function, there are still a few hacks on the web that allow you to do just that.
If you're worried about being discovered that way, you can change your username. You'll need a paid subscription to change it, though.
A premium subscription to POF costs $38.70 for 3 months, $51 for 6 months, and $81.40 for 1 year.
To see what features come with an upgraded membership, check out this POF review.
How To Hide Your Profile On Seeking
Seeking, which used to be called "SeekingArrangement", is a popular sugar daddy dating site.
Men who invest in an upgraded membership can control their profile visibility from the settings screen.
From the Settings menu, find the "Search & Dashboard" & "Your Activity" options and select Hidden.
Now your profile won't be revealed in search results or other members' dashboards. However, if you message or "favorite" someone, they can view your profile.
A premium membership also allows you to message other users without having a primary "public" photo.
Upgrading Seeking costs $19.99 for one month. Read more about this sugar site here.
How To Hide Your Profile On Zoosk
If you're an upgraded member on Zoosk, you can use the "Hide & Seek" feature to control how visible your profile is.

There's one catch, though - it's considered a "subscription upgrade" so you'll have to pay an additional monthly fee for it.
The price depends on the length of your subscription.
For instance, a 6-month subscription costs around $12.50 each month, and adding the Zoosk Hide & Seek feature costs an additional $8.99 each month.
Expect to pay a little less for the upgrade if you purchased a year-long Premium membership, or a little more if you went shorter than 6 months.
To purchase the Hide & Select upgrade, simply select "Upgrade" from the Settings menu, then enter your payment information.
After that, you'll be able to access the feature from the Settings menu by tapping the white triangle by your age and location in the upper right menu bar: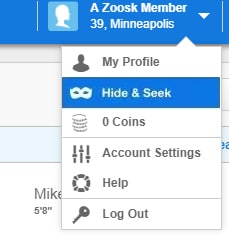 If you're not a Premium member, the best you can do is the "Go Invisible" feature:
Zoosk allows you to browse invisibly for 30 minutes at a time, which means no one will know you checked out their profile.
Each Invisible Mode session costs 30 coins, which you can buy in lots of 180 for around $19.95. If you buy even more at once, there's a price break.
This feature isn't available anymore once you upgrade, but you won't need it as you can activate the Hide & Seek modes instead.
The Easiest Way To Manage Your Dating Profiles
Want to use dating sites discreetly and be uber selective with your matches?
VIDA's dating experts can save you a ton of time by carefully pre-screening all your matches for you, based on the "perfect partner" criteria you provide!
We understand that discretion is important, so you can have the final say on which matches you want us to message - and we'll make sure your profile is only visible to the high-quality matches we carefully hand select!
Then we'll send our very best, proven material - and handle the entire conversation from start to finish.
You just show up for the dates with the type of matches you can't wait to meet!
Want to learn more? Click here.
Want us to do your online dating for you?

Hey, I'm Ally, VIDA Select's Director of Matchmaking.
We take all the frustration, hard work and hassle out of modern dating!
Imagine your very own Dream Team of highly skilled dating experts searching for the very best local matches, sparking their interest, and arranging all the dates for you.
Wouldn't it be nice to finally stop swiping and start dating higher quality matches so you can meet someone special?
We've helped thousands of singles just like you since 2009, and we're ready to make you our next success story!
What are you waiting for? Take the next step now…
See If You Qualify