I hope you enjoy reading the blog post.
If you want my team to just do your Hinge for you, click here to chat with me.
Hinge Boost Review: Is It Worth It & Best Time To Do It!
A Hinge boost temporarily increases the visibility of your profile, which the app claims will result in more matches. But does it actually work, and is it worth paying money for?
This quick guide to Hinge Boost and Superboost has all the important details you need to decide!
Hinge Boost Explained
Let's start with the basics:
What is Boost on Hinge?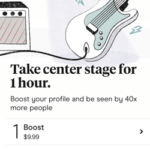 A Hinge Boost is a pay-per-use feature that makes your profile one of the most popular in your area. In other words - you pay for an hour's worth of increased visibility. 
Other popular dating apps have similar features, like Bumble's Spotlight and Tinder's Boost.
On Hinge, each Boost lasts for 60 minutes once you've activated it. At the end of the hour, you'll get a pop up notification letting you know it's done.
You can also see how much time is left on your Boost because a countdown displays in the "Boost" button in the "Likes You" section of the app.

Other Hinge users won't know you purchased and used a profile boost. But you'll be able to tell how many "likes" you got as a result of your boost.
In the "Likes You" feed, you'll see a lightning bolt next to the name of any user who saw and liked your profile while it was boosted.
And if a match results from the boost, there will be a lightning bolt next to their photo in your "Matches" queue.
When you use a boost, Hinge's matching algorithm prioritizes showing your profile to users who meet your matching criteria. If you have narrow criteria, the algorithm may also show your profile to potential matches who may fall a bit outside one or some of your specifications during a boost.
Hinge Boost Vs Superboost
The only difference between a Hinge Boost and a Superboost is the length of promoted visibility. A regular boost lasts an hour. A Superboost highlights your profile for a full day.
But before you pounce on the nuclear option, consider that boosting for 24 consecutive hours may not net you better results than a regular Hinge boost.
You can't pause and restart a Superboost, so you end up paying for heightened visibility during hours when there probably aren't that many users on the app.
It may be better to purchase a few 1-hour boosts, and deploy them strategically. You'll find out the best time to use a Hinge boost coming up.
How To Activate Hinge Boost
You can access the Hinge boost feature in a couple of ways.
One way is going to your 'Likes You' screen and tapping the boost button. Or, you can also bring up the Profile screen and tap the boost button there.
Either way, tapping the button will bring up your Hinge boost options. You can choose from 1 boost, 3 boosts, 5 boosts or a Superboost.
After payment has been processed, you'll use this same button to activate your boost when you're ready to use it.
Hinge Boost Cost
A single Hinge boost costs around $9.99, depending on your area. Buying 3 at a time brings the price down to $8.99 each, and purchasing 5 at once drops the cost to $7.99 each.
A Hinge superboost costs $19.99 for one.
Hinge Boost & Superboost Cost
1 boost - $9.99
3 boosts - $26.97
5 boosts - $39.95
1 Superboost - $19.99
The Best Time To Boost On Hinge
According to Hinge's internal data, Sunday night is the most popular time for users to send "likes". That makes Sunday evenings one of the best times to boost your profile on Hinge.
A 2020 study by Reincubate found that Friday, Saturday and Sunday evenings were the busiest times for dating apps according to the users they surveyed. Saturday night was an especially popular time to start swiping, with 46% of Saturday users being active in the evening from 8 onward.
Evenings in general are a good time to boost, because people tend to have more free time to spend on dating apps than they do during the day. That aligns with the Reincubate study findings, which found that 41% of all users were most active between 5 and 7 pm.
The least popular day to use dating apps? According to survey respondents, it's Tuesday. Only 1% of them reported being active on a Tuesday.
Do Boosts On Hinge Work?
Hinge, of course, says yes. The app claims up to 11x more people will see your boosted profile.
But having more people see your profile isn't the real goal here. You want more people you're interested in dating to see and then "like" your profile so you can get to the message exchange stage and lock in a date.
In other words, boosting your profile on Hinge may get you more views, but it doesn't guarantee you'll get more matches. If you're boosting a lackluster profile that doesn't interest the people you want to meet, you're just wasting your money.
Do yourself a huge favor and add this article to your "must read later" list. Those expert 7 Hinge profile tips will help ensure your boost is money well spent!
Or, there's an even easier way to get more "likes" and more dates on Hinge. Bring in VIDA Select's team of dating experts! Everything on Hinge and any other popular dating app you want to use is done for you - even the messaging!
You just kick back, relax, and enjoy more dates with highly compatible singles. Learn more here!
Want us to do your online dating for you?

Hey, I'm Ally, VIDA Select's Director of Matchmaking.
We take all the frustration, hard work and hassle out of modern dating!
Imagine your very own Dream Team of highly skilled dating experts searching for the very best local matches, sparking their interest, and arranging all the dates for you.
Wouldn't it be nice to finally stop swiping and start dating higher quality matches so you can meet someone special?
We've helped thousands of singles just like you since 2009, and we're ready to make you our next success story!
What are you waiting for? Take the next step now…
See If You Qualify