I hope you enjoy reading the blog post.
If you want my team to just do your Hinge for you, click here to chat with me.
Hinge+ vs HingeX Comparison [2023 Features, Cost & More!]
Paying for Hinge has a lot of advantages. It can boost your profile visibility and help you connect with more compatible matches. So the question is: Hinge+ vs HingeX?
We've spent hundreds of thousands of hours on Hinge since it launched back in 2012, setting up profiles, scrolling for matches and sending countless messages on behalf of our clients. We have firsthand experience using Hinge's paid features to get better results on the app.
This handy guide to premium Hinge features breaks down what you get at each level, how much it costs and when upgrading is worth the investment. All the answers you're looking for, straight from VIDA Select's team of dating experts!
Hinge+ vs HingeX Table Of Contents
Let's dive in with the benefits you'll get at each level…
Hinge+ vs HingeX: Features & 2023 Cost Comparison
Hinge+ (Formerly Hinge Preferred)
When Hinge's premium membership debuted, it was called Hinge Preferred. But when HingeX launched in early 2023, Hinge Preferred was rebranded as Hinge+.
A Hinge+ subscription includes these features:
Advanced match filters
Unlimited daily "likes"
See everyone who likes you
Easier profile browsing
Upgrading to Hinge+ costs $29.99 for a single month. Investing in a 3 or 6 month subscription brings the monthly cost down.
Hinge+ 2023 Cost*
1 month - $29.99
3 months - $59.99 ($19/month)
6 months - $89.99 ($14/month)
*Pricing may vary by location
Let's take a closer look at each Hinge+ benefit.
Advanced Preferences
Hinge+ users unlock all the advanced match filters: height, children, family plans, drugs, smoking, marijuana, drinking, politics and education levels.
Free users are limited to screening potential matches by gender, neighborhood, max distance, age range, ethnicity and religion.
All Hinge users can set any filter they have access to as a "dealbreaker." A dealbreaker means Hinge's algorithm treats that criteria as a strict preference, and it won't show you anyone who is outside that parameter.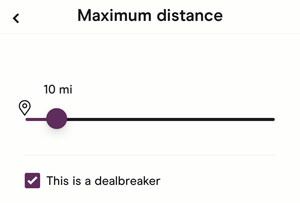 If you don't set a criteria as a dealbreaker, those criteria are still prioritized but you may see profiles outside of those parameters as well.
Unlimited Likes
If you don't upgrade Hinge, you are limited to only 8 "likes" per day.
See Everyone Who Likes You
Just like with Bumble Premium and Tinder Plus, Hinge+ offers a way to easily browse profiles of users who have already liked your profile.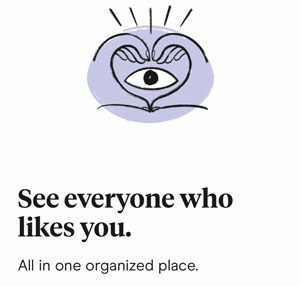 As a free user, you can still see who liked you on Hinge, but there's a catch. You can only check out the profiles one by one.
Enhanced browsing
Hinge+ users can sort potential matches by who is nearby, new to Hinge, most likely to be compatible and activity on the app. Hinge also sorts your incoming likes based on how recent they are, who is nearby, who is most recently active, and if they're also a subscriber.
Next in this Hinge+ vs HingeX comparison, let's take a look at all the advantages HingeX unlocks.
HingeX
Just like Tinder has Plus, Gold and Platinum membership options, Hinge offers two tiers of premium benefits. HingeX is the larger and more expensive option, which means it comes with more perks.
A HingeX subscription includes these features:
All the Hinge+ benefits
Skip The Line
Prioritized likes
Enhanced recommendations
Upgrading to HingeX costs $49.99 for one month, with a price break when you purchase a longer membership.
HingeX 2023 Cost*
1 month - $49.99
3 months - $99.99 ($33/month)
6 months - $149.99 ($24/month)
*Pricing may vary by location
Let's take a look at what each HingeX feature entails.
Skip The Line
As a HingeX user, your profile is constantly boosted, meaning other Hinge users see your profile sooner.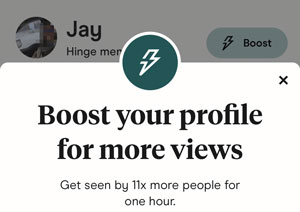 Free and HingePlus users can boost their profiles for 60 minutes at a time, using the Hinge Boost feature at $9.99 a pop ($19.99 for a SuperBoost).
Priority Likes
Similar to Tinder Platinum's Priority Likes feature, as a HingeX member your likes "stay toward the top" of the recipient's list. Potential matches are not notified that you are a HingeX user.
Enhanced Recommendations
This feature takes what the algorithm has learned from how you interact with the app and uses it to enhance your profile recommendations. It runs in the background, so it's not something you have to worry about toggling on or off.
This isn't the same as Standouts, which is a separate feed where the algorithm presents potential matches curated just for you. It only shows you a snippet of their profile, like a prompt or a photo. Just tap on the piece of content to check out the rest.
Standouts refresh daily, and all users only get up to 10 a day. The algorithm generally chooses Standouts from among the most popular users in your area, and they may not pop up in your Discover feed.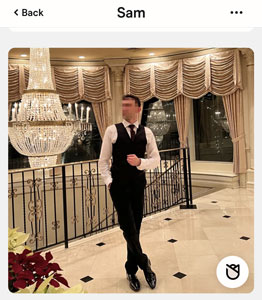 But there is a catch, of sorts. You can't "like" a Standout profile. You can only send them a Rose to indicate your interest. All users get 1 daily Rose; after sending that you'll have to purchase more.
So that's a full run down of the differences between Hinge+ and HingeX. Let's talk about when it's worth paying for Hinge, and which subscription is the best choice for you!
Paying For Hinge+ Is Worth It When…
You always max out your daily Likes. Hinge has always been more focused on the quality of matches rather than the quantity. But even with that in mind, 8 Likes can go by in the blink of an eye.
You don't have the time or the patience to screen matches. Hinge doesn't have the numbers that Tinder and Bumble pull in, at least yet. But it's still a wildly popular dating app. Access to the advanced preference filters can save you a lot of time by weeding out potential matches with lifestyle choices that don't align with your own.
You want to limit the amount of time you spend on Hinge. Using Hinge+'s filters to sort your potential matches by who's nearby or most recently active can help you make connections more quickly.
Paying For HingeX Is Worth It When…
You're in a large city with tons of other Hinge users. The continuous profile boost and priority likes means your profile will get heightened visibility. That could be a game changer!
You want more curated matches. If you're a fan of the Standouts feature, Hinge's enhanced recommendations could help you find someone special faster.
Keep Using Hinge For Free If…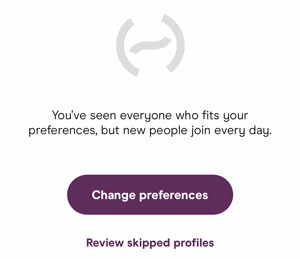 You frequently get the "change preferences" pop-up notification. This means there aren't many singles using Hinge in your area who meet your "relationship-worthy" criteria. It's likely not worth paying a premium to use the app.
3 Tips Straight From The Hinge Experts
If you decide to invest in a Hinge+ or HingeX membership, you'll want a profile that's worthy of the heightened visibility. And even if you keep using Hinge for free, you want the best chance to meet someone special, right?
Use these 3 actionable tips to boost your match rate, attract more compatible matches and get more Hinge dates!
#1: Take Advantage Of Hinge's Message Before Matching
Hinge lets you send a message when you "like" a potential match for free. That's a feature other dating apps make you pay for!
Per Hinge's data, including a comment with your like means you're 3x more likely to receive a response.
Including a question in your first message makes it easy for the conversation to get off the ground - all your match has to do is answer it.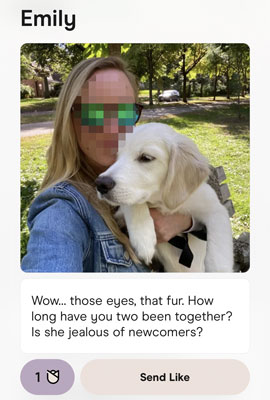 Further reading: Best Way To Start A Conversation On Hinge (Two Strategies That Work!)
#2: Get Interactive
Hinge hands you multiple ways to give potential matches a taste of your personality. Or as the dating app explains, features like video and voice prompts and interactive prompt polls "encourage authenticity and spark great conversations."
The menu of Hinge questions you can answer is lengthy, so it pays to get strategic with the content you choose to include in your profile.
First, jot down a quick list of your most attractive traits, like your love for travel, your sense of adventure, DIY skills, life's passions, etc.
Next, write down specific examples of how you exhibit those traits. This is important, because dating profile cliches like "I love to travel" and "I love spending time outdoors" can be attraction killers.
You need to stand out, and details help grab a potential match's attention. Write down where you've visited and what you loved about that destination, or what you do and where you go for fun outdoor activities.
Now, take your list and use it to choose prompts that lend themselves to those answers.
For instance, let's say you're into cooking. Just writing something like "What if I told you that… I'm a great cook" in your Hinge profile is super boring. Answering a prompt like this is a much better way to show off your inner chef: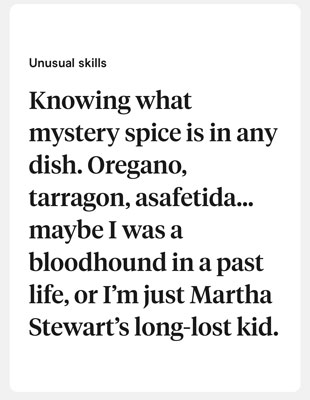 Hinge lets you include 3 written prompts, 1 video prompt, 1 voice prompt and 1 prompt poll.
Prompts come in several different categories, and it's best to choose a variety of prompts. Variety helps you present yourself as a well-rounded, interesting person instead of just coming off as one note.
Further reading: 7 Hinge Profile Tips For Men [Plus The 11 Best Hinge Answers!]
#3: Choose A Standout Primary Pic
Unless this is your first time on a dating app, you already have an inkling just how important your primary photo is. But it's not just about choosing one where you look great, although that's important.
You also want to choose a primary photo where:
You're looking at the camera (and not wearing sunglasses)
You're the only person in the frame
The background isn't taking the focus off of you
The whole point of Hinge is to spark a connection, and strong eye contact in a photo helps lay the groundwork. If your potential match feels like she's locking eyes with you, she's that much likelier to swipe right.
Anything that takes the focus off of you is working against you.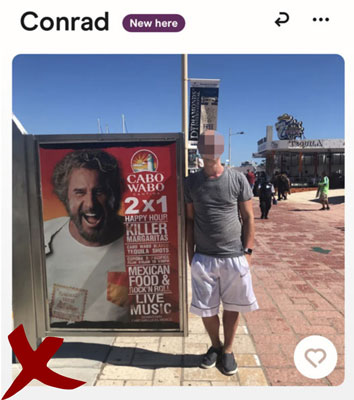 That could be anything from another person in the frame or a visually distracting backdrop. The brain tends to find images that are simple to process more attractive, so keep that in mind when choosing your primary pic.
Further reading: 16 Tricks To A More Attractive Profile Pic [Backed By Science!]
Debating Hinge+ Vs HingeX Because You're Not Getting The Results You Want?
There's no question that Hinge's premium perks can make it easier for you to find, screen and sort through your potential matches. But what paying for Hinge can't do is magically make more people want to match with you.
Success on Hinge all boils down to presenting yourself effectively in your profile - and that's not easy to accomplish! It's marketing, essentially.
That means you not only have to understand what your most attractive features are, you also have to present those features in a way that's compelling to the type of singles you want to date.
VIDA Select's team of experts not only understand exactly how to do that, they'll do it all for you on the dating apps.
Everything from writing your messages to setting up your profile and screening your matches is handled by the pros. And you'll be paired with a dedicated matchmaker to ensure you're represented in a truly authentic way.
Want us to do your online dating for you?

Hey, I'm Ally, VIDA Select's Director of Matchmaking.
We take all the frustration, hard work and hassle out of modern dating!
Imagine your very own Dream Team of highly skilled dating experts searching for the very best local matches, sparking their interest, and arranging all the dates for you.
Wouldn't it be nice to finally stop swiping and start dating higher quality matches so you can meet someone special?
We've helped thousands of singles just like you since 2009, and we're ready to make you our next success story!
What are you waiting for? Take the next step now…
See If You Qualify