I hope you enjoy reading the blog post.
If you want my team to just do your Hinge for you, click here to chat with me.
7 Hinge Profile Tips For Men [Plus The 11 Best Hinge Answers!]
Since you're for Hinge profile tips, odds are you're not looking for a fling - you're looking for the real deal. Well, so is she.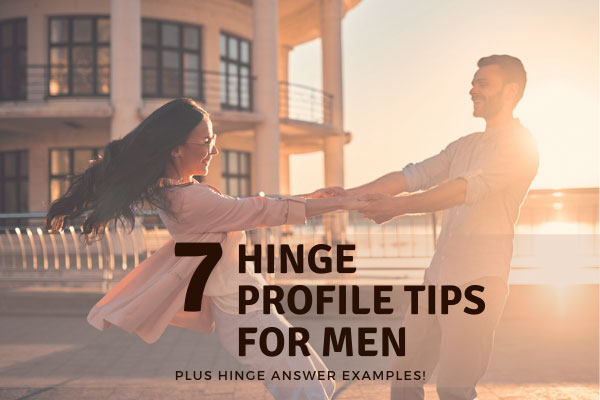 Hinge has positioned itself as a long-term relationship app, so that means your profile needs to convince her you're true Boyfriend Material!
Sound like a tall order? Don't worry. VIDA Select's team of dating experts use Hinge on a daily basis, and have been since the app launched in 2012. You're about to benefit from our thousands of hours of direct user experience!
You see, we represent our clients on Hinge - optimizing their profiles, selecting their photo lineups, and sending messages on their behalf. We analyze everything, so we know what approaches work, what to avoid, and which strategies attract the best matches.
Thanks to our evidence-based approached, these 7 Hinge profile tips for men will make your profile irresistible! You'll also get 11 examples of the best Hinge answers.
Let's start with the main attraction…
Hinge Profile Tip #1: Aim For Perfection With Your Primary Photo
Don't worry - it's easier than it sounds! A team of European neuroscientists identified a checklist of what attributes combine to make the most attractive profile picture: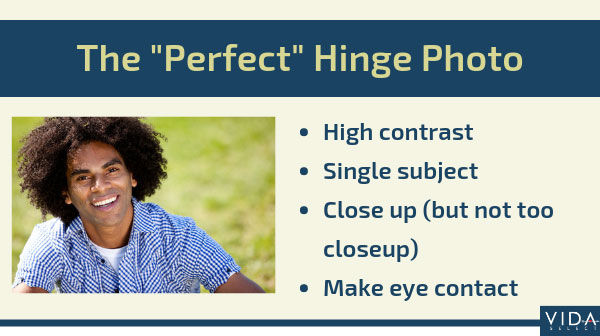 Eye contact is particularly important, as lack of it has a negative effect on her first impression of you. When she can look you straight in the eyes, you seem inherently more trustworthy and genuinely likeable.
That means sunglasses are not ideal for dating photos, and you don't want to hide your eyes behind your hair or a Snapchat filter either.
Hinge Profile Tip #2: Embrace Quality Control
You know who gets excited about low-quality graphics? No one.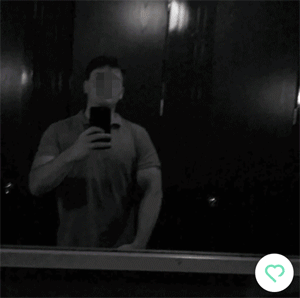 So when choosing your other 5 Hinge photos or videos, make sure they're all high-quality images. You want your Hinge lineup to look intentional and curated, not like you pulled random images off your Facebook or phone.
Here's the thing - when looking at images, human brains are wired to prefer simplicity and clarity.
When a picture has a high cognitive workload, it means your brain has to work harder to interpret what's going on in the frame. The subject matter becomes less attractive the more complex it is.
Simple = attractive.
If your picture is blurry, has harsh highlights and dark shadows, or "artistic" effects that obscure your face, the odds she's going to "like" or comment on it are drastically reduced - and that means you probably won't match with her.
While artistic effects that complicate your photos are not good, using a black and white filter can increase the odds you'll get some "likes" - by 106%. Try applying one to a photo or two in your lineup!
Hinge Profile Tip #3: Put Down The Selfie Stick
Selfies are problematic on Hinge for several reasons:
#1. Selfies are a whopping 40% less likely to get "likes." That number rockets up to 90% if it's a bathroom selfie. Don't go there.
#2. Selfies are less attractive than non-selfies. A recent study compared two photos - a selfie, and a photo of that same person taken by someone else. The selfie version was perceived as less attractive and more narcissistic. Don't cultivate that vibe on Hinge!
#3. They don't inspire comments. Which photo do you think will entice more comments and "likes":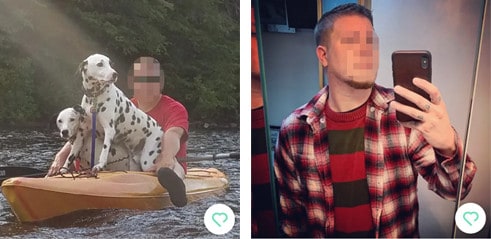 Dalmatians for the win!
Photos where you're doing something are especially effective on Hinge, as it makes it easy for your match to start a conversation by asking about whatever is going on in the image.
Per their internal data, sports photos are the most popular when it comes to "likes," and activity photos in general ranked highly.
Coming in dead last were pics where you're posing with someone who could be an ex. A full 98% of singles said that was a turn off.
Hinge Profile Tip #4: Stay On The Bright Side
Now let's talk about your profile text. The best Hinge prompts to answer let you highlight on an attractive trait or two in a positive way.
Remember, she's looking for Boyfriend Material, so why waste space with negativity?
Take, for instance, the "Pet Peeves" prompt. It's challenging to make your answer sound anything other than whiny, pessimistic, and overly bothered by the minutiae of daily life.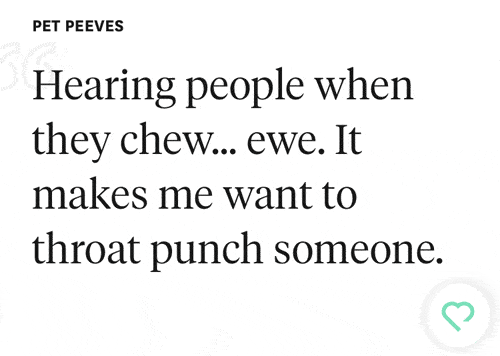 Plus, if it's a shared pet peeve, chances are she'll feel a flash of annoyance when she reads it - and guess who she's going to associate that feeling with? (Spoiler alert: you).
You also want to avoid describing what she may perceive as a negative character trait or flaw:
With over 80 prompts to choose from and only 3 available slots, she's going to wonder why you took up valuable space with what's essentially a reason not to "like" you.
To decide which are the best Hinge profile questions for you to answer, take a minute and write down a list of things you bring to the table that you think your ideal woman would be looking for in a guy.
Stable career, physically fit, interesting hobbies, family oriented, able to afford vacations, responsible enough to care for a dog… things of that nature that illustrate why you'd be a particularly good catch.
Then compare that list to the available prompts, and choose the ones that best let you highlight a few of those traits. Simple!
Here are 4 great Hinge profile examples, plus insight into why they work: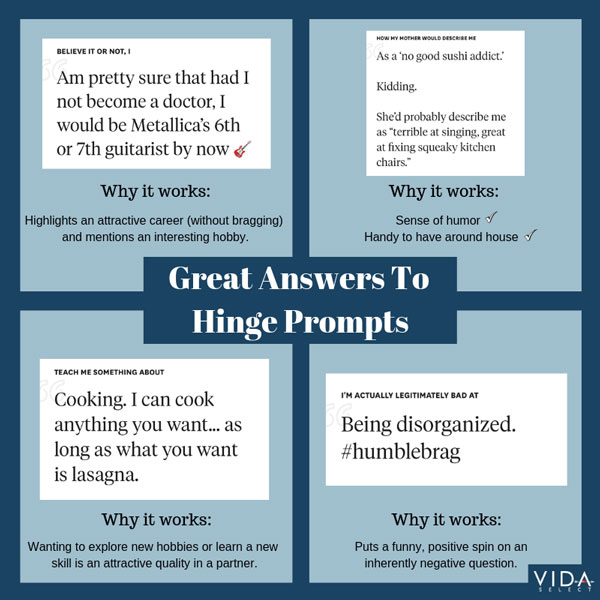 If you're still stuck on what to write in your Hinge profile, try using one of these creative Hinge answers that are general enough to fit anyone:
A blast-from-the-past fashion trend makes for a great conversation starter since most women can relate to it.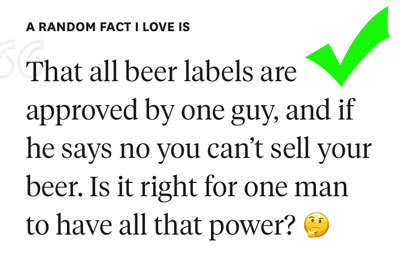 While these examples don't necessarily highlight a desirable personality trait or hobby, they will bring a smile to her face.
Humor is a great strategy in a dating profile, if you can pull it off. Women can't help but be drawn to funny guys - it's the way her brain is wired.
Hinge Profile Tip #5: Make One Of The Prompts About Her
Marketing yourself in an appealing, intriguing way is the goal of your Hinge profile.
But including a tidbit about her is an effective strategy.
According to research, 70% of your dating profile should describe you, but 30% of it should describe what type of person you're looking for. That's the most attractive combination.
As you've already learned, keep your answer positive.
Describing what you don't want could have the opposite effect, as you may end up sounding picky and judgemental. Or worse, bitter from your last relationship imploding.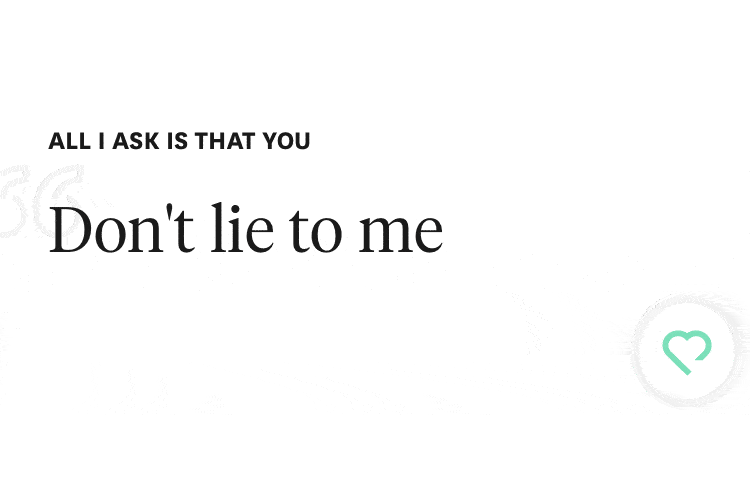 Instead, focus on hobbies you'd like to have in common with your perfect match, or attributes that are important to you in a relationship.
Here are 3 great ways to answer the Hinge profile questions:
Describing non-physical attributes implies you're looking for a non-superficial relationship, and mentioning a hobby you'd like to have in common gives her some insight into your personality.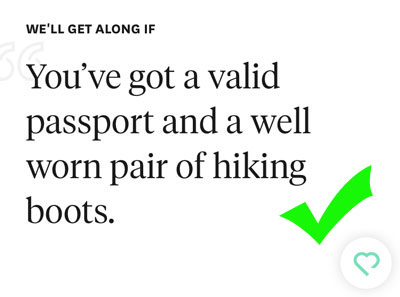 These good prompt answers give her some insight into what dating you might be like, and also imply that keeping in shape is important to you (which is always an attractive quality).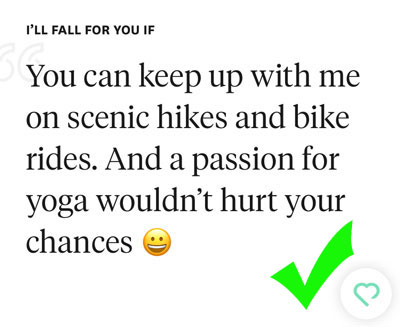 Mentioning a great first date idea in your Hinge answer is a subtle way to make her envision what an hour or two with you might include.
In fact, it's so effective that according to founder Justin McCleod, answering this prompt got the most dates for users in London: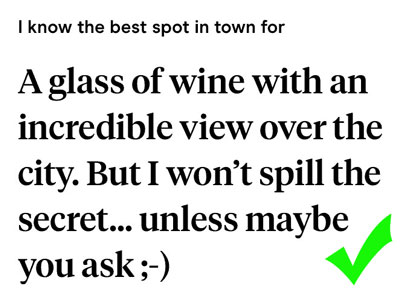 What works in London will probably work wherever you are as well, making "I know the best spot in town for" one of the best Hinge prompts for guys to answer if it's one of the available options for you.
Hinge Profile Tip #6: Make Every Word Count
The shorter a dating app profile is, the more impact each individual word has. To create the best possible first impression, you want every word in your profile to evoke positive vibes.
Stay away from words that cause a strong negative reaction, like violence, swearing, drugs and weapons. Those can have a ripple effect that will diminish your overall attractiveness.
And since this is Hinge, not Tinder, you'll definitely want to keep it classy.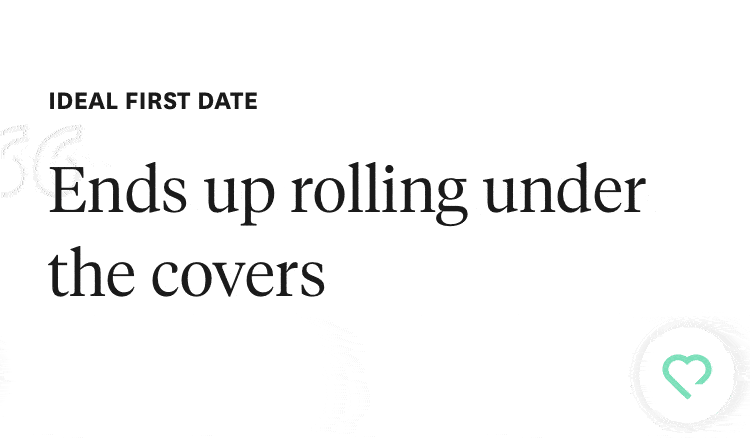 Even if you're on Hinge just to hook up, don't advertise your intentions in your profile. And consider switching to another dating app - Hinge really isn't the app for that.
Here a few more Hinge "Don'ts" to keep in mind:
Repeat yourself. She's reading a max of 450 characters, which is even less than a Tinder bio. Repetition is really going to stand out. If you talk about how much you love hiking in every Hinge answer, she's apt to think you're a one note kind of guy.
Make grammar/punctuation/spelling errors. There's not a lot of written material feeding into that all-important first impression, so little mistakes can have a big effect. Plus, surveyed singles said bad sex was preferable to bad grammar (if they had to choose), so it's important to get it right.
Give "non" answers. You may think it's the height of wit to answer Hinge prompts with statements like "I'm looking for… a better answer to this question," but that's likely to backfire on you. If she thinks you're not taking online dating seriously, she probably won't invest any time in getting to know you.
Reference past relationships. If you're in your late 20s or 30s, odds are high you've got at least one significant relationship in your past. Whether the breakup was good or bad, your Hinge profile is not the place to rehash it.
Hinge Profile Tip #7: Reconsider Your "Dealbreakers"
When you set up your Hinge profile, you have the option to designate match preferences as "dealbreakers."
That's a great feature for singles seeking long-term relationships, as it eliminates the need to ask those personal questions during the first few dates.
When you specify something as a dealbreaker, you won't see profiles of people who don't fit that category, regardless of how many other categories they do fit. (If you don't specify something as a dealbreaker, you may see profiles of singles who fall slightly outside of your ideal preferences.)
Free members have the usual filters like age range, distance and height. If you're a Hinge+ or HingeX member, you have access to additional filters like children, family plans, education, and politics.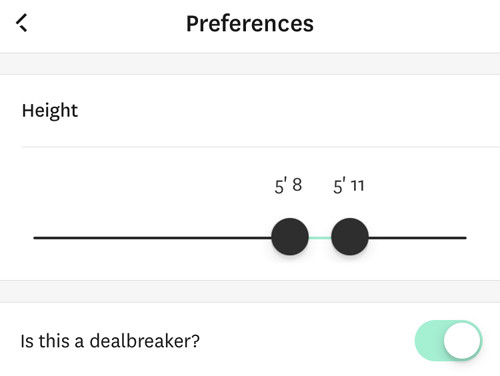 Take a look at any categories you deemed a "Dealbreaker" and make sure they truly are.
For instance, if your match is 5'7" instead of 5'8" or taller, is that truly important in the grand scheme of things? Or if she's 41 instead of under 40?
If you're too exclusive with your filtering, you may miss out on a great match you would have really clicked with, despite a small divergence from your "ideal type."
Want The Best Hinge Profile She's Ever Seen?
Let VIDA write it for you!
Our team of dating experts has been writing intriguing, attractive dating profiles since 2009 - so we know more than just a thing or two about what works and what doesn't when it comes to attracting high-quality women.
And VIDA's expertise doesn't stop there. We'll also use a proven, data-driven ranking process to determine your most effective photo lineup, and even recommend a pro photographer in your area if you need better pictures.
You don't even need to worry about messaging.
Yup, we do that too. In fact, when you hire VIDA everything aspect of modern dating is handled for you - even scheduling dates with intriguing women you're excited to meet!
Ready to meet your perfect match on Hinge?
Go here to get started!
Want us to do your online dating for you?

Hey, I'm Ally, VIDA Select's Director of Matchmaking.
We take all the frustration, hard work and hassle out of modern dating!
Imagine your very own Dream Team of highly skilled dating experts searching for the very best local matches, sparking their interest, and arranging all the dates for you.
Wouldn't it be nice to finally stop swiping and start dating higher quality matches so you can meet someone special?
We've helped thousands of singles just like you since 2009, and we're ready to make you our next success story!
What are you waiting for? Take the next step now…
See If You Qualify