I hope you enjoy reading the blog post.
If you want my team to just do your Hinge for you, click here to chat with me.
Hinge Standouts Explained [What It Is & How To Use It!]
Hinge Standouts is a special feed where you can see potential matches curated just for you.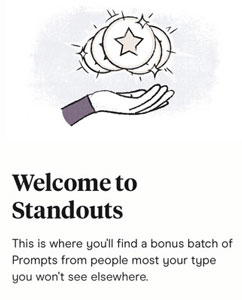 Coming up, you'll discover exactly how Standouts works on Hinge, and how to increase the odds of becoming a Hinge Standout yourself!
How Hinge Standouts Works
Standouts is one of the 3 different feeds where you can browse through potential matches on Hinge.
To bring up the Standouts feed, tap the star icon in the menu bar between the Discover and Likes You icons.

Hinge displays a snippet of each user's profile, like a photo or a prompt answer. To see the rest of it, simply tap on the snippet to bring up all of the content for that potential match.
There are 3 things you need to know about using Hinge Standouts.
#1: The feed refreshes daily, and you might not see a Hinge Standout profile anywhere else.
That's a good incentive to be an active user! On your first Standout profile, you'll see a countdown letting you know when the next batch of Standouts will appear.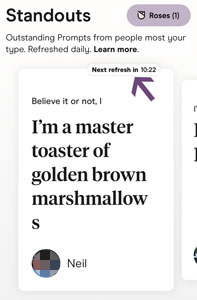 Hinge says you may also see a user in your Discover feed as well, but it's not guaranteed.
These aren't the same as the Enhanced Recommendations you get as a HingeX member. Those are also specially curated profiles, but they appear in your Discover feed, not the Standouts section.
#2: Standouts are the most popular users in your area.
Like every dating app, Hinge has an algorithm that pays attention to everything you do.
In the Standouts tab, the algorithm identifies profiles in your area that are "getting the most attention" and then cross references that with the type of content you've interacted with in the past. The Hinge algorithm also takes into account that person's swiping patterns.
As Hinge app founder Justin McLeod explained in an interview,
We're really trying to find the people that you're going to like who are also going to like you back and have that equal or greater chance of actually liking you back.
In other words, if you're seeing someone as a Standout, that means they're both popular and similar to people you've either "liked" or sent a comment to in the past. It also (hopefully) means they're interested in people like you.
#3: Using Standouts is free (sort of).
You can't "like" a Standout on Hinge, you have to send them a rose.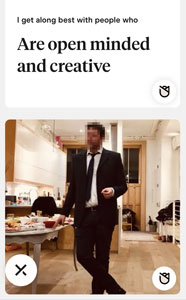 And those are a limited commodity - you only get one free rose every week.
As Chief Product Officer Tim MacGougan told The Verge, charging for Roses intentionally causes scarcity. That means the recipient will recognize the "deep intention" behind sending one.
When you send a rose to a Standout on Hinge, you'll automatically go to the top of their "likes" list. You can also send a message along with your rose, which can be a great way to get the conversation started on Hinge.
Let's talk roses…
Using Roses On Hinge
Hinge roses are equivalent to a Tinder Super Like or a Bumble SuperSwipe. You have to send one to use the Standouts feature, but you can also send one to any Hinge user who catches your eye in the Discover feed as well.
All users get 1 weekly rose that replenishes every Sunday. It never expires, but it doesn't accumulate either. If you don't use your rose one week, you'll still only have one free rose come Sunday.
Roses on Hinge are $3.33 each when you purchase the 3-pack. If you buy more roses at a time, the individual rose price is less. A dozen brings the cost down to $2.49 each, and it's only $1.49 per rose when you buy 50 at a time.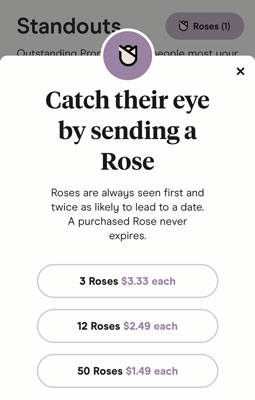 How To Get On Hinge Standouts
Hinge Standouts aren't mutual. You won't appear as a Standout in someone's feed just because they appeared as a Standout in yours. That user also won't be notified that you sent them a rose because they're a Standout.
To become a Hinge Standout yourself, you have to be one of the most popular profiles in your area. The more users who comment on or "like" your Hinge profile, the higher the odds of the algorithm deeming you Standout worthy.
And that, of course, takes work. You need compelling photos and intriguing Hinge prompt answers.
Hiring a team of dating experts to take your Hinge profile to the next level is the easiest way to go.
Or, you can start with this resource-packed Hinge Guide. You'll find everything you need to make your profile a Standout!
Want us to do your online dating for you?

Hey, I'm Ally, VIDA Select's Director of Matchmaking.
We take all the frustration, hard work and hassle out of modern dating!
Imagine your very own Dream Team of highly skilled dating experts searching for the very best local matches, sparking their interest, and arranging all the dates for you.
Wouldn't it be nice to finally stop swiping and start dating higher quality matches so you can meet someone special?
We've helped thousands of singles just like you since 2009, and we're ready to make you our next success story!
What are you waiting for? Take the next step now…
See If You Qualify