I hope you enjoy reading the blog post.
If you want my team to just do your Bumble & Hinge for you, click here.
Hinge vs Bumble: Which One Is Better For Dating In 2023?
When it comes to Hinge vs Bumble, both dating apps are worthy of your shortlist if you're looking for a serious relationship. But is Hinge or Bumble better?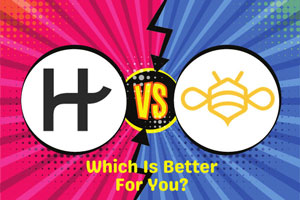 That's a question VIDA Select's dating experts are uniquely suited to answer. That's because we've logged hundreds of thousands of hours on both dating apps, using them on behalf of the clients we represent.
In fact, our first-hand experience goes back to when the apps first launched. We use them daily, keeping track of what strategies work and what approaches don't when it comes to attracting matches and successfully moving things offline.
All those hours logged on Hinge and Bumble gives our team unique insights into how both apps have changed and improved over time, who's using them, and how they stack up against each other now.
This quick guide has a head-to-head comparison in all the categories that matter most!
Hinge Vs Bumble Table of Contents
Jump straight to what you want to read about first, or start from the top!
Hinge vs Bumble: Popularity & Demographics
Both Hinge and Bumble ranked among the fastest-growing dating apps in the US last year. Hinge took the #1 spot, with a monthly active user increase of 344%.
Hinge may be growing the quickest, but it's got some catching up to do - Bumble is the 2nd most popular dating app in the US, right behind Tinder.
If you're basing your decision on which dating app to use solely on the number of potential matches, Bumble is better than Hinge.
Bumble wins the overall popularity contest, but you also want to consider how popular a dating app is with people in the age range you want to date.
Hinge's fastest-growing demographic is singles in their mid-20s, specifically ages 22 to 26. Its broader target market is millennials, with almost 50% of users under 30, and most of the rest under 49.
Bumble has more users under 30, and also more users over 50.
If you're dating over 50, try Bumble first. Hinge is slightly more popular with users 30+, so if that's you, Hinge may give you an advantage.
Category Winner:
Bumble is better than Hinge when it comes to your potential match pool - it has far more users overall.
But keep in mind…
Both Bumble and Hinge are geared toward dating, not hooking up. You'll find most of your potential matches are looking for a relationship. Hinge in particular - their entire marketing campaign revolves around the slogan "designed to be deleted."
Bumble allows you to filter for singles looking for "something casual", but as app founder Whitney Wolfe Herd explained, "We're not one of our competitors that's just trying to hook people up."
If that's what you're seeking, stick with Tinder.
Hinge vs Bumble: Matching & Messaging
Hinge & Bumble take completely different approaches to connecting you with compatible matches.
Matching On Hinge
Hinge abandoned the swiping format altogether a few years back, which boosted user engagement significantly. When it was a swiping app like Tinder, 1 in 10 matches actually talked to each other. That jumped to 50% of matches engaging with other on the app after the redesign.
In lieu of swiping, Hinge presents potential matches in 3 separate feeds.
One of them reveals who has liked your profile already - a feature most other dating apps charge a premium for. Although to see them all at once, you do need to upgrade. If you're a free user, you must scroll through them one at a time.
As Hinge exec Amarnath Thombre explained to MarketWatch, "The core appeal of Hinge is seeing who liked you."
Your "Discover" feed displays singles who fit your specified criteria, and a curated group of "Standouts" comprises the third feed (more on that in just a bit).
But no matter where you're looking, you can only "like" a maximum of 8 people each day. Any more than that requires a premium subscription (more on that coming up).
You must like or pass a profile before viewing the next one.
Messaging On Hinge
Hinge allows you to message before matching - you can include a comment with your like.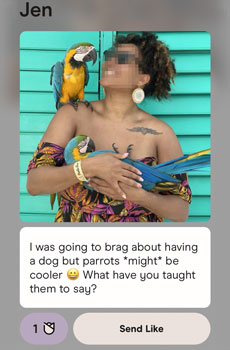 You can "like" and comment on any part of a user's profile, whether it's a photo or a prompt answer. That makes it easy to start a conversation on Hinge, which is the whole point of the more interactive format.
Matching On Bumble
Bumble has 3 "Modes" - one for dating, one for friendships, and one for business networking.
In Dating Mode, users swipe their way through a match feed, just like on Tinder. When you and someone you're interested in swipe right on each other, a match is formed.
Bumble allows free users to swipe right - or "vote", as they call it - around 100 times every 24 hours. For unlimited swiping, you'll need to upgrade.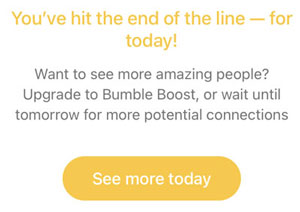 Messaging On Bumble
Once you've matched, Bumble sets itself apart from rival dating apps with one huge twist. Only women can send the first message, with two exceptions.
All users, including guys, can send a message before matching with someone when playing Bumble's Speed Dating game (formerly called Bantr Live) or sending a Compliment.
In the case of same gender matches, then either person can send the icebreaker.
A huge proponent of female empowerment (especially in the tech space), founder Wolfe Herd envisioned a Tinder that was "female friendly". Women on Bumble don't have to wade through piles of unwanted messages from men - especially lewd or obscene ones.
So women make the first move - but there's a clock ticking. The icebreaker has to be sent within 24 hours, or the match expires. Men then have a day to respond, or the same thing happens.
Both halves of a match have one chance to put another 24 hours on the countdown, but extending more than one match per day requires a premium subscription.
Category Winner: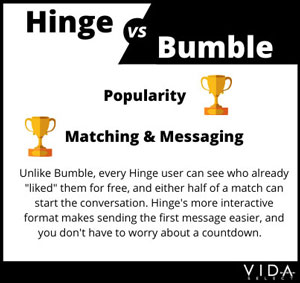 Hinge is better than Bumble for guys when it comes to matching & messaging. With the right messaging strategy, you can send the type of icebreakers women want to see.
57% of men said they don't receive enough messages on dating apps, and that's a frustrating position to be in when you're not in the driver's seat..
The ability to send a message before you've actually matched can be a game changer for some men, so much so that it's a premium perk included in Tinder Platinum.
Plus, a personalized message in response to a prompt answer or profile pic is relatively easy to write on Hinge. If your profile & photos aren't enough to convince someone to match with you, a great Hinge message could push them over the fence.
For women, it depends on how you feel about *always* having to start the conversation. Only 30% of single women indicated they got too many messages in a recent Pew survey, so if that's not an issue for you why not let guys reach out too?
As Fast Company theorized, "A lot of women believe that making the first move is just too much work, and they would prefer to open up their dating app and see a bunch of requests."
If you're looking for a dating app that serves up profiles of men who have already liked your profile, you may want to consider Coffee Meets Bagel as well.
Hinge vs Bumble: Match Quality & Filter Options
Both of these popular dating apps attract the type of singles you want to match with. But one of them goes the extra mile.
Hinge Match Quality
As you might expect from a dating platform that calls itself *the* relationship app, Hinge's matching algorithm identifies highly compatible singles and presents most users with one each day via the "Most Compatible" feature.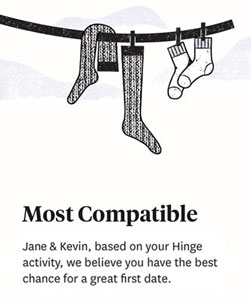 The Standouts feed is another place for the algorithm to work its magic. The ten or so profile and photo prompts presented in this section are based on similar content that you've liked, so theoretically the users who wrote them are more "your type".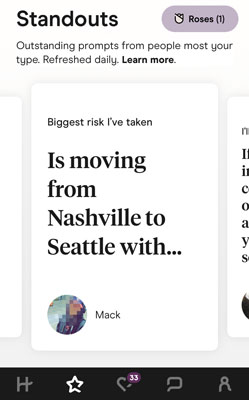 Tapping on the prompt allows you to see the entire profile card. This feed refreshes daily as an incentive to log in often.
HingeX users also receive Enhanced Recommendations in their Discover feeds. These are profiles shown based not only on compatibility, but also based on what the algorithm has learned about your preferences based on who you recently liked and passed.
Screening Matches On Hinge
Hinge allows free users to set match preferences for gender, age, specific neighborhood, maximum distance, ethnicity, and religion.
Hinge also lets you change your location at will, and it's not a premium feature.
Upgraded users can use the set of "Advanced Preferences", which lets you filter for:
Height
Children & Family Plans
Educational Background
Politics
Vices (i.e. drinking, smoking, marijuana and drug use)
Any of these preferences can be specified as a "Dealbreaker" - meaning the Hinge algorithm excludes profiles who don't fall within that particular criteria.
If a category isn't set as a dealbreaker, you may get suggested matches who fall outside of that range but are generally compatible in other areas.
As a Hinge+ user, you can also use special filters to sort your Likes You and Discover matches, including by compatibility and who's nearby.
Bumble Match Quality
Bumble also has a feed for specially curated suggested matches, similar to Hinge's "Most Compatible" and Tinder's "Top Picks" features.
It's called "Best Bees", and you get up to 4 of them each day. As a free user, you can only like one profile per week. To get unlimited Best Bees likes, you'll need a Premium subscription.
Bumble Premium users unlock the "Beeline", which is where you'll see only the profiles of people who have already liked yours.
Screening Matches On Bumble
Bumble's basic filters are gender, age and distance. Bumble does let you swipe in different locations, but it's a perk of the most expensive upgrade option - Bumble Premium.
All users can select one filter from the "Advanced Filters" menu, which includes:
Verified profiles only
Type of dates they're open to (virtual, socially-distanced w/ mask, socially-distanced)
Height
Exercise frequency
Star Sign
Education
Drinking & smoking
Pets
Type of relationship sought
Kids
Religion
Politics
But choosing more than one also requires a Bumble Premium subscription.
And there's another twist - you can only filter for a preference when you've provided that information in your own profile. Your answers display on a badge that's shown on your profile card.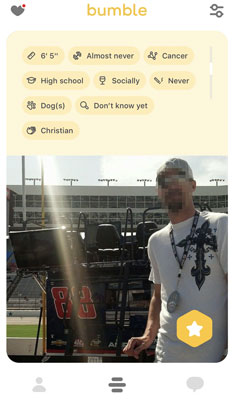 Category Winner:
Hinge is better than bumble when it comes to match quality and filtering.
The Most Compatible & Standouts features offer curated match suggestions, plus you can change your location for free to increase your potential dating pool.
Hinge also allows you to specify which of your preferences are true dealbreakers, which is an efficient way to avoid over-screening your matches and missing out on some great people.
Hinge vs Bumble: Cost & Premium Features
You can use both Bumble and Hinge effectively for free. But like most dating apps, each offers extra benefits to paying members as well as ala carte in-app purchases.
Hinge Cost
Hinge offers two premium subscriptions: Hinge+ (which used to be called Hinge Preferred), and HingeX.
The Hinge Plus membership costs around $29.99 for 1 month, $59.99 for 3 months, and $89.99 for 6 months.
HingeX includes all the Hinge+ features, and unlocks a few additional ones as well. It costs $49.99 for 1 month, $99 for 3 months, and $149.99 for 6 months.
Want more details about Hinge's premium memberships? Check out our Hinge+ vs HingeX guide!
Hinge also offers 2 in-app purchases:
Profile Boosts ($9.99 for 1) and SuperBoosts ($19.99 for 1)
Roses ($9.99 for 3)
Each Hinge boost lasts for 1 hour, and a SuperBoost lasts for 24 hours. Sending a rose on Hinge is the equivalent of a SuperSwipe on Bumble or a SuperLike on Tinder.
In both cases, the price drops when you purchase multiple boosts or roses at a time.
Bumble Cost
You can choose between two upgraded subscription options: Bumble Boost and Bumble Premium.
| Bumble Cost 2023 | Bumble Premium Cost 2023 |
| --- | --- |
| 1 week for $11.99 | 1 week for $21.99 |
| 1 month for $24.99 | 1 month for $44.99 |
| 3 months for $44.99 | 3 months for $89.99 |
| 6 months for $69.99 | Lifetime access for $249.99 |
*pricing may vary by location and/or active promotions
Bumble also has 2 in-app purchases:
Spotlights ( around $8.99 for 1)
SuperSwipes (around $8.99 for 2)
Boosting your profile via the Spotlight feature costs less than on Hinge, but it only lasts for 30 minutes. The price per use of both features drops when you buy them in quantity.
Premium Features
Category Winner: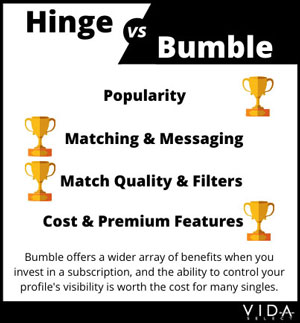 It's a close call, but Bumble is better than Hinge when it comes to premium features and overall value. If you're going to pay to use a dating app, you may as well unlock a lot of benefits for the investment.
The ability to hide your profile is a big plus if you're worried about your clients, colleagues, students, etc. bumping into you on Bumble. And we've all been there - it's nice to be able to undo a swipe.
Hinge vs Bumble: Profiles
Both Hinge and Bumble allows users to upload 6 photos. On Hinge, you can substitute any number of those photos for videos. Hinge also takes it one step further than Bumble, requiring that all 6 spots be filled in order to start liking profiles.
Bumble doesn't have a minimum, but does encourage users to verify their profiles by making that a filter for screening matches.
Let's take a closer look at the profile format for each app.
Hinge Profiles
You won't find the traditional "About Me" style bio on Hinge. Instead, profiles consist of your 225-characters-or-less answers to 3 different questions. You get to pick the prompts from a menu that occasionally changes.
The order you display the answers in is up to you, and they'll automatically be displayed in between the photos in your lineup.
You can also add video prompts and voice prompts to your Hinge profile.
Hinge also displays the information from the Virtues, Vitals and Vices sections that you choose to make visible. That could include your occupation, school, education level, political and religious affiliation, etc.
You can also choose to link your recent Instagram feed to your Hinge profile.
Bumble Profiles
Bumble does have an "About Me" section like what you'd find on Tinder.
But it's shorter, clocking in at 300 characters or less. You can also choose three prompts to answer, which Bumble previously called "Move Makers". Answers are shorter than on Hinge, with a 120-character limit.
Bumble displays details like your exercise habits, education level, height, exercise habits, etc. as a profile badge.
You can link both Spotify and Instagram to your Bumble profile.
Category Winner:
Bumble is better than Hinge when it comes to how much information you can share with and learn about your matches.
Slowing down and getting to know more about your matches is on trend - with studies from dating giants Match and OkCupid both indicating the era of "slow dating" has arrived.
According to Match's Singles in America survey, 63% of singles want to spend more time getting to know someone, and overall there is less focus on physical attraction and more on meaningful conversations before meeting in person.
Final Verdict: Is Hinge Better Than Bumble?
It's close - with a well-written profile and carefully selected photo lineup you can meet incredible singles on either dating app. They're both popular with singles in their 20s and 30s. (Dating in your 40s or 50s? Give Match a whirl.)
Bumble won 3 of the 5 categories, but Hinge won two of the arguably most important ones - match quality & messaging.
So, if you just want to use one of them…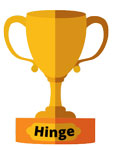 Overall, Hinge is better than Bumble for most guys. You at least want a chance to attract her by sending a great message, right? With Bumble, the ball is completely in her court - it's more of a passive experience, at least until that first message rolls in.
Hinge's match-before-you-message format encourages communication, and while you can only like a limited number of women each day at least you can send them a message right away.
For women, Bumble is better if you have limited patience for dating apps and want to control what hits your inbox. But keep in mind it's *always* going to be on you to get that ball rolling.
With a countdown in effect, Bumble isn't a dating app you can neglect. If you don't have time to get your Bumble on at least once a day, Hinge is probably a wiser choice - especially if you're paying for it.
It Starts With Finding The Right Dating App...
But at the end of the day, it's not just about Bumble vs Hinge. Finding the right dating app is just the first step in your overall online dating strategy. In fact, part of that strategy should be choosing several - just to make sure all your bases are covered.
Then you need to craft a profile that makes you look your absolute best - in an authentic, natural and compelling way.
But even that's not quite good enough - you also need to package that profile in a way that attracts the type of person you're yearning to meet.
And once you've matched with amazing people, you've got to keep that attraction building with messages that ultimately lead to a video chat, phone call or date.
In short - it's hard work. Every single step needs to lay the foundation for the next step - your success depends on it. But the end result - meeting someone incredible - is totally worth all that effort.
Right now you're probably wishing you could just magically meet the right person without pouring all that time and effort into your photo selection, profile writing, and strategizing.
That's why you're going to be so excited when you find out VIDA Select does all that for you. No tricks, no shortcuts, no magic wands. Just a team of experts busily handling every step for you behind the scenes - so you jump straight to the "meet incredible people" part.
Find out how it all works here!
Want us to do your online dating for you?

Hey, I'm Ally, VIDA Select's Director of Matchmaking.
We take all the frustration, hard work and hassle out of modern dating!
Imagine your very own Dream Team of highly skilled dating experts searching for the very best local matches, sparking their interest, and arranging all the dates for you.
Wouldn't it be nice to finally stop swiping and start dating higher quality matches so you can meet someone special?
We've helped thousands of singles just like you since 2009, and we're ready to make you our next success story!
What are you waiting for? Take the next step now…
See If You Qualify