I hope you enjoy reading the blog post.
If you want my team to just do your Hinge for you, click here to chat with me.
HingeX Review: Is It Worth $49.99 Per Month?
Named as a nod to Hinge's tagline "Designed To Be Deleted," HingeX was released in February 2023. Now you're here, so you're probably wondering if paying for a HingeX membership is worth it.
Our team of dating experts weighs in! We've been using Hinge on a daily basis since it launched in 2012, so you're about to benefit from hundreds of thousands of hours of real-word experience, condensed into one handy article.  
This HingeX review has all the answers you're looking for!
HingeX Review Table of Contents
Use the links to jump around, or start from the top!
How much does HingeX cost?
HingeX costs $49.99 when you sign up for a single month. Investing in a longer subscription brings the per-month cost down as low as $24.
HingeX 2023 Cost*
1 month - $49.99
3 months - $33/month
6 months - $24/month
*Price may vary by location
That's only slightly more than the $44.99 Bumble charges for its Premium membership, but quite a bit higher than Tinder Platinum's $29.99 price tag.
Let's take a look at all the premium perks that come with a HingeX membership.
HingeX Features
HingeX is Hinge's top tier subscription, so it unlocks all the advantages the app has to offer:
Priority Likes
Skip The Line
Enhanced match recommendations
Hinge+ benefits
Hinge Priority Likes
Similar to Tinder's Priority Likes feature, as a HingeX subscriber any like you send gets priority placement in your potential match's feed.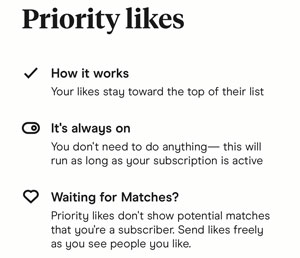 So what does Hinge mean by "toward the top of the list"?
It all comes down to how Hinge sorts incoming likes. When you're on the "Likes You" tab and using the "Recent" filter, your incoming likes are automatically revealed in this order:
Roses
Most recent
Priority likes
Likes
Note there is no visible difference between a Priority Like and a regular Like. Your potential matches aren't notified that you're a HingeX subscriber.
Sorting through who likes you is a Hinge+ feature, so you won't have access to any of those filters unless you pay for Hinge. More on what comes with a Hinge+ membership coming up!
Skip The Line In Discover
Skip The Line is essentially a continuous profile boost in Discover, so your profile is always placed near the top of your potential match's feeds. The app describes it as a "light" Hinge Boost, the ala carte paid feature that gives you heightened visibility for an hour.
As a HingeX user, this feature always hums along in the background. You don't need to do anything to turn it on or off. Hinge does not notify your potential matches that your profile is being boosted, or that you're paying for HingeX.
While Skip The Line promotes your profile, it doesn't supersede anyone's matching criteria. So you're still only shown to potentially compatible users.
Enhanced Match Recommendations
This feature is also exclusive to HingeX members. Like Skip The Line, this HingeX feature runs continuously in the background.
The algorithm prioritizes the potential matches in your Discover feed based on common preferences and who it thinks you're most likely to "like" based on the profiles you've recently "liked" or skipped.
Enhanced Recommendations vs Hinge Standouts
Enhanced recommendations can be found in your Discover feed, while Hinge Standouts are in a feed of their own.
Hinge+ Benefits
Previously called Hinge Preferred, Hinge+ is the less expensive premium Hinge membership option. Here is how the cost compares:
| HingeX 2023 Cost | Hinge+ 2023 Cost |
| --- | --- |
| 1 month - $49.99 | 1 month - $29.99 |
| 3 months - $33/month | 3 months - $19/month |
| 6 months - $24 | 6 months - $14/month |
*Cost may vary by location
HingeX includes all the Hinge+ features as well:
Advanced match filters
Unlimited daily "likes"
See everyone who likes you
Easier profile browsing
In addition to the ability to screen your potential matches using all of the available filters, Hinge also makes it easier for Hinge+ subscribers to sort through their options in the Discover feed.
Similar to OkCupid's stacks, you can now filter your Discover matches using these filters:
Compatible
Active Today
Nearby
New Here
To change filters, simply tap the button you want at the top of the screen in the Discover section.

For an indepth look at Hinge+, check out our Hinge+ review!
Is HingeX Worth $49 A Month?
HingeX is worth the investment if you're looking for a serious relationship, you live in a big city with a lot of Hinge users and you don't want to spend a ton of time on the app.
The enhanced visibility your profile will get thanks to the Priority Likes feature could get you in front of exactly the type of singles you want to meet, and the continuous profile boost also works in your favor.
Standing out on a dating app is hard, especially when you're in a mega-city. HingeX could give you quite the advantage over the competition.
If you're happy with the amount of matches you get, Hinge+ might be sufficient. You'll still have access to the different filters, so you can sort by compatibility or who's nearby, which can be handy if you're hoping for a spontaneous date.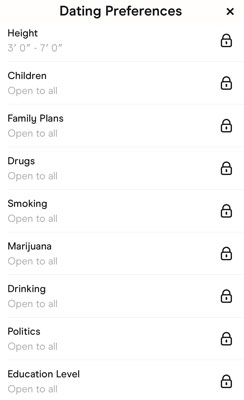 Access to the advanced preferences so you can screen your matches for dealbreakers like family plans, politics, drinking, drugs and smoking can save you from having to ask awkward questions or go on dates with people who won't work out in the long-term.
If you don't mind only having 8 daily likes and you're willing to spend extra time curating your matches, Hinge is a totally functional dating app without paying a dime. It just may take you a little longer to find quality connections.
Check out our comprehensive Hinge Guide for profile, photo and conversation tips that will boost your results on this popular dating app!
How To Cancel HingeX
Hinge is the app designed to be deleted, so hopefully you'll be deleting Hinge because you met someone special. As with a premium subscription on any dating app, it's important to cancel HingeX the proper way.
HingeX automatically renews, and simply deleting the app won't cancel your membership.
To cancel HingeX on an iPhone:
Open your phone's settings
Tap on "iTunes & App Store"
Access your Apple ID, logging in if prompted
Select "Subscriptions"
Select "Manage"
Tap on Hinge
Toggle the auto-renewal to "off" or select "unsubscribe"
You can also cancel your HingeX subscription online via your iTunes account. Just log into iTunes, open the Account Information page, select "settings" and then "manage".
You should see Hinge in your list of subscriptions, so click on it and turn off the renewal setting.
To cancel HingeX on an Android:
Open Google Play Store
Use the search function to find and select Hinge
Select "Unsubscribe" or "Cancel"
Confirm your action.
You can also cancel HingeX online. Log into your Google account, go to pay.google.com and select the "Subscriptions & Services" option from the menu. Click on HingeX and select "Cancel".
Paying For Hinge Because You Want More Matches?
Hinge claims that subscribers go on twice as many dates, but that's definitely not a given. You need a Hinge profile that attracts relationship-worthy matches, then you need the messaging skills to move things off the app.
That's not easy to do without a lot of expertise and experience. Luckily for you, that's exactly what the dating experts at VIDA Select bring to the table.
VIDA's team handles everything on Hinge for you, from building your profile and screening your matches to handling all your messages. There's no easier way to meet someone special on Hinge.
Go here to discover how VIDA Select can work for you!
Want us to do your online dating for you?

Hey, I'm Ally, VIDA Select's Director of Matchmaking.
We take all the frustration, hard work and hassle out of modern dating!
Imagine your very own Dream Team of highly skilled dating experts searching for the very best local matches, sparking their interest, and arranging all the dates for you.
Wouldn't it be nice to finally stop swiping and start dating higher quality matches so you can meet someone special?
We've helped thousands of singles just like you since 2009, and we're ready to make you our next success story!
What are you waiting for? Take the next step now…
See If You Qualify