I hope you enjoy reading the blog post.
If you want my team to just do your online dating for you, click here.
How Does Coffee Meets Bagel Work? [2023 Guide To CMB!]
Curious about Coffee Meets Bagel? This detailed Q&A style guide gives you a full run-down on this popular dating app, and includes photo, profile and message tips that will help you meet amazing singles!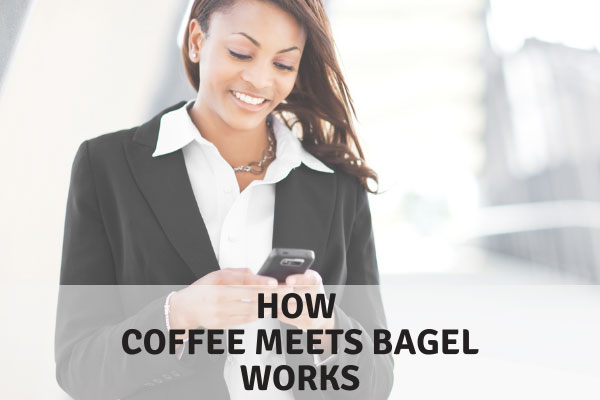 How Does Coffee Meets Bagel Work?
Similar to Tinder, users on Coffee Meets Bagel "like" or "pass" on profiles based on a handful of photos and a short bio.
But that's where CMB departs from Tinder's format.
On Coffee Meets Bagel, women receive a handful of "Bagels" (this app's term for potential matches) that have been deemed highly compatible by the algorithm in terms of education, interests, similar social network etc. Men also receive a limited number of daily Bagels, however they get up to 21.
The suggested Bagels are delivered daily at noon. Much like actual bagels, they have an expiration date. You only have 24 hours to make a like/pass decision.

At noon the next day, those Bagels are replaced with fresh suggested matches.
Women are presented with profiles of compatible men who have already "liked" them, so tapping "Like" results in an instant match.
Why Is CMB Different For Men & Women?
The app's founders, a trio of sisters named Dawoon, Ahreum and Soo Kang, set out to create a dating app that catered to women and how they wanted to date:
"This way, women don't waste time on guys who are not serious about them. Women also have control over whom they want to talk to and when."
Coffee Meets Bagel allows users to send a first message along with their "like." According to the app's internal data, including a message increases your chance of matching by 25%: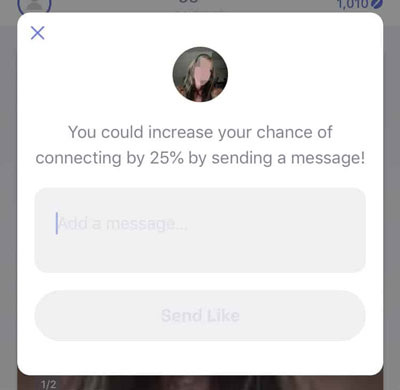 PRO TIP:
When it comes to sending a Coffee Meets Bagel first message, don't blow it by sending something boring and lame like "Hey." Or even worse, asking for her number right off the bat.
Instead, increase your chances of getting a response by asking something fun, light-hearted, and simple to answer. Like this:



Simply customize it by adding your Bagel's first name and changing the day of the week. Boom - you've got a great CMB icebreaker that will work on most anyone!
A mutual "like" opens the chat room, and you can exchange messages with your match. However, on CMB the messaging window is only open for 8 days. It is possible to access an expired conversation - spending a few Beans will reopen it for another 30 days.
There are two ways to get more potential matches:
Purchase additional Bagels by spending Beans
Browse profiles in the "Discover" section
How Does Coffee Meets Bagel's Algorithm Work?
As is the case with most dating apps, there are few details available about the specific inner workings of the matching algorithm.
However, the app's founders have said that it learns as you use the app, taking into account your specific preferences, who you "like" or "pass," who else is using the app in your area and whether or not you're someone else's type.
What Is Suggested VS Discover?
Suggested is where you go to find your daily Bagels. Your suggested matches are people identified by CMB's algorithm as highly compatible.
Discover is a feed filled with profiles of local singles who may or may not match your search criteria.
Do You Have To Pay For Coffee Meets Bagel?
You can use Coffee Meets Bagel effectively for free. Creating a profile, receiving your ration of daily Bagels and exchanging messages won't cost you anything.
There are features you can unlock by purchasing and spending Beans, the app's form of currency. Beans can be used to do things like revive expired conversations for 30 more days, get more Bagels, and "Take" ("like") profiles in the Discover section.
Coffee Meets Bagel also offers a Premium membership that costs $120 for 6 months, $75 for 3 months or $35 for 1 month. In some areas you can try it for free for 7 days.
CMB Premium membership features include:
Seeing who likes you all at once
8 extra "Takes" in Discover
Unlimited Skip The Line (priority Likes)
Premium matching preferences
3 monthly CMB Boosts
Activity Reports on each Bagel
Read receipts
Unlimited rewinds
Bean discounts
There is also a "Mini" version of the Premium membership. It's less expensive because you don't get to see who likes you all at once, the 8 extra Discover likes or the Skip The Line feature.
CMB Mini costs $14.99 for 1 month. It comes down to $10/month when you purchase a 3 month membership, and $9/month when you get 6 months.
What Is An Activity Report?
This is a perk you'll get with a Premium Coffee Meets Bagel subscription. It's a collection of data about a specific user that will help you decide if they're someone you'd like to pursue.
Activity Reports include the following data:
Chats With Bagels - The number of chats where they're sent at least one message, divided by their total number of connections.
Sends First Message - The number of times they've sent a first message, divided by their total number of connections.
Active Within 72 Hours - This will tell you if they've opened the app in the last 3 days.
Usually Replies Within - The user's average response time to messages in Chat.
Each user's data is refreshed every 72 hours, and the report is populated with data from the Bagel's 15 most recent connections.
What Are Beans?
The in-app currency, Beans can be spent to unlock various features like additional daily Bagels.
You can purchase Beans in lots of 100, 2000 or 3000: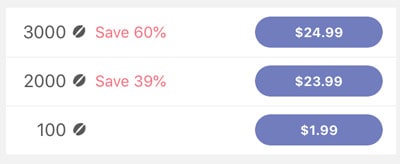 You can earn free beans by doing things like completing your profile, following CMB on Instagram and inviting friends to use the app.
What Are Coffee Meets Bagel Daily Beans?
Users who log in daily for the first week after signing up are rewarded with free beans: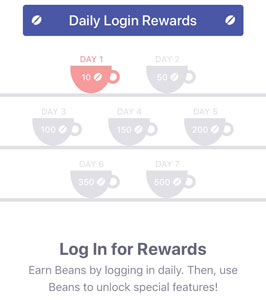 Who Uses Coffee Meets Bagel?
CMB is a dating app designed for singles who want to get away from endless swiping and take a "slow dating" approach - making meaningful connections and ultimately finding a serious relationship.
According to SurveyMonkey, just over half of Coffee Meets Bagel's users are 30 to 49 years old, and 36.1% are 18 to 29: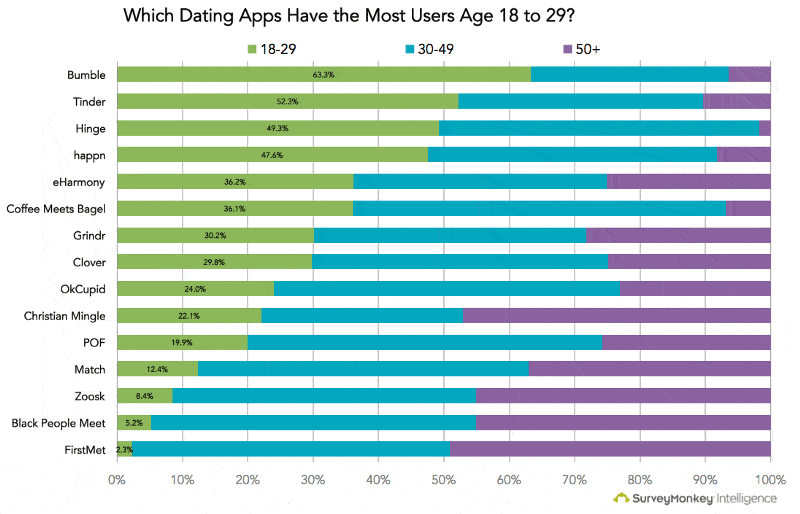 When it comes to gender, women generally outnumber men with a ratio of about 60/40.
What Does It Mean To "Take" On Coffee Meets Bagel?
When you "like" a Bagel in the "Discover" section, it's referred to as a "Take." Each Bagel you Take costs around 385 beans unless you're a Premium subscriber. In that case, you get 8 free "Takes" every day.
Once you've used a Take, your profile will then be displayed in that user's Discover feed, along with a notification that you've expressed interest.
When someone in the Discover section has already liked you, tapping the Conversation icon is the equivalent of a "like" and you'll instantly match and be able to exchange messages.
If that person hasn't expressed interested yet, tap the Heart icon to "like" the profile.
What's A Priority Like On Coffee Meets Bagel?
Just like a "Super Like" on Tinder, using a "Priority Like" is a way for men to let women know they're really interested in matching:
Each use requires spending 540 Beans, and you send it by tapping the smaller heart icon instead of the regular "like" icon:
Priority Like has replaced the "Send a Woo" feature in Coffee Meets Bagel.
What Does "Skip The Line" Mean?
This is a feature that lets your profile be shown first to users who have a lot of profiles in their like/pass queue. It's not an on-demand type feature. It pops up when you like a Bagel that fits the description.
You'll have the opportunity to spend a few Beans to get your profile shown first, complete with sending virtual "flowers." According to CMB the user will see your profile 3x faster.
Where Can You Download Coffee Meets Bagel?
It's available for both iOS and Android, but unlike Tinder and Bumble there is no desktop version.
Does Coffee Meets Bagel Work Without Facebook?
Yes, you can sign up on Coffee Meets Bagel without Facebook by using your mobile phone number.
How Do I Get Started On Coffee Meets Bagel?
Once you've downloaded the app and decided how you'd like to login, the set-up screens will walk you through the profile creating process.
First, you enter your first and last name, although your last name will be kept private. It will ask for you email address, birthday, and the gender you identify with as well as who you're looking to meet.
CMB isn't quite as inclusive as dating apps like Tinder and OkCupid, as you can only choose from man or woman:
You'll then be prompted to upload up to 9 pictures, although you can tap "continue" and come back to it later.
Not sure how to choose the best dating photos? Check out this expert advice!
Next you'll have to share your location and enable notifications, which you can later revoke if you wish.
Once those steps are complete, you're in! You can check out your Suggested matches or head over to the Discover section and see more singles in your area.
But don't get too carried away - you still need to create your Coffee Meets Bagel profile if you want to attract the best matches!
Coffee Meets Bagel Profile
To access the profile screen, tap the "Profile" icon. From there, you can set your search criteria in "Preferences" and add your CMB profile by tapping "View & Edit Profile."
Fll in all the usual details, like height, religion, job title, employer, degree, etc. Scroll to the bottom of that screen and you'll find the really important bits - "I am, I like, and "I appreciate when my date."
These are short free-form fields where you can describe yourself in a way that makes people want to meet you. Each section has a 276-character limit, so you'll need to focus on a few of your most "dateable" qualities.
You can also include "prompts" in your profile. Coffee Meets Bagel prompts ask a question like "What's the strongest opinion you hold?" that you answer in your profile. Prompts have a 280-character limit, and you can include up 2.
Keep each section positive, as negativity tends to stand out like a sore thumb - especially in short dating profiles.
Here's an example of how a negative phrase in each section can really put a damper on someone's first impression of you:
Think Chris here is carrying around some serious relationship baggage? So will she.
For most women, those negatives will likely outweigh the positives and she'll pass, simply because most people aren't actively seeking out drama.
Negativity can also be associated with inferiority, which isn't a direction you want to go in a dating app profile.
How Do I Delete My Coffee Meets Bagel Account?
As with any dating app, you need to take the right steps to ensure you actually delete your profile and that you stop being charged for any associated subscriptions.
To delete your CMB account on an iOS device:
Open the app
Tap the "Profile" icon
Then tap the "Settings" icon
Then select "Go On Hold" in the "Account" menu
Confirm you want to "Go On Hold"
Select the reason
On the "Settings" screen, scroll to the bottom of the menu and tap "Delete Account"
Confirm the action by tapping "Delete Permanently"
If you log in via Facebook, you'll want to revert the permissions in Facebook via the Settings/Apps menu.
Deleting your account and the app does not cancel your Premium subscription. You'll need to do that via Apple.
To delete your CMB account on an Android device:
Open the app
Tap the "Profile" icon
Then tap the "…" in the top right corner
Tap "Settings"
Scroll to the "Account" menu, and toggle off the "Active" option
Confirm that you would like to go on hold
Provide the reason
Once your CMB account is on hold, navigate back to "Settings"
Scroll to the bottom of the screen and tap "Delete Account"
If you log in via Facebook, you'll want to revert the permissions in Facebook via the Settings/Apps menu.
Deleting your account and the app does not cancel your Premium subscription. You'll need to do that via the Google Play Store.
Want An Easy Alternative To Swiping - And Better Dates?
Modern dating isn't easy, and for many singles it's an exercise in frustration. Swiping, matching, messaging - all of it eats into your free time, and if you're not getting the outcome you want, your self esteem can take a hit.
Having a compelling, well-written profile and attractive photos is crucial to get matches on Coffee Meets Bagel - but that's not exactly a skill you can easily learn, much less implement across all your dating apps and sites.
If you don't have time for a steep learning curve but you really want to meet high-quality people, VIDA Select was created especially for singles like you.
With VIDA, you'll have a team of professionals writers, photo experts and matchmakers working around the clock to find your ideal partner. From profile creation to messaging, every aspect is handled by an industry expert - so you can just enjoy first dates with incredible, highly compatible singles.
It's so easy to get started - and you won't believe how quickly the average client meets someone special. Click here to learn more!
Want us to do your online dating for you?

Hey, I'm Ally, VIDA Select's Director of Matchmaking.
We take all the frustration, hard work and hassle out of modern dating!
Imagine your very own Dream Team of highly skilled dating experts searching for the very best local matches, sparking their interest, and arranging all the dates for you.
Wouldn't it be nice to finally stop swiping and start dating higher quality matches so you can meet someone special?
We've helped thousands of singles just like you since 2009, and we're ready to make you our next success story!
What are you waiting for? Take the next step now…
See If You Qualify