I hope you enjoy reading the blog post.
If you want my team to just do your online dating for you, click here.
How Does eHarmony Work? An Expert's Guide To Using eHarmony!
If you're using eHarmony for the first time, or if it's been awhile, it's no doubt you're wondering, "How does eHarmony work?"
This comprehensive guide to eHarmony has everything you need to know about using this dating site, straight from the dating experts at VIDA Select!
Let's start at the beginning, with how eharmony works!
How Does eHarmony Work?
eHarmony works a little differently than other dating sites like Match.com. Most notably, you can't search for potential matches on your own. 
Instead, eHarmony uses an algorithm to select matches for you. Compatibility is partially determined by a quiz new users take that is centered around 32 "Dimensions of Compatibility".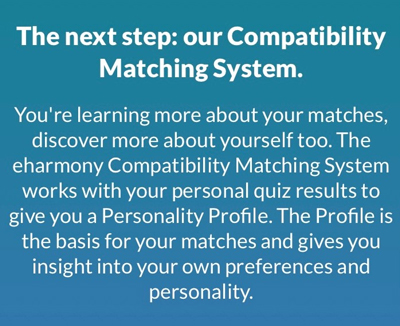 The quiz consists of over 80 situational and graphics-based questions. The questions relate to your relationship boundaries, communication style, personality traits and beliefs about love.
In most cases, you'll choose the answer that best describes you from 2+ choices. For the questions that are graphics based, you'll choose the image that you prefer or feel best describes you.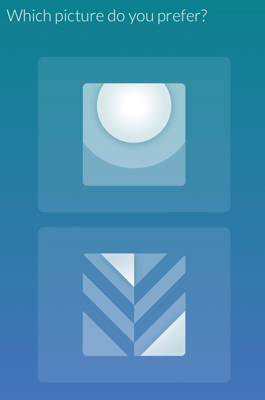 The eHarmony algorithm compiles all your answers and creates your Personality Profile. Because your answers play a huge role in determining the matches you'll receive, it's in your best interest to reflect on the questions and answer them honestly.
eHarmony doesn't allow you to retake the compatibility quiz unless you're renewing a premium membership.
The eHarmony Matching Process
You'll see a number between 60 and 140 on the profile of each suggested match you receive. And when someone is looking at your profile, they'll also see a number on yours.
This number is your compatibility score with the other person. According to an eHarmony FAQ, a higher score means a higher level of compatibility. As they explain in a FAQ, an eHarmony compatibility score over 100 is an above-average result and suggests you two could work well together.
As you scroll through your potential match's profile, you can dive deeper into the compatibility score by tapping "See More."
That brings up a short personality report that highlights how the two of you compare across different metrics, like how you see the world and your couple dynamic.

While you can't use different criteria to freely search eHarmony's database, you can use filters to help search through the suggested matches they send you. Free filters include height, age, smoking habits, or child preferences.
Search criteria like religion, ethnicity, income, and education are only accessible if you have a premium membership.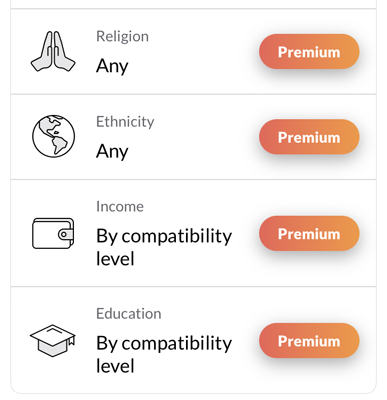 If the matches you're seeing aren't exactly what you're looking for you can adjust your preferences in the Match Tab under Change Search Criteria. eHarmony updates your match list as new members join their service.
You have the ability to delete any match that you don't like, as long as you two haven't communicated yet. If you have made contact, choose 'remove contact' from your match list instead.
eHarmony claims that by matching you with individuals who share similar values and personality traits, it increases the likelihood of finding a successful, long-lasting relationship.
Is that true in practice? Not necessarily.
Many relationship experts believe dating app algorithms are unreliable when it comes to predicting long-term compatibility because personality traits that contribute to a lasting relationship are difficult if not impossible to quantify on a dating app.

eHarmony tries to quantify various traits in their personality report, but how you answer questions on a test may not be the same way you actually behave in any given real-life situation.
Algorithms also ignore the intangible aspects of attraction and compatibility, like chemistry, body language and other nuances of communication.
This is one of the reasons that VIDA's dating experts recommend starting with a dating site that lets you freely search the database for users who intrigue you, instead of being solely reliant on algorithm-approved matches.
How Messaging Works On eHarmony
On eHarmony, you have to complete at least 50% of your profile to unlock the messaging feature.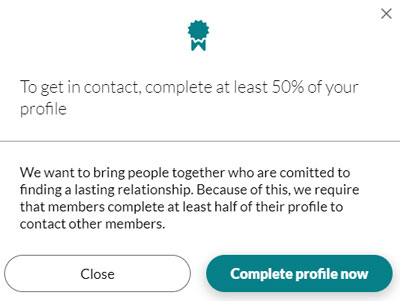 But even if you've hit that metric, messaging on eHarmony is very restricted for free members. To freely respond to any messages, and to send your own icebreakers, you'll need a Premium membership (more on that comin up!).
After sending a message you'll see one green check mark and once it's read you'll see 2.
Pro Messaging Tip!
When it comes to figuring out what to say in your first message to a match, the lifestyle badges can be a goldmine of inspiration.
And if you really want to save yourself some time, you can develop ready-to-go icebreakers built around each badge that resonates with you.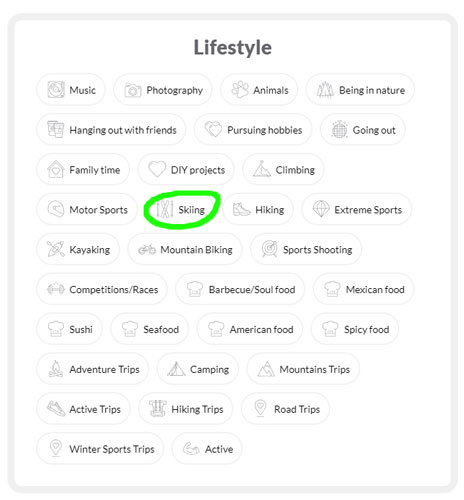 For instance, if skiing is something you'd like your match to be interested in, an icebreaker like this would be ideal to send anyone who has the skiing badge: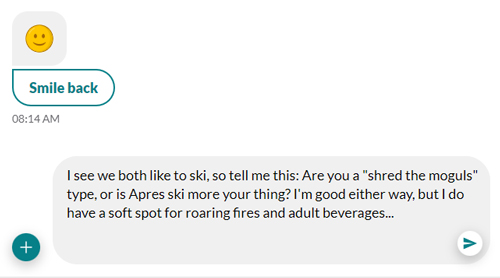 Once you've come up with icebreakers around several topic ideas, you can simply copy and paste them to any match with those badges. And it will seem like you personalized every message based on their profile!
Check out these copy and paste icebreaker ideas you can use on eHarmony!
After both you and your match have sent each other 3 messages, the video date feature becomes accessible. You can find the start a video date button in your message section or on your match's profile.
Want to get the most out of your video date? Check out these expert tips.
How Much Does It Cost To Join eHarmony?
You can join for free, but you won't be able to access all their features. With their Basic, no-cost membership you'll receive suggested match profiles. But you won't be able to see photos or freely exchange messages.
Basic Membership:
Unlimited matches
Send & receive Smiles
Access Icebreakers & Greetings
Respond to the first message for free
Browse profiles anonymously
Their Premium Membership is available in either 6, 12, or 24 month packages and gives you the ability to communicate with suggested matches.
eHarmony Premium Membership Cost 2023*
Premium Light - 6 months - $65.90 per month
Premium Plus - 12 months - $45.90 per month
Premium Extra - 24 months - $35.90 per month
*Pricing may vary by location
The total cost of the membership package is paid up front. eHarmony doesn't give you the option to pay as you go. eHarmony offers discounts periodically, especially when you first sign up.
Paying for a subscription means you'll get access to all the free features, plus unlimited messages, video dates, and more search filters.
Premium Membership:
Video dates
Unlimited messaging
View unlimited photos
See who visited your profile
Use distance search filters
Personality profile analysis
The Personality Profile is an individualized analysis that covers all the results from your eHarmony quizzes.
In addition to your detailed results the analysis shares tips for finding a partner and building a relationship. Premium members get this report as part of their subscription emailed to them as a PDF.
Basic members can order the analysis for $140 through their customer care team.
Getting Started With eHarmony
You can sign up for eHarmony on their website or through the mobile app. It's available on both the Apple App Store and Google Play. All you'll need to get started is a valid email address.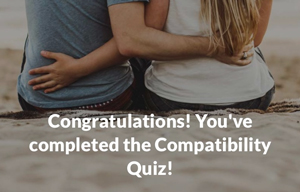 Your first step is completing the 32 Dimensions Compatibility Quiz. If you purchase a premium member your results can be downloaded from the "Data & Settings" section.
Your eHarmony Dating Profile
Next up is filling out your eHarmony dating profile. Your profile is how you communicate your personality, lifestyle, and what you're looking for in a potential match.
You'll start by completing your profile introduction where you'll describe yourself in your own words and what you're looking for.
The introduction is visible to all your suggested matches and it is anchored at the top of your profile. You've got a 500-character limit so you'll want to make these first few sentences count.
In your introduction you might include:
How you spend your free time.
A unique quality that describes or represents you.
Something that's important to you such as family or faith.
A trait or characteristic that you are looking for in a match.
eHarmony is a website for singles who are looking for a serious, long-term relationship (i.e. marriage). It's important to put effort into your dating profile, so that it reflects your level of investment in the dating process.

Check out these eHarmony profile tips for examples of how to write a successful introduction!
eHarmony also gives you a long list of prompt questions that you can answer. You'll see questions like "The most important thing I'm looking for in a person" and "A dream I would like to come true."
You're not required to answer a certain amount, but if you don't answer any or just a few, you're missing out on opportunities to spark connections. It could come across as lazy or that the impression you make with your eHarmony profile isn't all that important to you.
Be strategic with what you say. Steer clear of boring, cliched responses or answers that are only a word or two. Everything in your profile should be geared toward making yourself look like an intriguing prospect for the type of singles you want to attract.

In this case, writing only "family and friends" for the "Things I am thankful for" prompt is a missed opportunity to make yourself stand out. Not only is family/friends a boring answer, it's one eHarmony users see all the time.
Far better to explain why you're thankful for those people. Tell a short story that illustrates the strength of the bonds you have with the people who are close to you. That does far more to make you seem like viable relationship material than a boring answer does.
Let's take the most influential person in my life prompt. A lot of people would just say, "My father" or some other super short answer. But see how much more someone learns about you with an answer like this?

eHarmony provides plenty of places where you can share peeks into your life, likes and dislikes, hobbies, passions, etc.
In the entertainment section you'll see music genres, TV shows, movies, and books. You can add your hobbies and interests in the lifestyle section.
There's also a place to choose characteristics and traits that you think describe you well.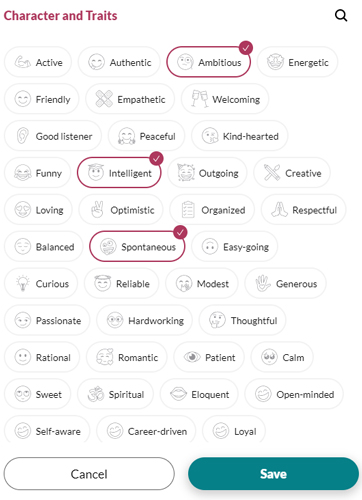 Your answers will show up as badges on your profile.
eHarmony Profile Photos
Unless you're brand new to online dating, you already know how important your primary photo is. Think of it as the gatekeeper to the rest of your profile. If your matches don't like what they see in that photo, they're quite unlikely to continue reading.
In the primary spot, a headshot generally works better than a photo that shows your entire body. Choose one where you're not wearing sunglasses, because making eye contact via the photo conveys confidence & lays the foundation for feeling a connection.
An image with a high degree of contrast between you and the background makes you "pop" in the frame.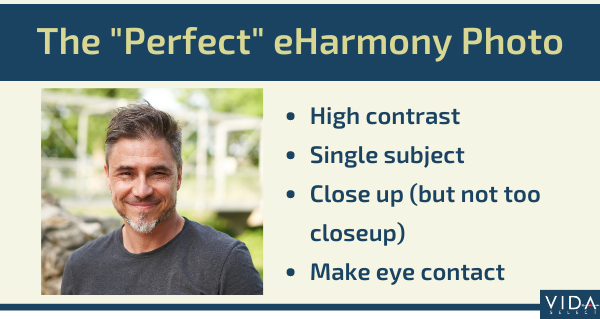 eHarmony lets you add up to 12 photos, but it's generally best to stick to a range of 3 to 7. That's enough to give your matches a peek at your personality and lifestyle.
Coming up with more than 7 where you look equally attractive can be tricky, and it only takes one bad photo to lose someone's interest. Incorporate a good mix of locations and activities for your remaining photos. You want to look like you've got a full and interesting life, right?
eHarmony has a photo approval process in place. Your photos could be rejected if:
It's too blurry
There are other people in them (as eHarmony explains, "Friends and family are great, but we want your matches to see clearly who you are.")
It contains children by themselves
It contains nudity or pornographic material
It's of an animal or scenery
It contains anything illegal, vulgar, or gang-related
It has any identifiable personal information
eHarmony doesn't have any photo size requirements as long as they're in a jpg format.
It's worth spending some time curating your very best photo lineup. With so many potential matches to choose from, you want to put your best foot forward on every aspect of your profile.
You may even want to invest in a professional photoshoot with a photographer that specializes in lifestyle photography if you don't have many candids to choose from.
The Easiest Way To Meet Compatible Singles On eHarmony
Trying to figure out all the ins and outs of how eHarmony works can be time-consuming. Not to mention the time you'll spend setting up your dating profile and choosing the perfect pictures.
Connecting with someone on eHarmony takes energy and effort - and what if you invest that time and still can't seem to connect with someone you're excited about meeting?
VIDA Select can help! Our team of dating experts can manage your eHarmony account for you, from setting up a compelling and engaging profile to optimizing your photo lineup and screen your daily matches for you.
We'll even handle all the messaging! You just show up for the dates with singles who are just your type.
Want us to do your online dating for you?

Hey, I'm Ally, VIDA Select's Director of Matchmaking.
We take all the frustration, hard work and hassle out of modern dating!
Imagine your very own Dream Team of highly skilled dating experts searching for the very best local matches, sparking their interest, and arranging all the dates for you.
Wouldn't it be nice to finally stop swiping and start dating higher quality matches so you can meet someone special?
We've helped thousands of singles just like you since 2009, and we're ready to make you our next success story!
What are you waiting for? Take the next step now…
See If You Qualify