I hope you enjoy reading the blog post.
If you want to chat now about your matchmaking search, click here.
How Much Do Matchmakers Cost (And Is It Worth The Money?)
Hiring a professional matchmaker costs anywhere from $1,000 to well over $100,000. Some even have a 7-figure price tag. Huge range, right? That's because it all depends on what type of matchmaking service you want, your ideal partner criteria, and other factors.
Not all matchmaking services advertise their prices. And to further complicate matters, the matchmaking industry is largely unregulated, so there are some questionable operators out there. You're about to invest your time and money, so you want the best matchmaker you can get for your money.
In this article, you'll get short reviews of 7 of the best professional matchmaking services, including cost and number of matches you're guaranteed, so you can find one that fits your budget and your expectations.
And at the end, you'll find 3 essential things to consider before hiring a matchmaker, so you can be confident you're choosing the best possible matchmaking service for you.

Enamour Essentials
A quick look at the basics:
Cost
$15,000+
Matches
Varies by package level.
Requires Long-Term Contract
Contract length varies, but starts around 6 months.
"Freeze" Time
Yes, client's have the opportunity to put their membership on hold.
Enamour has been offering executive matchmaking services to accomplished and discerning singles for more than ten years. Every Enamour client is matched with a dedicated matchmaker who will hand-select quality matches for your approval, based on your ideal partner preferences.
Enamour's team carefully selects potential matches from their exclusive invite-only database, using a combination of AI and relationship psychology to help ensure compatibility.
After each date, clients are given the chance to provide and receive feedback, which helps your matchmaker fine-tune the search.

VIDA Select Essentials
A quick look at the basics:
Cost
$995 - $2395+
Package cost highly reflects the total number of hours that should be dedicated to your search, considering parameters such as "ideal partner" criteria and number of locations.
Matches
Unlimited
Requires Long-Term Contract
No. Packages are paid on a month-to-month basis.
"Freeze" Time
Unlimited, you can stop and start your service whenever you'd like.
VIDA Select has been in the matchmaking industry since 2009, and has always embraced a more modern approach. Clients aren't bound by a contract, so they pay only for the time they need. Service can be paused, resumed, or stopped at any time.
Matches are carefully selected from the world's single largest pool of eligible singles, so the potential is unlimited. You're in control of the pace, so you decide if you want a handful of dates a week, or one or two high-quality dates per month.
With basic matchmaking services starting at just $995, there's a package that will fit just about any budget. And you're not limited to meeting people in just one location - you can expand your search to any city in the world, at any time.
Getting started is easy. The first step is a complimentary, short consultation via phone.
If the service seems like a good fit, the next step is a 1-hour interview with your matchmaker where she'll get to know you, your relationship goals, and your ideal partner criteria.

Kelleher International Essentials
A quick look at the basics:
Cost
$30,000 to $300,000+
Local starts at $30,000
National starts at $45,000
International starts at $125,000
Matches
Exact number is negotiated into your contract; typically between 8-13.
Requires Long-Term Contract
Yes -1 to 3 year commitment, paid up front.
"Freeze" Time
Yes, you can put your membership on hold for up to 12 months.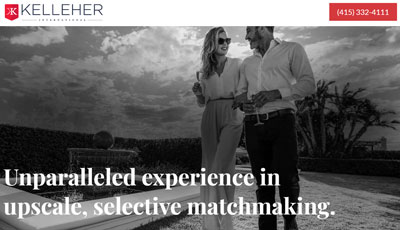 Kelleher International was started by Jill Kelleher in 1986. She was later joined by her daughter Amber Kelleher-Andrews as co-CEO.
Based in San Francisco, the company claims to be the biggest privately-owned matchmaking service in the country.
Kelleher's matchmakers generally work with 30-40 paying clients at a time, unless you opt for the "CEO Club" membership. That one includes the international search.
At that level of investment, matchmakers only take on 10 clients at any one time, and you'll also get a consultation with Amber Kelleher-Andrews.
According to the matchmaking service, their pool of eligible singles is around 50,000 and growing. You'll typically be matched with other paying clients, or with someone "recruited" by your matchmaker.
When a compatible match is found, your matchmaker will give both of you a description of each other. If the interest is mutual, you'll get your match's phone number and you can schedule the date.
After each date, you're responsible for filling in a feedback form and following up with your matchmaker. After you've done that, your matchmaker will start looking for your next introduction.

Selective Search Essentials
A quick look at the basics:
Cost
$25,000 to $1,000,000+
The "entry level" membership starts at $25,000 but there are eligibility requirements for this package level
Memberships for most clients start at $50,000 and go up in price according to your search particulars and other requirements.
Matches
Up to 10
Requires Long-Term Contract
Yes - 1-year commitment, paid up front
"Freeze" Time
Yes, but you must estimate how much you might need, and negotiate it into your contract.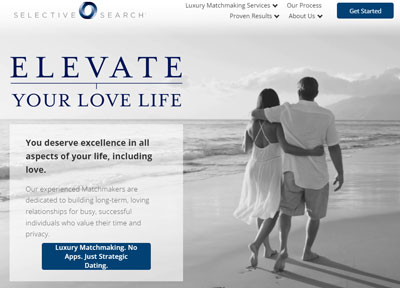 Headquartered in Chicago, Selective Search was founded by ex-corporate headhunter turned executive matchmaker Barbie Adler. The majority of clients - 90% - are male, and this dating agency only works with 500 clients at any given time.
Male clients go through the "Meet Your Future" process. It's essentially a 2-hour interview where things like your relationship goals and perfect partner criteria are discussed.
Women can join as either paying clients, or pass a 2-hour screening process and join for free as an affiliate.
Affiliates are matched with paying clients, but no active search is done on their behalf. The Selective Search database has 275,000+ singles, with new ones being recruited through ad campaigns and at various events.
You'll get an unlimited number of "presentations", during which you'll hear a detailed description of a potential match. If you approve, the potential match will receive a description of you.
If there's mutual interest, phone numbers are exchanged. This counts as one of your "up to 10" introductions, and it's on you (or your match) to make contact with each other.
Further Reading: Selective Search matchmaking review

Amy Laurent Essentials
A quick look at the basics:
Cost
$25,000+
Matches
Depends on your ideal partner criteria, no guaranteed number of matches
Requires Long-Term Contract
Yes - 1-year commitment, paid up front
"Freeze" Time
12 months
Amy Laurent's boutique matchmaking agency is headquartered in New York, with an affiliated office in Los Angeles. Her service is also available in Florida. She's been in business since 2005, and only works with 30 male clients at a time.
She recruits the women in her database from various places such as advertising, media appearances, and word of mouth. She claims that every eligible single is heavily screened by herself or the LA office staff.
You'll receive a handful of potential matches at a time, and she'll pass along your description to any who meet your approval. When the interest is mutual, the date is scheduled.
There is no guaranteed number of matches specified in the 12-month contract. But Laurent claims she doesn't take on any paying clients she doesn't think she can help.
Further Reading: Amy Laurent matchmaking review

Millionaire's Club Essentials
A quick look at the basics:
Cost
$20,000 - $150,000+
Matches
Unlimited
Requires Long-Term Contract
Yes - 1-year commitment, paid up front
"Freeze" Time
2 months
If Patti Stanger looks familiar, you've no doubt seen "The Millionaire Matchmaker," her show on the Bravo TV network. She founded Millionaire's Club, her exclusive Los Angeles matchmaking service, in 2000.
Stanger offers an array of membership packages, and for an extra $35k you can work directly with her.
She and her team will also coordinate ala carte "Mixer" events. Each one is a hosted dinner, lunch, breakfast, or cocktail party at a location of your choosing where you'll be introduced to 25 eligible singles.
Mixers cost $35,000, but you'll also have to cover the cost of additional expenses like food, drinks, and venue rental.
Paying clients can add Mixers to their membership package as well. You have two options: the Basic Mixer for $20,000, or the Deluxe Mixer for $30,000.
The first option is a 3-hour dinner, during which you'll have 10 "mini dates" with eligible singles introduced by your matchmaker. The second option includes introductions to 20 singles, and an appearance by Stanger.
Further Reading: Patti Stanger reviews

Janis Spindel Essentials
A quick look at the basics:
Cost
$25,000 - $1,000,000+
There is both a signing fee and a finder's fee, which starts at $65,000 for new clients. The finder's fee is owed if you end up in a long-term relationship with your match.
Matches
12
Requires Long-Term Contract
Yes - 12-year commitment, paid up front.
Since founding Serious Matchmaking in 1993, Janis Spindel has cemented her reputation as one of New York's most prestigious matchmakers. Now working alongside her daughter Carly Spindel, the two have a network of affiliated matchmakers across the country.
Only men can become paying clients. Women can pay a one-time fee and join the database of eligible singles, provided they pass a rigorous screening process. They can then be matched with male clients, and are also invited to various events and mixers.
Men can choose from a number of membership options, starting with the "Flash Match" package for $6,000 where they'll be introduced to 6 hand-picked women during a soirée at a high-end venue.
Membership prices increase from there, topping out at a cool million for the "Global VIP" package. Your search will be overseen by Janis herself, and she'll select matches from all over the world.
Further Reading: Serious Matchmaking reviews
How To Choose The Best Matchmaking Service For You
Using a professional matchmaker is one of the best ways to meet "The One".
Having a dedicated matchmaker hand select every single person you meet according to your criteria saves you tons of time, plus you're generally only meeting people who have already expressed interest in you. That alone makes a matchmaker worth the money.
But here's the million dollar question - how do you decide which is the right matchmaking service to hire?
To help narrow down your options, here are 3 things to consider before making your decision:
#1. What You Want From A Matchmaking Service
What you're hoping to get from your matchmaker is a huge factor in determining which type of service best fits your relationship goals, and what you can expect to pay a matchmaking service to help you achieve them.
Here are some questions to ask yourself that will help narrow down the field:
Do you only want to meet local singles, or are you willing to travel to meet the perfect match? Are you willing to pay an additional fee to expand your search?
How narrow are your search criteria? For instance, do you only want to date someone within your profession, religion, or income bracket? Many matchmaking services specialize in certain areas, whether it's meeting millionaires, Jewish or Christian singles, Indian matchmaking, Ivy League graduates, etc.
Is seeing photographs prior to a date a must, or are you willing to trust your matchmaker's judgment?
Do you want a short-term membership, or are you comfortable committing to (and paying for) a year or two of service up front?
Is having the flexibility to "freeze" your service important to you? For instance, what if you need to take an extended business trip or temporarily relocate, or if you simply want to focus on one promising relationship to see where it leads? Some matchmaking services allow you to stop and start your service at any time for any reason, others only allow you to freeze it in predetermined increments, or not at all. Some matchmaking services even require that you negotiate it into your contract up front, which means taking your best guess as to how much freeze time you may need in the next 12 months.
#2. Your Budget
As you've no doubt realized, prices vary significantly from matchmaker to matchmaker.
Franchised operations often cost around $2800, with an additional monthly fee on top of that for as long as you use the service. Elite matchmakers can set you back between $500k and a million.
Factors affecting how much matchmakers charge can include:
The scope of your search. Unless you use a modern service like VIDA that specializes in online matchmaking, generally the wider the net your matchmaker casts, the higher the cost.
How specific your ideal partner criteria is. Often a matchmaker will consider how long it may take her to find someone who is compatible with your 'must have' list. The more specific your list, the harder it could be to match you, especially if she's working from a limited database.
How many people you'd like to meet. Some matchmaking services charge by the match, or for a set number of matches and then will increase the price if you want additional matches. Others provide unlimited matches.
Additional services. Many matchmaking companies offer services that can help you throughout the dating process, such as image consulting, dating coaching and planning (i.e. a date concierge) and professional photography.
Decide how much you're willing to spend and what additional services you might be interested in to improve your experience before you start interviewing matchmakers, and stick to it.
Decide how much you're willing to spend before you start interviewing matchmakers, and stick to it.
Remember many matchmaking services require the entire membership cost up front, with no guarantees or refunds if you don't end up meeting the partner of your dreams.
Others, like VIDA Select, offer services on a monthly basis, so you're not paying for time you don't need or want.
#3. Reviews & Reputation
A little due diligence up front can save you from a lot of heart (and wallet) ache down the road. Check out reputable review platforms like Trustpilot, and a quick Google search can often turn up interesting tidbits like prior lawsuits.
Asking pointed questions before signing on the dotted line can also give you a glimpse into what type of matchmaking service you're dealing with. Your matchmaker will be interviewing you, but don't treat it like a one-way process.
Ask as many questions as you need to feel comfortable, and make sure you're satisfied with the answers.
If you feel uneasy, or like she's evading the questions, trust that little voice in your head. You're potentially going to trust this person to find you the love of your life. So if you don't "click", that's an issue.
Here are some important questions you'll want to ask any potential matchmaking service: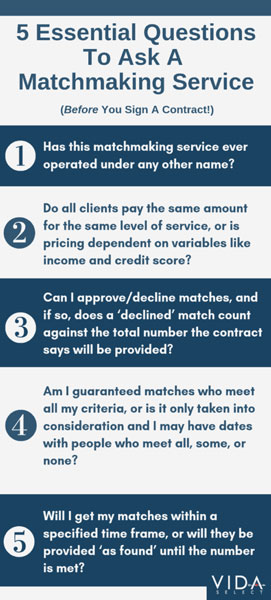 Now that you've answered the "how much do matchmakers cost?" question, it's time to take your research a step further and start talking to some matchmaking services!
Why not start with a complimentary consultation with VIDA Select? Find out if you qualify here!
All product and company names are trademarks™ or registered® trademarks of their respective holders. Use of them does not imply any affiliation with or endorsement by them.
Why Choose VIDA Select?

Since 2009, thousands of clients have discovered true love thanks to VIDA Select's fresh, modern approach to matchmaking – which has finally thrown blind dates and long-term contracts out the window. This isn't your grandmother's matchmaking!
Instead of working with a single matchmaker using a small rolodex of potential partners, VIDA Select's matchmaking team taps into the world's largest database of available singles. We'll quickly identify the matches who check all of your boxes so you can finally experience true chemistry. Are you ready to become our next success story? Schedule your complimentary consultation now by clicking the button below!
Get Started Now