I hope you enjoy reading the blog post.
If you want my team to just do your online dating for you, click here.
How To Share Your Dating Profile With Someone Online
First impressions are everything in online dating, which is why figuring how to share your dating profile to get some feedback is always a good idea.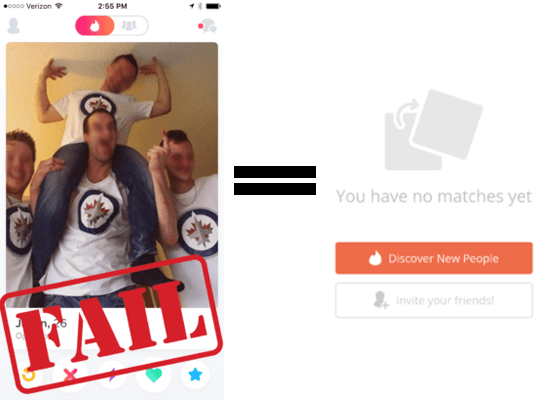 Writing about yourself in an attractive way is hard enough, but critiquing the end result can be even more difficult. Most guys take the "eh, good enough" route, then end up frustrated because they're not getting much action in their inbox.
Unless you're lucky enough to resemble Bradley Cooper, you need an awesome profile if you want the most attractive local women to return your messages. And therein lies the challenge - how do you know if your profile checks all the right boxes?
Get a second opinion.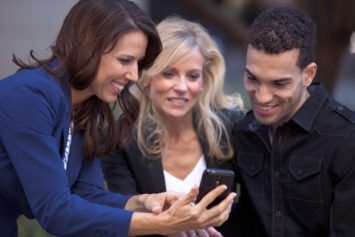 Sharing your dating profile with a friend is a great way to make sure you're presenting yourself in the best possible light, especially if you're getting input from a friend of the opposite sex. If you're a dude, your buddies won't necessarily know which of your qualities will be most attractive to women, and vice versa.
But no matter who's reading it, the important thing is you're getting a second set of eyes on it. We'll show you how to share your dating profile with someone online for popular sites and apps like Match.com, OkCupid, POF, Tinder and more.
Just click on the site/app from the list below, and follow the instructions!
How to share your dating profile on:
Christian Mingle
On Christian Mingle, select "edit profile" from the pull down menu on the right side of the screen. Clicking on the "preview profile" button will generate a link that will send your friends straight to your profile.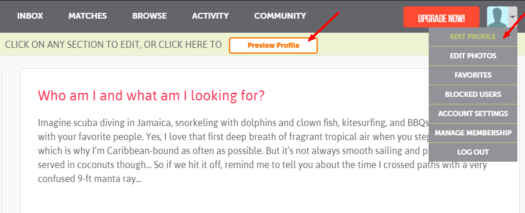 If you're sharing it with someone who doesn't use Christian Mingle, you'll need to screenshot your profile and photos. It's worth the effort, because the women on Christian Mingle are typically looking for a serious relationship, so your profile is in for some scrutiny.
eHarmony
eHarmony doesn't make it easy to share your profile from the site itself, so taking screenshots is your best bet. From the profile editing screen, click the "preview profile" button, which shows how your profile looks out in the wild.

If you don't know how to take a screenshot, go here.
Get feedback on each section, and ask your friend to keep a sharp eye out for typos and grammatical errors. On eHarmony, women only receive a handful of matches at a time, so she's apt to go over yours with a fine tooth comb.
JDate
Sharing your JDate profile is simple as long as the other person also has an account. Select "edit profile" from the pull down menu, then click on the "preview profile" link:

Copy and paste the resulting URL, which will link directly to your profile.
If you want someone who doesn't have their own JDate account to check out your profile, just take screenshots of the "preview profile" page. You'll also want to include your entire photo array, as photos are arguably the most important part of your online dating profile.
Match.com
When you're looking at your Match.com profile, the URL in the browser bar looks like this: http://us.match.com/profile/edit/#/About
But that URL isn't unique to your profile. If you send that link to a friend or dating assistant, it won't work.

To share your Match.com profile, click on the "Your public profile view" link on the left-hand side of the screen. That will take you to a URL that you can copy and paste to the person you want to share your profile with.
Millionaire Match
The easiest way to have someone check out your MillionaireMatch profile is to send them your username. They can then use the "username search" function to look you up.
If you're pretty sure the other person doesn't have a MillionaireMatch account, sending screenshots from the "profile view" section is your best bet.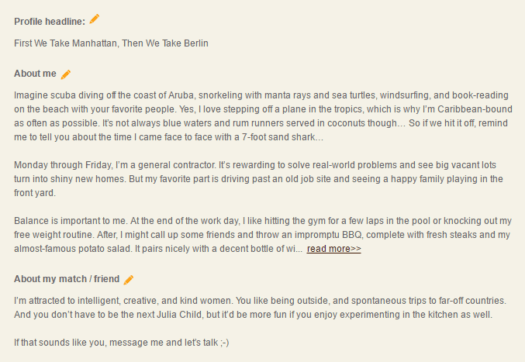 Make sure to screenshot or send your photos too. The women on Millionaire Match are typically a cut above the rest, and they're seeking same. You need to sell a certain lifestyle, and your photos need to back it up.
OurTime
If you want a friend to evaluate your OurTime profile, you'll need to take and share screenshots.
Get feedback on both your profile and your photo choices, as you want to give the impression you're an interesting, fun guy to hang out with.
Research has shown that when it comes to dating women in their 50s+, building a relationship based on friendship is a higher priority than having a sexual relationship. That means women are looking for more than just physical good looks - it's important to show you're happy, energetic and enjoying life in general.
Plenty of Fish (POF)

To share your POF profile, click on the "My Profile" header at the top of the page. This will put you in profile view mode. You'll notice the URL address now has a unique profile ID in it, something like this: "pof.com/viewprofile.aspx?profile_id=97875244".
That's the link you'll want to someone who's standing by to evaluate your POF profile.
Tinder
It's easy to share your profile on Tinder, thanks to Tinder's web profiles. All you need to do is "claim" a username.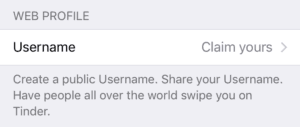 This is how to create a Tinder web profile:
Tap the "Settings" icon
Scroll down to "Web Profile" and tap "Claim Yours"
Enter what you'd like your username to be, with a limit of 20 characters
Tap "Confirm" to see if it's available
If it's already taken, enter another. If it's available, you'll see a blue check appear.

Now, your Tinder web profile can be seen at https://www.gotinder.com/@YourUserName.
For instance:

You can now share your Tinder profile right from your phone by tapping "Share My URL":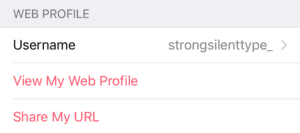 Zoosk
To share your Zoosk profile with your dating assistant or someone else who's also a member, simply go to the profile editing screen and copy the URL. As long as the link ends in "/about", it will go right to your profile.
If your friend doesn't have a Zoosk account, share screenshots of your profile. Screenshot every section, including your Story, Perfect Match, and Ideal Date.

Every single aspect of your profile needs to be perfect if you want to score dates with the most attractive local women, so get a second (or third) opinion on every aspect of your profile.
How To Share Your Profile On Dating Apps
To share a bio from Bumble, JSwipe, TheLeague, or any other dating app, sending screenshots is the way to go. (Not sure how to take a screenshot? Go here.)
Make sure to include every photo in your lineup, preferably in their order of appearance. It's crucial that your strongest photo is in the primary position because it has the power to make her instantly swipe left or right.
Want us to do your online dating for you?

Hey, I'm Ally, VIDA Select's Director of Matchmaking.
We take all the frustration, hard work and hassle out of modern dating!
Imagine your very own Dream Team of highly skilled dating experts searching for the very best local matches, sparking their interest, and arranging all the dates for you.
Wouldn't it be nice to finally stop swiping and start dating higher quality matches so you can meet someone special?
We've helped thousands of singles just like you since 2009, and we're ready to make you our next success story!
What are you waiting for? Take the next step now…
See If You Qualify