I hope you enjoy reading the blog post.
If you want my team to just do your online dating for you, click here.
The Top 10 Ivy League Dating Services, Sites & Apps (2023)
These top 10 Ivy League dating sites, apps, and services are a treasure trove of attractive, intelligent matches who are guaranteed to turn heads at your next soiree!
Our team has reviewed over 300 matchmaking services and dating platforms, delving deep into their operations, success rates, cost and customer experiences.
Our reviews are built on our 14+ years of industry experience, comprehensive research and a keen understanding of the modern dating landscape.
Start the search for you ideal partner with the...
Let's get started with Ivy League matchmaking!
Ivy League Dating Services
Working with a professional matchmaker is one of the most efficient ways to find your ideal partner. You provide your matching criteria, such as an Ivy education, and the matchmaking service will get to work screening candidates for you to meet.
Here are 5 of the best options to consider if you're looking for an Ivy League dating service:
VIDA Select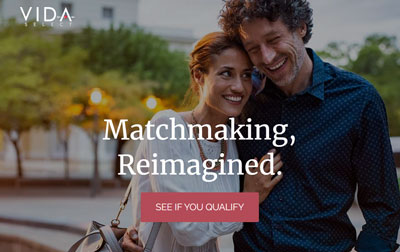 VIDA Select combines the unlimited potential of dating sites and apps with the power of matchmaking. There are no limitations - VIDA Select's matchmakers can find your ideal partner anywhere in the world.
VIDA's modern approach to Ivy League matchmaking puts you in the driver's seat. Your matchmaker will scour all the best Ivy League dating sites and apps to find your perfect partner, and you choose the matches you'd like to meet.
But it doesn't stop there - we'll identify all the best dating sites and apps for you, then our professional writers will craft an irresistible, 100% customized profile and choose your strongest photos.
We'll even handle all the back and forth messaging with the singles you want to meet - all you have to do is show up for the date!
Enamour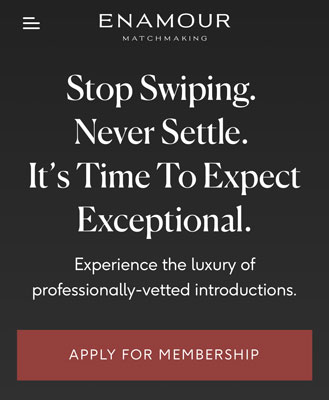 Enamour has been providing Ivy League matchmaking services to accomplished and discerning clients for over a decade. To begin the matchmaking process, every client is paired with a dedicated matchmaker who takes the time to learn about their personality, preferences, and desired traits in a partner.
Enamour's matchmaking team places a strong emphasis on relationship psychology during the vetting process to ensure that they find matches that are truly compatible with their clients. They meticulously hand-select potential matches from their invite-only database and also use a combination of AI and recruiting technology to identify the most eligible and compatible singles.
As a client, you will have the opportunity to provide and receive feedback after each date. This allows your matchmaker to fine-tune the search and tailor the matchmaking process to your specific needs and preferences.
Samantha's Table

If you're seeking a personable approach to elite matchmaking, pull up a seat at Samantha's Table, a high-end dating service that seeks to pair up singles who both have "the whole package" – and then some.
Matchmaker Samantha Daniels caters to the ultra-successful, ultra-cultured and ultra-educated. While most of the 40k+ singles in her database are in the LA and NYC area, she offers a "Hometown Search" service as well. She'll come to your neck of the woods to conduct some discreet outreach and pair you with eligible singles in your area.
Ivy International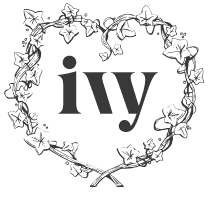 With Ivy International, it's all right there in the name. With users in the US, Europe, Singapore and more, you're not just getting access to the most high-class date-ables in your city – you have the potential to be matched with the most choice singles in the world.
Ivy's strategy is a more traditional approach to dating. As a matchmaking service, Ivy's experts are able to save you the time and energy you would lose scouring dating profiles on a dating site. This is no one-size-fits-all dating experience. You'll receive matches that have been tailored specifically for you and your specific needs.
While a degree from an Ivy League school certainly won't hurt your chances, Ivy International is open to professionals of any educational background… as long as they're at the top of their industry, that is.
This is a service for the "Ivy League" of the professional world. Clients here aren't just grads of Harvard and Oxford – they're celebrities, high-profile musicians and self-made entrepreneurs as well. For foreign love connections and the Ivy League experience without the degree, Ivy International is worth a look.
Shannon's Circle
Founded by matchmaker Shannon Lundgren in 2012, San-Francisco based Shannon's Circle specializes in matchmaking for Ivy League singles.
She has an MBA from Harvard Business School, and incorporates her alumni contacts into her matchmaking network. When she first launched her San Francisco matchmaking service, she was still working as a project manager at Wells Fargo.
But as her matchmaking clientele grew via word of mouth, she decided to switch careers and focus solely on matchmaking in 2021.
Ivy League Dating Apps
For the average Joe, Hinge and Match.com are excellent options. But when you're well-educated, successful and seeking same, do you really want to wade through a sea of average Janes to find one hidden gem?
These apps are the best place to start for Ivy League dating.
The League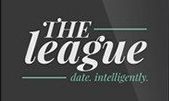 If you're looking for exclusive, you'll find it on The League. With a massive waitlist and a highly selective screening process, The League has ensured that their members are nothing but la crème de la crème seeking the same.
The League is available in around 160 major cities across the globe. If it isn't available in your area yet, you can still download it and get on the League dating app waitlist.
Once inside, that's where the fun starts. As a free member, you'll get 5 curated matches a day. Upgrading gets you up to 7 daily "Prospects", depending on what membership you purchase. Now that might not sound like many matches. But you joined this app in the first place because you're looking for quality over quantity, right?
Once you receive a new match, you have 3 weeks to give them a "yes" or "no" before the chance to connect disappears forever. If you both say "yes", you can start exchanging messages.
All of your matches should be in line with your predetermined preferences on location, age, gender, education level, height and ethnicity.
Unless you have very narrow matching criteria, your profile is only visible to mutual matches who meet it. The app will never post to your social networks.
The League also offers a forum for casual chatting in special interest groups and elite in-person meetups. This can be a great way to not only find a hot date for the weekend, but also to expand your social circle.
The app is free to download, though you can always opt-in for paid add-ons like visibility boosts and extra matches. For details and expert tips, check out this in-depth review of The League!
Download The League for Android or iOS.
Raya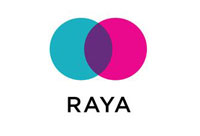 Just as exclusive as The League, Raya caters to successful professionals. The app was originally designed for people at the top of their game in creative industries, like actors, designers and artists. But you'll find plenty of top level executives, pro athletes and other high-profile types as well.
Raya has a rigorous acceptance process that hinges mainly on your Instagram following. It needs to be large, like in the ballpark of 250,000 followers, if you want a real shot at acceptance. It can help your case enormously if other Raya members refer you or are in your social network and contact list.
Despite the exclusive nature, Raya only costs $9.99 a month if you win over the acceptance committee. Privacy is of the utmost importance on this app - even just talking about who you find in your profile feed is highly discouraged. Screenshots will get you booted, as will publicly writing about it.
Raya isn't just for dating fellow Ivy Leaguers, you can also use the Directory feature for networking. For all the details on this exclusive dating app, check out our Raya Review.
Luxy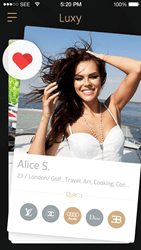 This app doesn't pander exclusively to Ivy Leaguers – but you'll still find plenty of them hanging out here.
If you're getting carpal tunnel from all the left-swiping you're doing on Tinder then you'll probably prefer Luxy. The app famously proclaimed itself "Tinder minus the ugly and poor people."
High-quality matches on this app are in abundance – if you've got what it takes to get in.
Luxy's Vouching Process
Luxy features a 24-hour process where the dating app's selection committee reviews your profile.
But much like a high-end nightclub, Luxy comes outfitted with a discreet backdoor. With the app's income-verification system, if you make over $200,000 a year – you're in.
Upgrading Luxy
Another way to bypass all the scrutinization is to upgrade to Luxy BLACK or Platinum. This is the equivalent to slipping the bouncer a Benjamin with one hand and fist-bumping him with the other on your way inside to your VIP table.
Luxy BLACK costs $99 a month. But you can get your monthly cost down to $58.99 if you commit to 6 months up front.
You'll get a deluxe VIP emblem on your profile that's reserved only for BLACK members. And while regular members are limited to 30 possible matches per day, as a BLACK member, you won't have that same restriction.
You'll receive more profiles to swipe through and you'll have the ability to message them - even if you haven't matched. Additionally, you'll gain access to all-important premium search criteria like location and income level.
The other paid membership option is Luxy Platinum. Only 7 users in each city can purchase the membership, so it's an exclusive badge to display on your profile.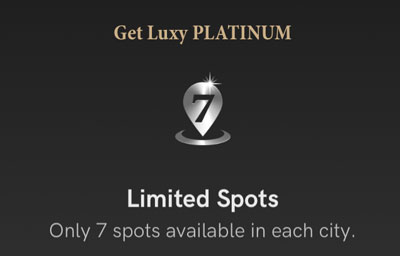 That kind of exclusivity comes at a price - it's $999.99 for a 3-month Luxy Platinum membership.
Free (or "standard") Luxy users can only read and respond to messages from upgraded members.
Most of Luxy's users are located in major cities, so rural members could be waltzing into an "empty bar." But if you have high standards for your love life and live in NY or LA, Luxy might be your new favorite way to get dates.
For an in-depth survival guide to this grade-A dating app, check out our Luxy app review.
Sign up for Luxy here.
Ivy League Dating Sites
Many dating sites let you filter your potential matches by education level in your search criteria. But these dating platforms take things one step further, and cater exclusively to Ivy League singles.
The Right Stuff
If you're looking for the best dating site for ivy league alums and you live in a major US city, check out The Right Stuff.
It's a dating site exclusively for faculty and graduates of certain elite colleges and universities. The list includes Harvard University, Yale University, Princeton University, Oxford, and MIT.
Be prepared to submit proof of affiliation - this site isn't for wanna-bes or those seeking to trade up. A membership costs $75 for 6 months, unless you're a full-time student. Then it's only $35. If you live in Canada or the state of Washington, Georgia, North Carolina, Oregon, Texas, or Florida, your membership fee is waived. Otherwise, a $30 registration fee is required.
Once you're approved for membership, you can browse short profiles of members. If a particular member catches your eye, you can order an in-depth biography for $3.30. You can then message that person directly via the site's anonymous email system, or via the contact information provided in the biography.
As with any niche dating site, it might take a little longer to find someone special in the limited user pool. For the best results, use this site in combination with at least one of the others in this article, or one of these top 4 dating sites for professionals.
Harvard Magazine Personals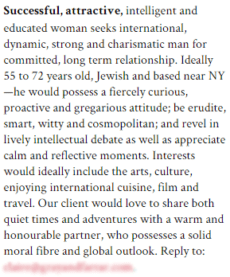 In the Craigslist era, classified dating ads have gotten a bad rap. Prostitutes, call girls, axe murderers and dudes pretending to be hot twenty-somethings in your area have turned personals sections into a concept that leaves a bad taste in most mouths.
But the personals at Harvard Magazine are obviously nothing of the like. This is old school, newspaper-style dating advertisement at its finest, operating flawlessly in the ultra-accessible world wide web.
With no photos available, you'll have to rely primarily on your imagination after reading the way she describes herself.
The Harvard Mag personals are definitely more suited towards the 40+ crowd, but when you're searching for that highly-educated, professional woman of your dreams, she could be only an email away – no sign-ups, profiles, or photos required.
All product and company names are trademarks™ or registered® trademarks of their respective holders. Use of them does not imply any affiliation with or endorsement by them.
Want us to do your online dating for you?

Hey, I'm Ally, VIDA Select's Director of Matchmaking.
We take all the frustration, hard work and hassle out of modern dating!
Imagine your very own Dream Team of highly skilled dating experts searching for the very best local matches, sparking their interest, and arranging all the dates for you.
Wouldn't it be nice to finally stop swiping and start dating higher quality matches so you can meet someone special?
We've helped thousands of singles just like you since 2009, and we're ready to make you our next success story!
What are you waiting for? Take the next step now…
See If You Qualify