I hope you enjoy reading the blog post.
If you want to chat now about your matchmaking search, click here.
How Much Does Kelleher International Cost? [2023 Prices!]
If you're considering hiring this mother/daughter matchmaking team, it's no surprise you're wondering, "How much does Kelleher International cost?" 
Read on for the answer! You'll discover how Kelleher International membership prices stack up to a few other comparable matchmaking services who might be on your radar as well, which will help you determine which one is the best investment for you.
Our expert team has been in the matchmaking industry since 2009, and we've reviewed over 200 matchmakers and their services. Our reviews are built on extensive research and a keen understanding of the matchmaking industry.
Kelleher International Cost
The price of your matchmaking package largely depends on how wide of a net you would like your matchmaker to cast.
A local search starts at $30,000. If you'd like to meet compatible matches in more than one city, the national search packages start at $45,000. There is also an international option, which costs anywhere from $150,000 to over $300,000.
Contracts can span anywhere from 1 to 3 years, and also include up to 12 months of "hold" time.
Kelleher International Cost Comparison
Kelleher International is headquartered in San Francisco, but their presence extends to 17 other major cities, including Los Angeles, New York, Seattle, Boston, Atlanta, Miami, Scottsdale and London.
Let's take a look at what 6 other elite matchmakers with a comparable reach charge for their services…
Enamour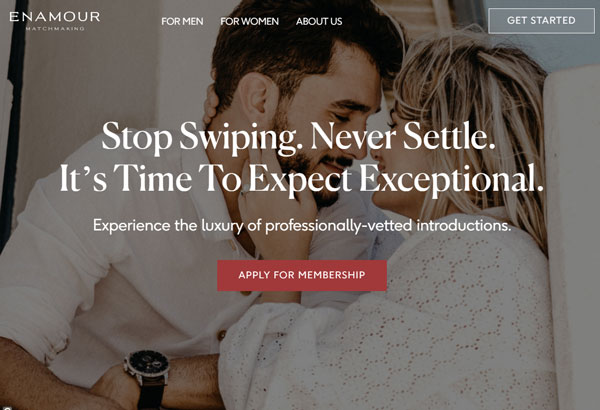 With matchmaking packages that start around $20,000, Enamour is an international matchmaking service with an exclusive, "invite-only" database. The matchmaking team uses an effective blend of intuition, AI, and relationship psychology to find highly compatible matches for its discerning clientele.
But the search doesn't just extend to the database. Enamour also employs recruiting technology and a network of scouts to find incredible, accomplished singles who fit all your criteria.
Curious about Enamour? Learn more here!
VIDA Select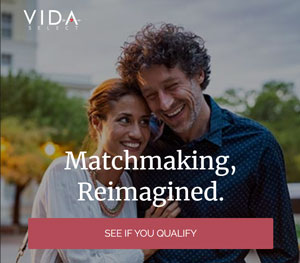 Unlike most matchmaking services, VIDA Select offers packages on a monthly basis rather than utilizing long-term contracts. With a wide range of packages to choose from, each client's matchmaking experience can be tailored to best fit their search requirements.
The cost of every package highly aligns with the number of hours your personal matchmaker should devote every month to finding high-quality matches. Basic packages start at $1095 per month, Premium packages begin at just $1695 per month, and Elite packages start at only $2595 per month.
VIDA Select's modern approach allows the matchmaking team to leverage the single largest source of eligible singles there is, and on average clients begin a relationship with someone special in just 3 months.
Want to learn more? Get started here!
Select Date Society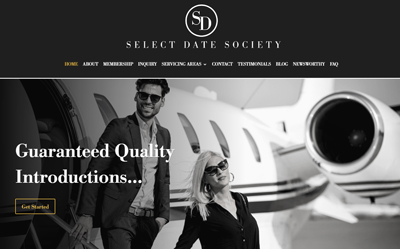 Select Date Society's matchmaking packages begin around $35,000 and could range over $300,000. The "VIP" package tier is the most expensive, where your search will be directly overseen by co-founders Amber Lee and Sandra Myers. 
SDS is based in Virginia but they offer services to "successful, selective, professional singles" in 30+ major cities around the US, including Boston, New York, Austin, Atlanta, Miami, Minneapolis, Scottsdale, Seattle, Los Angeles and San Francisco. 
Want a closer look at this exclusive matchmaking service? Check out our Select Date Society review!
Linx Dating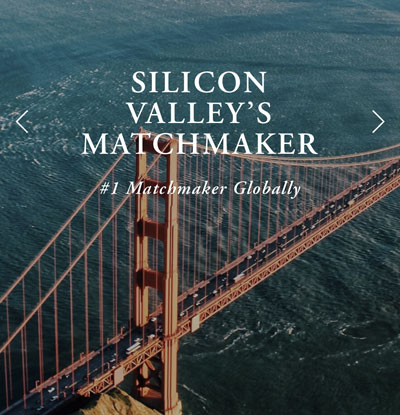 With Premium packages starting at $45,000 and VIP service running $100,000 to $500,000+, elite matchmaker Amy Anderson has made a name for herself as Silicon Valley's cupid. 
Linx Dating primarily focuses on singles in the Bay Area, Los Angeles, Europe, Asia, and the Middle East.
For a full-rundown on this elite dating agency, read our Linx Dating review next.
Sameera Sullivan Matchmaking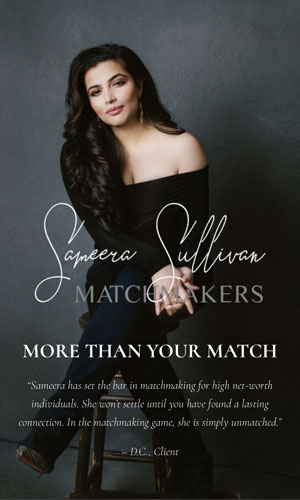 Sameera Sullivan Matchmaking is an exclusive matchmaking service that costs between $25,000 to $250,000+. Package pricing varies depending on the complexity of a client's search, cities they are open to dating in, and any specific match criteria.
Formerly known as Lasting Connections, Sameera Sullivan is based in Houston, TX. But she also helps singles dating in Phoenix, Dallas, New York, Scottsdale and throughout California. 
To learn more, check out our review of Sameera Sullivan Matchmaking!
Selective Search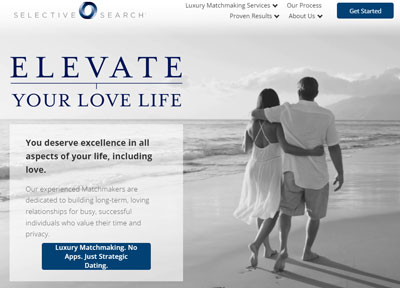 Helmed by former exec recruiter Barbie Adler, Selective Search's matchmaking packages range from $50,000 to $250,000+ for most clients. She also offers an "Introductory" package that starts at $25,000 but that option may not align with your goals and circumstances.
Adler's service is based in Chicago, but she works with an extensive network of matchmakers that gives her a presence in 20+ cities around the US. Other locations include San Francisco, Los Angeles, San Diego, Austin, Houston, Dallas, Boston, Miami, New York, Tampa, and Washington DC. 
Find out more about Selective Search's matchmaking process in this service review!
And if you're still not certain which matchmaking service is the best fit for you, get an insider's perspective in our handy guide "How To Find & Hire The Best Matchmaking Service."
It's packed with the essential questions you need to ask during your consultation, what you need to consider before hiring any service, and much more!
Check the expert guide out right here.
All product and company names are trademarks™ or registered® trademarks of their respective holders. Use of them does not imply any affiliation with or endorsement by them.
Why Choose VIDA Select?

Since 2009, thousands of clients have discovered true love thanks to VIDA Select's fresh, modern approach to matchmaking – which has finally thrown blind dates and long-term contracts out the window. This isn't your grandmother's matchmaking!
Instead of working with a single matchmaker using a small rolodex of potential partners, VIDA Select's matchmaking team taps into the world's largest database of available singles. We'll quickly identify the matches who check all of your boxes so you can finally experience true chemistry. Are you ready to become our next success story? Schedule your complimentary consultation now by clicking the button below!
Get Started Now