I hope you enjoy reading the blog post.
If you want to chat now about your matchmaking search, click here.
Kris Kenny Connections [Reviews, Cost, Complaints & More!]
Kris Kenny Connections has been around since 2002, so it's no surprise she's on your radar if you're single in Colorado. But is she the right matchmaker for you?
These Kris Kenny reviews have all the details you need to answer that question! Keep reading to find out how she got started, what people are saying about their matchmaking experience, cost and more!
Matchmaking Is Her Calling
After graduating from Colorado State with a psychology degree, Kenny started her professional career in the finance industry. She later shifted into executive recruiting, playing matchmaker between job seekers and prospective employers.
The events of 9/11 prompted a move back to Colorado. She took up a position with a national matchmaking service called Tables For 2. And the rest, as Kenny explained to Cherry Creek Magazine, is history:
...I started working for one of the few dating services in town and knew right away that this was my calling. I love getting to know a new client, finding out their likes, dislikes, lifetime goals and what really makes them tick. That's when I can start "the magic," and match them with compatible people.
She started her own matchmaking service, Kris Kenny Connections, in 2002. Headquartered in Denver, Kenny's clients typically live in and around Denver, Vail, Aspen and Boulder.
One of Kenny's matchmakers, Paulina Szafranski, revealed in an interview that many singles come to KKC because they feel they "can't afford to not find love." As Szafranski explained, that's especially true recently as people refocus their priorities in life.
If meeting someone is a priority for you, Kenny shared some dating advice for Colorado singles:
Signing Up With KKC: What To Expect
A boutique matchmaker, Kris Kenny generally takes on anywhere from 115 to 150 active clients at any given time. As she explains on her website,
We're selective in our clientele; we look for bright, cultured, active, healthy and have a zest for life.
Prospective clients first meet with Kenny and her team for a one-on-one interview. The goal of the consultation is to get to know you better and gain an understanding of what you are looking for in a match.
If Kenny thinks you're a good fit for the service (and vice versa), they'll get to work finding potential matches. Clients are typically matched with other clients from her database of around 5,000 Colorado singles.
Once a compatible match is found, all the first date arrangements are made for you. And after each one, Kenny or one of her matchmakers give you any applicable feedback from your match's perspective, and you can let them know what you thought of the experience as well.
That will help her learn what worked well and what needs to be adjusted in your search.
Kris Kenny Connections Cost
This Colorado matchmaking service offers two membership options: Classic & VIP.
A Classic Membership with KKC costs $4,600 for a 6-month contract, with an additional 3 months of hold time that can be used over the course of 9 months. It includes 6 introductions.
There is also a 12-month contract option, which costs $8,200 and includes 12 introductions. You'll also get 6 months of hold time that can be used over the course of 18 months.
VIP Memberships with Kris Kenny Connections start at $9,000 for a 6-month contract.
The number of matches vary, as VIP searches include looking outside of their database.
You can generally expect 1 to 2 matches per month, with the option of adding extra monthly matches.
The 6-month VIP membership includes an additional 3 months of hold time, with the caveat that it must be used in 30-day increments.
The 12-month VIP membership starts at $16,000, includes the same monthly match options, and comes with an additional 6 months of hold time. It also must be used 30 days at a time.
Kris Kenny Connections Reviews
So what are clients saying in their matchmaking service reviews?
The Better Business Bureau gave Kris Kenny Connections an overall B+ rating, and 1 out 5 stars based on one single star review from a woman who was a client in 2018.
There are also 3 Kris Kenny complaints lodged with the BBB, all of which mention the reviewing feeling like the number of matches they received didn't align with what was outlined in their contracts.
On Yelp, this Denver matchmaker has a 1.5 star rating based on 7 recommended reviews.
The 5-star reviewer was happy with one of the women he met through the service: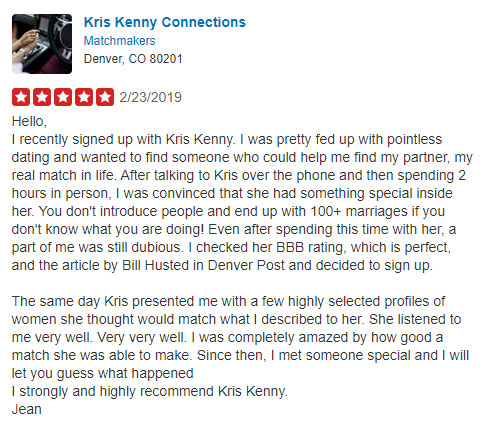 The other Kris Kenny Connections recommended reviews were all 1-star, like this one from a client who thought her matches didn't fit her criteria:
So is Kris Kenny the best Denver matchmaker for you? She's been in the industry since 2002, so she has a lot of experience under her belt.
But there are a few things you'll want to consider when deciding which matchmaking service to hire!
Kris Kenny is a traditional matchmaker, in that she matches her paying clients with other paying clients, unless you pay extra for an extended search outside of her database. That means with a Basic membership, you'll be crossing your fingers that your ideal partner also signed up for her service.
Another big factor to weigh in your decision is the fact that she uses 6 or 12 month contracts. That means you're committed to (and paying for) her matchmaking service, even if you happen to meet someone right away.
Many matchmaking services use long-term contracts, which leave you with few options if you don't end up happy with your matchmaker, your matches, or how your search is conducted.
But a few matchmaking services, like VIDA Select, offer clients the convenience of paying by the month.
High-End Colorado Matchmaking On Your Schedule
VIDA Select offers a full spectrum of matchmaking packages, with no long-term contract required!
No need to worry about how much hold time you have left, or paying for time you don't end up needing. Since you pay as you go, you can stop or restart at your convenience. If you find the service isn't right for you, simply don't continue the next month!
And rather than plucking matches from a limited database, VIDA's elite matchmaking team leverages the largest pool of eligible Colorado singles there is. That means you don't have to "settle" for matches who only meet some of your compatibility criteria.
If you're ready to start meeting highly compatible, relationship-worthy singles, find out more about VIDA's modern approach to matchmaking. Go here!
All product and company names are trademarks™ or registered® trademarks of their respective holders. Use of them does not imply any affiliation with or endorsement by them.
Why Choose VIDA Select?

Since 2009, thousands of clients have discovered true love thanks to VIDA Select's fresh, modern approach to matchmaking – which has finally thrown blind dates and long-term contracts out the window. This isn't your grandmother's matchmaking!
Instead of working with a single matchmaker using a small rolodex of potential partners, VIDA Select's matchmaking team taps into the world's largest database of available singles. We'll quickly identify the matches who check all of your boxes so you can finally experience true chemistry. Are you ready to become our next success story? Schedule your complimentary consultation now by clicking the button below!
Get Started Now